Order Fulfillment in eCommerce: Self Fulfillment in 5 Steps
Updated on June 30, 2021 by Yulia Miashkova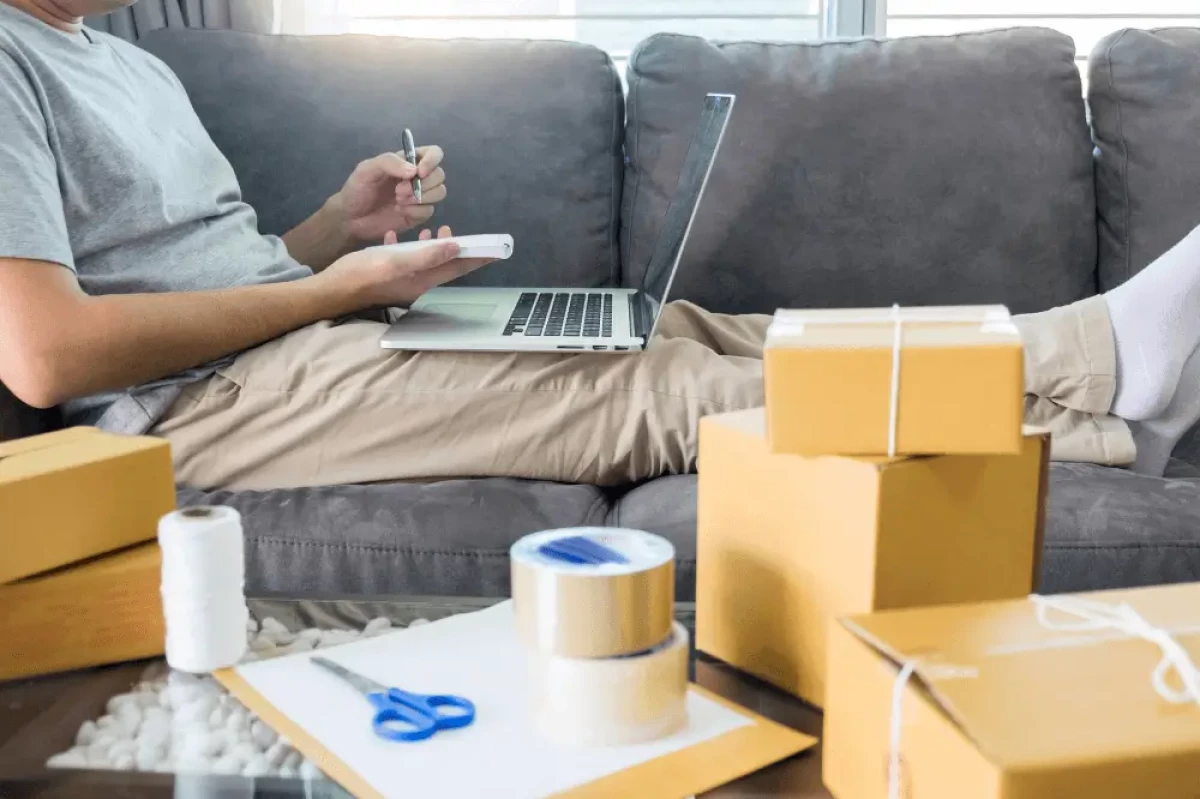 What seems like a 2-step process for a customer is often 22 steps for the business. This is true for order fulfillment more than anything. As a customer, an order is placed online and your package arrives at a specified time. As a company that handles order processing and logistics, fulfillment is a multitude of steps and fulfillment services.
In this blog post, we take a close look at the order fulfillment process as a key part of the supply chain in eCommerce. Whether you're one of the merchants or third-party delivery companies, this guide is for you.
What is order fulfillment?
Order fulfillment is a process of getting an order from A to B, with A being the customer placing the order online and B being successful delivery. For eCommerce merchants, order fulfillment consists of many moving parts. Below are just a few of them.
Inventory storage.
Warehouse management.
Order placement.
Fulfillment strategy.
Logistics.
Customer communication.
Reverse logistics, i.e. returns processing.
The order fulfillment process can get messy if you're a small business owner getting started with eCommerce. Even bigger merchants struggle with order processing, shipping costs, storing inventory, and customer base retention. Regardless of the size of your business, you need to have a robust order fulfillment process that keeps the demand for your services high.
Let's see what place order fulfillment occupies in the supply chain and how it can be perfected with the right processes, technology, and software.
Order fulfillment in supply chain
Supply chain management is everything that happens in-between raw materials in their respective locations and a happy customer receiving their "assembled" order. Order fulfillment is not the entire supply chain as it starts with an order being placed online. Still, it's a substantial part. In many ways, order fulfillment determines the efficiency of your supply chain.
The way you fulfill orders shapes the service you provide. If your order fulfillment process is inefficient and costs pile up as you're unable to control storage, inventory, packing, and shipping, no amount of marketing or sales will help you retain and grow your customer base.
As an eCommerce business, you benefit greatly from implementing customer-centric order fulfillment processes. No matter what your order management system is or what kind of fulfillment provider you rely on, the key is to reduce order fulfillment costs by going with the most efficient fulfillment process. Customers expect you to deliver, and this is what we'll be exploring in the sections below.
Order fulfillment process
Order fulfillment is not all delivery. There are many steps that come before, after, and in-between. Let's briefly review them to get a full picture.
Inventory storage & warehouse management
As a business owner, you're responsible for receiving inventory, taking stock, labeling, packing, and the overall inventory management. Whether you store inventory at the warehouse, at home, or at a partner fulfillment center, you're in charge of the stock and volume that needs to be available at all times.
Order placement & processing
As soon as the order is placed, last-mile delivery is in action. Now, the challenge is to pass customer and order data from your order placement system to delivery management software. If you outsource shipping, you need to make sure your logistics partner gets order data instantly. With packing and labeling underway, your customers need to be notified of the order having been processed and the shipping about to happen.
Route planning & optimization
Once the orders have been picked up at your storage location by in-house couriers or third-party delivery service, it's time for dispatching. Order fulfillment is impossible without careful route planning and optimization as they determine how fast and efficient shipping will be. When you have reliable route planning & optimization technology, shipping costs go down as customer satisfaction goes up.
Customer communication
The standard of modern-day eCommerce is putting the buyer first. More than anything, this relates to real-time notifications, package tracking, estimated time of arrival (ETA), and delivery options. Notifications to customers should be implemented at every step of order fulfillment. This gives customers a sense of control over the shipment and promotes trust in your business.
Proof of Delivery & returns
One way to keep your customers happy is to complete shipping with a document that proves that the shipping was successful. Especially if your in-house or partner carriers do contactless delivery, customers need a Proof of Delivery (POD) document that stipulates that the package has arrived. In case something went wrong at the inventory, packing, loading, or shipping stage and the customer wants to return their order, you need to have a transparent and simple policy and process in place.
Let's now focus on getting a package from A to B where A is your storage and B is a home address. We're talking logistics.
3PL vs self-fulfillment
First things first: customers rarely care if you use third-party logistics providers or manage shipping in-house. What they care about is a top-notch user experience. Your job is to optimize resources and see how you can provide the best customer experience with minimum costs.
Naturally, there are pros and cons to outsourcing the shipping of orders to a fulfillment company. Let's see when it's best to go for either of them.
Go for 3PL if
Go for self-fulfillment if
You don't need to rent a warehouse and can manage inventory by yourself.
You have courier staff.
Demand for your products isn't high and you can ship by yourself.
You don't have a budget to outsource a 3PL company.
The truth is, self-fulfillment is both a way to get started when your resources are very limited and a way to handle business when sales are good and you can afford an in-house logistics team. Let's see what your order fulfillment strategy could look like as an eCommerce business.
Self-fulfillment in eCommerce: 5 steps
Now that you know the basics of order fulfillment in eCommerce, let's go through the steps of building in-house order fulfillment processes. A big help along the way will be a last-mile logistics tool like Track-POD that covers most of the order fulfillment steps.
Master your inventory
In-house order fulfillment starts with inventory management. This includes receiving inventory and maintaining a warehouse or some kind of storage that helps you control stock and meet the demand for your products. If you don't have a physical store and process a small volume of orders, you might not need a designated storage location as you can manage most processes at home.
If you do need a designated warehouse for inventory management, packing, and order shipment, make sure you find a location in close proximity to wherever a large number of your buyers are situated. This will help you ship cheaper and get more sales from people in nearby locations. Same with returns processing: the closer your inventory is to buyers, the cheaper it will be for you to process returns.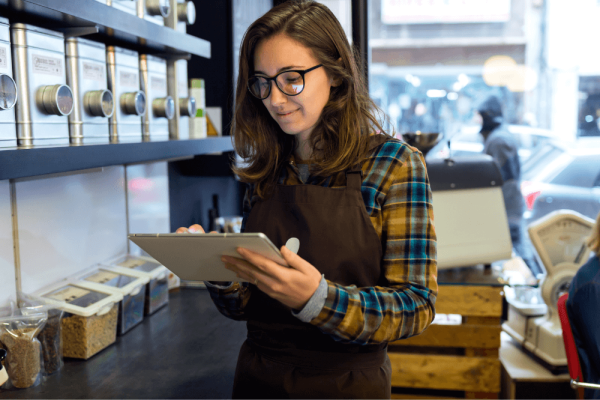 Streamline order import
As soon as an order has been placed online, the countdown is on. Buyers expect a confirmation message followed by a notification with the date their order will be shipped. If you're selling on an eCommerce platform like Shopify, you can use Track-POD to set up instant order import. This way, route planning and subsequent shipping start right after the order is processed.
With Track-POD connected to your Shopify store, your customers will receive notifications of the order having been received, dispatched, and shipped. You control all user notifications, which means you can set up as many as you want, keeping buyers in the loop throughout the whole shipping process.
Find the fastest & cheapest routes
The reason many eCommerce merchants go for 3PL companies is because their services include dispatching and route optimization. These are crucial to sustaining a logistics business as the way you plan routes determines the cost of shipping and order fulfillment as such. The good news is that you don't need a third-party logistics business to ship efficiently. You can handle shipping yourself with the right route planning & optimization technology.
With a route planner like Track-POD, routes are built and optimized based on your vehicles, drivers, and locations. Regardless of the number of orders and sales per day, you can rest assured that all packages will be added to the system automatically and dispatched in a way that saves you time and money. Using a route planning & optimization tool helps you reduce shipping costs and even opens up the opportunity to provide free shipping.
Stay customer-centric
Any order fulfillment process is always about the customers. To keep the demand for your products and service, you need to make build your order fulfillment strategy around transparent communication with the buyer. This is done with instant notifications and order tracking that plays a major role in keeping your customers happy.
Track-POD offers notifications every step of the way, building trust in your company, carriers, and the service you provide. The track and trace feature is especially good because it lets your customers monitor the real-time location of carriers, get in touch with them, and even download POD once it's ready. When your company embraces last-mile technology, your sales will speak louder than marketing.
Refine your fulfillment services
As a company that handles its inventory and the rest of order fulfillment operations as opposed to outsourcing a fulfillment center, you have all the data you need for refining operations, making sure each subsequent shipped order is cheaper and faster. In-house order fulfillment is good because you get to build and re-build your order fulfillment operations until you can meet your customers' every demand.
Make sure you have all data you need for inventory and fulfillment optimization. Track-POD, for one, offers extensive analytics ranging from individual driver performance to fuel consumption and feedback. Marketing a company that functions as its own fulfillment center is any number of times easier and more efficient.
Wrapping up
Order fulfillment is what speaks about your company the loudest. While outsourcing a fulfillment company may seem easier, it comes with certain cons. Whether you go for outsourcing a fulfillment center or building in-house operations, make sure all major parts of order fulfillment meet buyers' demands and promote more sales for your business.
If you decide to build your own fulfillment company as part of your larger operations, there are great tools that help you plan, post, process, ship, and excel. If you're interested to become your own order fulfillment center with Track-POD, book a free demo and let's talk.