Which Shipping Method Is Right for You? Costs, Carriers, and Self Shipping in eCommerce
Updated on July 08, 2022 by Yulia Miashkova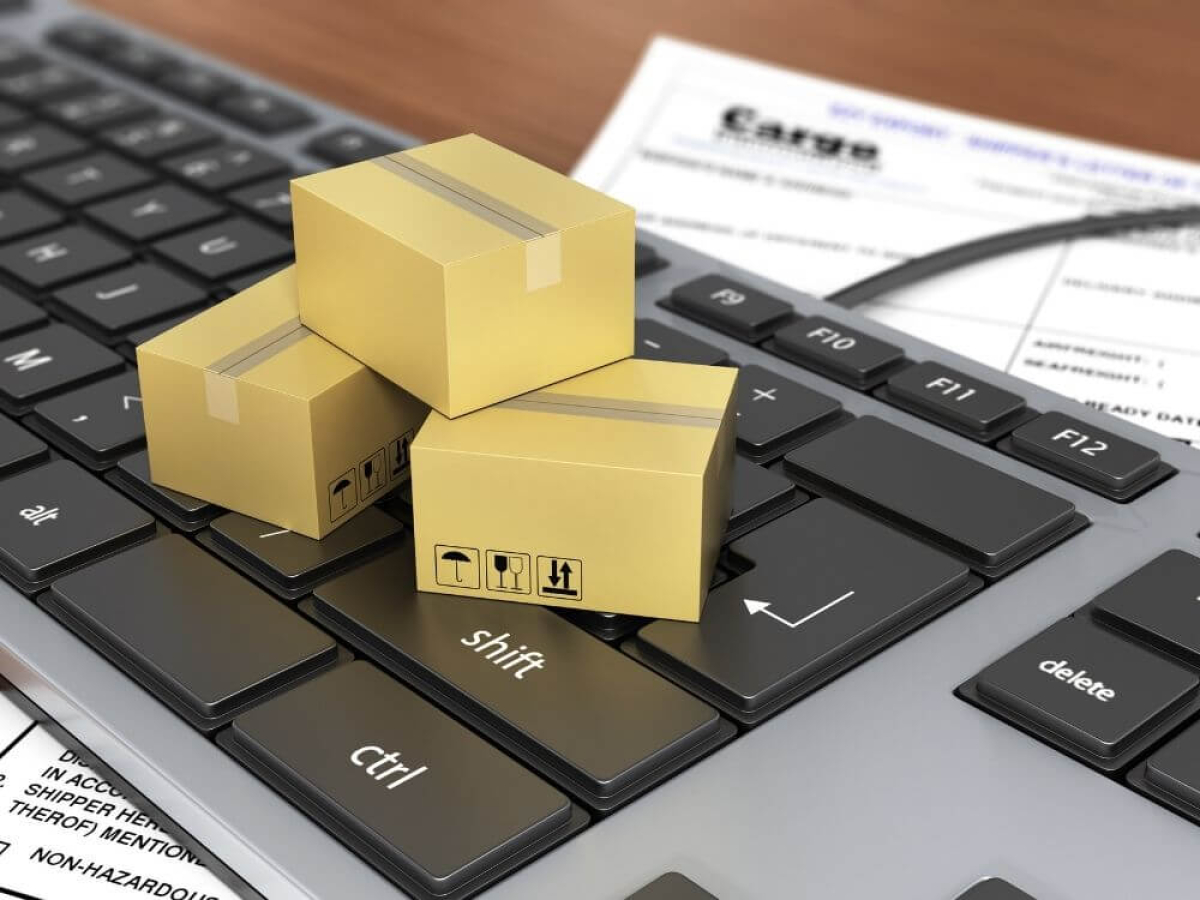 It's one thing to sell an item and another - to sell the shipping service and actually deliver the item to the customer's doorstep.
Selling an item requires sufficient demand, a good marketing strategy, and a clear checkout process. All of this can be done without the actual product in sight.
Shipping is where things get real. You need to plan your assortment carefully, keep sufficient stock, partner with shipping carriers if you choose to outsource - or oversee the entire last mile logistics yourself if you stick with self shipping.
And then there's managing customer expectations in terms of shipping rates and types of delivery services you can provide.
If this sounds overwhelming, that's because it is.
To help you navigate the eCommerce shipping landscape and find your perfect shipping method, we put together a guide to the many shipping solutions you can offer to customers.
Dive in to sort out the shipping question once and for all.
Shipping method by cost
As much as customers would like to have free delivery 100% of the time, shipping costs money. A big part of finding your preferred shipping method is figuring out how you - or your shipping partner - will be calculating shipping costs.
Do you charge based on the distance to be traveled? What about the size and weight of the package? Or the time it takes to fulfill the order?
Let's look at the types of shipping methods in terms of cost calculation based on all the different factors.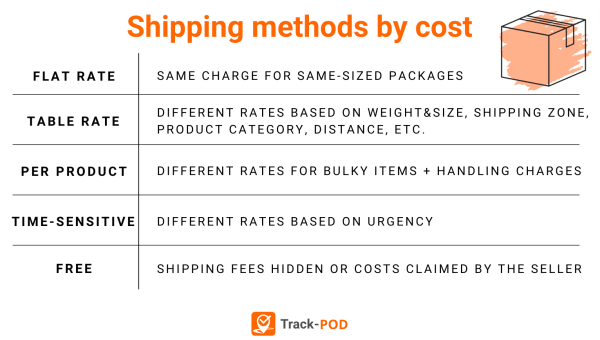 Flat rate shipping
Flat rate shipping is a delivery method that considers a flat rate regardless of the shipping zone.
The total cost of shipping will be calculated based on the number of items to be shipped.
Flat rate shipping is easy to calculate both for the shipper and the end buyer. As long as the package fits the size standard, every unit to be delivered and treated the same.
Naturally, there will be several size standards to benchmark your packages against. UPS, for example, will charge anywhere from $9.45+ (Extra Small) to $24.30+ (Extra Large) for a package that fits the dimensions prescribed for its different size categories.
Table rate shipping
Table rate shipping is a little more complex.
Depending on what kind of shipping scenario you're dealing with, you can offer customers different rates for shipping similar packages.
Think of all the variables in a shipping scenario.
Weight & size.
Shipping zone.
Distance.
Product category.
Carrier & priority.
Number of items.
Delivery dates.
When you opt for table rate shipping, you can consider all of these variables and charge according to each scenario. While it may be harder to calculate, you can treat your customers more fairly, e.g. charge less for local delivery as opposed to interstate shipping.
Per product shipping
Per product shipping method is similar to table rate shipping in a way that they both consider multiple criteria such as product category and the final destination.
The most common use case for per product shipping is the delivery of large items such as single-piece furniture or equipment that requires additional components shipped together with it.
Because of the bulkiness of the order, you can't fit it into same-sized standardized boxes. Not to mention loading, unloading, and handling fees that pile up on top of the shipping cost.
With WooCommerce's per product shipping, for example, the customer will see a total shipping cost at checkout, with all fees calculated together.
Time-sensitive shipping
Time-sensitive shipping covers all the delivery services customers love so much.
Same-day delivery, overnight delivery, priority mail, on-demand delivery - every shipping option where delivery time determines the cost of the shipping service.
If you choose to outsource shipping to a 3PL, you might want to look into each carrier's cut off time, i.e. the latest you can hand in a package for delivery on any given day.
As far as local deliveries go, your safest bet with time-sensitive shipments is self shipping with priority routing solutions. Then you can guarantee on-demand delivery at a flat rate the way Uber Eats works.
Free shipping
Free (or at least discounted) shipping is every customer's dream scenario.
Free delivery is an industry standard brought in by huge corporations but expected of all eCommerce shippers regardless of the size.
Some retailers offer free shipping above a certain amount of money spent. Some provide free shipping with the costs charged through hidden fees. Some only use it as an incentive to reward customer loyalty.
How can you provide free shipping? Two steps.
Claim all shipping costs.
Optimize continuously.
It's true that not all eCommerce retailers will be able to provide free shipping.
However, as a self shipping operation, when you scale and things like load planning and fuel management become standard practice, you can gradually reduce your shipping costs and incentivize customers with free delivery.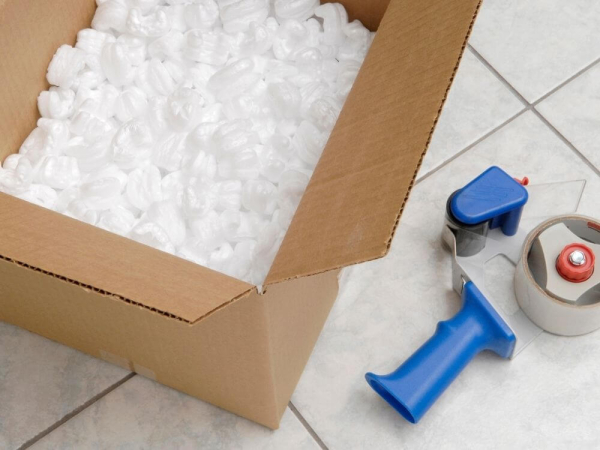 Shipping method by carrier
Outsourcing deliveries is something most businesses have resorted to. Even with an in-house fleet of vehicles and full-time drivers on board, some deliveries are simply outside of the business' capacity.
Many local delivery operations choose to outsource a part of orders, especially interstate orders, to shipping companies while handling local deliveries in-house.
Choosing a shipping partner is no easy feat. You need to do your research and see all shipping options and rates associated with them.
Let's look at what the most popular carriers have to offer.
USPS
Domestically, USPS delivers 7 days a week, 365 days a year. You can choose between standard and express shipping services depending on whether you need the cheapest or fastest option.
The fastest shipping method is Priority Mail Express (starting from $26.95). With it, USPS guarantees next-day delivery across the United States.
USPS tracking is available with most shipping services but you can purchase insurance additionally. When calculating shipping costs, you can choose between flat rate envelopes, flat rate boxes, or shape&size.
DHL
DHL offers parcel and freight shipping both domesticaly and internationally. There's weight, size, and length limitations applicable to shipments and they're mostly the same across countries and regions such as the EU, with different rates applied to Canada.
The duty and tax calculator is also available for figuring out the final shipping costs. Transit times will differ depending on the destination country.
In total, DHL covers 220 countries and territories and ships to 160 million addresses in the US.
FedEx
FedEx offers all the most popular shipping services: from overnight shipping and same-day delivery to international shipping and freight shipping.
Flat rate shipping applies to packages under 50 lbs. Shipping over 150lbs., meanwhile, makes you a freight shipper. Domestially, LTL freight with FedEx doesn't require a paper Bill of Lading.
As a regular shipper through FedEx, you can create an account and schedule a pickup whenever you don't have time to drop your packages off for shipping.
UPS
UPS offers three types of shipping rates for package delivery.
Daily rates - when you have a UPS contract or a scheduled pickup.
Retail rates - when you ship from a UPS location or with one-time shipments.
Domestic flat rate shipping - when the costs vary only by time sensitivity.
For large shipments, UPS provides air freight services like pickup, collection, delivery, and customs clearance.
Self shipping
Self shipping refers to scenarios where businesses choose to fulfill their orders using their own resources.
The resources in question include staff (warehouse managers, dispatchers, drivers), a fleet of commercial vehicles, and tools such as warehouse management systems (WMS) and last mile delivery software.
Self shipping pros and cons
The biggest advantages of self shipping are full transparency and control over the fulfillment process.
With features like SMS and email delivery notifications, live tracking, and paperless Proof of Delivery, you get to build a smooth customer experience.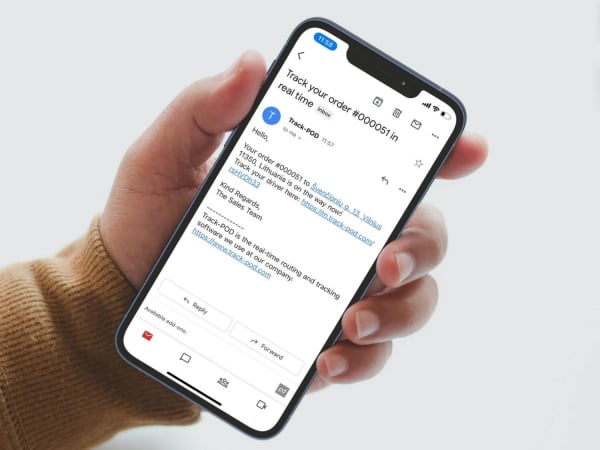 Some delivery software solutions such as Track-POD allow you to print shipping labels, scan all packages before departure with no additional hardware, and achieve on-time delivery every time.
The biggest challenges that come with self shipping are cost fluctuations (gas prices especially) and driver shortages.
Luckily, delivery software is built to both cut mileage via smart route planning and EV routing solutions and instant onboarding for contract drivers.
Self shipping costs
How much does self shipping costs?
There are many factors to consider: the volume of orders you fulfill daily, your staff's salaries, gas prices, total mileage, service time, cost of delivery software, and many other things.
The good news is that delivery software can be very affordable and easy to implement. Once in place, it serves the purpose of minimizing your resource consumption and overall costs.
Delivery management systems like Track-POD even offer shipping reports on cost savings over time and route rates that can be used to estimate costs at the stage of route optimization.
Plus, as you get more and more orders through on time delivery and high customer satisfaction, you can start paying per order as opposed to per driver.
Then, the cost of live tracking & ETA, contactless delivery, load and delivery confirmation with a free barcode scanner app, and historical performance insights can be as low as $0.12 per order.
Wrapping up
Shipping methods are many and they don't work the same for all shipments. Therefore, it's the business' job to assess risks and benefits, forecast demand, analyze customer requirements, and settle on the shipping method that makes the most sense.
Of course, you don't have to settle on one shipping method for all of your shipments. A lot of companies use a combination of third-party and self shipping and offer different delivery services depending on the order.
I hope this guide gives you sufficient insight into shipping methods for eCommerce. If you'd like to see Track-POD self shipping solutions in action, book a demo or get started for free today.