Android & iOS Barcode Scanner App for Delivery Drivers
Updated on September 12, 2023 by Yulia Miashkova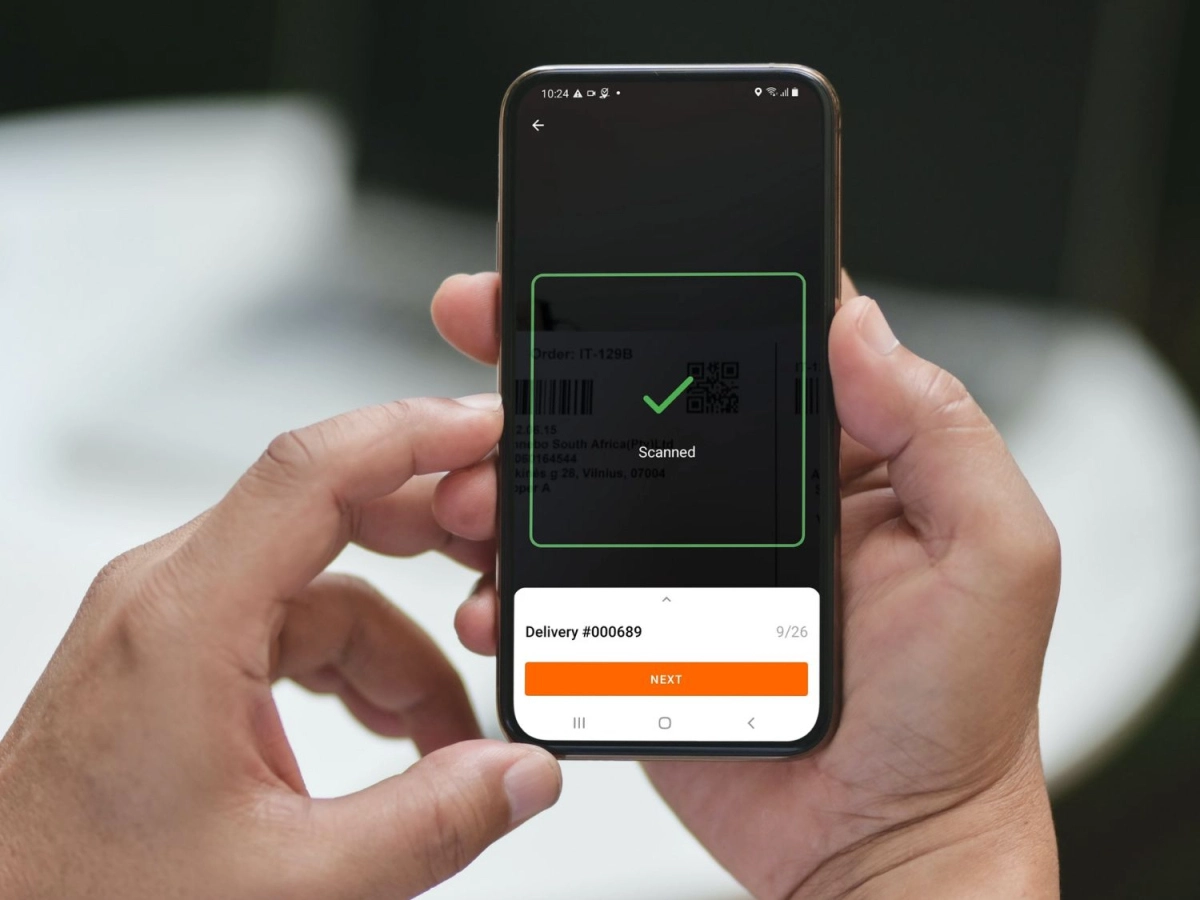 Did you know that Track-POD delivery software comes with a free QR and barcode scanner app for Android and iOS? In fact, you can turn any smartphone into an industry-grade barcode scanner with Track-POD driver app.

Scan by order or scan & count items within the same order for maximum efficiency.
Read on to learn everything you need to know about the Track-POD driver app's secret weapon for achieving delivery success.
Barcode scanner for delivery operations
Anyone who's managed delivery operations fulfilling multiple orders a day will tell you that it's easy to make a mistake.
It can be a routing mistake, especially if you still plan delivery routes manually. It can be the wrong time slot or the wrong number. It can also be wrong package, wrong customer.
Wrong package, wrong customer is an easy mistake, especially when you deliver multiple orders in one route.
Once the loading is completed, the only way back is via reverse logistics aka returns management.
Even with automated, error-free load planning, loading mistakes happen. Even when all loaded packages belong to orders in the route, they can still be loaded in the wrong sequence, making it harder for the driver to retrieve them, which inevitably extends service time.
Wasted time.
Delivery delays.
Inflated costs.
All of this can be minimized by implementing load and delivery confirmation workflows. More specifically, with the help of QR and barcode scanning technology, you can make sure all packages are loaded and delivered correctly.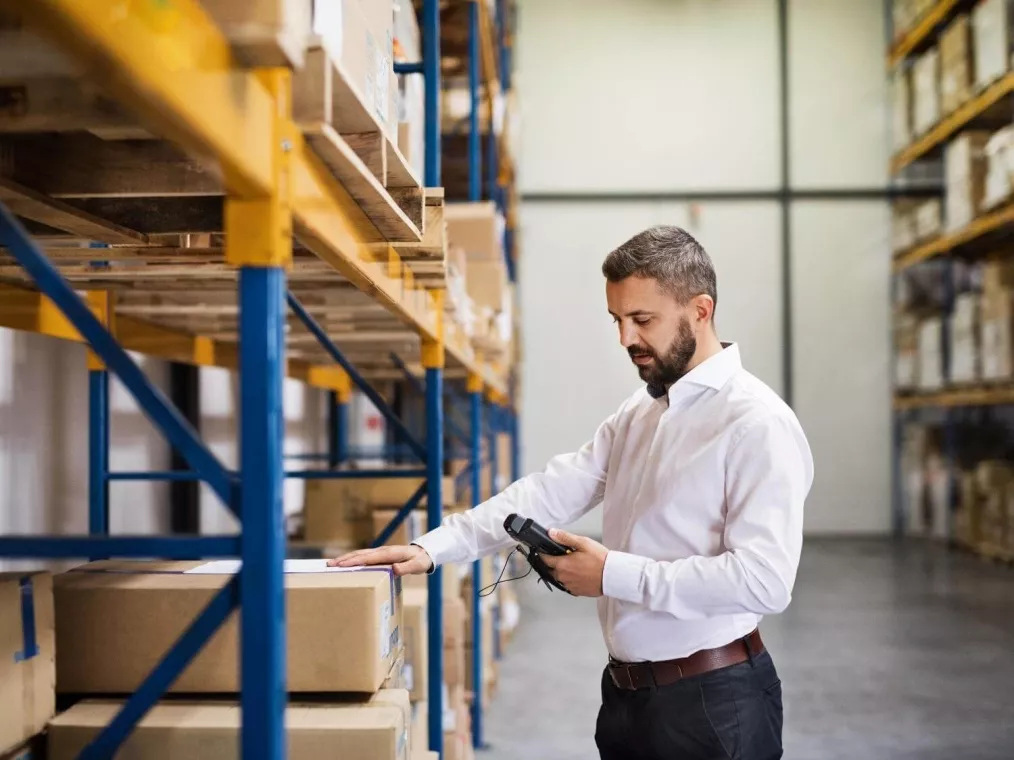 How QR/barcode scanning works in Track-POD
First things first: you don't need to pay for extra features, tools, or add-ons.
As long as you're using Track-POD's web route planner and mobile app for the driver, you're all set for load and delivery confirmation. Any smartphone can become an industry-grade barcode scanner.
Let's explore the order scanning workflow setup step by step.
1.
Enable load check
Barcode scanning begins in your Track-POD account settings. Navigate to scanning settings (Settings > Mobile Workflow > Scanning) to configure your shipping label structure and enable load check, and specify if you want to scan orders or goods.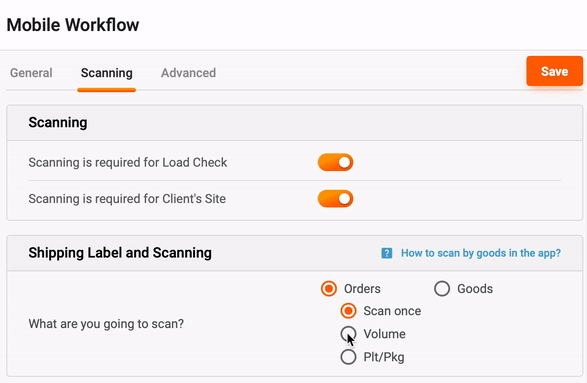 Track-POD allows you to choose between scanning orders and scanning goods, with the option to Scan & Count, i.e. the app will count how many item barcodes have been scanned as you go.
Scanning by item is a must if you deliver multiple items within one order and need to make sure all items are loaded correctly. It helps to easlity locate the missing packages before starting the route.
You can choose between Scan once, Volume, or Plt/Pkg options when scanning by order. This tool comes in handy for bulky orders and heavy deliveries. For more accuracy, you can also choose to make a unique barcode for each Vol. or Plt/Pkg.
2. Print shipping labels
Next up is generating and printing shipping labels for your orders and/or goods. You can do this from the main Plan & Track dashboard by selecting any route and navigating to the dropdown menu with shipping labels.
Shipping labels can also be generated for unscheduled orders that are not yet assigned to any route.


3. Scan packages
This is where Track-POD driver app comes into play. Since the web dashboard and the mobile app are synced in real time, the driver will see all orders as soon as they've been dispatched.
Because QR/barcode scanner is part of the app, the driver can scan the shipping labels without using any additional devices before route start.
Both Android and iOS users can scan shipping labels by order and item.
Track-POD's free barcode scanner app can scan shipping labels as fast as a regular laser device. The flashlight feature ensures that drivers can scan packages even in dark warehouse areas.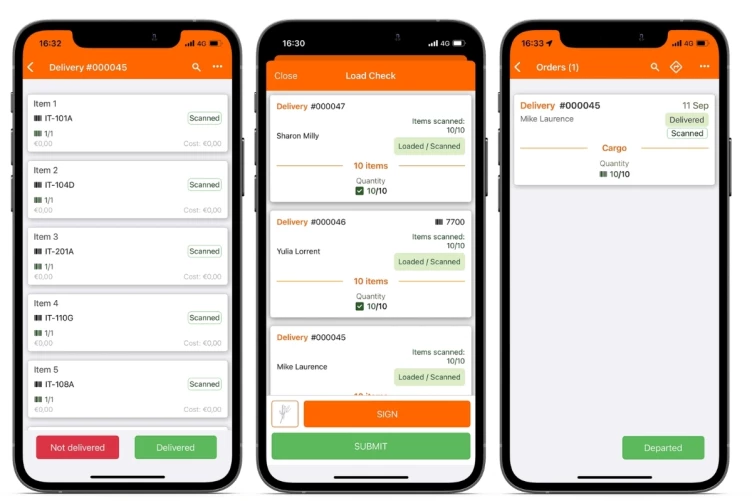 If a courier happens to scan an incorrect label or the same barcode more times than there are items belonging to it, they will see a warning:
The warning 'Already scanned' will appear if the same item is scanned twice;
The 'Unrecognised code' message indicates that the system does not recognize the barcode;
'This order belongs to another site' warning means that the order belongs to a different stop in this route.
In this case, Scan& Count will be paused until the courier scans a valid item.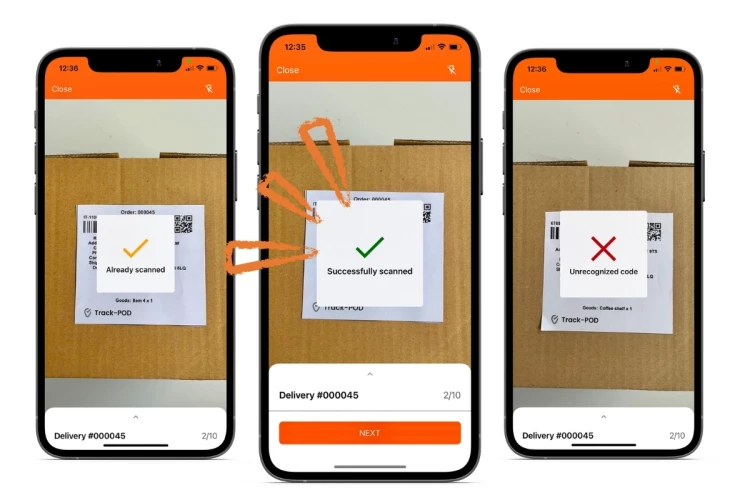 Your driver can completely customize their load check process with the free barcode scanner app.
The following options in the driver app can be enabled to simplify scanning:
"Next" button when scanning multiple items
Sound
Vibration
Barcode scanner app for delivery confirmation
On top of making sure all packages are loaded in the right sequence and quantity, your couriers can double-check packages and items upon arrival.
This is especially useful for contactless delivery when the driver needs to leave the package by the customer's door. Without someone to confirm or reject a delivery, the odds of making a mistake and delivering the wrong package are higher.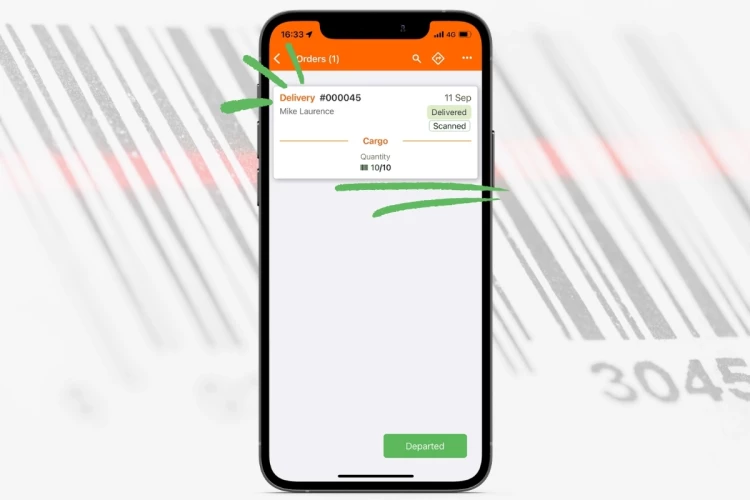 Using the Track-POD mobile app for iOS and Android, your couriers can scan packages upon arrival too, double-checking that they have the correct packages.
Below is a recap of the entire barcode scanning workflow once again, step-by-step.
Shipping labels are printed from the web dashboard.
The dispatcher enables Load Check.
The driver receives a list of orders to be scanned before departure.
The driver scans all listed packages and ensures they belong to the order and are loaded in the correct sequence.
The driver scans the packages again upon arrival.
Now, you can sit back and relax, being sure that the delivery process is seamless and that all stops will be served in full and on time.
Barcode scanner integrations in Track-POD
While Track-POD's mobile app for the driver is a self-sufficient QR and barcode scanner, Track-POD delivery software can also integrate with third-party barcode scanners like Zebra and Newland.
If you use scanning hardware in warehouse logistics management, you can implement Track-POD for routing, live tracking, delivery notifications, Proof of Delivery, analytics, and more.
Let's review the third-party barcode scanners you can integrate into your Track-POD delivery management workflow.
Newland scanner
Newland is a trusted provider of scanning solutions, both stationary and handheld. You can use any of Newland's Android devices to install the Track-POD driver app on.
This way, you speed up your barcode scanning workflow while using all the benefits of the driver app such as GPS navigation, in-app chat with the dispatcher, order transfer, electronic Proof of Delivery (ePOD), and more.
Zebra scanner
Zebra scanners are the leading products on the market. From general-purpose scanners to in-counter and healthcare barcode scanners, Zebra delivers cutting-edge solutions for 50 years now.
Using any of Zebra's handheld computers and Track-POD delivery software together, you can streamline your delivery operations and warehouse management by scanning in large quantities under any conditions.
Handheld scanner
Handheld Group is a Sweden-based provider of rugged mobile computers. From agriculture to waste management, businesses in multiple industries use Handheld rugged mobile computers for faster, more efficient, and more precise operations.
Feel free to install Track-POD driver app on your Handheld mobile computer and enjoy smooth barcode scanning, even in extreme conditions.
Chainway scanner
Chainway is a manufacturer of durable data collection devices. Chainway barcode scanners can be integrated with the Track-POD system for efficient logistics management and error-free loading.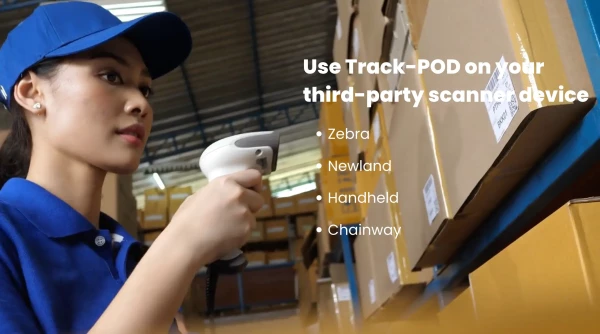 Barcode scanner vs barcode scanner app: Recap
Barcode scanner is a key part of enterprise logistics operations. The good news is, you don't need to invest in extra equipment to introduce QR/barcode scanning to your delivery workflow, even as a small delivery team.
Track-POD delivery software comes with a free barcode scanner app which is one of the key features of the delivery driver app. This means you don't need to purchase any devices and yet reap all the benefits of delivery confirmation using a regular smartphone.
If you're curious about Track-POD mobile solutions to last mile delivery challenges, book a free demo and start getting the benefits of automated logistics management today.