Free Route Planner with Unlimited Stops 2023
Updated on June 01, 2023 by Yulia Miashkova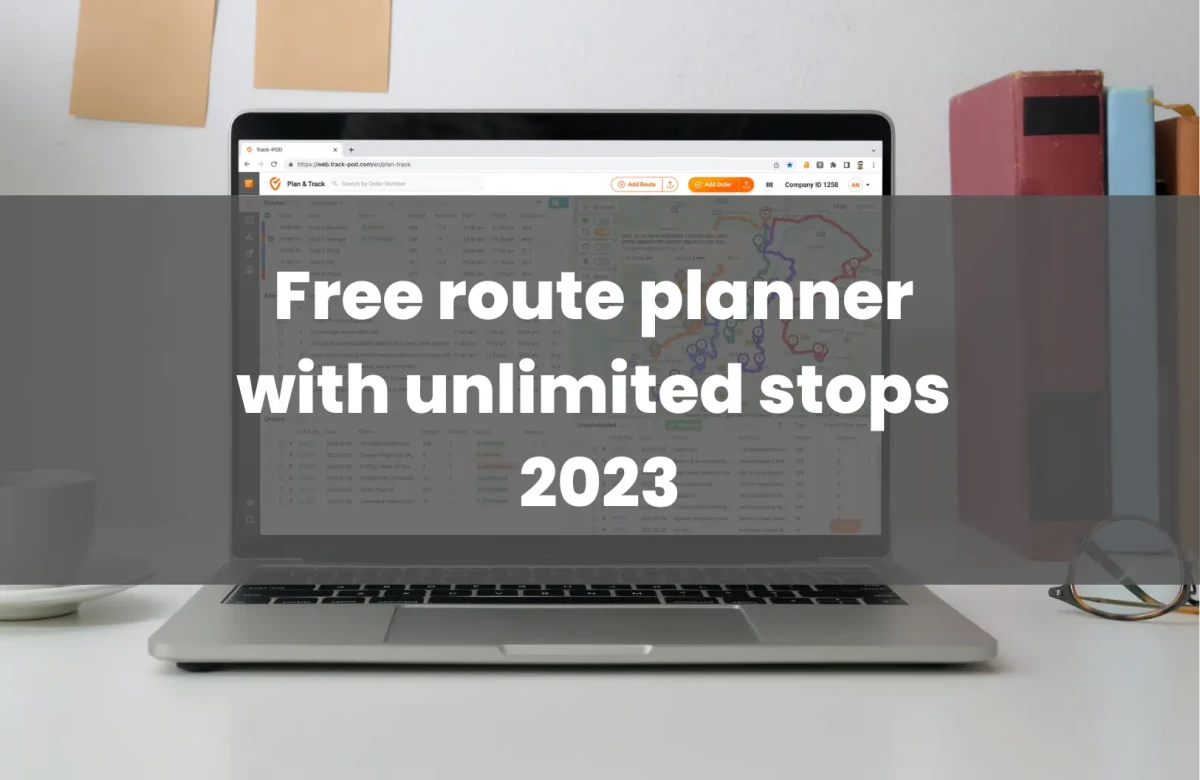 If you're looking into multiple postcode route planners, chances are you're scaling your deliveries.
You understand the importance of automated planning because you need to arrange multiple deliveries or collections into a single route.
You also know how essential it is to be able to keep track of your progress and keep customers in the loop.
This is what led you to research route planning software.
Route planner software replaces the conventional approach to planning routes with an automated and advanced solution.
In this post, we look at the best free route planner software with unlimited stops in 2023.
Best free route planner software
1. Google Maps
Plan up to 10 stops at a time in an easy interface for free.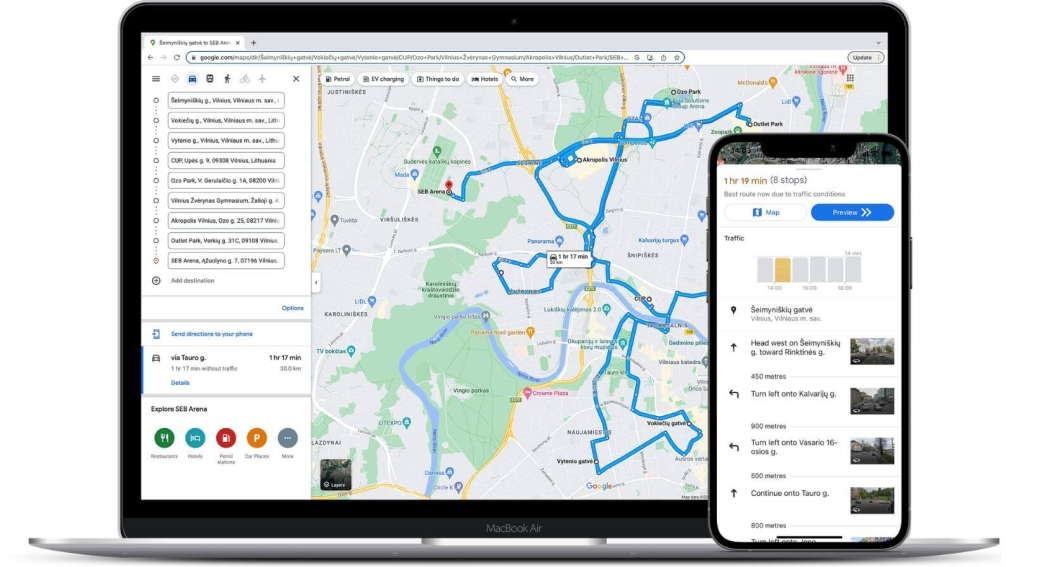 Google Maps is the world's most widely used route planner. It's a popular choice for navigation and personal trips as well as multiple postcode route planning. Google Maps is a decent option for individual drivers who need to plan multi-stop routes but don't require route optimization or load planning.
As a single driver, you can easily plan routes with up to 10 stops on your desktop and email them to your mobile device for navigation.
You can even set a time slot for yourself, telling Google Maps when you need to depart and arrive. Then the system will send you a reminder to make sure you meet your time obligations. Besides, it possesses some advanced location intelligence software tools, allowing you to convert addresses into geographic coordinates (latitude and longitude) and vice versa.
Pros: free solution, live traffic, reorder stops, EV charging stations on the map.
Cons: limit of 10 stops per route, no optimization.
2. RouteXL
Route optimisation for up to 20 addresses per route for free.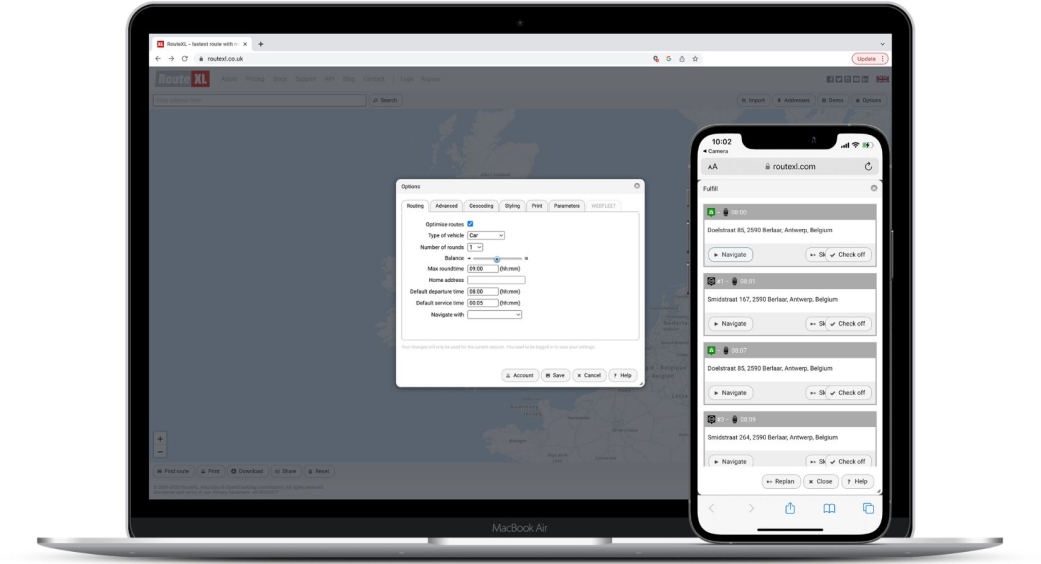 RouteXL is a freemium route planner with optimisation capabilities. In fact, it might be the easiest way to start optimising routes for free:
Multiple types of vehicles.
Home address.
Service time.
GPS app of your choice for navigation.
RouteXL allows you to import addresses and plan multiple routes a day with up to 20 addresses in each for free. If you need to plan routes with more stops, you can upgrade to a paid version.
As a single driver, you can send routes to your mobile via WhatsApp, email, or by scanning a QR code.
Pros: limited route optimisation for free, download route sheets.
Cons: free geocoding is unreliable, planning for multiple drivers requires manual work.
3. Speedyroute
Plan and optimize routes with up to 10 stops for free.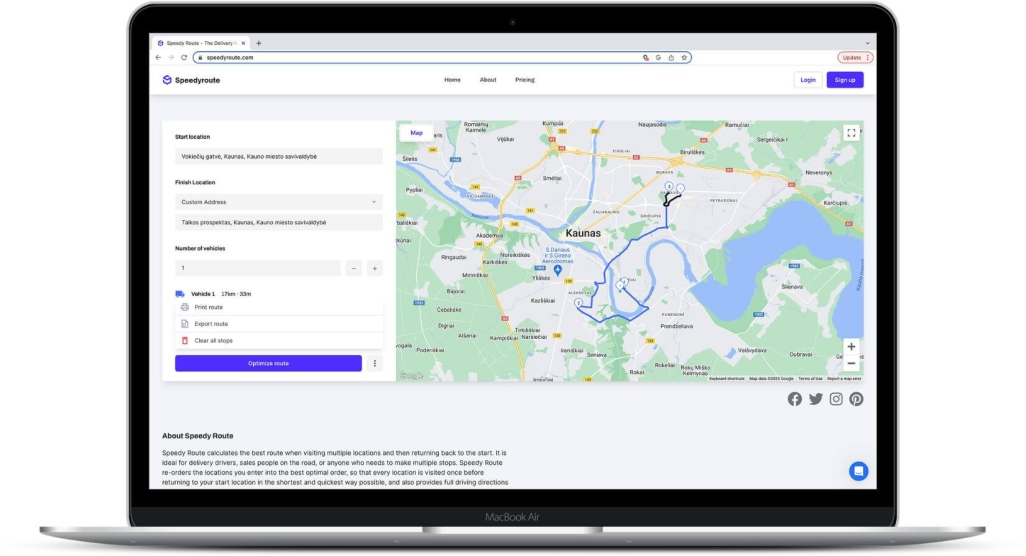 Speedyroute is another option for free route planning and optimization with some limitations. For one, you can plan routes with up to 10 stops. Secondly, there's no way to adjust optimization settings and specify parameters that work for you - you have to rely on the route optimization algorithm built into the system.
Once you've planned a route, you can export it in CSV or print a route sheet; there's no option to quickly send the route to mobile.
Speedyroute allows you to plan deliveries for multiple vehicles: 5 drivers, 500 stops for $69/mo, or 10 drivers, 9999 stops for $99/mo.
Pros: import addresses, quickly build, optimize, and print/export routes.
Cons: no option to adjust optimization settings or send to mobile.

4. AA Route Planner
100% free route planner for up to 5 addresses per route.
Automotive Association route planner aka AA route planner is a free and reliable tool for multi-stop route planning. It's designed to help drivers avoid motorways, traffic, and tolls, which makes it useful for building long routes.
Once you've planned a route, you can print it and take it with you to use detailed driving directions on the road. Using AA's mileage calculator, you can round up your route expenses even retroactively.
Pros: 100% free tool, helps to avoid motorways and toll roads.
Cons: a limit of 5 stops per route, no option to quickly share a route to mobile.
5. MapQuest
Optimize up to 26 stops by time or distance for free.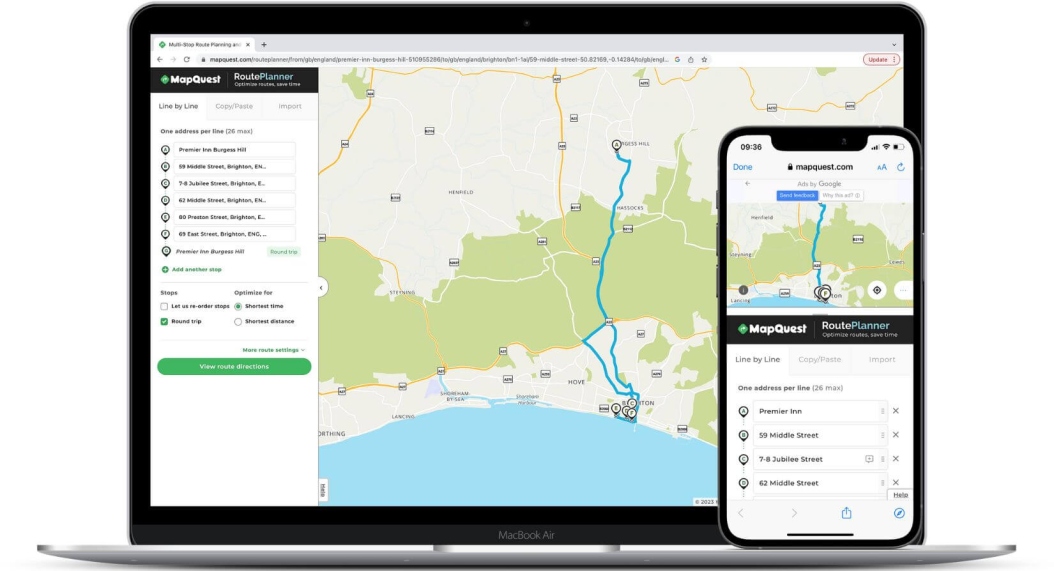 MapQuest is a free route planner for up to 26 stops. It allows you to import the list of addresses via an Excel or CSV file, paste them in bulk, or enter them one by one - depending on how many stops you will be optimizing. If you need to optimize up to 200 stops, you can purchase MapQuest's Road Warrior for $10 per person.
In terms of route optimization, here are the preferences you can set.
Round trip.
Shortest time.
Shortest distance.
Avoid highways, ferries, seasonal roads, etc.
In terms of export to mobile, MapQuest lets you email a route or send it to a phone number.
Pros: import up to 26 stops for free, choose between optimization strategies.
Cons: addresses need to follow a strict format, sending routes to drivers can be a challenge.
6. MyRouteOnline
Commercial vehicle route planning for multiple routes a day.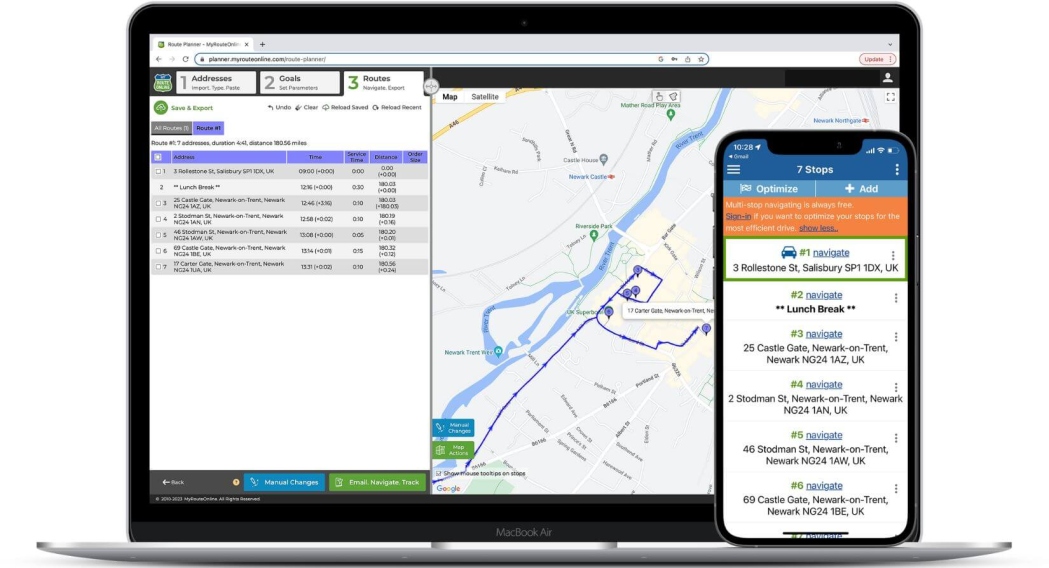 Starting with MyRouteOnline, we're stepping into the territory of commercial-grade route planners. This means more stops and more nuanced route optimization.
With commercial-grade route planners, there's a mobile driver app to install, which makes dispatching routes a matter of seconds.
MyRouteOnline allows you to dispatch to 20 stops for free, specify service time and time slot for each stop, and even set a lunch break for the driver. In terms of optimization, you can switch between different strategies, set your maximum time/number of stops per route, as well as specify vehicle capacity.
Pros: customize columns, advanced optimization, lasso tool for map-based planning.
Cons: a limit of 20 stops if you want to optimize and send routes for free.

7. Badger Maps
Route planner for field services and team route management.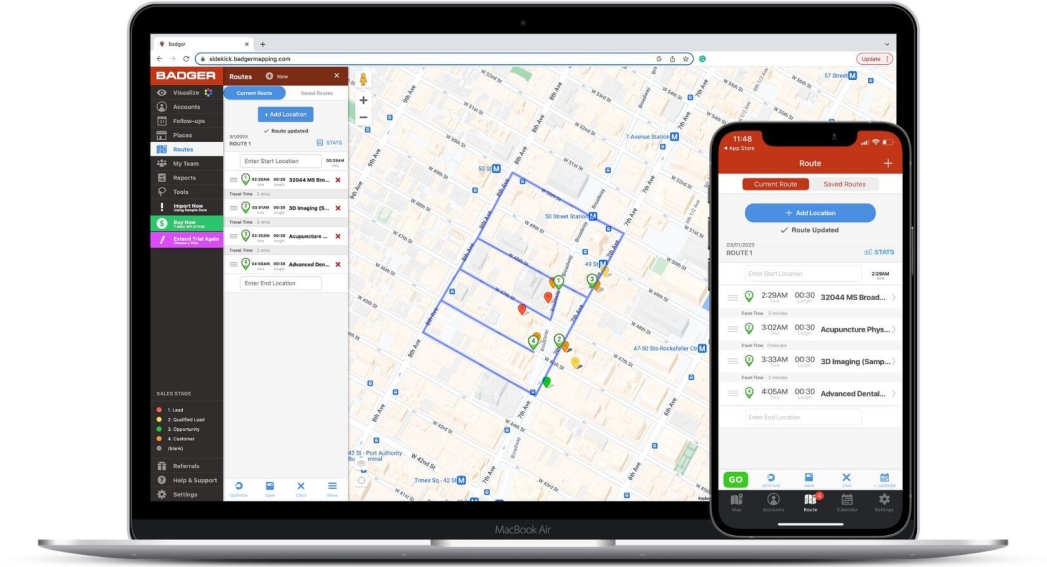 Badger Maps is a route planner app for teams of drivers/sales reps/etc. You get to add unlimited users and assign different roles and permissions to them reflecting the team hierarchy.
Export accounts/check-ins.
Delete accounts/check-ins.
Create accounts.
Edit accounts/fields.
Badger Maps is a good fit for sales reps that want to import orders directly from CRM and plan routes with all customer details visible. The system offers analytics that allow you to monitor and measure team performance.
You can test Badger Maps for free for 7 days. Regular pricing starts at $49/mo per user if paid annually.
Pros: advanced field service management, custom check-ins.
Cons: no option to send customer notifications via email or SMS, high pricing for the features that you get.
8. ElasticRoute
Plan up to 20 stops for free with advanced optimization.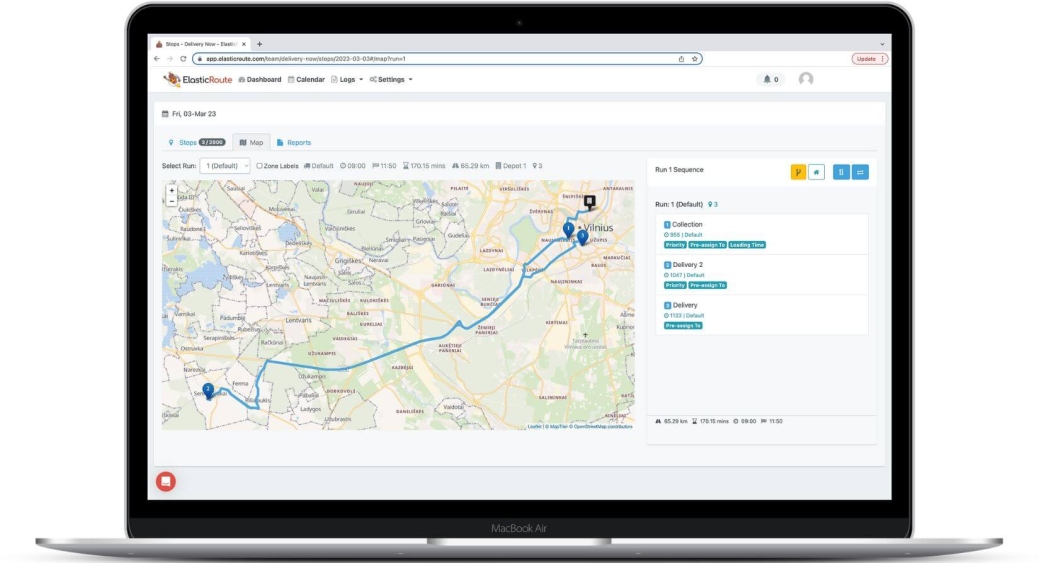 ElasticRoute is a multi-depot, multi-stop route planner for business. With its paid version, you can plan up to 2,000 stops (20 stops during the free trial), add unlimited sub-users, and configure multiple optimization settings.
ElasticRoute can be used on its own or together with Detrack - if you want your drivers to have a mobile app and collect Proof of Delivery.
Even though Detrack and ElasticRoute are integrated and even offer bundle pricing, you still end up with 2 systems, i.e. 2 screens that you need to import/export from. User experience is not as seamless as it could be with other route planners for business.
Pros: advanced route optimization, calendar view, unlimited sub-users.
Cons: best used with Detrack, which is a separate system with separate charges.
9. Routific
Advanced route optimization and customer notifications on demand.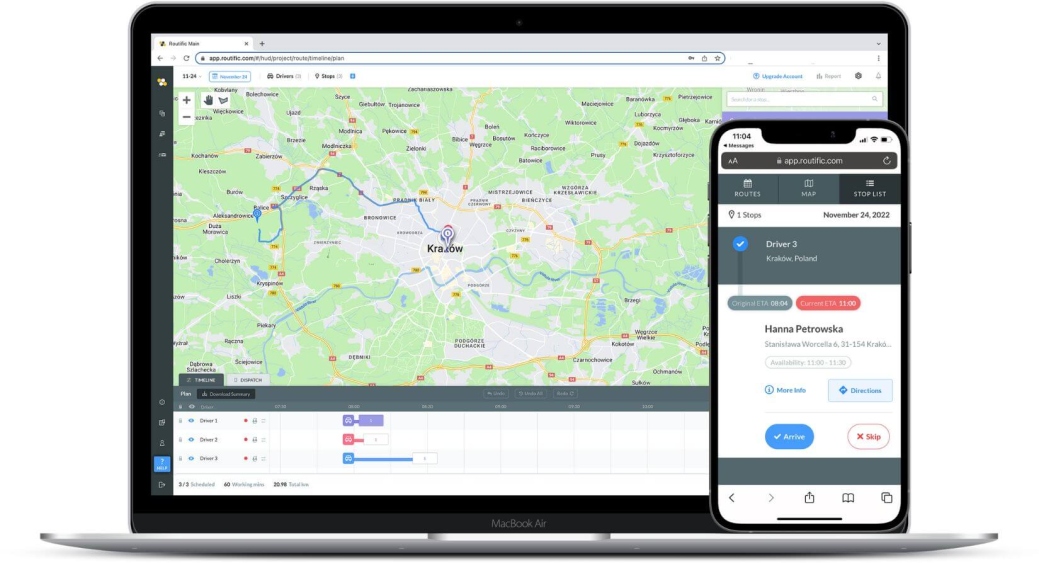 Now that we're standing firmly on the territory of commercial route planners, it's time to review Routific - a route planner for teams. Routific offers two subscription plans.
Essentials - allows businesses to either opt for a route planner alone.
Professional - end-to-end last mile solution that includes live tracking notifications for customers and Proof of Delivery.
Note that customer notifications come as a paid add-on on top of the Professional base fee.
You can try Routific for free and play around with the routing dashboard before you decide which subscription plan you'll go for.
Pros: Routific Driver Lite is a web mobile app that drivers don't need to install on their devices.
Cons: Proof of Delivery is only available with the Professional subscription ($59/mo), customer notifications cost an additional $19/mo per vehicle.
10. Track-POD
Drag-and-drop route planner with custom Proof of Delivery.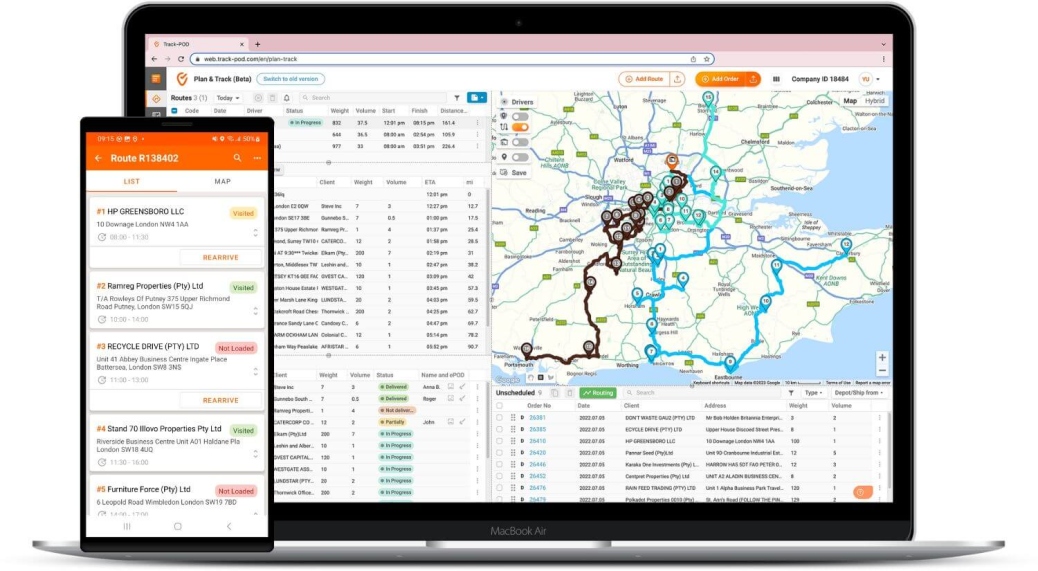 Track-POD is a route planner for businesses that need end-to-end logistics solutions out of the box. It's a single-dashboard platform, which means you only need 1 screen to take care of your delivery operations.
There are no paid add-ons or time-consuming integrations, so you can get started with unlimited route optimization within a day.
Track-POD is the right fit for you if:
You want to scale deliveries.
You want to be able to optimize thousands of jobs at once.
You want to send customer shipping notifications.
You want to have real-time and historical analytics (24 months).
You want to give your drivers the tools for every delivery scenario.
11. Upper
Best multi-stop route planner with advanced optimization.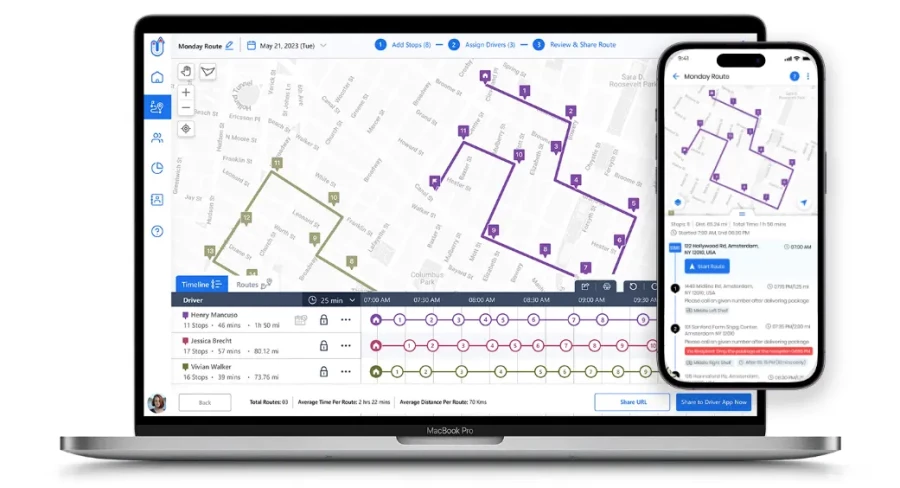 Upper is one of the ideal route planning and optimization software. It helps to swiftly import multiple stop addresses through CSV or Excel files. This software caters to Web, Android users as well as iOS users. The Android and iOS apps are for individual drivers only, and the web version is for a team of drivers.
Upper allows you to plan and optimize routes based on time or distance. These optimized routes help save time and reduce fuel costs. Here are some of the features that set Upper apart from other route planner software.
Get optimized routes

based on time or distance through Route Optimization.

Capture Proof of Delivery

in the form of photos, notes, and e-signatures.

Dispatch routes

with a single click using

One-click Dispatch.

Access to Reports and Analytics

to get detailed operational insights.
Pros: easy-to-use interface, 24/7 customer support.
Cons: no free version, but a free trial is available and supports adding 25 drivers.
Free route planner tool limitations
As you've seen above, multi-stop route planners come with certain limitations.
Limited stops
Free route planning software with multiple stops has a limited number of stops for optimization.
Limited vehicles
Many free route planners allow route optimization for one vehicle. To plan more than one delivery route per day, free service is not the right option hence it's best to go with a paid route planner app that offers a free trial to let you test before paying subscription costs.
UX
Free route planning software that works with a limited number of deliveries does not need great design and easy-to-use solutions. The problem occurs as the business grows and delivery route planning takes time. This makes the delivery costs higher and the free route planner does not serve the purpose.
Delivery time windows
Free route planning software does not come with the feature of delivery time windows. A customer has to wait for the whole day for order delivery.
Mobile app
Drivers need to have access to the right tools to provide good quality delivery service. Just to name a few.
Live chat with the dispatcher.
Multiple GPS navigation apps to choose from.
The option to document partial delivery and overdelivery.
The option to reorder stops.
The option to collect Cash on Delivery (COD).
The option to take photos and collect e-signatures.
Vehicle maintenance with safety checklists.
Barcode scanning for load and delivery confirmation.
Order transfer to other drivers.
Custom reasons for rejected items.
Free route planners don't have driver apps with this range of features.
Best free delivery route planner solutions
Route planner apps for businesses are built to solve complex logistics challenges.
Multi-driver, multi-stop
An advanced multi-stop route planning software such as Track-POD is suitable to manage a fleet of commercial vehicles serving thousands of stops per day.
Delivery on time
In more advanced route planning software, algorithms pay attention to accurate plans to meet scheduled delivery time windows and achieve on time delivery. Factors such as driving speed during peak times, construction areas, and estimated delivery time for specific orders are considered a major part of the routing plan.
Same-day implementation
Advanced route planning software is designed for people who work in logistics operations such as dispatchers and fleet managers, where the key purpose is to understand the functions and features to improve efficiency. At the same time, the interface needs to be intuitive for fast and easy implementation.
Streamlined processes
Advanced route planning software streamlines order import and management. Track-POD allows you to import from Excel or any order management system you use, and even offers a designated Customer Portal that empowers your frequent shippers to add, monitor, and manage their orders.
Customer experience
You can eliminate all calls on the status of deliveries by sharing live tracking notifications with customers.
Performance evaluation
Advanced route planning software provides real-time information about the drivers' performance if they are executing delivery according to the plan. Real-time vehicle tracking is available to customers too, as track and tracing powers one-click vehicle tracking without the need to input order ID or make any additional steps.
Wrapping up
The best route planner with multiple stops is a route planner that covers your needs. If it's a personal trip with up to 10 stops, you'll be fine using Google Maps. If you have drivers to manage and multiple routes to build, you're better off with a paid solution that offers advanced features.
I hope this article gives you clarity and helps you choose the best route planner app for your use cases.