The ONLY Free Shipping Label Template You'll Ever Need
Updated on September 20, 2023 by Alina Kostukova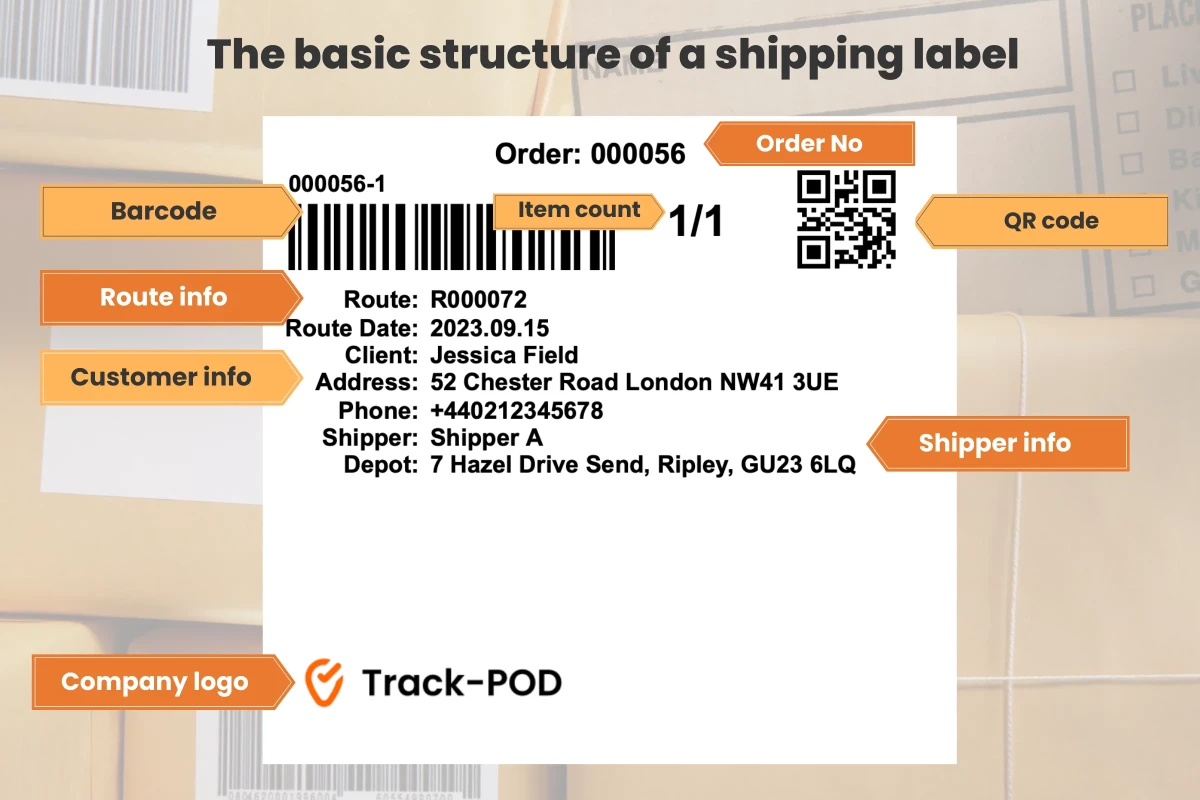 Precision and efficiency are paramount for all logistics operations.
It doesn't matter how many experienced drivers you employ or how fancy of a fleet you manage. If you keep losing packages or delivering orders to the wrong addresses, you need to level up your order confirmation workflow using shipping labels.
Without a properly formatted shipping label, your logistics can't work smoothly.
Shipping labels are more than just stickers; they are the backbone of logistics, conveying essential information about a package's contents, recipient, handling instructions, and more.
We have already talked about how businesses can generate and print shipping labels.
This time, we will finally solve the riddle of the proper shipping label structure.
We will offer a free shipping label template, go over its key structural components, and discuss best practices to tailor shipping labels to your business needs.
Shipping label template structure
The shipping label's first and most important job is to give the courier all the information they need to load and deliver the right package.
Unclear structure, unnecessary elements, and missing information on the label can all result in lost time and money.
Certain elements of the shipping label templates are more critical than others, depending on the type of business you run and the goods being delivered.
We'll go over each essential and secondary element of the template so that you can create a shipping label that works for your logistics needs.
Shipping label template: basic elements
Let's start with the standard template elements most logistics companies include on their shipping labels. Using this template for your shipping label will give you everything you need for a smooth load check and delivery.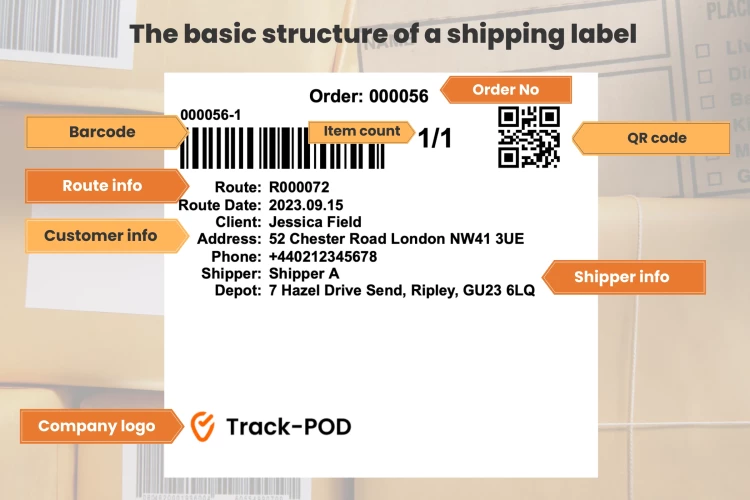 1. Order and route information
Always include crucial order details on the label so the driver can easily identify the package and/or items inside.
Orders not corresponding to this specific delivery or route can be sorted out thanks to route information.
The following fields on the template correspond to order and route information:
Order number;
Order date;
Item count;
Route number;
Route date.
2. Client (recipient) details
It is essential to include customer information in case the courier needs to quickly check the details of the receiver.
Customer information allows for efficient communication between the sender, recipient, and shipping carrier in case of any issues or new delivery instructions. It also helps the delivery driver to easier locate the parcel on arrival.
Your shipping label template can include the following elements related to customer information:
Contact name;
Company name;
Address;
Phone number.
3. Shipper information
Printed labels can also include shipping company information.
This data is useful for couriers since it allows them to distinguish between packages sent by various shippers. It also serves as a point of contact if the courier needs to communicate with the sender regarding delivery status, ensuring smooth logistics and timely updates.
For customers, shipper information on the label is a helpful way to keep track of their deliveries.
You can add the below shipper details:
Shipper name;
Depot/ Ship from address;
Company logo.
4. Unique identifier/barcode
Here we are at the most essential part of any shipping label: the unique parcel identifier.
In fact, unique identifiers can vary from one company to another.
The most frequent and functional options, however, are:
Shipping barcode;
QR code;
Unique tracking number (for shipping carrier companies).
A barcode or a QR code is needed for seamless parcel scanning using a smartphone or a laser scanner.
Those identification elements can significantly simplify the load check and proof of delivery procedures.
With Track-POD, you don't need to worry about purchasing external laser scanners. Our driver app can turn your smartphone into a free industrial-grade barcode scanner.
Here is an example of a standard shipping label layout that should be sufficient to ensure that your items successfully arrive at their destination.
Shipping label template: optional elements
In some cases, companies need to include additional elements in addition to the core shipping label structure.
This may be required for certain shipping types, such as on-demand delivery, white glove delivery, etc.
International transportation standards often demand extra details on the shipping label, which is critical for moving your shipments across borders.


1. Goods
​​Including a list of
unique items
that belong to the order can be beneficial for various reasons, primarily for
transparency, verification, and ease of handling.
Transparency is essential because it allows both the sender and recipient to confirm that the correct items are included in the shipment, reducing potential errors and disputes.
2. Note
A note on the shipping label can provide specific handling instructions to the courier, such as "Leave package at the front door," "Deliver to the back entrance," or "Fragile - Handle with Care."
This ensures that the package is delivered according to the customer's preferences, especially if they have specific delivery requirements or are expecting a delivery of fragile goods.
3. Delivery time slot
Some types of deliveries, e.g. food or other perishables, require a specific time slot to be specified on the shipping label.
A delivery time window can also be specified on the shipping label if you provide on-demand or express delivery services when estimated time of arrival (ETA) is a crucial factor.
4. Package weight/volume
You can include the parcel's weight, volume, or Plt/Pkg characteristics while creating a label template.
This information helps couriers in load planning and allocation of resources, ensuring that packages are handled safely.
5. Cash on Delivery
Including the COD (Cash on Delivery) amount on the shipping label is vital for certain types of shipments, particularly when the sender wants to collect payment upon package delivery.
Thanks to the COD field on the shipping label template, the courier and recipient know the payment arrangement in advance, ensuring a smooth and secure transaction.
6. Site # / Zone
Including the site number or delivery zone on the shipping label is crucial for large organizations or businesses with complex delivery networks.
It helps simplify the logistics and distribution by providing specific location information for the package's final destination within a multi-site or multi-zone environment.
7. Invoice number
Having an invoice number printed on the shipping label allows for easy cross-referencing of the shipped items with the corresponding invoice.
It also makes it easier to find order information if a customer has a question or wants to send something back.
Track-POD allows you to create unlimited custom fields to be used at any stage of your logistics workflow, including in the driver app.
The invoice number can be added as a custom field, which means you can use it in your shipping label template, routing dashboard, or delivery driver app.
Free shipping label template
Track-POD's web dashboard comes with a free shipping label template which makes it fast and easy to create a custom shipping label from scratch.
You can drag and drop the fields you want to display on your shipping label.
Track-POD's shipping label template allows up to 7 lines, giving you plenty of room to list all of the required and optional fields.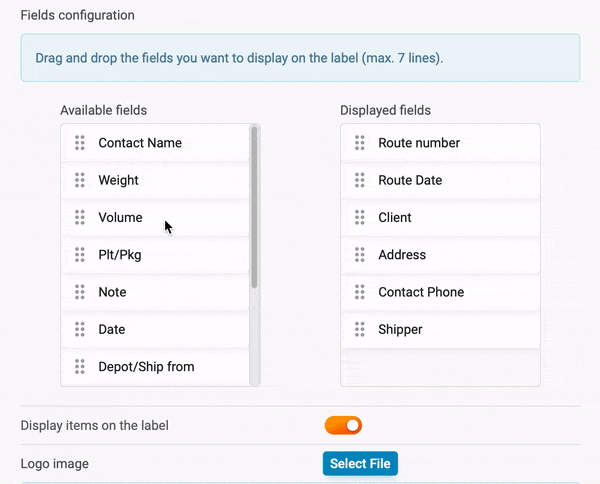 As you can set up your own custom fields, like "Invoice number" or "Delivery type", you can really tailor the shipping label template specifically to your logistics needs.
You can also choose to show or hide items (goods) on your label, depending on your and your customer's preferences.
Last but not least, you can enhance the look of your shipping label by adding your company logo.
Shipping label examples
To broaden your understanding of the shipping label structure, let's look at some examples of labels used by international shipping companies.
FedEx shipping label
FedEx shipping labels contain all the essential information for a package's efficient and accurate processing.
The label usually features the extensive sender's and recipient's information, invoice and order numbers, item quantity, and billing information.
Key elements like the tracking number, barcode, and service type allow for real-time tracking and tracing of the shipment.
USPS shipping label
Similarly to the previous examples, USPS shipping label contains crucial delivery information like the sender's and recipient's details, type of service, a barcode for tracking purposes, and a unique shipping label number.
Additional details may vary depending on the specific USPS service and label type. Some USPS shipping labels can include special handling instructions, postage discounts, return address, and any applicable notes (e.g., "Fragile" or "Do Not Bend") to ensure proper delivery of the package.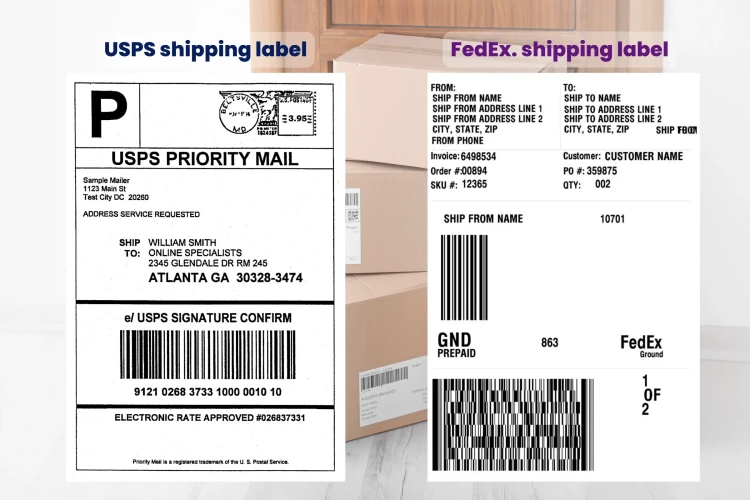 UPS shipping label
Typically generated through UPS shipping software or online shipping platforms, the UPS label template includes essential parcel information such as the sender's and recipient's addresses, tracking number, UPS service type, QR code, and barcode for automated processing.
It often provides space for additional details, such as package weight, dimensions, declared value for insurance, and special handling instructions.
DHL shipping labels
DHL shipping labels contain vital delivery information such as the parcel's origin and destination, parcel weight and total number of items, shipment tracking number, service type, and barcodes for easy tracking and sorting.
Additional details on a DHL shipping label can include customs information for international shipments, such as product descriptions and declared values, to facilitate customs clearance.
DHL shipping labels can also feature special instructions (note) like "Fragile" or "Perishable" for accurate handling.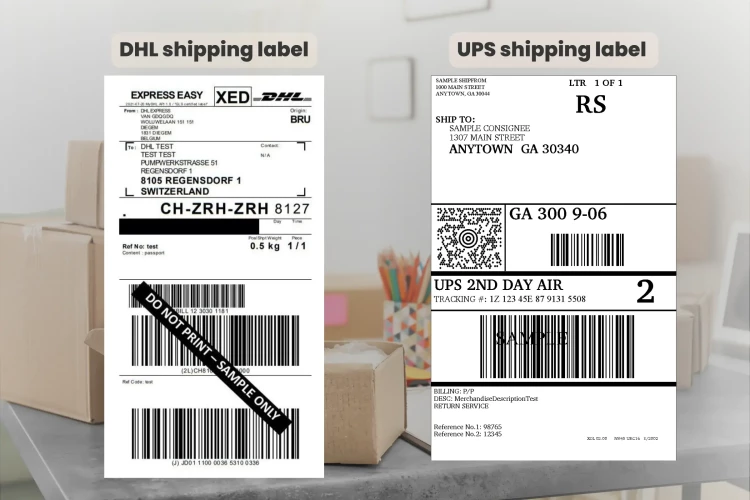 Wrapping up
The proper structure of a shipping label is crucial for the success of logistics operations.
Key elements of a shipping label include order and route information, client details, shipper information, and a QR code/barcode.
Optional shipping label fields can incorporate order items, handling instructions, delivery time slots, package weight/volume, COD, and site/zone details.
Ensuring a well-structured shipping label maximizes fleet productivity, simplifies load and unload procedures, and prevents delivery errors.
Start your free trial today to use Track-POD's shipping label generator together with our industrial-grade barcode scanner.