How to Use Custom Fields in Track-POD [5 Real-life Examples]
Updated on June 06, 2022 by Yulia Miashkova

Track-POD is a ready-to-use system. All features required for paperless delivery management come out of the box, with no need to set anything up.
The earliest you can get started with Track-POD is right now.
That said, there's room for customization. Zapier integration, for one, lets you make Track-POD a part of other environments - like Slack or your CRM of choice - and automate different parts of your delivery process.
Today, we're taking a closer look at another way to customize your Track-POD software. This time through custom fields.
But first...
Custom fields FAQs
Before we get started, let's address some of the frequently asked questions about Track-POD's custom fields.
How much do custom fields cost?
Custom fields is a default feature available under Track-POD's Advanced, Advanced Plus, and Enterprise plans.
Starting at $49/mo per driver, you can use custom fields in your web dashboard, mobile driver app, as well as Customer Portal for shippers.
How many custom fields can I add?
Track-POD delivery software allows unlimited custom fields. As long as you have a paid subscription, there are no limitations on using custom fields.
Which formats are used in custom fields?
Track-POD's custom fields are available in 6 formats.
Checkbox.
Number.
Text.
Date.
Time.
DateTime.
Who can see custom fields?
When you create custom fields in your web dashboard settings, you can choose which parts of your Track-POD systems will display them.
It can be your web dispatcher app, your mobile driver app, and your shippers' portal. You can make custom fields mandatory and editable for the driver (Android only).
All custom fields can be added to your PDF Proof of Delivery template and exported via Excel or API.
What are custom fields used for?
Custom fields in Track-POD can be used to adjust the system to your workflow. For example, if you have deadlines for routing or if your drivers need to collect/provide data outside of the regular Proof of Delivery details.
For more use cases of custom fields in Track-POD, read on.
Custom fields use cases
Let's take a look at 5 examples of custom fields in Track-POD. All of them can be easily replicated if you have similar operational needs.
1. Collections
Track-POD delivery software supports both deliveries and collections. The system will plan routes with pickups and dropoffs, taking into consideration time slots and powering contactless delivery/pickup when needed.
Sometimes, however, delivery and collection happen at the same time and there's no need to plan separate tasks.
Let's say your drivers need to collect bags, boxes, ice packs, etc. I.e. any reusable equipment that needs to be retrieved after delivery.
By creating a custom field and making it available in the delivery driver app, you can indicate what needs to be picked up at the customer's address once the goods have been delivered.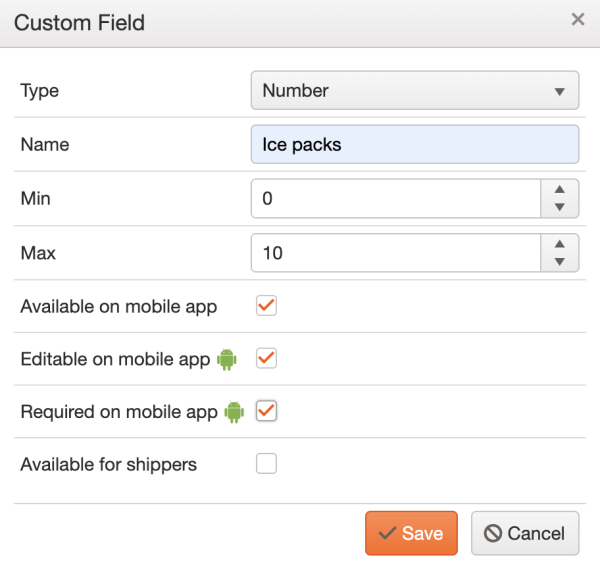 Pro tip: You can include a checkbox-type custom field to cover the cases when nothing was available for pickup at the customer's location.
2. Invoice number
In case you require additional details to be indicated for orders - such as an invoice/reference/container number, you can create a custom field that may or may not be visible to the driver.
Once you've created the field, you can add it to your customizable Proof of Delivery template that is shared with the customer as a PDF file upon delivery.
You can also make invoice/reference/container number visible to your shippers, as well as have it available when adding new orders for routing.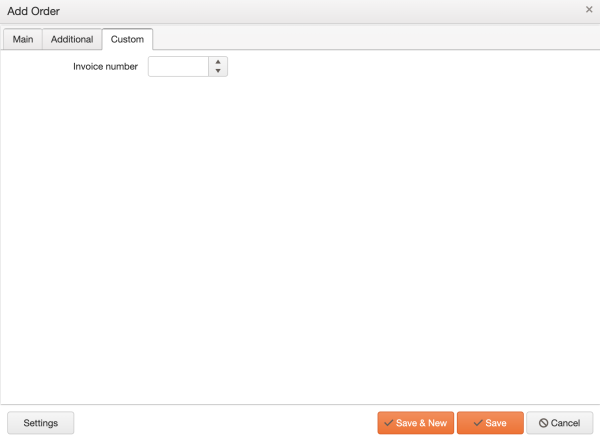 3. Deadline
Sometimes, you might need to complete routing/dispatch or deliver by a particular date.
Let's say you have a week to fulfill your orders. Then, your shipping deadlines will vary depending on when an order has been added.
As a dispatcher, you want to make a note to yourself as a reminder of the routing deadline. While you could use Track-POD's default field for notes, adding a custom field in the date format is much more convenient.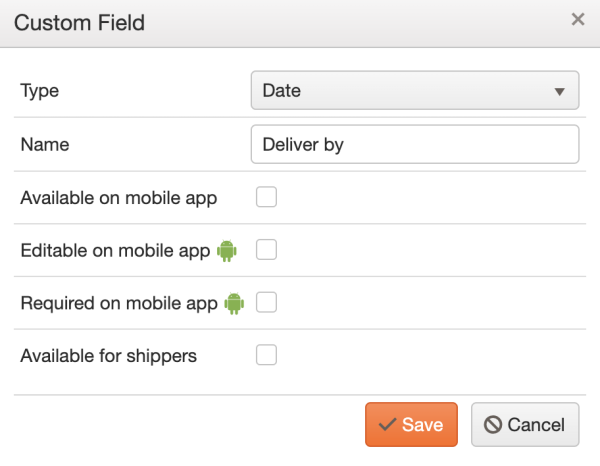 4. Shipper info
Track-POD offers different electronic Proof of Delivery templates for different shippers.
Meanwhile, if you don't need to use a separate branded template for each shipper but still want to distinguish which order is shipped from which shipper/business location, you can use a text-type custom field.
For example, you have several locations that you ship from. By implementing a custom field and including it in your Proof of Delivery PDF template, you can indicate which branch of your business delivered which shipment.
5. Customer info
Sometimes, you might want to include extra info about the customer. Say, you send a gift to every first-time customer or need a batch of orders to be shipped ahead of other orders without assigning priority in advance.
By adding a checkbox- or text-type custom field, you can include customer details or order details that don't fit into other fields.
Wrapping up
The best last mile logistics software is the one you customized to your operational needs. Track-POD's unlimited custom fields is the feature that helps you enhance the system and shape it to your liking.
If you're curious about custom fields or any other solutions that Track-POD delivery software has to offer, book a free demo and we'll give you a guided tour.