How a Fleet Fuel Management System Helps Your Business Handle Record Gas Prices
Updated on March 31, 2022 by Yulia Miashkova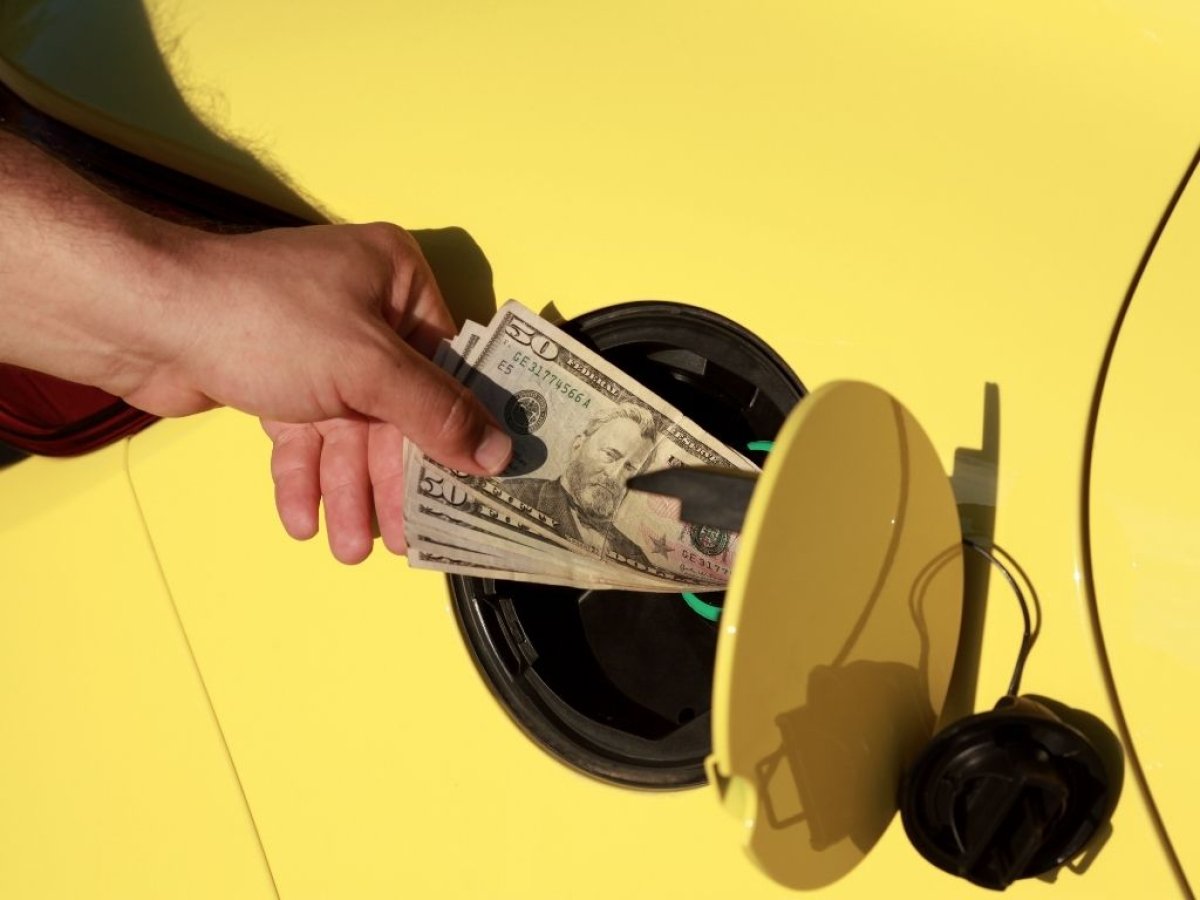 Whether or not you're in the delivery business, you've been affected by the soaring gas prices over the past couple of months.
Fluctuating oil and gas prices is nothing new. And it's not always going from bad to worse.
At the beginning of the Covid-19 pandemic in 2020 gas prices sank rapidly because of the halt in production and a decreased demand for fuel.
Now, amid the geopolitical uncertainties of 2022, we're at a new all-time high in fuel prices. This means that the global logistics and transportation industry is affected the most.
As a delivery business, how do you navigate ever-fluctuating fuel costs? How can you minimize the risk of going out of business because of poor fuel management in times of record-high gas prices?
The answer is fleet fuel management. But first...
The state of global gas prices
Oil and gas prices are never the same for too long. So how bad are things at the moment?
Let's take a look at the gap in global fuel prices from December 2021 to the present day.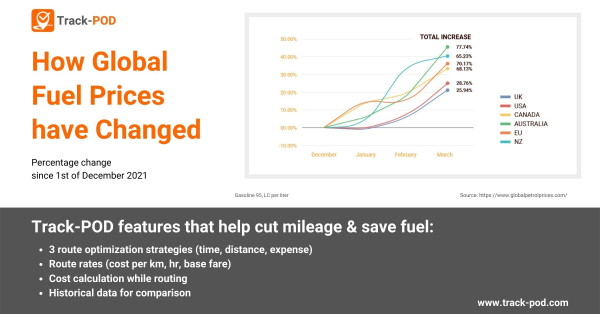 Although the total increase is different from region to region, the general trend is that the curve is not flattening any time soon.
On average, 2022 has seen a 65% jump in global fuel prices.
Where does this leave delivery businesses trying to optimize costs and make the most of their resources while also competing with global transport companies?
Two words: fuel management. Let's take it one step further.
What is fuel management?
In the most simple terms, fuel management is the process of controlling and monitoring how much fuel is consumed. This can be applied to any mode of transport, although we'll focus on road transport in particular.
In the delivery business, fuel has always been one of the biggest expenses. And even with the rise of green logistics and EV fleets, gas constitutes a major chunk of delivery costs as going electric remains a challenge.
Even as USPS committed to double its EV fleet, 90% of its vehicles are gas trucks.
Although there are zero-emissions delivery startups that use cargo bikes, by and large, there's no deliveries without fuel.
Fuel management, therefore, needs to serve the following purposes.
Make fuel consumption make sense in relation to the number of deliveries/collections done.

Optimize mileage and reduce fuel consumption month to month.

Maximize the efficiency of fleet management at large.
How do you achieve all that? By using a fleet fuel management system.
What is a fleet fuel management system?
A fleet fuel management system is usually a part of a larger fleet management solution or a transportation management system (TMS). It combines multiple transport management solutions to cut logistics costs in the long term.
Here's exactly how a TMS like Track-POD works as a fleet fuel management system.
All your vehicles + capacity and restrictions are stored in the system.
You can automatically import delivery/collection jobs for routing.
Route optimization includes route rates and cost calculation.
You can compare costs with different optimization strategies.
Your vehicle space is used to the max with load planning.
You get the fastest, shortest, and most efficient routes.
Analytics and historical data help you optimize fuel expenses.
As you can see, a fleet fuel management system does many jobs at once to make sure you can always handle fluctuations in gas prices.
The beauty of using a TMS is that you get a holistic solution to all of transport management, which means you get to optimize the entire delivery workflow.
How Track-POD helps you cut fuel costs
There's not much you can do about gas prices but there's a lot that can be done to reduce your fuel costs. Because delivery costs are never just about fuel.
Let's look at how Track-POD helps you bring your operational costs down and keep you safe from inevitable fluctuations in gas prices.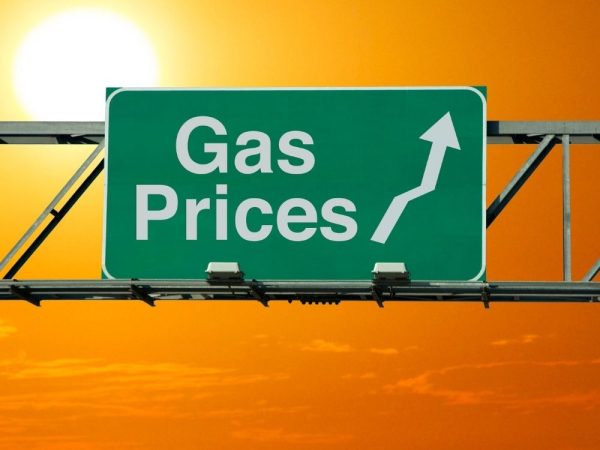 1. Routing with unlimited stops
Cost-efficiency in logistics is about how much you need to spend vs how much you can deliver. If you can plan unlimited deliveries and collections in a matter of minutes, it means you've saved yourself hours of manual work every day.
The more stops in a single route, the lower cost per delivery. This is simple math that will get you far in scaling your delivery business.
"Track-POD's optimisation ability allows us to organise the run in the most efficient way." - Catherine Powell, the Despatch Coordinator at TyreLine Distributors Limited
2. Optimization strategies
AI-powered routing is good but route optimization is even better. Especially when you get to experiment with optimization strategies and see an estimate of costs at the routing stage.
Track-POD lets you choose any of the 3 route optimization strategies.
Time.
Distance.
Expenses.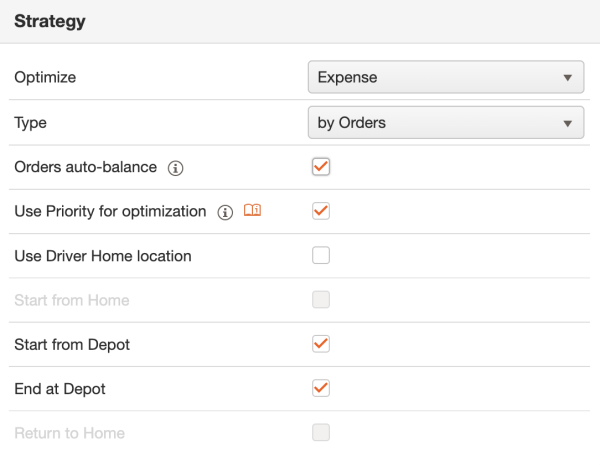 Optimizing by Expense is the way to go when trying to cut fuel costs. Then the system will build the cheapest routes for your fleet based on the rates you've put in.
3. Costs
Track-POD's advanced routing means that you can see and assess route costs before you dispatch them to your drivers. Cost and deviation calculation is part of the extended routing features of our proprietary route optimization algorithm.
Track-POD will give you a total for each optimized route based on route rates - cost per km/mi, cost per hour, and base fare. You can either add generic route rates or make them vehicle-specific for any third-party trucks, e.g. if you work with contract drivers.
4. Routing history
Track-POD stores your routing history to help you optimize your route planning strategy. Below is the kind of data you get to look at retrospectively to see which optimization strategy has worked the best.
Number of vehicles.
Time.
Distance.
Sites.
Orders.
Duration.
Costs.
The more you use Track-POD's advanced routing features, the more historical data there is to compare and build your perfect workflow.
"I love that with Track-POD there is a way to make it very easy and just say: we have this many vehicles – go for it and create our routes." - Stephanie Chupp, Director of Sustainability at Prep to Your Door
Wrapping up
With ever-changing gas prices and supply chain disruptions, fleet fuel management can make or break a delivery operation.
Minimizing risks and building efficient workflows is the only way to navigate fuel costs, and that's what using a fleet fuel management system like Track-POD is all about.