The Only Proof of Delivery Template You'll Ever Need (How-to + FAQ)
Updated on June 09, 2023 by Alina Kostukova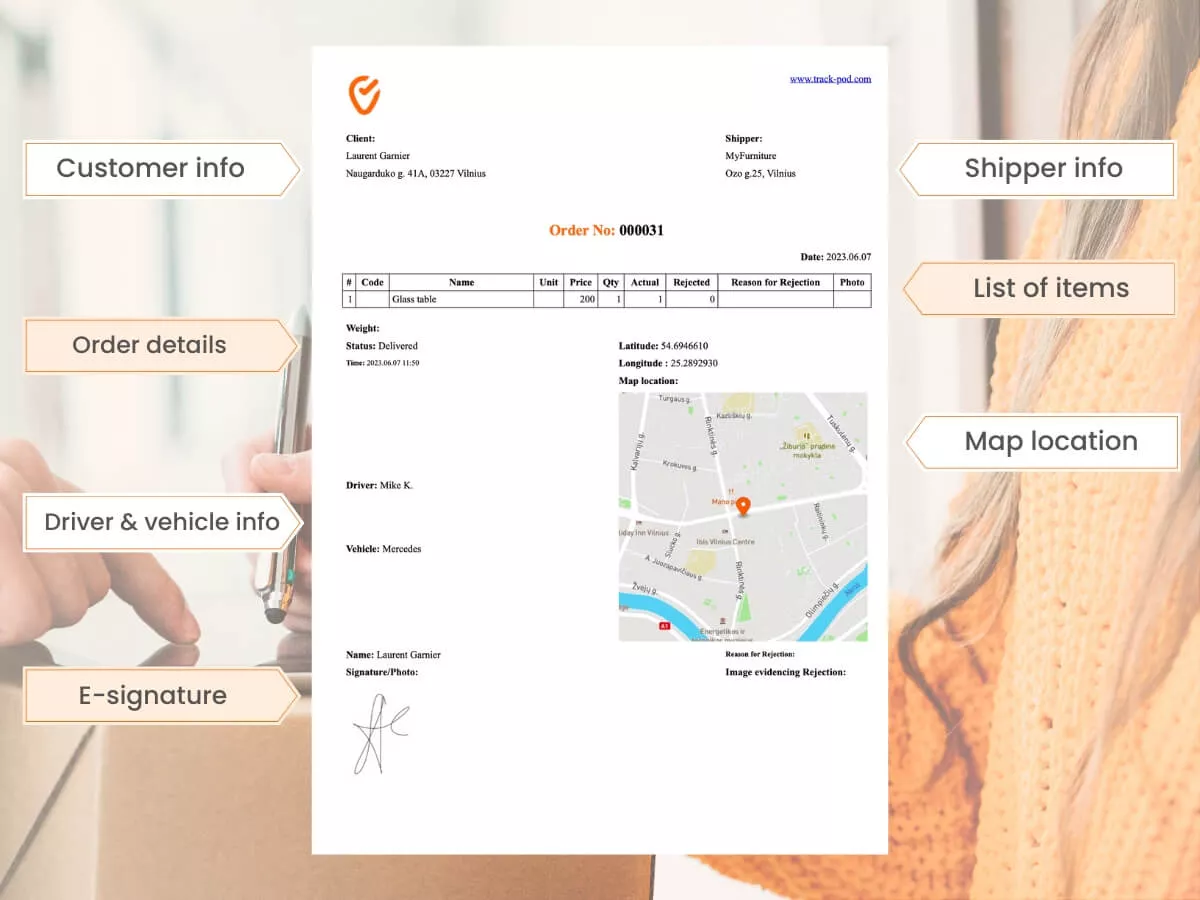 It goes without saying that proof of delivery (POD) is the superhero of logistics paperwork.
By setting the record straight, this document doubles as a trusty 'insurance' policy, offering protection to both the business and the customer.
A well-structured proof of delivery enhances transparency between parties, establishes customer confidence, and fosters smoother logistics operations.
In this article, you'll find expert advice, practical tips, free delivery note template, and other resources for creating outstanding proof of delivery notes. No fluff, just valuable insights to take your proof of delivery to the next level.
Proof of Delivery structure
Clear proof of delivery structure facilitates efficient record-keeping. It enables businesses and customers to locate and reference specific order details.
Let's review the elements you should never forget to include in your POD notes and some extra fields that make the document even more detailed.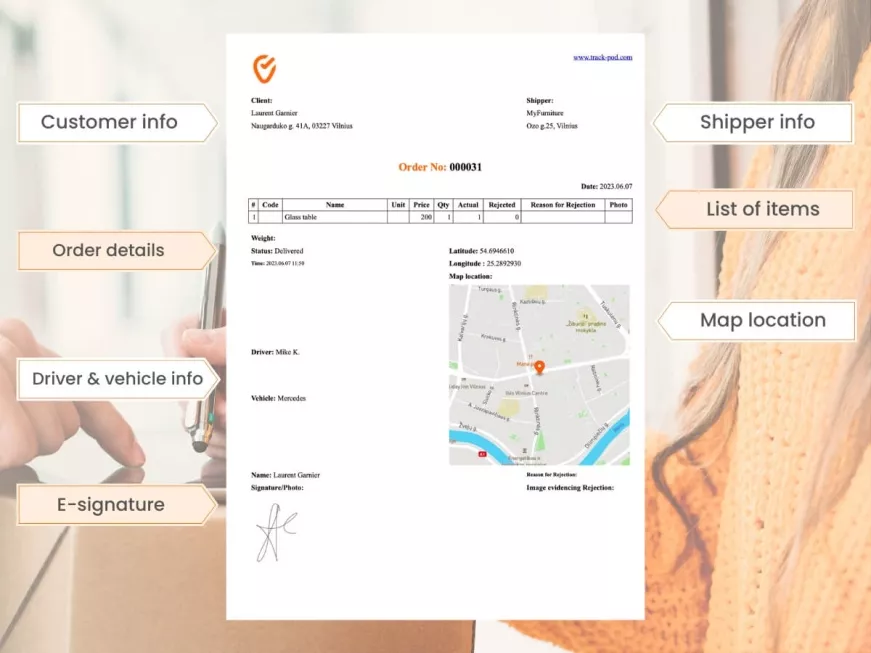 1. Shipper details
All delivery paperwork must include the company name and contact information.
Customers will appreciate knowing how to reach you if they have any questions or concerns about their orders, so be sure to include the following elements.
Company name.

Business address.

Company email and phone number (optional).

Order depart from (depot) address (optional).

Business ID /Tax ID (optional).
2. Client (recipient) details
Include the following details to guarantee delivery to the correct individual or company.
Customer name or company name.

Customer address.

Phone number and email address (optional).

Business ID /Tax ID (optional).

Customer reference ID (optional).
3. Order information
Proof of delivery notes would only be worthwhile with essential order details. Order information is required for accounting and record-keeping reasons and for future customer references.
Make sure to include the following order details in your POD document.
Order number.

Invoice number.

Order date.

Departure time (optional).

Order arrival time (optional).

Order barcode (optional).

Order status.

Order weight.
4. Goods
The list of items with descriptions is an additional set of details you should include in your POD. You can change the list of item characteristics based on the types of goods you are delivering.
This is especially crucial when delivering packages containing multiple items. Then, the client can compare the items on the list with what was actually delivered.
You can include the following details related to the goods.
Item number.

Code.

Item name.

Unit(s).

Planned quantity.

Actual quantity.

Number of rejected items (optional).

Reasons for rejection (optional).

Photo (optional).
5. Actual proof of delivery
To effectively fulfill its main purpose, your delivery notes should incorporate actual proof of delivery.
As previously explained, this proof is generated when a driver confirms a delivery through the proof of delivery driver app and attaches the relevant supporting evidence.
Here are some suggested elements to include in your proof of delivery template.
Photo evidence.

Location map (geotag).

Location coordinates.

Customer signature.

Custom note.
For added precision, you can combine multiple proofs of delivery in a single template.
6. Reasons for rejection
Not every package is intended to be delivered on the first try. Mistakes happen, both on the part of customers and couriers. Yet, reflecting them on your proof of delivery note is important.
For packages that couldn't be delivered due to site or order issues, drivers can enter a rejection reason in Track-POD.
For instance, if a customer refused to accept their shipment because an item they had ordered was damaged during transit. To be completely transparent with your clients, you can add the following elements to your POD template.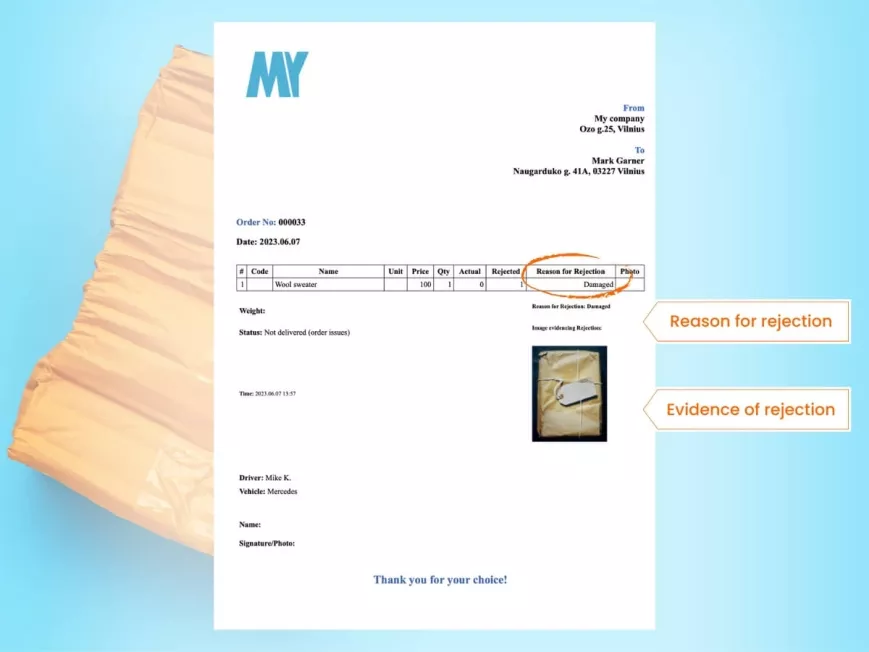 7. Driver and vehicle information
In many scenarios, including the courier's information is beneficial. For example, it could be used to view the delivery log to resolve customer complaints or note positive feedback.
You can include the following components.
Driver's name.

Driver's phone number.

Vehicle information.
Proof of Delivery: best practices
Now that we've covered the fundamental structure of proof of delivery notes, it's time to look at some best practices that will make your notes shine bright among the rest.
POD vs. ePOD
Proof of delivery comes in two main forms: paper and electronic.
For instance, with Track-POD, you can make a personalized electronic POD, make edits, and then download it as a PDF for printing if necessary.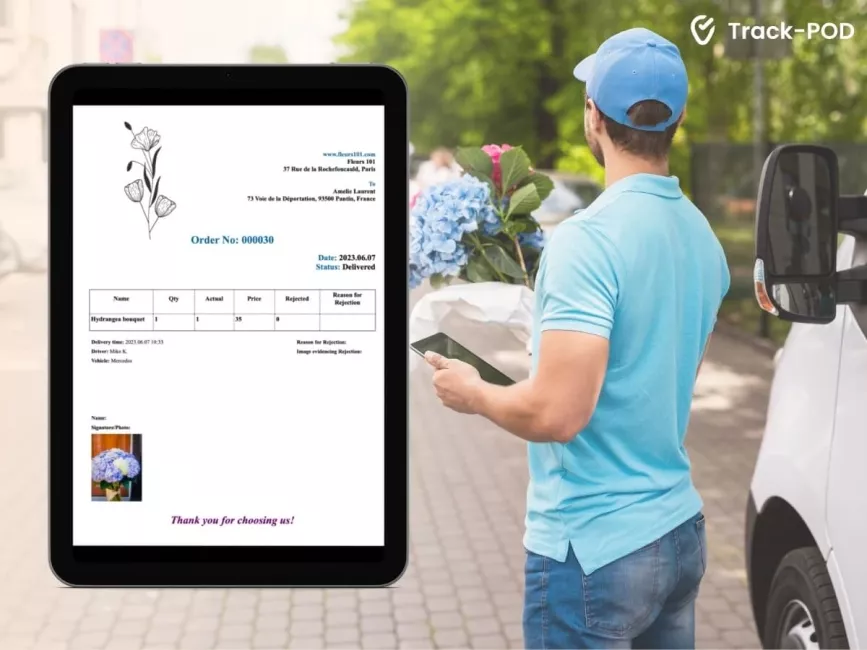 In the last few years, the electronic format has won everyone's hearts, and we'll explain why.
1. Electronic POD is good for the environment because it reduces paper waste and the need for physical storage.
2. It also reduces the cost of paper, printing supplies, and upkeep.
3. Digital POD is simply more flexible. It can be updated in real-time, so delivery details are always correct, even when couriers are on the move. Once the ePOD is updated, a fresh, up-to-date version can be emailed to the customer.
4. Integrating ePOD into order and warehouse management systems and EPR is easier.
In some cases, local regulations or customer preferences may necessitate printing delivery notes. However, opting for eco-friendly paper options that align with sustainability values is essential.
Consider choosing a recycled or biodegradable paper to demonstrate your commitment to eco-consciousness.
Identity matters
We've talked about how to make delivery notes clear and well-structured; now, let's talk about how to make them recognizable.
One of the ways to make your delivery notes stand out is to include branded elements.
By incorporating your logo, color scheme, typography, or slogan, you create a cohesive visual representation of your brand.
This consistent branding across all touchpoints, including POD notes, shipping invoices, email updates, and other documents, reinforces brand familiarity and strengthens customer trust.
It serves as a reminder of customers' positive interaction with your brand, increasing the chances of repeat business.
You can add vibrant fonts and brand-specific images and modify the document structure to make your e-POD notification unique by using Track-POD's Proof of Delivery custom template with an HTML editor.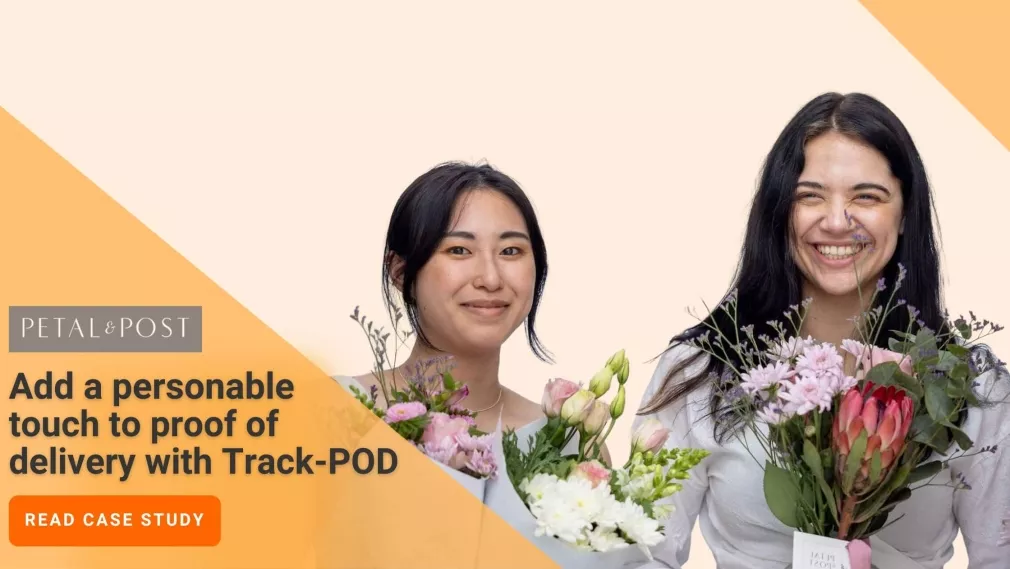 Delivery note templates: real-life examples
It's always best to learn from the best, so we found some examples of proof of delivery notes from well-known delivery companies.
Please note that the specific format and content of proof of delivery notes may vary slightly between carriers and their services.
USPS proof of delivery
USPS's proof of delivery note has all the essential information: tracking number, order status and date, delivery time, contact information for the recipient, and the weight of the shipment.
The recipient's signature and handwritten address are added as delivery evidence.
FedEx proof of delivery
FedEx's proof of delivery template is very similar to the USPS's, with details like the package tracking number, the shipper's and recipient's names, and the dates the package was shipped and delivered.
If you want to see a picture of your signature, you can click on the link and enter your shipper account number.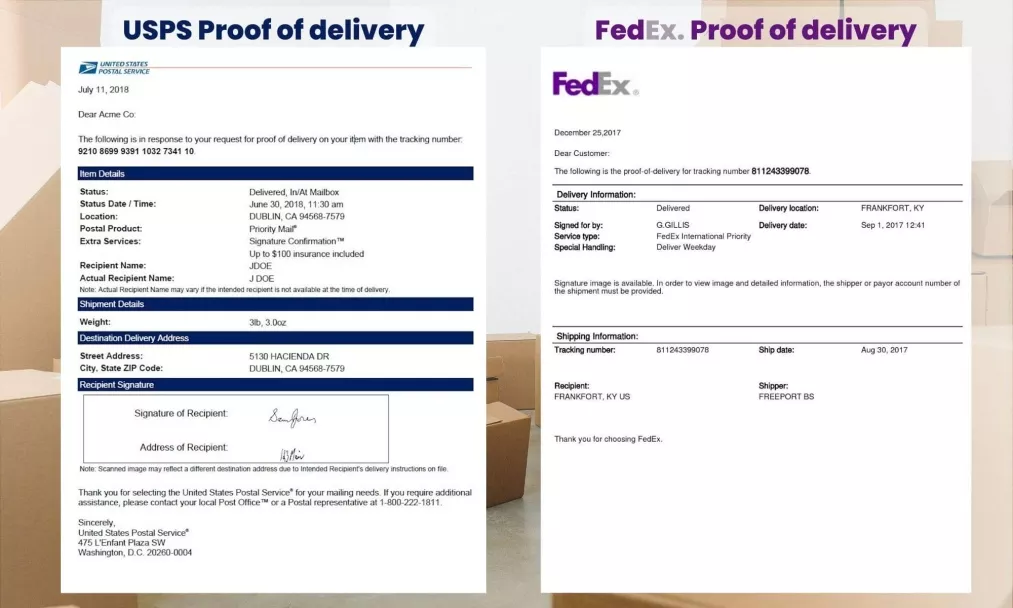 DHL proof of delivery
POD by DHL also doesn't leave out any important information about delivery. The template has the shipment number, the date of delivery, the status, and the area where the shipment is going. As evidence of a successful delivery, the client affixes a digital signature.
UPS proof of delivery
UPS's proof of delivery template follows the same format as the ones mentioned above. From the important details, it has the tracking number, the package's weight, the shipping and delivery dates, the "left at" note, and the recipient's information.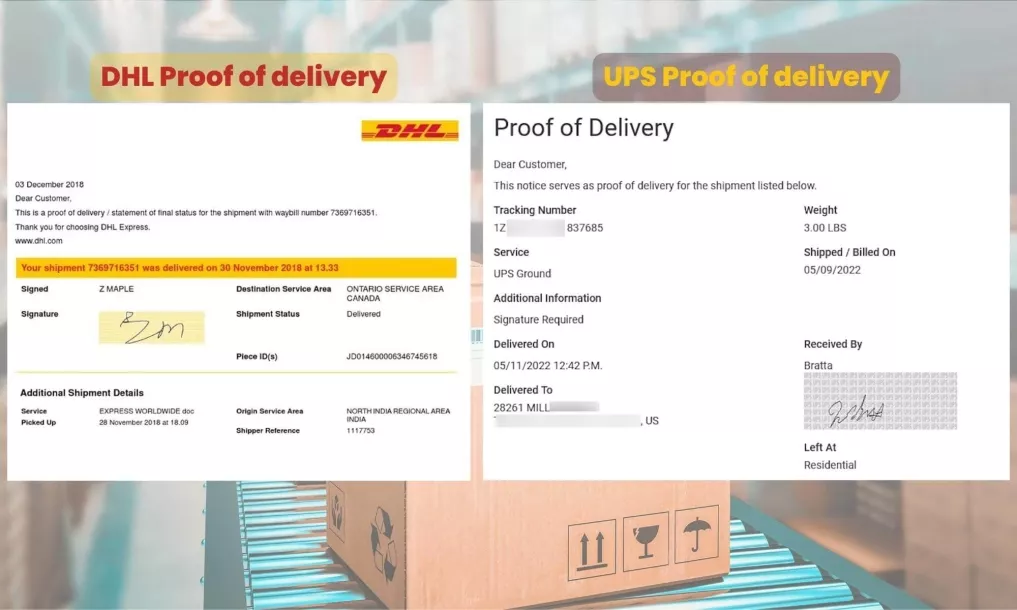 Usually, UPS deliveries are confirmed with a digital signature from the recipient, which is reflected on the final delivery note.
Wrapping up
Now that we've reached the finish line let's go over the most critical parts of this proof of delivery guide.
Proof of delivery (POD) is a reliable and protective document in logistics, enhancing transparency, confidence, and efficiency.

POD distinguishes itself from other delivery documentation by including delivery evidence such as e-signatures, geotags, photos, or custom notes.

Proof of delivery helps businesses and clients avoid legal conflicts and disputes over unfulfilled orders.

Electronic proof of delivery (ePOD) is becoming increasingly popular due to its flexibility and environmental benefits.

Creating a proof of delivery involves setting up templates, confirming deliveries in the driver app, and sharing the document with clients.

Essential elements to include in the proof of delivery are shipper and customer details, order information, list of items, delivery evidence, reasons for rejection, and driver and vehicle information.

Customizing delivery notes with branding elements strengthen brand recognition and customer trust.
We've armed you with the most important insights for creating outstanding proof of delivery notes. Now it is your time to shine and put this knowledge into practice.