5 Best Shopify Shipping Apps for eCommerce [UPD 2023]
Updated on July 27, 2023 by Yulia Miashkova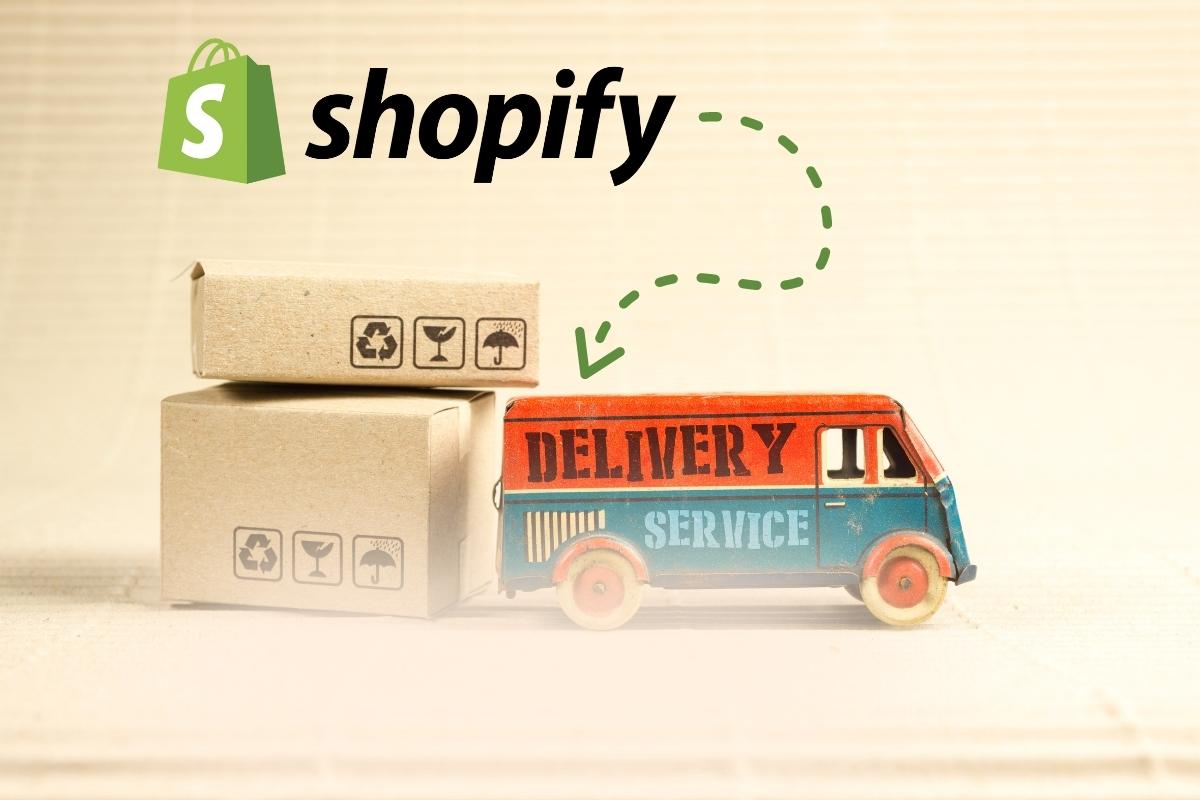 Here's a quick fact: during a random 90 days of the COVID-19 pandemic, eCommerce penetration in the U.S. grew by 10 years. This means that eCommerce has never been so big, and we're all a part of this new normal.
With its 19% share of the U.S. eCommerce software market, Shopify is one of the key enablers of such rapid growth.
Amid record online competition, 1.75 million businesses go online to sell their products on Shopify – and deliver them to buyers as soon as possible.
Needless to say, the COVID-19 pandemic has produced highly demanding consumers. Customer experience needs to be flawless, including everything from contactless to same-day delivery.
As a Shopify merchant, how do you plan and optimize your deliveries in a sustainable, automated way that meets customer demands? How do you do the same as a courier service working with Shopify merchants? The answer is Shopify shipping apps.
Benefits of Shopify shipping apps
In a highly competitive environment of eCommerce retail, delivering to customers requires solid technology backup.
Local delivery is no exception: with the right tool in your arsenal, you automate a lot of manual work and leave human error and delays behind.
Below are more of the proven benefits of using local delivery software in eCommerce.
Deliver more & save money
Route planning refers to the process of organizing a list of orders into a delivery chronology that is time-sensitive, cost-conscious, and promotes productivity and effectiveness.
Put simply; it's a way of arranging all of your deliveries in a way that benefits both your business and your customers.
Route optimization, in the meantime, is a build-up on that.
In addition to planning the optimal route, you make sure your vehicles are smartly loaded, your drivers deliver more in less time, and your delivery costs go down as customer satisfaction increases.
Keep your customers in control
Shopify shipping apps are not simply dashboards for dispatchers monitoring their driver staff.
Other parties are the driver using their driver app and a customer tracking their order in real-time.
With last-mile delivery software, you can keep your customers in complete sync with your drivers. This is done through instant notifications that range from estimated time of arrival (ETA) to electronic Proof of Delivery (ePOD) once the order has reached its destination.
To maintain excellent customer service, you need to give your customers a sense of control over their purchases. Real-time tracking and notifications of their orders are key success factors here.
Going green should be on your list of priorities if you're doing any kind of business in 2023.
According to Shopify's report, consumers gravitate to brands offering fast, free, sustainable shipping.
While you can't always do all three, sustainability is something you can support by going paperless and contactless.
One of the biggest advantages of using Shopify shipping apps is that you cut out the paper with electronic signature and, whenever needed, can skip physical contact altogether by sticking with photo proof of delivery.
One of the biggest reasons small businesses fail is poor bookkeeping.
If this is something you struggle with, then having all of your delivery-supporting documents stored safely in last-mile delivery software is the best decision you can make.
Since you're going paperless, you can forget about piles of POD's or, even worse, tracing the missing ones.
Retrieve any data related to a delivery job – like the customer's signature, photo proof, or ePOD itself – in a couple of clicks at any time.
Now that we've gone through the benefits of using Shopify shipping apps, let's review some of the best options on the market.
Best Shopify shipping apps
When choosing the right Shopify shipping app, list your business needs first and then look out for the solution that covers most of them.
Below is a comprehensive overview of the key features offered by each last-mile delivery software provider.
1. Track-POD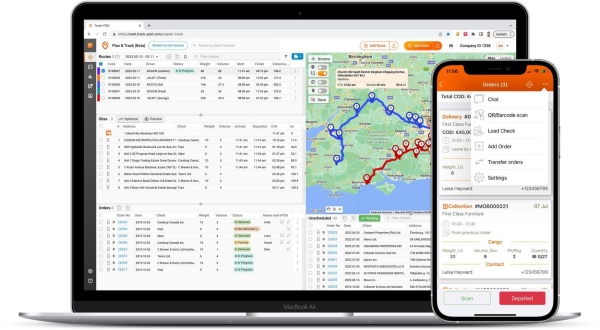 In the spirit of full disclosure, I do write this article being a part of the Track-POD team, which means I always put Track-POD first.
But don't be so quick to judge – see the features yourself and decide if Track-POD will also come first on your list.
As a solid last-mile tracking software, Track-POD provides all the eCommerce benefits listed above.
The system connects with Shopify via a Zapier integration, which means you can set orders to go into the system automatically.
Once in the software, your deliveries can be planned and optimized right away.
The fastest, safest, and most cost-effective routes are created for your drivers automatically, with account for vehicle capacity, drivers' working hours, and preferred time windows of deliveries.
Your customers, meanwhile, can be notified by email (free of charge) and/or SMS (additional fees apply) of their upcoming deliveries in advance to ensure your successful delivery rate keeps growing.
On top of that, you can set the software to share with your customers live tracking links so they can trace their orders just like they would trace an Uber.
You can use the quick action "Email Advanced Notification" in Track-POD Web 2.0 to send delivery notifications for multiple selected routes at once.
Upon completion of delivery, you will see the order status together with the reasons for unsuccessful deliveries, if any. This info is provided by the driver from their mobile app, and you can set Track-POD to create a new order whenever a delivery is unsuccessful.
Pricing: Track-POD has a flexible pricing model. You can choose to pay either per order or per driver.
Track-POD's Advanced plan that comes with all of the benefits of last-mile tracking for eCommerce comes at $49/mo per driver if paid annually.
2. Onfleet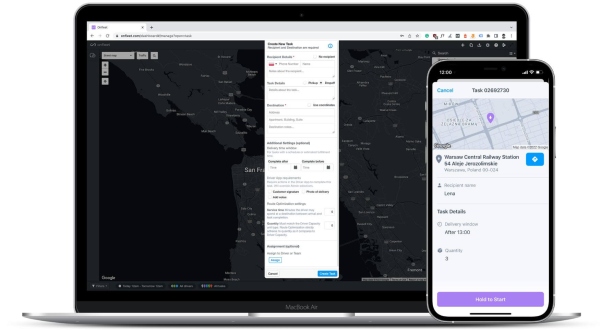 Onfleet is one of the best-known brand names on the market of last-mile delivery software.
It boasts robust routing features and matches to Track-POD if you're looking to explore alternatives side by side. Let's see how it matches to Shopify.
To integrate Shopify and Onfleet, you'll need to use Zapier.
The setup requires your Shopify username, Onfleet API, and some configurations that define your preferences. For example, you can specify what actions will trigger a new task in Onfleet.
Onfleet is perfect for bigger delivery operations working with multiple clients because it allows you to create teams of drivers and dispatchers that can then be assigned as "task executors" for Shopify orders.
To communicate with customers, Onfleet offers SMS notifications. You need to set up another integration via Zapier to send email notifications.
Although Onfleet doesn't offer custom PODs, it's still a rather sophisticated last-mile tracking solution, especially for transportation companies working with Shopify merchants.
Pricing: Onfleet charges a flat rate, with packages ranging from 2,000 to 5000+ tasks a month. The Scale plan that covers 2500 tasks/mo and the essential last-mile delivery features starts at $1,150/mo.
3. GSMtasks
GSMtasks is another well-known last-mile delivery service that integrates with Shopify. It offers mobile route optimization, standard Proof of Delivery, fleet analytics, and GPS integration.
Similar to Track-POD, the integration works in a way that automatically imports your Shopify orders into the GSMtasks system where you can assign them to drivers.
Any changes to the order on the Shopify side will be reflected in the software to ensure an uninterrupted flow of order-related information.
You can communicate with customers using SMS and email notifications alike.
Live notifications sent to the customer when the driver is heading their way also allow for feedback from the customer's side – in case they need to edit the time and place of delivery.
Once the order has been delivered, you can send a follow-up SMS to the customer asking them to share their experience with your service on social media. Naturally, you also have the option to share with the customer a digital document with their signature – standard Proof of Delivery.
Pricing: GSMtasks charges per user, with $17.00 as a flat fee.
Route4Me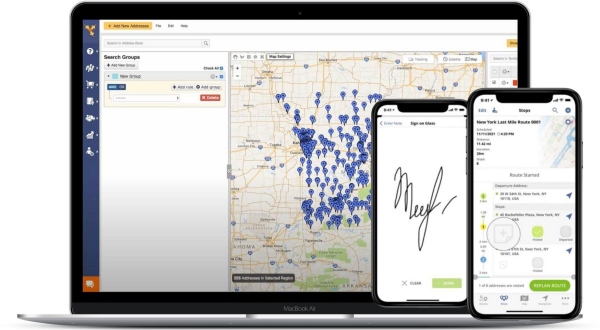 Route4Me, as the name suggests, is a route planning & optimization provider that helps businesses manage their drivers and deliveries. Back in the day, Route4Me was the first last-mile delivery software to release mobile route planning apps for iPhones, iPad, and Android.
Route4Me's Shopify route planner plugin is an easy way to manage local deliveries as it can capture all new orders from Shopify and plant them into the route planner. From there, Route4Me creates optimized delivery routes, calculates ETAs, and handles Proof of Delivery.
Like other last-mile delivery software providers, Route4Me lets you reassign drivers and vehicles, move addresses, or track driver performance in real-time. On the notifications front, Route4Me offers SMS, emails, and even voice calls.
Route4Me allows you to see the status of your deliveries right from Shopify. After the order has been delivered, you'll see it updated in the system and will be able to access ePOD's in a few clicks.
Pricing: Route4Me's Dynamic Routing package (designed for routes changing daily) is priced just like its package for recurring routes – $199+/mo.
5. Shipday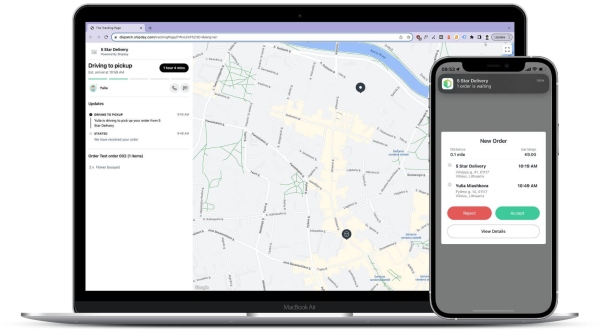 Shipday is a local delivery platform that automates dispatching and delivery planning. It's a neat solution for small businesses, eCommerce retail very much included.
Once you've downloaded your Shopify Shipday app, all you need to do is copy your API key and paste it in. From there, you're all set to have your orders fed into the software for delivery planning.
Your customers receive SMS notifications with the link to track their orders in real-time, as well as a live ETA. Customers have the option to get in touch with the driver to update them on their current location or specify any other preferences.
Once the delivery has been carried out, customers receive delivery confirmation with their signature and photo proof. Post-delivery notifications are sent via SMS and email, with the option to rate the delivery service.
Pricing: Shipday offers two plans that cover automated driver dispatch and route planning & optimization – Professional and Branded Premium. With Professional, you pay a minimum of $29/mo + $0.04/order in the U.S. and Canada. With Branded Premium, you are charged $299/month, and that will cover 1,000 orders + $0.25/extra order.
Final thoughts
Last-mile delivery software might not be the first thing on your mind when you start selling on Shopify.
However, as your business grows and so does the demand for impeccable customer service in eCommerce, there comes a time when you realize what kind of difference last-mile tracking could make.
As a merchant, there are many things to gain from implementing last-mile delivery software with Shopify.
See which software provider checks the most boxes for you and try it out.
Before you make a decision to commit to last-mile tracking in the long term, let customer satisfaction speak for itself.