5 Best Tools for Live Vehicle Tracking
Updated on June 07, 2021 by Yulia Miashkova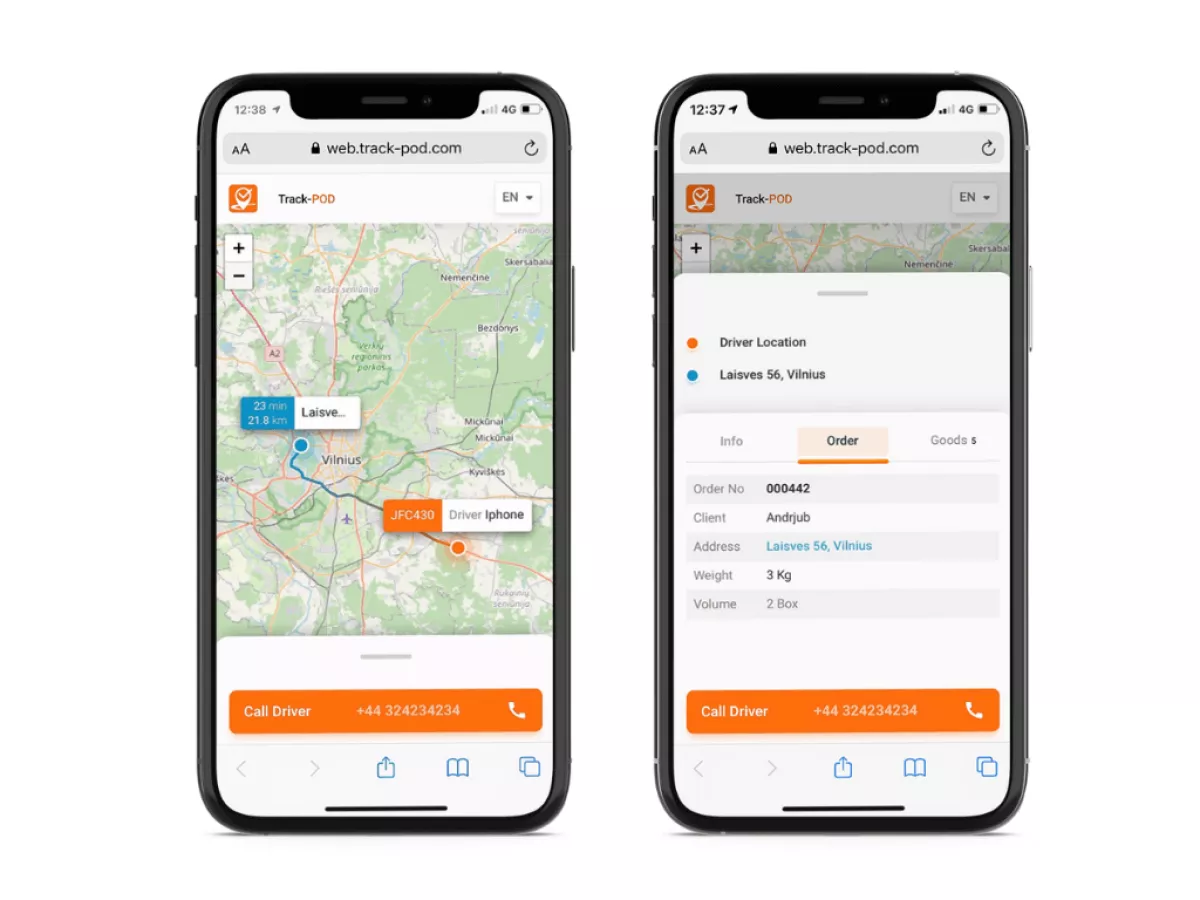 How do you get happy customers? You give them what they want, on their own terms. In the delivery business, this means delivering on time and giving the customer a sense of control over the delivery process. The most powerful way to do that is to let the customer be a part of the journey, even if their role is only an observer.
Ever since ridesharing and food delivery apps came into the picture, consumers want to be able to track their vehicles and orders. Ensuring that is easier than it seems. As a business that provides delivery services and wants to enable vehicle live tracking, you need to get on board with GPS tracking. That, together with customer notifications, is how you put your customers in the center of the delivery process.
Last-mile delivery is all about providing the best customer experience for a person waiting for their order to arrive. There are many great tools on the market that power live driver and order tracking, and most of them are available to small and mid-sized businesses. Let's review some of the best software options for last-mile delivery that offer live vehicle tracking.
But first…
What is live tracking of vehicles?
Live tracking is a feature that uses GPS devices – either a physical GPS device installed in the vehicle or the driver's mobile phone – to dynamically track the vehicle's location. Dynamically means that whoever is watching (can be a dispatcher or a customer) can see the driver's whereabouts in real-time.
The way live tracking of vehicles is built varies from tool to tool. As a rule, it's a real-time map with all drivers visible at once on the dispatcher's side and a link sent to the customer via instant notifications that opens in a browser and lets the customer see the current location of the vehicle transporting their order.
Without further ado, let's explore the best last-mile delivery tools that offer live tracking of vehicles available to dispatchers and customers.
1. Vehicle tracking in Track-POD
Track-POD is a transportation management system that consists of a web dashboard for the back office and a mobile app for the drivers in the field. It powers route planning & optimization, fleet management, paperless & contactless delivery, and customer management – via instant notifications and Proof of Delivery.
Live order tracking is a key part of Track-POD's last-mile delivery workflow. The system relies on the driver's mobile app to track their location en route. On the dispatcher's side, this is organized in the web dashboard.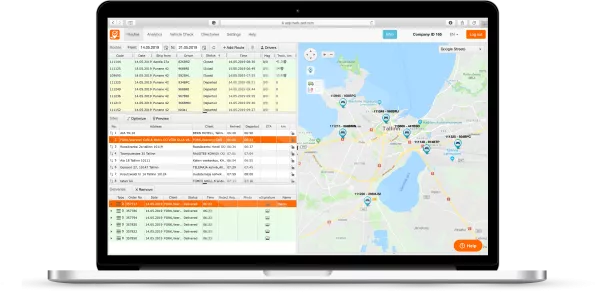 On the customer's side, live tracking is also available in the web browser. This is enabled in the Customer Portal and works for the shippers you've added to the system. Naturally, live tracking is also available via a link sent to the customer in an email or SMS notification that includes estimated time of arrival (ETA).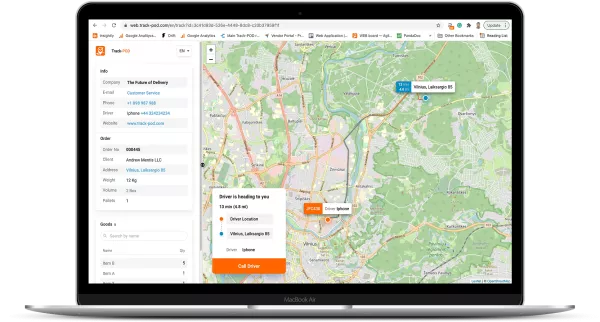 All notifications sent by Track-POD can be automated and customized for brand consistency. This way, you can speak to your customers in your own voice and ensure brand recognition across all of your communication channels. Track-POD offers free emails to customers – additional charges apply only if you choose to send SMS notifications too.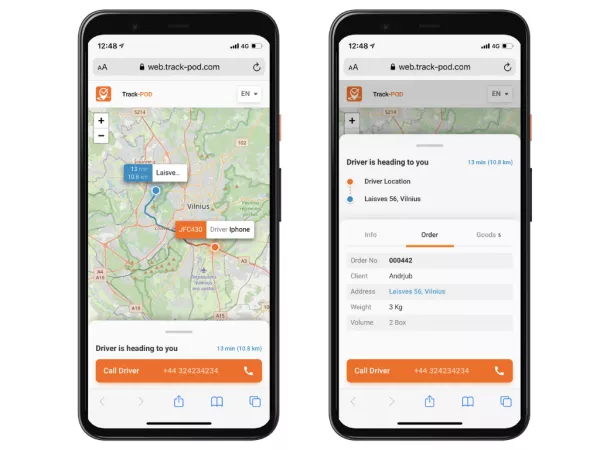 Along with the live tracking of the driver, customers can call the driver to update them on their current whereabouts. The driver can also get in touch with the dispatcher if needed. This is done via a live chat with the option to share photos.
Pricing: live tracking is a feature available under Track-POD's Advanced plan. It costs $49/mo per vehicle/driver if paid annually and includes, among other things, user and order management, route planning, and brandable Proof of Delivery.
2. Vehicle tracking in Onfleet
Onfleet is a last-mile delivery tool that covers everything from route planning & optimization to Proof of Delivery. Much like Track-POD, it offers live tracking of the vehicles available both to dispatchers in their web dashboard and customers on their mobile phones.
On the dispatcher's side, driver locations are displayed on the map. If dispatchers need to talk to their drivers en route, Onfleet offers group chats that include dispatchers and other drivers on the team.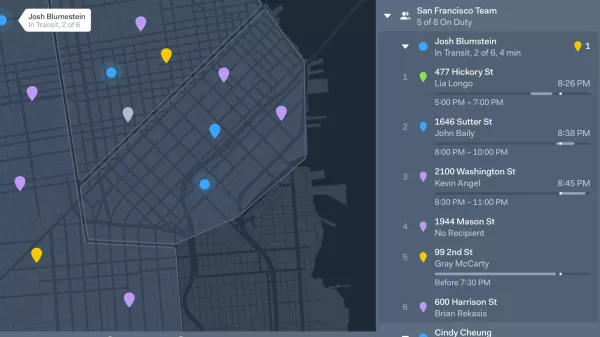 On the customer's side, notifications are sent by SMS. Onfleet allows you to anonymize all customers to driver communications on the admin end. Anonymization means that in addition to not seeing each other's contact information, drivers and customers can't get in touch with each other at any point in time other than when the driver is en route.
If you wish to configure email notifications, you'll need to set up an integration via Zapier. Regardless of the channel of communication, your customers can receive a fully customized and branded vehicle tracking page.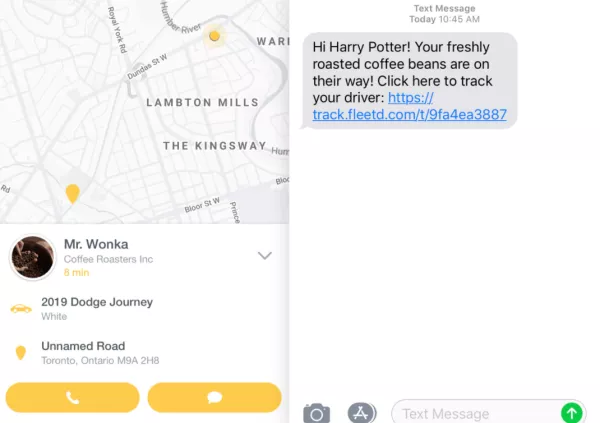 The customer can get in touch with the driver or the dispatcher if they need to provide an update on their whereabouts or indicate any other preferences. There's no option for customers to access a customer web portal.
Pricing: Onfleet prices per number of tasks a month and not per driver/vehicle. 5,000 tasks that can be divided among as many drivers as you want are included in the Premium plan and will cost you $799+/mo if billed annually.
3. Vehicle tracking in Routific
Routific is a route planner with powerful last-mile delivery capabilities. It offers GPS tracking of drivers based on their usage of the Routific mobile app and not their actual location. Let's break it down.
The live tracking option built into Routific allows you to monitor the driver's delivery progress as picked up from their actions in the app. This means that every time the driver marks the stop as completed or skipped, it's updated in the web dashboard for the dispatcher.
As you can see, live tracking offered by Routific is managed by the driver. It won't give you better control of the drivers' daily behavior but it will still work as part of a general overview of all your orders in the web dashboard.

On the customer's side, notifications are sent either by email or SMS (not both). The notification sent to the customer while the driver is on their way is triggered only if the original estimated time of arrival is no longer realistic. Then the customer receives a notification with an updated ETA but no tracking link.
Pricing: much like Track-POD, Routific prices per vehicle/driver and will charge you $49/mo if billed annually.
4. Vehicle tracking in WorkWave Route Manager
WorkWave Route Manager is a route planner from the WorkWave software family that offers a wide range of tools. It covers last-mile delivery and bridges the dispatcher, driver, and customer to make sure they're in perfect sync with each other.
Live vehicle tracking provided by WorkWave Route Manager works both in the web dashboard for the dispatcher and the mobile app for the driver. On the dispatcher's side, you can see all of your drivers' locations as well as breadcrumbs that give you insights into the exact route each driver took to get to their destination.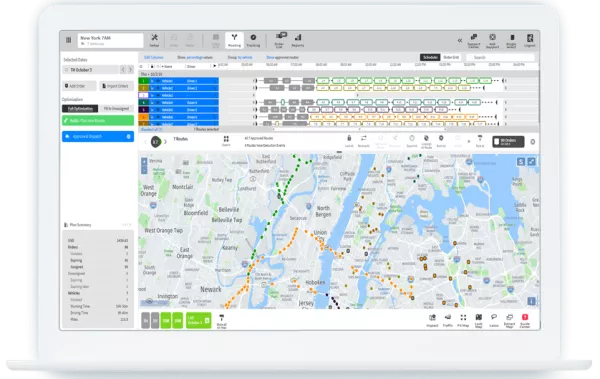 In addition to live vehicle tracking, WorkWave Route Manager offers historical vehicle tracking to let you view your drivers' routes for a past date. This way, you can analyze your team's performance and gain reliable insights into individual driver behavior.
The customer, meanwhile, will receive an Almost There notification that contains a live vehicle tracking link and an ETA. The notification is sent 10-30 minutes before the driver's arrival at the destination either by email or SMS. All notifications are customizable and include "hot words" that are built in for indicating things like customer name or order number.
Pricing: WorkWave Route Manager comes in three plans. The starting price per vehicle per month is $49.
5. Vehicle tracking in OptimoRoute
OptimoRoute is a route planner that powers paperless & contactless deliveries. In addition to advanced route planning and optimization, OptimoRoute also offers live tracking of vehicles and customer notifications. Let's take a closer look.
OptimoRoute pulls real-time location data from the driver's app and provides an overview of each driver's whereabouts at all times. Similar to WorkWave Route Manager, it offers the breadcrumbs feature (live and historical) to empower you to have better control over your driver staff by tracing their exact routes as compared to the planned routes.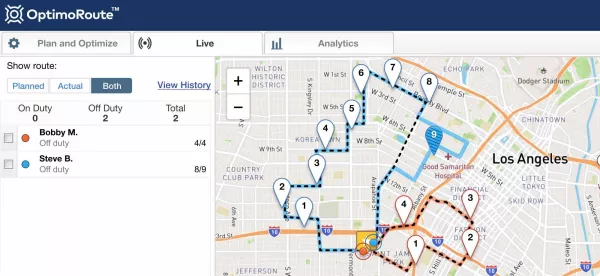 With OptimoRoute, you can inform your customers of scheduled and approaching deliveries via email and SMS notifications with a vehicle tracking link and a live ETA based on the driver's actual location.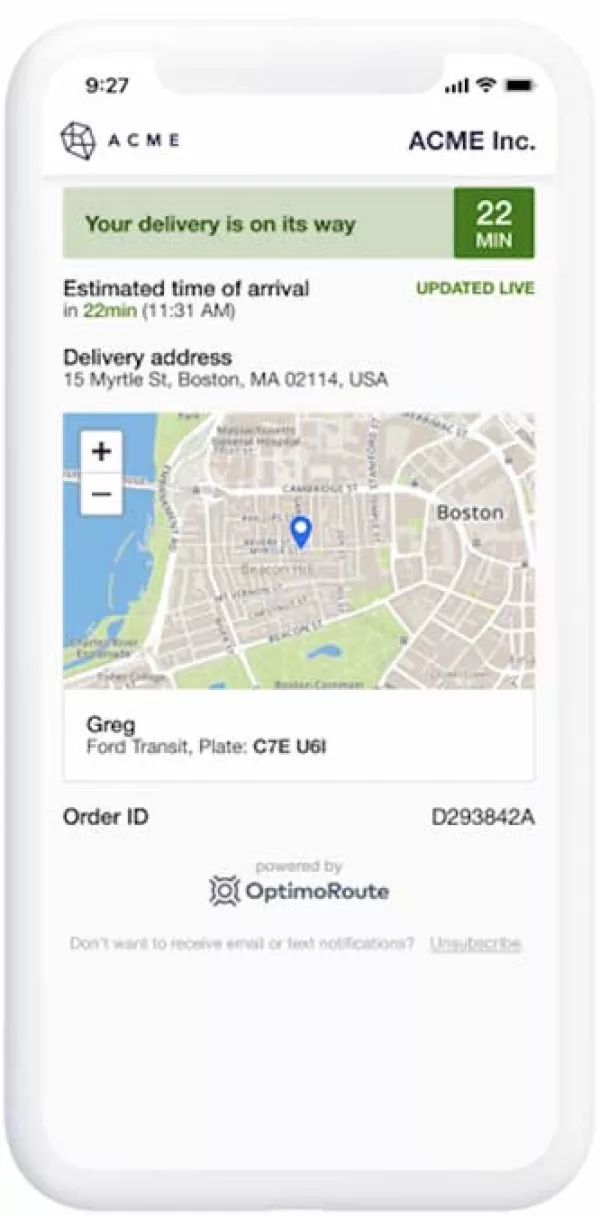 Similar to other last-mile delivery tools, OptimoRoute lets you customize customer notifications to ensure brand consistency across customer communication channels.
Pricing: OptimoRoute offers three subscription plans and prices per vehicle/driver per month. The Business plan that covers live tracking and breadcrumbs will cost you $26.10/mo if billed annually.
Final thoughts
At this point, live vehicle tracking for customers is more of a requirement than a perk. Seeing how easy it is to implement live tracking of vehicles and orders, there's little to no reason to stay behind. I hope this article gives you some insights into the market of last-mile delivery tools that cover live vehicle tracking along with many other things that will level up your entire delivery management workflow.
If you have any questions about real-time vehicle tracking or any other features your delivery business could make use of, don't hesitate to book a free demo and let's talk.
w