OptimoRoute Alternative: Custom ePOD with Any Plan
Updated on July 12, 2022 by Yulia Miashkova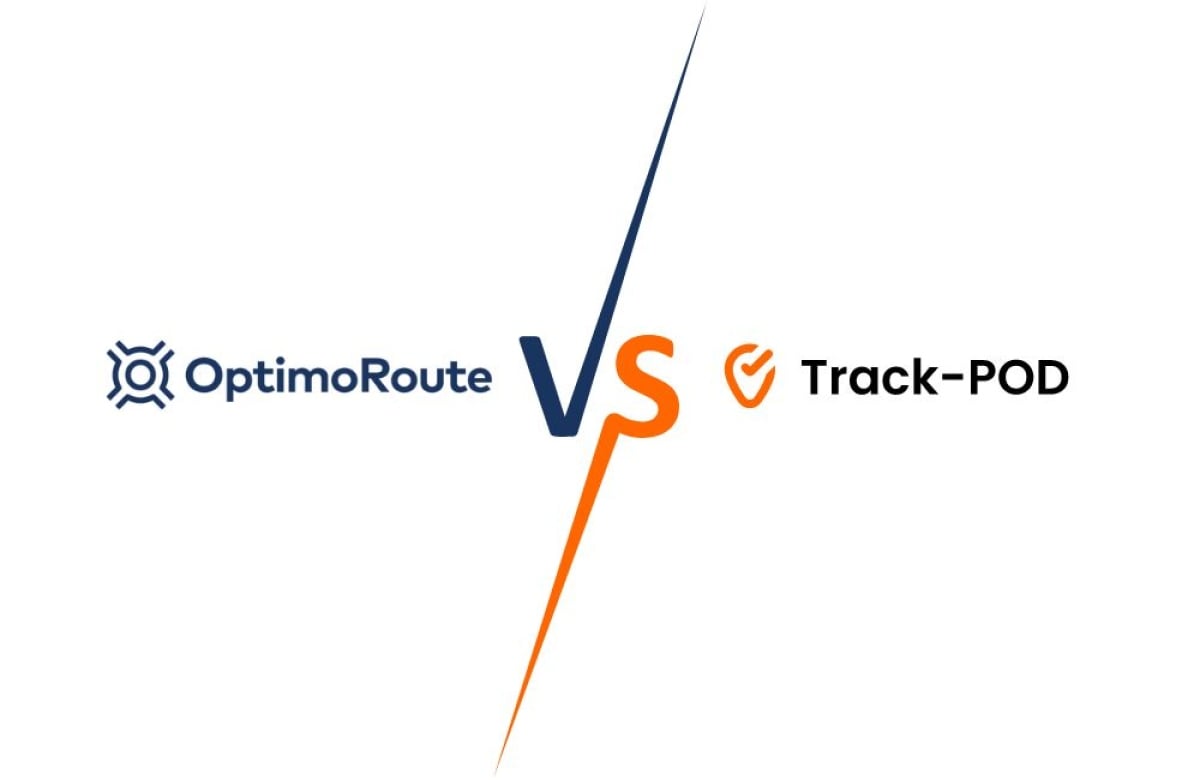 You can never know enough about the software you're planning to invest in. A trial version is hardly ever the real thing, and you don't see the whole list of cons until you start using the tool to the full capacity of your operation.
This is why we came up with a series of blog posts where we break down all features of last-mile delivery software benchmarked against each other. To help you choose the best tech for your operational needs, we reviewed Onfleet, Routific, and Route4Me alongside Track-POD.
Today, we take a look at another popular vendor – OptimoRoute. Whether you've used it before and are looking for a replacement or only considering investing in it, this article will be a big help as you'll see a detailed breakdown of all major features.
Without further ado, let's get started.
Pricing model
OptimoRoute prices per driver/vehicle per month. There are three plans you can choose from: Lite, Pro, and Custom.
Naturally, with each plan, you get a different set of features, e.g. Proof of Delivery is only available with the Pro plan. It costs $49/mo per vehicle.
Track-POD, meanwhile, has two pricing models: per driver/vehicle as well as per # of orders a month. For the sake of this comparison, we'll be looking at the option to pay per driver.
Track-POD comes in four plans, all of which support ePOD collection: Standard, Advanced, Advanced Plus, and Enterprise.
Whether you pay $35/mo or $79/mo per driver, Track-POD offers a custom ePOD template and barcode scanning.
Now let's take a closer look at the basic features of OptimoRoute and Track-POD.
Route planning & optimization
First things first: how good of a route planner OptimoRoute is in comparison to Track-POD? Let's find out.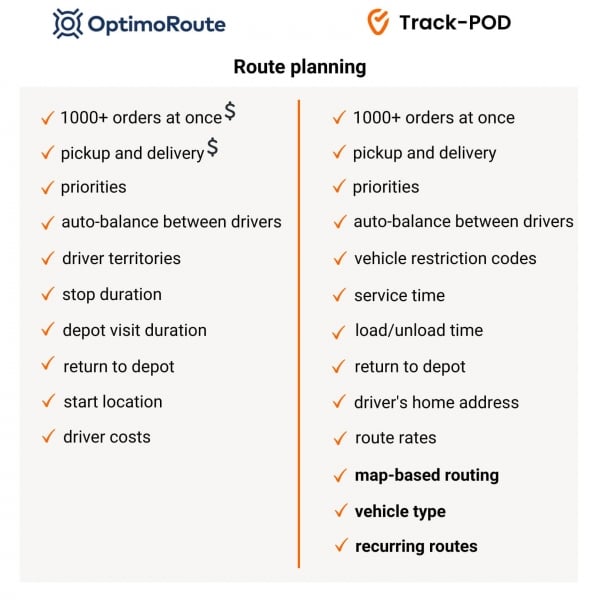 Multi-stop routing
Multi-stop routing is the reason companies invest in route planning software. Both OptimoRoute and Track-POD are multi-stop route planners. While Track-POD allows you to plan thousands of orders out of the box, OptimoRoute needs to be customized, and will charge you extra for this.
Pickup and delivery
Pickup and delivery is a type of order that includes two customer locations: an address for the collection of goods and another address for the dropoff. Track-POD offers pickup & delivery orders out of the box.
To plan pickup & delivery orders in OptimoRoute, you'll need to invest in a custom plan.
Priorities
OptimoRoute and Track-POD both let you assign priority to customers, addresses, and orders to count that in when planning and optimizing routes.
Driver settings
Your drivers are another factor that should be considered when planning and optimizing routes. When creating long-distance and multi-stop routes, OptimoRoute and Track-POD account for the following.
Driver availability.

Driver breaks.

Service time.

Loading/unloading time.

Home location.
In addition to that, both OptimoRoute and Track-POD help you optimize your logistics costs. With driver-associated costs in OptimoRoute and route rates in Track-POD, you can assess costs at the routing stage.
Multiple trips
Sometimes, you need your route planner to assign multiple routes per driver per day. With OptimoRoute, your drivers will need to return to the depot for more orders. Track-POD, meanwhile, automatically assigns several routes per driver per day with account for drivers' breaks.
Map-based planning
Map-based planning is a useful feature that allows you to work with your orders from the map, i.e. capture a specific area and manage tasks that belong to this area in bulk.
While OptimoRoute doesn't have this kind of functionality, Track-POD lets you drag-and-drop orders from the map and add them to routes before dispatching.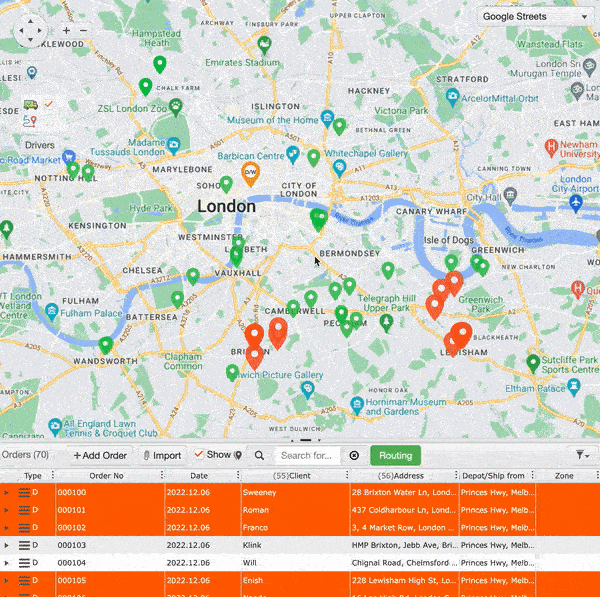 Vehicle type
Depending on the size of your delivery operation, you will not only have a different number of vehicles in your fleet but also different types of vehicle such as truck, car, motorcycle, etc. Your route planner needs to take that into account too.
OptimoRoute lets you use vehicle features to specify requirements for different types of vehicles instead of letting you choose vehicle type right away. Track-POD, on the other hand, supports three vehicle types that you can choose from.
Truck/car.

Motorcycle.

Bicycle.
Recurring routes
If you offer a subscription-based delivery service or do milk runs for regular customers, it helps a lot to have the option to save recurring routes.
While OptimoRoute doesn't provide this feature, Track-POD allows you to repeat routes every day/month/year/day of the week to save time on adding routes to the system.
User & order management
Your last-mile delivery tool consists of two parts that work in sync with each other. These two parts are the web dispatcher dashboard and the mobile app for the driver in the field. Since all of the planning and management happens back at the office, it's crucial to be able to control access to the web dashboard.
Likewise, it's crucial that the people who have access to your web dispatcher dashboard have the features for proper order management. Let's look at how OptimoRoute and Track-POD handle that.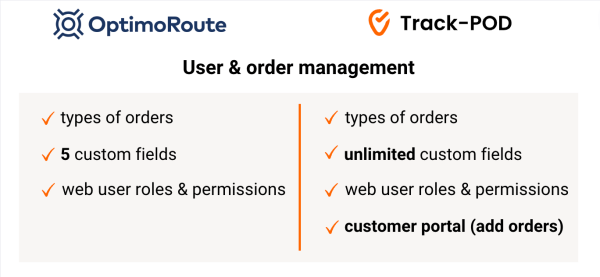 Types of orders
The type of order is of the things you need to indicate when planning and dispatching daily routes. Not all orders are deliveries and your route planner needs to account for that.
OptimoRoute lets you choose any of the three types of tasks.
Delivery.

Pickup.

Task.
Track-POD, meanwhile, offers a more advanced approach to order management. Mainly, it's possible to add complex tasks for your drivers. Here's the whole selection.
Delivery.

Collection.

Pickup & Delivery.

Pickup-Hub-Delivery.
Custom fields
Orders come in all shapes and sizes. Sometimes, you'll need to indicate things that are not available as built-in fields, and adding a note is simply not good enough. Here's how OptimoRoute and Track-POD let you manage that.
OptimoRoute offers up to 5 custom fields that you can add from the web dispatcher dashboard and they will be picked up on the driver's side too. Drivers won't be able to edit these fields in their driver apps.
Track-POD provides unlimited custom fields for all orders.
The fields can be added in several formats such as text, number, date, checkbox, etc. The best thing is that you can choose if the custom fields will be displayed and editable in the driver's app.
Roles and permissions for web users
OptimoRoute offers three types of user rights for its web dispatcher dashboard.
Admin.

User.

View-only.
Track-POD, meanwhile, lets you add users with any of the 10 user roles.
Allow view Routes.

Allow user management.

Allow view Analytics.

Allow duplicate.

Allow view Vehicle Check.

Allow edit orders.

Allow view Directories.

Allow edit completed orders.

Allow Edit directories.

All 'Depots'.
As you can see, Track-POD offers more nuances to user roles and permissions. If this is something you could use in your operation, consider trying Track-POD out.
Web customer portal
Customers are the third party involved in the supply chain. Therefore, they often add a huge chunk of work to your already busy operation. Luckily, your route planner can also be a tool for customers to manage their orders. Let's see how this works.
Track-POD has a designated Customer Portal where your most frequent customers can log in to add, track, and manage their orders independently. This saves you tons of time and ups your efficiency while letting you work with your customers and not only for them.
OptimoRoute doesn't have a designated customer portal. However, you will be able to add your customers as web dispatcher dashboard users. This gives them a bit more rights and permissions than you'd normally give to your customers but it can still work with some shippers.
Driver app & ePOD
Drivers' mobile app is the other big component of last-mile delivery. It determines how equipped your drivers are to carry out successful deliveries and report back to the office. Let's see what OptimoRoute and Track-POD mobile apps are all about.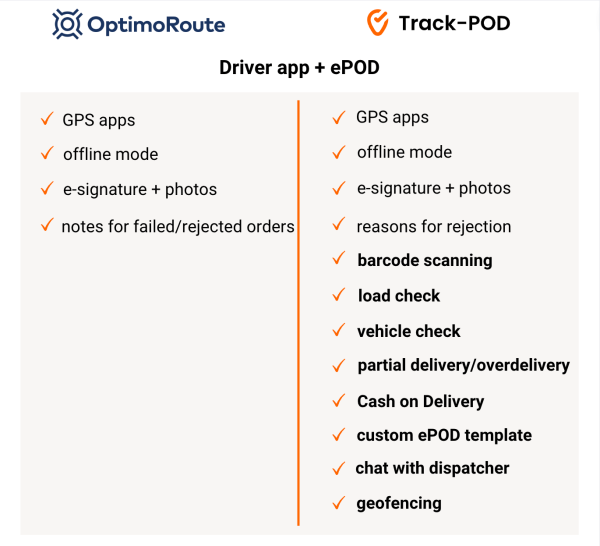 GPS apps
One thing the mobile app for the driver is supposed to do perfectly is get the driver to the destination in the fastest, most efficient way possible. This is done with the help of GPS apps built into driver apps.
OptimoRoute lets your drivers choose any of the following navigation systems.
Google Maps.

Apple Maps.

Waze.

HERE WeGo.
Track-POD, in addition to Google Maps which is set as the default navigation system, offers a selection of alternative navigation systems.
Apple Maps.

Waze.

TomTom.

HERE WeGo

Sygic.
Offline mode
In case your drivers deliver across a territory with an unstable connection, you can rely on both OptimoRoute and Track-POD to enable drivers to use their apps offline and all data will be synced with the web dashboard as soon as the connection has been restored.
Photo & signature capture
Another key feature of the driver's app is electronic signature and photo capture for contactless deliveries. Both OptimoRoute and Track-POD mobile apps enable drivers to capture electronic signatures and take photo proof of delivery/collection/service.
Reasons for rejection
Naturally, for every order gone wrong, the driver should have the option to specify the reasons why. OptimoRoute's solution for failed orders/tasks is for the driver to leave a note and take photos if needed.
Track-POD lets drivers choose between customizable reasons for rejection specific to the site, order, and goods.
On top of that, Track-POD gives drivers the option to enter the actual quantity of goods while scanning to account for partial delivery and overdelivery, which also greatly streamlines reporting.
Partial delivery/overdelivery
OptimoRoute offers two delivery statuses: Delivered and Failed. Track-POD, on the other hand, offers three order statuses.
Delivered.
Not Delivered.
Partially Delivered.
As the name suggests, Partially Delivered are orders that are delivered in part. This can occur in case there's been damage to some goods in the order.
To simplify the driver's job even further, Track-POD powers redelivery in case of partial shipment.
Redelivery makes it possible for drivers to change order status from Not Delivered to Delivered after they've revisited the delivery address with the correct goods.
Barcode scanner
For additional security, you can make use of QR and barcodes that drivers can scan before starting their routes. While OptimoRoute doesn't support this feature, Track-POD generates shipping labels with barcodes for orders and individual items.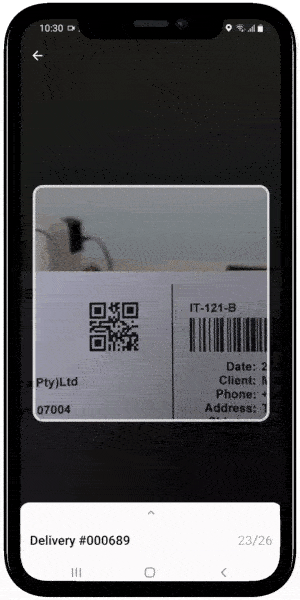 With Track-POD, you can make load checks mandatory for all drivers before route start. Then you can see all mistakes in loading reflected in your web dashboard.
Vehicle check
Fleet maintenance can add a substantial chunk to the costs of managing a logistics operation. Instead of only relying on vehicle checks performed by mechanics, you can use your last-mile delivery tool to tell your drivers they need to check on their vehicles too. Here's how it works.
With Track-POD, you have the option to enable mandatory vehicle and safety checks before, after, or before and after each route.
The driver will see a digital safety checklist on their phone, and whatever they input will be reflected in the web dashboard right away.
The beautiful thing about vehicle checks is that you get to set critical values and see warnings whenever a vehicle hits a critical value and needs to be attended to. This way, you reinforce proactive vehicle maintenance and cut repair costs in the long run.
Cash on Delivery
Cash on Delivery (COD) is a feature that requires the driver to enter the exact amount specified by the dispatcher for the order to be considered successful. If you want to offer customers more flexibility in terms of payment options, consider implementing COD.
Custom POD template
As discussed above, OptimoRoute and Track-POD both offer Proof of Delivery documents. However, only Track-POD's Proof of Delivery PDF is fully customizable.
On top of adding your logo, you can also rearrange POD elements on the page to better resemble your in-house Proof of Delivery style. You can skip worrying about how to redact in PDF as Proof of Delivery is automatically generated and saved as a PDF document.
Chat with dispatcher
In addition to navigation, the driver's app should enable excellent communication between your office and field staff. Ideally, the app should have the option for the driver and dispatcher to chat in real time.
While OptimoRoute doesn't offer this feature, Track-POD has a live chat with the option to share photos.
Geofencing
A geofence is an area on the map for monitoring the driver. While OptimoRoute does support geofencing for the categorization of drivers according to specific areas they work in, it doesn't go any further than that.
Track-POD, in the meantime, lets dispatchers use geofencing to control that drivers don't mark the order as Delivered if they're not in the area of the delivery address.
Analytics & reports
Order and delivery analytics can be a wealth of insights for the fleet manager. Clear, actionable, and exportable analytics means effortless reporting and efficient optimization. Let's look at the reports and analytics available in OptimoRoute and Track-POD.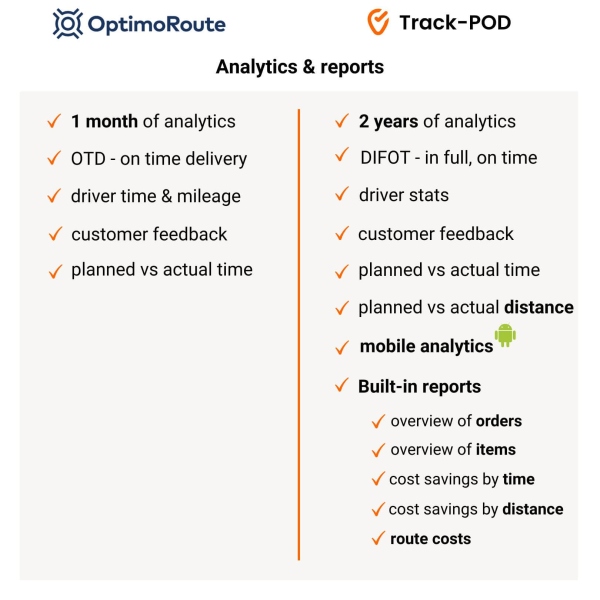 Analytics tab
Both OptimoRoute and Track-POD have dedicated analytics dashboards packed with performance insights.
While OptimoRoute stores 1 months of analytics data, Track-POD stores 2 years of insights.
In OptimoRoute analytics, you can see a breakdown into order types and statuses, as well as on-time delivery (OTD). You can also compare planned vs actual time and check your drivers' time & distance records, as well as customer feedback.
Track-POD, in the meantime, offers analytics in the form of a table with customizable columns, which means you can minimize or maximize your view. All analytics data is instantly exportable to PDF, JSON, and Excel.
On top of the analytics table, Track-POD offers insights per KPI, including delivery in full & on time (DIFOT), average service duration, and customer feedback.
Reports
While OptimoRoute doesn't offer built-in reports, Track-POD lets you choose any ready-made report and export 2 years of data instantly.
Final thoughts
Whatever route planner you end up with, take your time to learn about every little feature because it might become a deal-breaker at some point.
I hope this article sheds more light on both OptimoRoute and Track-POD. If you have more questions about Track-POD features for your logistics business, ask away during a free demo.
u