Routific Alternative: Upgrade Your Route Planner for $1
Updated on December 05, 2022 by Yulia Miashkova

Tell me which route planner you're using and I'll tell you how big of a headache you have because of it.
The right route planner can save you tons of time and money – but it can also cost you. How do you choose your perfect tech? Today, we'll take a close look at two last-mile delivery software providers that cover route planning & optimization: Routific vs Track-POD.
Routific is a popular choice for last-mile delivery management in small and mid-sized businesses. If you're looking at software solutions for larger delivery operations, you might want to consider something like Onfleet.
When do you need a route planner?
Short answer: whenever you're planning more than one route at a time.
Long answer: when you need to plan and arrange a sequence of deliveries in a way that is profitable for your business and more than satisfactory for your customers.
For any delivery operation, finding a route planner is key to ensuring that you don't lose time, money, and customers over poorly organized routes.
Route planning and optimization are both central features of last-mile delivery software, along with tracking of drivers, notifications to customers, and electronic Proof of Delivery. By using a route planner, you know for a fact that no human error will be made and your deliveries will run smoothly.
Let's now look at all the features offered in Routific and Track-POD side by side and see how they compare as route planners specifically and last-mile delivery software at large.
Pricing
Both Routific and Track-POD charge per vehicle/driver a month. This is perfect for small and mid-sized businesses as you can start small and scale as you're growing your fleet.
Routific comes in two plans: Essentials and Professional. Professional covers most of what's needed to plan and execute deliveries. It comes at $49/mo if billed annually and $59/mo if billed monthly.
On top of Routific's $59/driver monthly fee, you'll need to pay $19 for customer notifications. The total per driver becomes $78/mo.
Track-POD, meanwhile, comes in three plans: Standard, Advanced, and Advanced Plus. Advanced Plus is your go-to plan for route planning and delivery management. It costs $69/mo if billed annually and $79/mo if billed month-to-month.
All Track-POD features come out of the box. There are no add-ons or additional fees.
As you can see, we're looking at two similarly priced software options, which means we can benchmark them against each other and focus on the features to get the best value for money.
Route planning & optimization
The first thing to look at in a route planner is naturally route planning and optimization capabilities. We'll now go over the sub-features that comprise both and see which software is a better fit for your needs.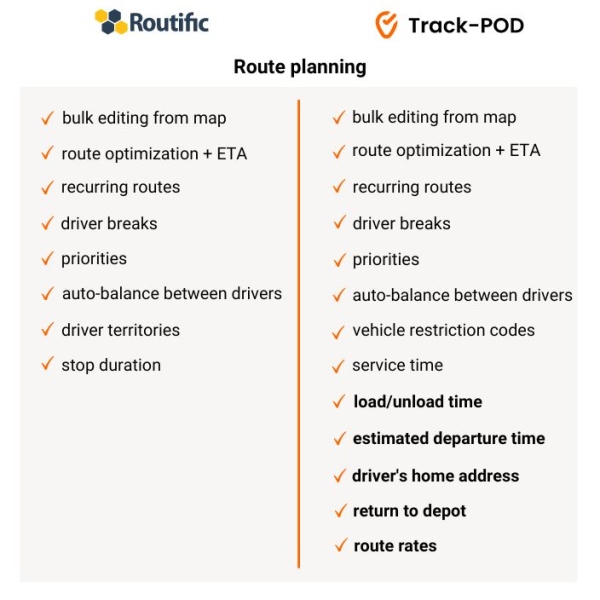 Bulk editing from the map
When organizing routes across a bigger area, it helps to have the option to visualize the orders on the map and interact with it to select a bulk of local orders. This is something you can do both in Track-POD and in Routific.
Route optimization + ETA
Both Routific and Track-POD calculate ETA – estimated time of arrival required for communication with customers and internal planning. On top of that, Track-POD calculates estimated departure time for each stop.
Recurring routes
If you're the type of business that does milk runs, i.e. repeating routes to regular customers, then you need your route planner to consider recurring routes. Both Routific and Track-POD do that but the workflow is different. Here's how it works.
In Routific, you can add recurring routes by uploading regular customer profiles via a spreadsheet that has a column for notes.
In that column, you need to specify the days of the week when drivers make deliveries to your respective customers.
In Track-POD, you can repeat any route every day/month/year/day of the week as well as set the ending date. This way, you can easily set up recurring routes from within the software.
Order auto-balance
To make sure you distribute orders evenly among your drivers, you can utilize the auto-balance feature available both in Routific and Track-POD. On top of that, Track-POD also offers different setups for starting and ending routes.
From driver's home location.
From Depot.
Ends at Depot.
Ends at driver's home location.
Return to depot
'Return to depot' is a feature of route planning software that allows you to build multiple routes per driver per day. This means that the driver can go back to the depot location and start a new route on the same day.
This feature is available in Track-POD but not in Routific.
Route rates
If you wish to optimize delivery routes and assess the cost of each optimization scenario, then you need your route optimization algorithm to consider route rates. Track-POD allows you to optimize by 3 scenarios and compare route costs based on your preset cost per distance, cost per hour, and base fare.
By comparing costs at the routing stage, you can go with the most cost-efficient optimization strategy.
Other route planning & optimization features
Both Routific and Track-POD offer a number of features that make advanced route planning & optimization possible. Below are some of them.
Time slots – the software plans routes according to time windows comfortable for your customers.
Service time – in order to provide the best routing solution, the system considers service duration at each stop.
Priorities – both route planners take into account priority customers, addresses, or orders.
Driver's breaks – when creating long-distance and multi-stop routes, the software considers driver's rest breaks.
User & order management
Even with a 1-driver delivery operation, you might need to assign different roles and permissions to different web users, e.g. dispatcher and manager. As your business grows, you'll need to add more users. Being able to assign different roles & permissions will be as relevant as ever.
Let's see how Routific and Track-POD handle user management and order management.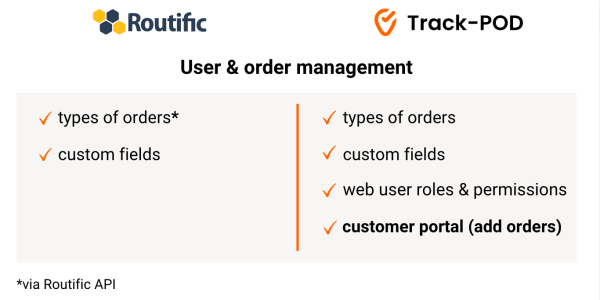 Types of orders
Delivery operations can handle more than just deliveries. Sometimes, drivers need to do pickups or collections. Your route planner needs to consider these different types of tasks when arranging routes.
By default, Routific allows deliveries only. However, it is possible to configure pickups via Routific's Engine API.
Track-POD, in the meantime, lets you choose any of the following tasks/sequences of tasks out of the box.
Delivery.
Collection.
Pickup & Delivery.
Pickup - Hub - Delivery.
Custom fields
When managing complex orders, i.e. cargo that requires special handling or vehicle conditions, it's crucial to be able to specify all the requirements for drivers to follow. This is where custom fields come in.
The good news is that both Routific and Track-POD offer unlimited custom fields, which means you can specify every detail that needs to be considered before your fleet is loaded and orders dispatched.
The bad news is that it might require more setup than you think.
Routific, for example, lets you add an unlimited number of custom fields but only when uploaded via a spreadsheet.
In Track-POD, adding custom fields is a matter of a couple of clicks, as the system offers several types of fields to choose from (checkbox, date, number, etc.). In addition to that, you can choose whether the fields will be editable in the driver's app.
Roles and permissions for web users
Routific allows 1 web user (Dispatcher View) per driver subscription. Track-POD offers a selection of web user roles so that you have full control over your delivery operation.
With Track-POD Advanced Plus, you can add 15 dashboard web users with 10 types of user rights.
Allow view Routes.
Allow user management.
Allow view Analytics.
Allow duplicate.
Allow view Vehicle Check.
Allow edit orders.
Allow view Directories.
Allow edit completed orders.
Allow Edit directories.
All 'Depots'.
Customer portal
If you have recurring customers or shippers, you can save time by giving them access to your route planner. This way, they can add orders, track drivers in real-time, and access all order-related data like Proof of Delivery.
Routific doesn't offer web customer access. Track-POD, meanwhile, boasts a dedicated web Customer Portal where your shippers can log in and have an overview of their orders and supporting documentation.
Driver app + POD
In last-mile delivery, the driver's app is just as important as the dispatcher's dashboard. To run things smoothly, both need to be in complete sync. Let's now take a look at Routific's and Track-POD's mobile apps to see which one checks the most boxes for you.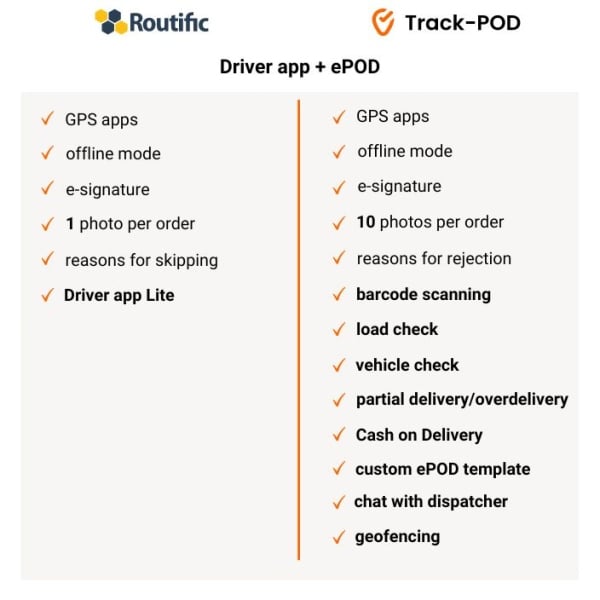 GPS apps
To navigate drivers along routes, Routific uses Google Maps, Apple Maps, and Waze. If you need more variety in navigation systems, consider Track-POD as it offers Google Maps by default + Apple Maps, Waze, TomTom, HERE WeGo, and Sygic to choose from.
Offline mode
You don't need me to tell you how connection troubles can slow down any operation. With dispatchers at the office and drivers on the road, this is particularly risky.
Both Routific and Track-POD driver apps operate normally until the connection is restored. Then, all data is immediately synced between the dispatcher and the driver.
E-signature + photo
As Proof of Delivery apps, Routific and Track-POD both support electronic signature collection. As far as photo proof is concerned, Routific allows only one photo per order.
Track-POD lets drivers take or attach up to 10 photos for both proof of delivery and proof of issues.
Reasons for rejection
Another delivery scenario is an order that is rejected because of damage to the goods or any other issues. Both Routific and Track-POD let the driver specify reasons for rejection/skipping of delivery – only Routific doesn't provide the option to specify reasons for rejection of specific items.
Routific driver app Lite
In addition to the installable mobile app, Routific offers a web app for mobile that doesn't require installation. You can dispatch routes to drivers via SMS and all over details will be available in a regular mobile browser.
In Routific driver app Lite, proof of delivery is limited to e-signature only.
Barcode scanning
With Track-POD, you can introduce an additional step to up your share of successful deliveries. During loading or unloading (or both), you can have your drivers scan orders or items (Scan&Count) to make sure they're delivering the right package to the right address.
Load check
Track-POD gives you the option to make load checks mandatory for drivers before they start their routes.
By scanning the barcodes on the packages, drivers can make sure they're heading off with the right cargo before they lose time making a delivery to the wrong destination.
Because all data from the driver's mobile app is synced with the dispatcher's dashboard, any mistakes will be reflected in reports.
Any unloaded orders will be assigned the status Not Delivered automatically.
Vehicle check
Vehicle check is another key component of safe & efficient routing. When it comes to planning multiple daily deliveries, you can easily miss some vehicle issues – unless you make vehicle checks mandatory before route start.
With Track-POD, you can require your drivers to complete a safety checklist before starting and closing their routes. The beauty of it is that you specify your own criteria, setting minimum, maximum, warning, and critical values for each parameter.
Naturally, all this data will be displayed on the dispatcher's side too, with all vehicle issues easily identifiable. On top of that, Track-POD stores your history of checks to help you keep track of vehicle issues over time.
Partial delivery/overdelivery
Deliveries don't always go as planned. Sometimes, an order or a part of it remains undelivered. Routific allows drivers to either confirm completion of a task or skip the stop.
Track-POD, on the other hand, offers more nuanced reporting to account for different delivery scenarios: Delivered, Not Delivered, and Partially Delivered, with the option to enter goods quantity.

Using Track-POD, you can account for partial delivery and overdelivery - common scenarios in B2B logistics.
Cash on Delivery
Cash on Delivery (COD) is another way to confirm successful delivery. The way it works is the dispatcher specifies an amount of money for the order and the driver needs to type in that exact amount for the delivery to be considered successful.
Custom POD template
While Routific supports e-signature collection and photo capture, it can't generate Proof of Delivery documents.
In Track-POD, you can create and brand your own delivery notes that will be emailed to customers as PDFs.
PODs will immediately be available on the dispatcher's side as well as in Customer Portal (view limited to shipper level).
Chat with dispatcher
The driver's app and the dispatcher's dashboard operate together. Therefore, making sure there's two-way communication between your dispatchers and drivers provides a lot of security to your whole operation.
While Routific doesn't have the in-app chat option, Track-POD lets drivers communicate with dispatchers throughout the entire route, including photos, whenever there's a need to report an issue.
Geofencing
Geofencing is a feature that allows dispatchers to have better control of drivers by making it impossible for them to deliver the order if they're not in the vicinity of the customer's address. Geofencing is available in Track-POD only.
Customer notifications
We've talked about the importance of two-way communication between dispatchers and drivers. Equally important and crucial for customer satisfaction is instant communication between drivers and customers. Let's explore how Routific and Track-POD handle that.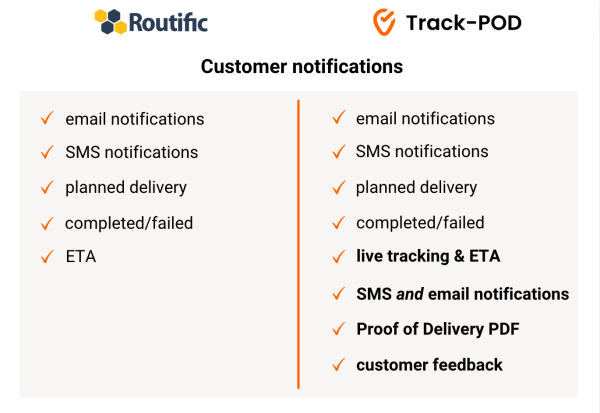 Planned delivery
As soon as your deliveries have been routed and scheduled, both Routific and Track-POD allow you to share notifications with customers.
All Routific notifications can be sent either by email or SMS, but not both. Customer notifications in Routific cost $19/mo per driver.
In Track-POD, notifications about scheduled routes can be sent at any time. You have full control of this process and can choose to have the notifications sent by email, SMS, or both.
En route
With Routific, you can set up Out for Delivery notifications. These are sent when deliveries are estimated to occur within a time window. By default, this notification will be sent 30 min prior to the driver's arrival at the destination. It includes the date of delivery and estimated time of arrival.
Track-POD offers notifications that include a live tracking link and a dynamic estimated time of arrival.
In Routific, en route notifications with an updated ETA are sent only if the original time window is no longer doable. This notification can be triggered multiple times and includes the date of the delivery as well as an updated ETA.
Track-POD allows you to set up automatic en route notifications whenever a driver has left their previous stop and is heading towards the customer. Alternatively, you can have the driver trigger this notification manually.
Again, the notification has a live tracking link and is fully customizable.
Completed/failed
Once the delivery has been carried out, Routific sends a notification to the customer saying that the delivery has been completed or skipped. No order details or Proof of Delivery is included in the notification.
Track-POD, in the meantime, sends post-delivery notifications with a customizable Proof of Delivery PDF in case the delivery was successful and a notification saying the delivery was marked as Failed in case something went wrong.
Customer feedback
Track-POD allows you to collect feedback on the delivery service, with the option to rate it 1-5 stars and leave a note. Average feedback will then be available among KPIs in Track-POD analytics.
Analytics & reports
Analytics is your most powerful tool when optimizing your delivery operation. If you want to maximize your resources, you need trustworthy business intel available every step of the way. We'll now look at reporting and analytics options available in Routific and Track-POD.
Analytics
Both Routific and Track-POD offer route analytics. In Routific, it's limited to a daily summary (End-of-day report) and downloadable CSVs with Route solution and Route summary.
Scheduled deliveries.
Completed on time.
Completed late.
Missed deliveries.
Basically, you can check when each driver was supposed to complete the job vs actually completed it. You can also see your Delivery on Time KPI for the day.
Track-POD, meanwhile, offers real-time and historical (2 years) analytics, with multiple KPIs and stats.
All data from the Track-POD analytics dashboard is exportable in PDF, Excel, or JSON. Alongside the columns with analytics, you can see results by KPI.
Delivery in full – your share of successful deliveries + a pie chart with reasons for rejection.
Partially – your share of partial deliveries + a pie chart with reasons for rejection.
On-time deliveries.
Average service duration.
Feedback.
Reports
Track-POD offers ready-made reports that you can choose from to look at your delivery operation from different angles over a period of time. Below are the built-in reports available in the dispatcher's dashboard.
Driver statistics.
Trip summary by routes.
Overview of orders.
Overview of items.
Cost savings by time/distance.
Route costs.
Wrapping up
Choosing a route planner is a big choice to make, yet it's a necessary one. Luckily, you can always narrow the choice down to a couple of similarly priced options and weigh all the benefits while being mindful of the cons.
I hope this side-by-side comparison of Routific and Track-POD gives you enough insight to make an informed decision and invest in something that matches your expectations.
If you have more questions or want to see Track-POD in action, you can always get in touch with our team and have a personalized demo.