ACDC Dynamics Saves Time and Fuel w/ Automated Routing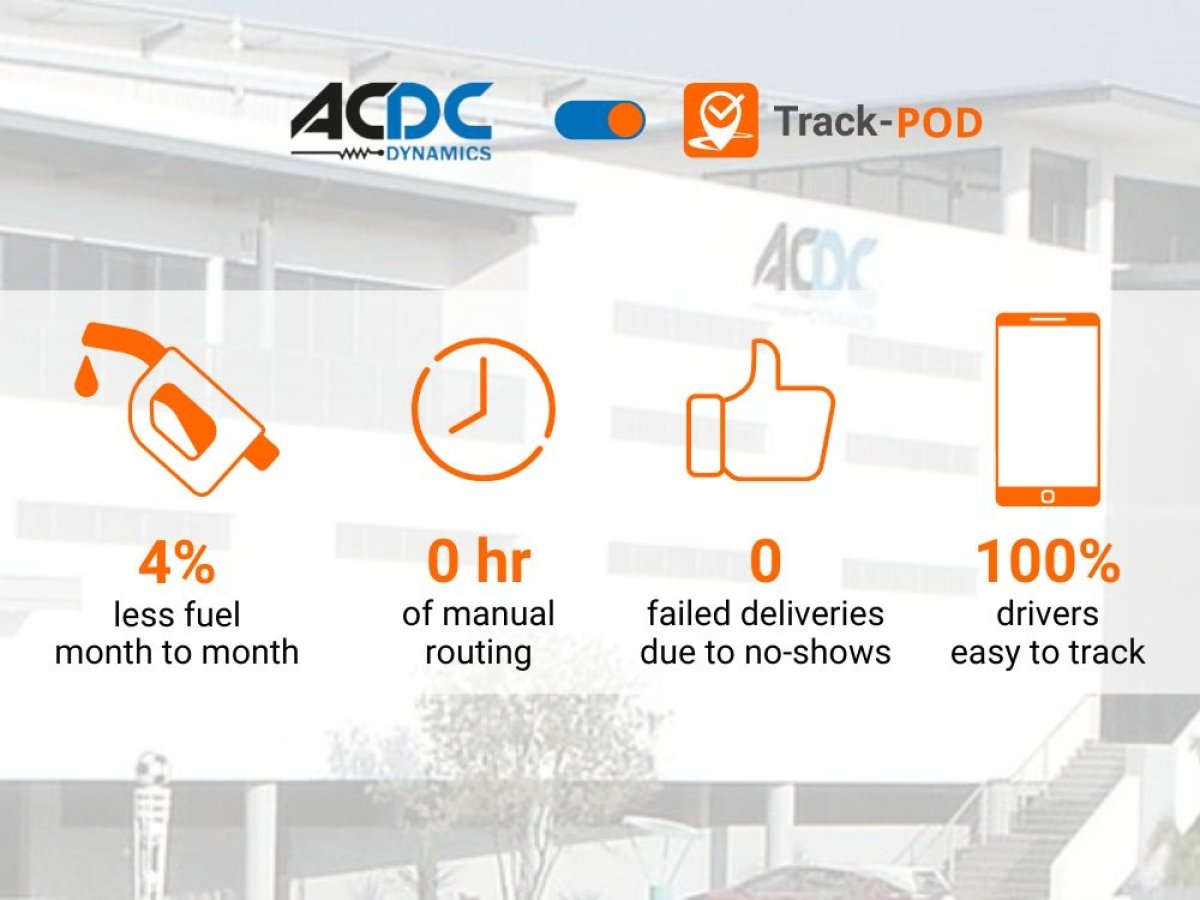 ACDC Dynamics is the leading manufacturer, importer, and distributor of quality products in the electrical sector in South Africa. Apart from the Head Office in Edenvale, Johannesburg, ACDC Dynamics has branches in Germiston, Cape Town, Pinetown and Riverhorse.
ACDC Dynamics' distribution network includes 20 franchises (ACDC Express retail stores) and 70 third-party distributors, making the products available anywhere within the country.
We spoke to Johan Basson, Dispatch Manager, and Floris Venter, Warehouse Manager about ACDC Dynamics' progress with Track-POD.
Challenges
Before Track-POD, ACDC Dynamics team were planning deliveries and collections manually. The Head Office in Edenvale, Gauteng has a fleet of 12 vehicles, the rest of the fleet is assigned to branches.
ACDC Dynamics is handling between 600 and 800 orders a day, coming in through the ERP from a wide variety of customers: B2C, B2B, and even B2E (Business to Enterprise).
Because daily manual route planning was taking too long, ACDC Dynamics started looking for a system that would accomplish 2 tasks.
Save time.

Improve efficiency.
"The time we spent on routing, the time it takes you to manually write up a trip sheet vs pressing a button and getting your trip sheet sorted."
Solution
"We tested the system and created routes by ourselves. Track-POD is very, very user-friendly."
Track-POD was implemented on the transported vehicle side currently running out of ACDC Dynamics Head Office. Delivery and collection routes are planned by the courier dispatch and franchise dispatch departments.
Because ADCD Dynamics' ERP system is not yet integrated with Track-POD, orders are pulled into the Track-POD system via Excel sheets.
"As a collection order comes through, we can immediately notify the driver to go and do the collection."
Routing on the transport side is done mainly in the morning, on the courier collections side – all through the day. Because all drivers were trained to use the Track-POD courier app within 2-3 days, the in-app chat is now used as a primary communication channel.
"You could get started with Track-POD within a day. The driver's app is just as self-explanatory as the dashboard."
Results

Ever since ADCD Dynamics started using Track-POD's route planning features, its fuel consumption decreased by 4% month-to-month.
Web users can see exactly when the drivers arrive and depart from customer locations, and travel time between customers has improved.
"Track-POD definitely made our operation a lot more efficient time- and fuel-wise."
ACDC Dynamics has had positive feedback from customers regarding delivery notifications.
Thanks to Track-POD emails, customers can notify the dispatcher if they're unable to receive the delivery.
"When the driver knows they don't need to go all the way to the customer who's not at the premises – that in itself is a cost saving."
ACDC Dynamics has yet to integrate Track-POD and the ERP system, which will allow for fully automated order transfer round the clock. Even though Track-POD is not used to its full potential, ACDC Dynamics is able to benefit from automated routing, live tracking, and delivery notifications.