Petal&Post Delivers "Farm to Table" Flowers to South African Homes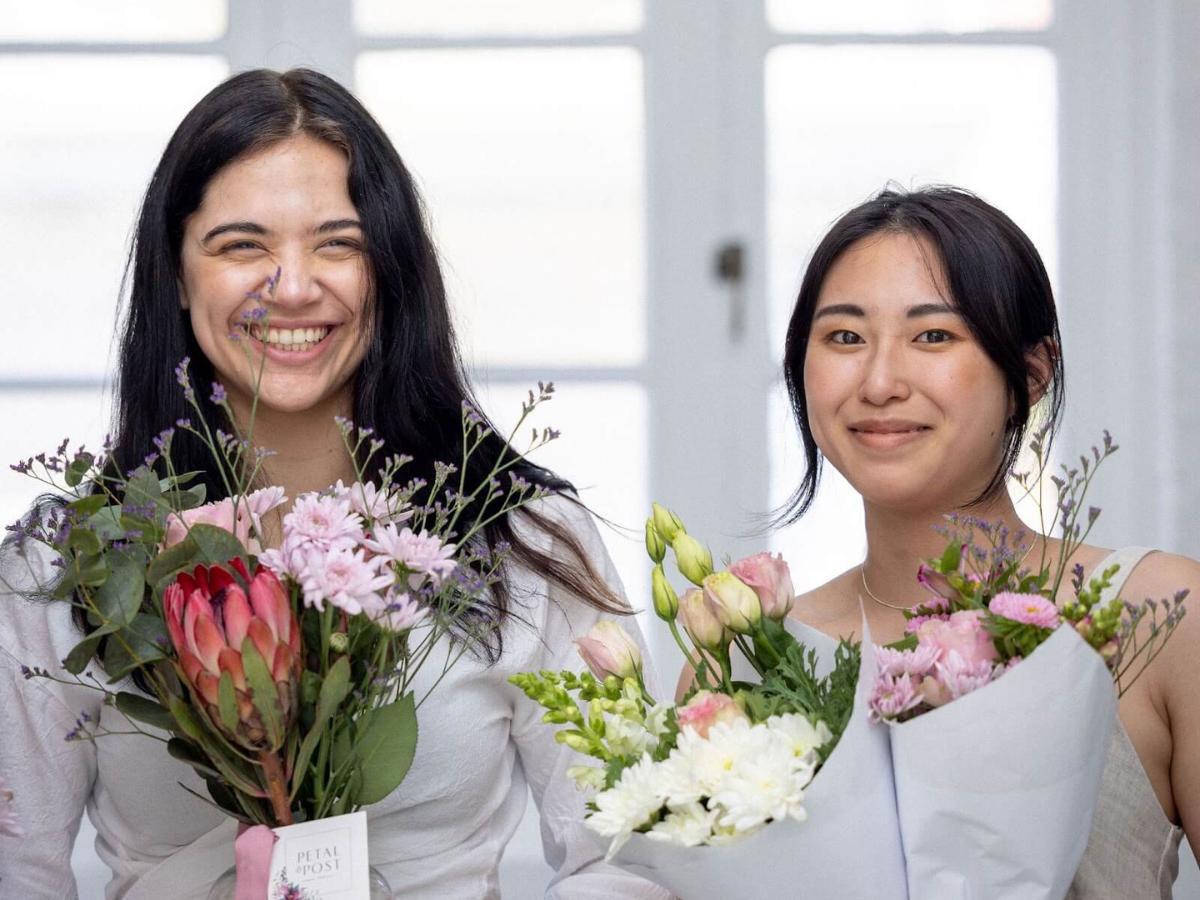 About Petal&Post
Petal&Post is a flower and gifting delivery company founded in 2016. Kim Du Plessis, founder and owner, had a vision for a sustainable business that would bloom from building relationships with local suppliers and farmers.
During the pandemic, Petal&Post grew substantially and is still in the process of expanding. It operates out of 3 branches: Cape Town, Johannesburg, and Durban.
The team of delivery drivers consists of 25-30 people at any given point, depending on the season. Employing freelance couriers driving their own vehicles works best with the business model and offers a personable touch upon delivery.
We spoke to Jenna Portnoi, Petal&Post's studio and marketing manager for the Cape Town branch, about automating last-mile logistics and scaling with Track-POD.
Challenges
Before Track-POD, Petal&Post had a manual approach to order management and last-mile logistics. The team would collect orders via website and add them to a Google Doc, copying each order to WhatsApp for courier dispatch.
Route planning was done individually by delivery drivers in Google Maps based on the order information shared with them. The drivers would then share proof of delivery with the back office, who would then forward it manually to the customers.
To summarise, Petal&Post had a very manual delivery process and wanted to automate last-mile logistics while keeping customer experience personal and unique.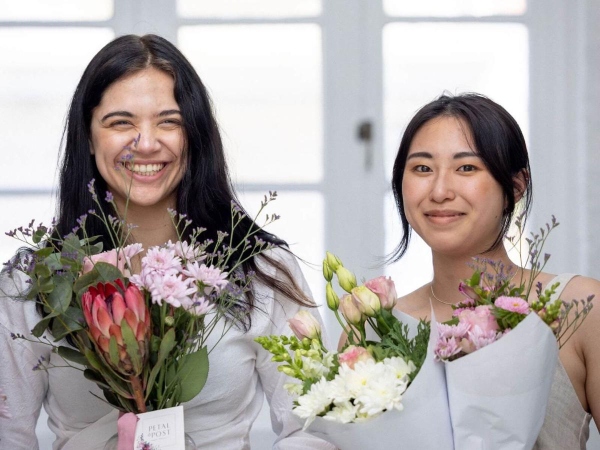 Solution
To start off, the team focused on pulling orders from the website into Track-POD.Jenna shares her thoughts on driving the project.
"Track-POD was very easy to integrate, our web developer did it seamlessly."
It took up to a week to get everyone at the back office comfortable with using the web dashboard.
To onboard drivers, Jenna created some routes in the system and shared screen recordings with the courier staff. Because Track-POD is an intuitive app, it was easy to get everyone on board with using it.
"Track-POD is easier [than manual route planning] and saves a lot of time, so everyone was happy to switch over to it."
One feature the team found especially useful is load confirmation. Petal&Post is a flower and gifting company, so drivers need to handle multiple items, some of which can be left behind. Thanks to the load check feature, couriers can make sure that they have everything.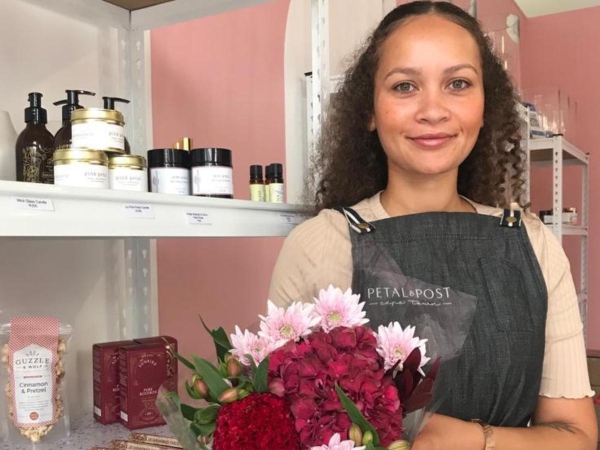 Turning point
With Mother's Day approaching, Petal&Post was expecting a 10x influx of orders. Manual delivery notes was not an option. The timing was perfect to implement Track-POD's electronic proof of delivery workflow.
Being an aesthetically focused business, it was important for the team to create beautiful on-brand delivery notes. This is possible with Track-POD's custom proof of delivery HTML editor (available out of the box with all subscriptions).
"I pulled together a quick design and our web developer got it going by the next day."
Although the custom ePOD took some time to set up, it now pulls data seamlessly from the driver app. Below is a glimpse of what Petal&Post's proof of delivery notes look like now.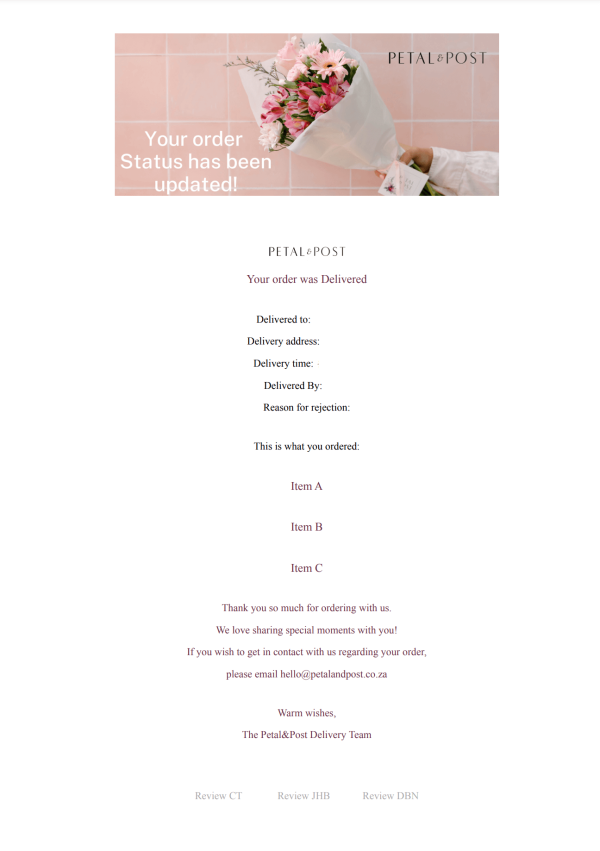 "Having a unique ePOD design helps us keep customers involved. It also vastly decreases the amount of emails and calls about order status."
The entire approach to last-mile delivery at Petal&Post is very personalised. The team strives to create a unique customer experience – from couriers wearing aprons as a uniform to customising delivery notes and emails.
Results
"We wouldn't have gotten anywhere near where we are without Track-POD."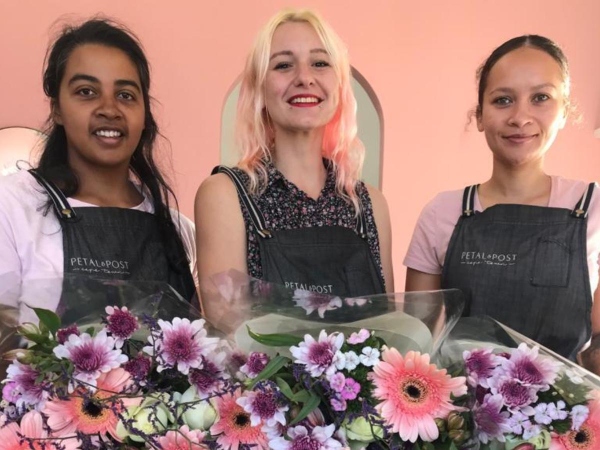 By setting up a fully in-house last-mile delivery process, Petal&Post was able to create a personalised customer experience that feels on-brand.
The team is now fully comfortable using Track-POD's route optimisation and proof of delivery workflows.
With additional tools like analytics, managers can track individual drivers' time and mileage.
"It's amazing how much accurate and detailed information you can get from Track-POD, beyond just basic analytics."
The next step on Petal&Post's journey to logistics automation is implementing live tracking for all customers. As the team is in the process of website redesign, a big focus is on the UI and UX of delivery tracking.
Petal&Post has big plans for the future, determined to scale for a while and do it in a sustainable way.
"Part of the reason we switched over to Track-POD is how easy it is to scale with it."
With a lot of tasks fully automated with Track-POD, Petal&Post is comfortable growing and moving forward.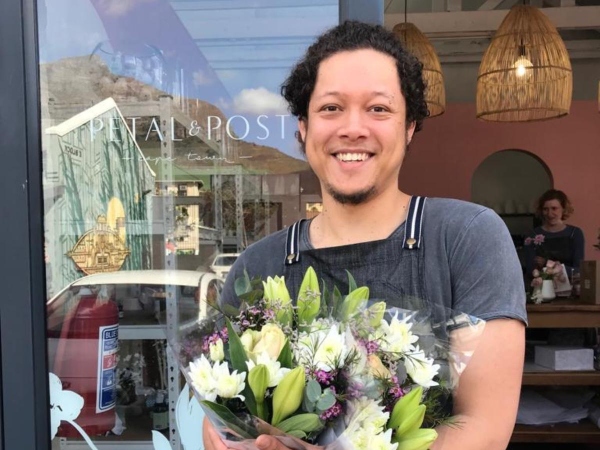 "Track-POD made a big difference and freed up a lot of our time. Everything from implementing it to customising it has been incredible."
We're proud to support local businesses all over the world striving to provide excellent delivery experience. If you're ready to build a 5-star delivery service with Track-POD, book a custom demo and get answers to your questions in real-time.