Track-POD Delivery Driver App: Interview with Developer
Updated on September 24, 2021 by Yulia Miashkova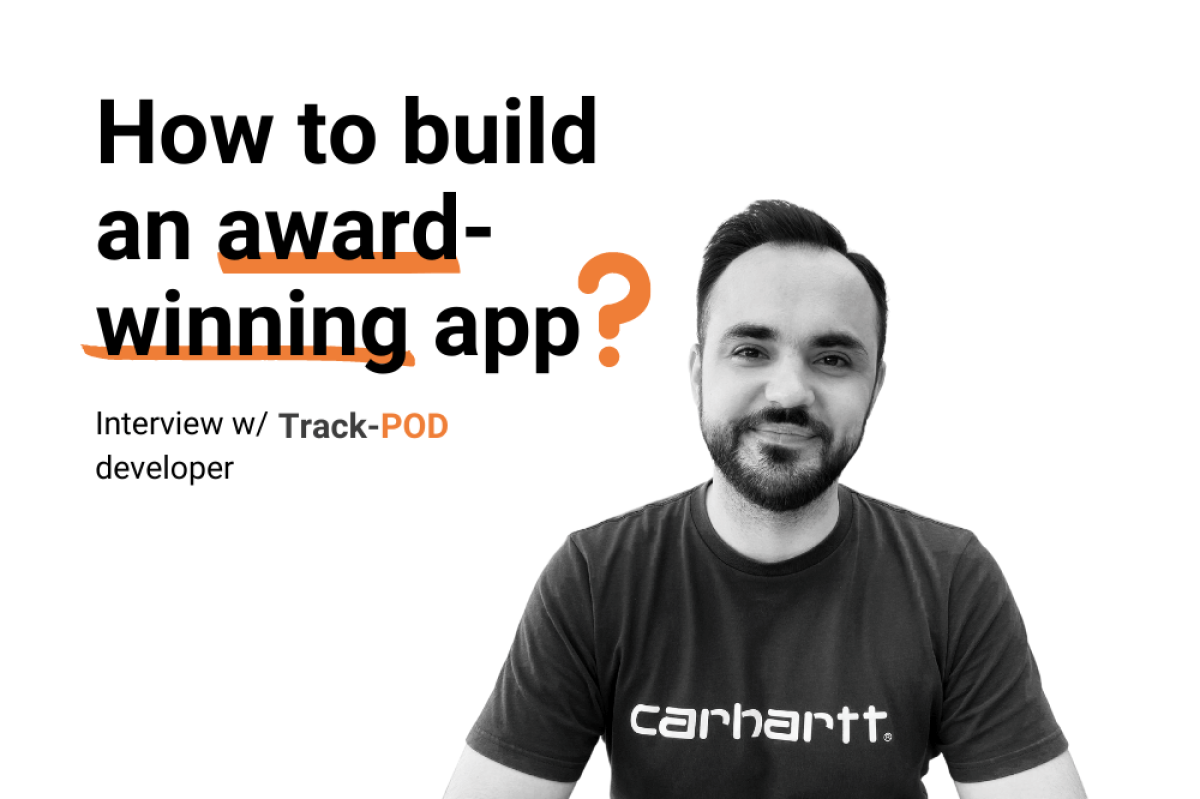 Track-POD delivery driver app is a mobile solution that complements the web dispatcher dashboard and powers live tracking, e-signature, photo proof of delivery, vehicle checks, and more. Below is an interview with Track-POD app developer Ilya Torop published as part of Track-POD profile on App of the Day.
---
Did you have any prior development or coding experience?
Yes, I started coding in a small outsourcing company. After that, I was freelancing for several years. I worked on various projects and startups based in the US and Europe: meeting platform, dating app, surgery events logging app with time tracking, parking map, sports grounds map with challenges, mileage registration/logging, smart home devices.
What was the most challenging aspect of developing the mobile app?
The most challenging part is working with synchronization of the mobile app and the web dashboard and of course GPS tracking. Also, the Track-POD delivery driver app is heavily loaded with features and some of the bugs can be very tricky to fix :)
Name a few of your favorite apps and the reason you love them.
Telegram messenger. The main reason to love this app is its speed regardless of the device model and specs, security, connection reliability. Also a ton of useful features and free storage for message history and all of the uploads without the need to connect to a 3rd-party cloud service like Google Drive (WhatsApp, Viber - Hello, guys ;)
Splitwise. Life-saving app for logging & managing expenses between friends and colleagues. The best feature is simplified debts - when you owe X USD to person 2 and they owe X USD to person 3 of the same Splitwise group, you automatically owe X USD to person 3, and person 2 can just relax.
How long have you been working on this app?
I've been working on the Track-POD delivery driver app for 1.5+ years.
What need of the user did you have in mind when developing this app?
Maximize the simplicity of the app to the delivery driver in terms of UX. Making the app reliable, so the user never has to experience some random app crashes. Load the app with the most requested and useful features possible to make the delivery drivers' and dispatchers' lives easier.
In what way do you think your app is better than similar apps on the market? Please describe in detail what innovation you think you bring and what you are proud of in your app.
First of all, it is the UX that helps delivery drivers avoid mistakes. Some actions related to route points, orders, and goods are unavailable when the driver is not supposed to make them. For example, you can't arrive at the destination point that is not next up on your route list (if the strict point order option is selected in the web dashboard). The driver can't change the status of the order or delivered goods qty if they haven't arrived at the site (tracked with the help of GPS).
Also, the Track-POD app now has a geofencing feature that not only minimizes human error but also helps automate the process of delivering orders. The essence of this feature is to allow any actions on the orders of the site only if the driver is near that site according to the GPS data from their device. Moreover, there's no need to perform manual arrive and departed actions on the route points because it is done automatically based on the GPS. That is one of the features that was developed by me and that makes me proud :)
Second of all is the Track-POD driver app's exceptional low crash rate. We have managed to make it around 0.09% which is more than 5 times lower than similar apps on the market (according to Google Play Console).
What are your future plans and expected features of the coming new versions of this app?
I think the next big changes will be logging in with a phone number for drivers and allowing them to toggle their availability (when they start their work shift) in the app, so they won't have to log out if they want the app to stop getting GPS updates.
Assuming new users of your app are reading this page. What do you want to ask them to do?
If you're managing a delivery operation or any business that handles its own deliveries, the Track-POD driver app + web dispatcher dashboard is a brilliant, cost-effective solution for transportation management. Try Track-POD for free and see how fully paperless & contactless delivery improves your customer satisfaction and overall business performance.
[IMAGE_AD]