Best Food Delivery Software with Mobile App
Updated on September 28, 2022 by Yulia Miashkova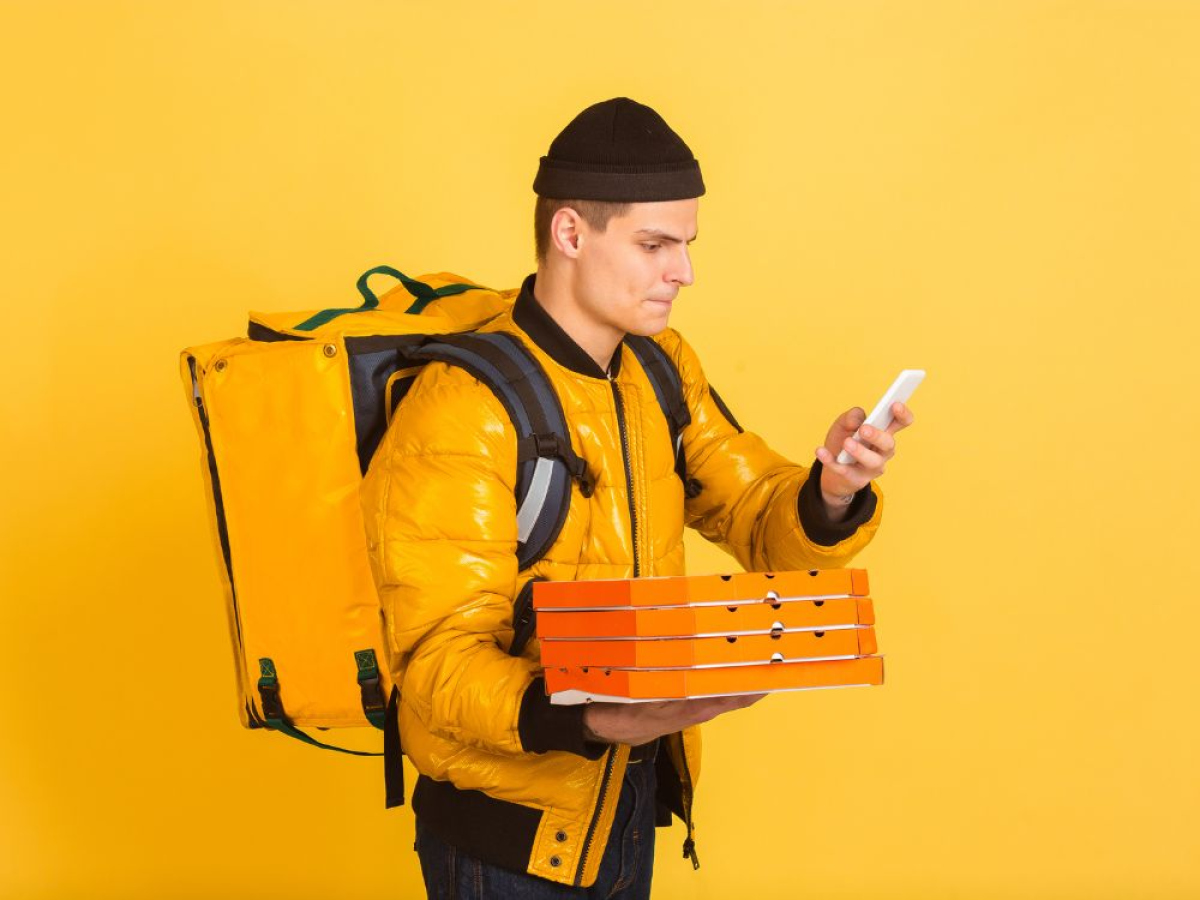 Of all the things that keep driving the delivery market growth, food delivery is a sure leader.
The global online food delivery market size was valued at USD 189.70 billion in 2021 and is expected to expand at a compound annual growth rate (CAGR) of 10.8% from 2022 to 2028 - Report.
Online food delivery is a big part of everyday life in many countries. More than half of the U.S. population is using online food delivery services in the U.S. alone.
While the market is booming, manufacturers and providers need reliable food delivery software.
In this blog post, we're looking at what kind of businesses benefit from food delivery software with mobile app, what are must-have features to look out for, and how to get the best value for your money.
Bon appétit!
What is food delivery software?
Any business that needs to deliver food - be it manufacturers delivering B2B or restaurants delivering B2C - needs delivery software.
Food delivery software is any system that helps organize the logistics of food delivery.
Arrange orders into routes.
Plan load & optimize by vehicle type.
Dispatch routes to couriers.
Track couriers in real-time.
Send notifications to customers.
Collect Proof of Delivery.
Analyze driver performance.
Food delivery software comes with a mobile app for the courier. With the integration between the dispatcher dashboard and the mobile app, drivers are assigned orders and tracked in real time.
Who uses food delivery software?
Not every food business uses a delivery platform. A small business is more likely to partner with food delivery apps like Uber Eats that will handle on-demand orders for a delivery fee.
However, any food business that handles its own logistics will need a delivery system. It can be integrated with the business' online ordering system if needed.
Food manufacturers
Food manufacturers and wholesalers use logistics software to deliver products to distributors. Large-scale food logistics operations need route optimization more than other food businesses as they're handling large volumes of orders.
Food delivery software vendors develop proprietary route optimization algorithms to help manufacturers optimize vehicle space, create loading plans, and print shippingels for scanning and confirmation.
Food distributors
Food distributors represent another point of sales that supplies products to stores (B2B delivery) or customers (B2C delivery) directly. For this, food distributors use last mile logistics software.
Much like food manufacturers, distributors need route planning, load optimization, shipping labels, and driver tracking - none of which is possible without food delivery software with mobile app.
Groceries
Grocery delivery is a service used by over 50% of the U.S. population. Supermarket chains have large in-house fleets and sophisticated food ordering systems to satisfy the demand. In this case, grocery store logistics software is a must.
Grocery delivery providers can benefit greatly from SMS and email delivery notifications that allow customers to track their orders in real-time. With dynamic ETA and photo proof of delivery, the rate of failed deliveries can be reduced significantly.
Restaurants
Food delivery software with mobile app enables restaurants, cafés, bakeries, ice cream shops, and other food establishments to deliver orders using in-house resources.
While not many restaurants invest in an in-house fleet of vehicles and couriers because of cost concerns, the quality of customer service and customer support can be improved a lot with the help of food delivery software.
Food subscription services
Grocery and meal subscription services are on the rise as people are looking for ways to save time and make better choices in terms of the quality of products and nutritional value.
Because meal delivery is organized in bulk and in advance, route and load optimization is a great benefit, as is photo proof of delivery and live tracking for customers.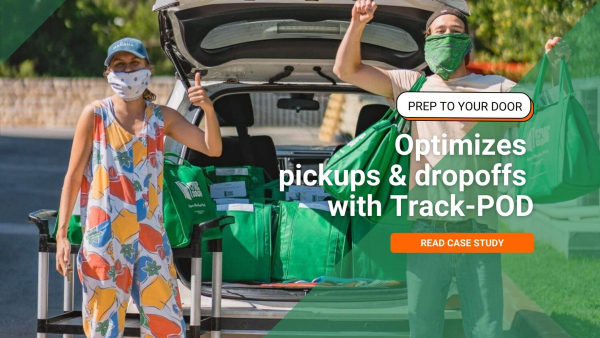 Online stores
Online stores that sell food but are not necessarily large supermarket chains use food delivery software to arrange orders into routes and send delivery notifications to customers.
Even when an online food store is using a grey fleet to deliver orders, i.e. vehicles owned by employees, it can still nail driver tracking and load optimization with food delivery software with mobile app.
Must-have features of food delivery software
Let's now look at the must-have features of food delivery software. We'll be considering both the web dashboard and the driver app components to determine what makes delivery software a great fit for food businesses.
1. Integrations
First and foremost, food delivery software needs to be integrated into whatever systems you're already using. For food manufacturers and distributors, this will be complex systems like ERP or WMS.
Therefore, food delivery software will be a good fit if it call pull orders directly from your order processing system. This can be set up via API or a Zapier integration.
Online stores that sell food via platforms like Shopify can also set up instant order import into their food delivery software of choice.
2. Routing by vehicle type
Route planning by vehicle type is a crucial feature for food logistics. Whether you deliver by large trucks or cargo bikes is very important to consider when building and optimizing routes.
The best food delivery software allows you to use advanced fleet routing based on the types of vehicles in your fleet. Not to mention being able to add all vehicle parameters for efficient load planning.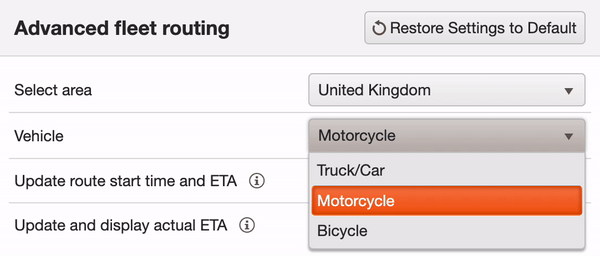 3. Priority orders
Being able to assign priority to a customer, address, or order is crucial for food delivery operations. If you happen to provide on-demand rush delivery, you need to be able to prioritize some orders over others.
If your food delivery software is flexible in that regard, you can squeeze last-minute orders into a driver's daily jobs and fulfill urgent tasks.
4. Custom fields
Food transportation requires special equipment like refrigerated trucks or thermal backpacks. If you're not building your food delivery software from scratch, you need to make sure the system you choose has room for customization.
Custom fields is a great feature that allows you to add whatever information you need to any part of the system. This can be anything from invoice number to truck temperature.
5. Barcode scanning
Using shipping labels is a proven way to reduce delivery mistakes. While shipping labels are generated and printed at the routing stage, they need to be scanned by the driver at the delivery stage.
External scanning devices such as Zebra or Newland are not always feasible for food logistics operations. The best food delivery software will offer a barcode scanner as part of its mobile app for the driver. This way you can scan packages before departure to avoid delivery mistakes.
6. Delivery notifications
Delivery notifications is a staple of customer service in logistics. Below is what kind of notifications you can share with customers via food delivery software.
Before delivery (includes the date and time of delivery).
En route (includes a live tracking link + ETA).
After delivery (includes e-signature, photo, etc.).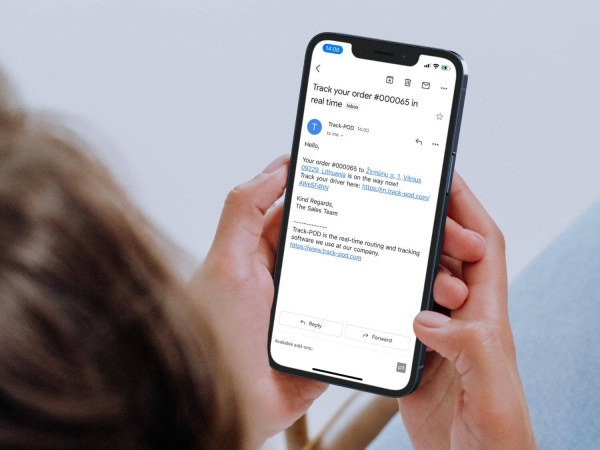 7. Tracking & Live ETA
Driver tracking with live ETA is a must-have both for dispatchers and customers. The former need to be able to track all delivery drivers at once. The latter need to be able to see one driver's location in real-time.
Food delivery software with mobile app is how you can provide both. Through the app, you can always see your drivers' exact whereabouts and provide live tracking + live ETA to customers at home.
8. Photo confirmation
Contactless delivery is a staple of food delivery apps. In restaurant delivery and meal subscriptions alike, being able to share photo confirmation of delivery with the customer is how you avoid misunderstandings and disputes.
Photo capture is a key part of food delivery software with mobile app. Using paperless applications for delivery drivers, your couriers can collect e-signature and take photo proof of delivery. Both will populate the ePOD shared with the customer.
9. Partial/overdelivery
Overdelivery is a common case for food manufacturers and wholesalers that transport large quantities of products. Simply put, it's whenever a courier delivers more than expected.
The same happens when some food items have been damaged during transportation, i.e. the courier delivers less than expected. The best food delivery software with mobile app lets you document overdelivery and partial delivery as well as account for both in analytics and reports.
Best food delivery software with mobile app
Now that we've gone over the use cases of food delivery software as well as the must-have features this software needs to provide, let's compare top-rated vendors.
Below you can see a breakdown into out-of-the-box features as well as the features that need to be purchased additionally.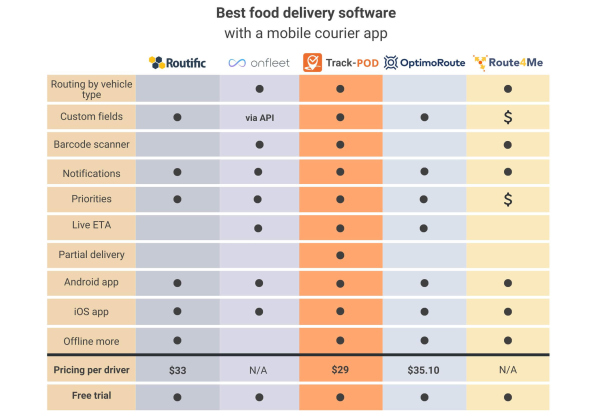 Wrapping up
Food delivery software is a key component of any logistics operation that transports food. From large manufacturers to local restaurants - whatever food transportation challenges you face, there's a solution for your needs.
I hope this article gives you food for thought and helps you decide on the best food delivery software with mobile app. If you're curious about Track-POD delivery software, book a free demo and we'll show you around.