Detrack + ElasticRoute = Track-POD [1 Dashboard Solution]
Updated on January 02, 2023 by Yulia Miashkova

Detrack is one of the most affordable delivery management solutions out there. So much so that it has a free version with live tracking and Proof of Delivery included.
But there's a catch.
Detrack lacks a multi-stop route planner. This is sold separately as an integration – ElasticRoute – which makes it a 2-part solution.
While some businesses have no issue with switching between screens and dashboards, others find the extended route planning cumbersome.
In this blog post, we take a close look at the Detrack + ElasticRoute and offer a single dashboard, one-price alternative with the same core features.
Let's roll.
Pricing
The pricing structure can say a lot about a software solution. When it comes to delivery software, some vendors charge per vehicle, some offer many drivers and charge per the number of tasks a month, and many have paid add-ons.
Detrack pricing
Let's look at Detrack's pricing structure to understand how a subscription works.
Detrack charges per driver/vehicle and offers two pricing plans: Free and Pro. The Free plan comes with limitations but still offers decent features like email notifications, live tracking + ETA, and Proof of Delivery.
Detrack Pro plan costs $26/mo if paid annually and $29/mo if paid month-to-month. It includes contactless delivery, unlimited sub-users, and other extra features.
One thing both plans lack is route planning. This is offered as a paid integration – ElasticRoute.
What is ElasticRoute?
ElasticRoute is Detrack's route planning & optimization component. You can use it as a standalone route planner (without dispatch).
ElasticRoute charges per vehicle and comes in 3 versions.
Free (up to 20 stops).

Monthly (2,000 stops) – $29.

Annually (2,000 stops and 2 months for free) – $290.
To get all the core features for delivery management (route planning, dispatch, tracking, and ePOD), you can get a bundle monthly subscription that includes both ElasticRoute and Detrack.
Detrack + ElasticRoute monthly bundle is $44/mo per vehicle.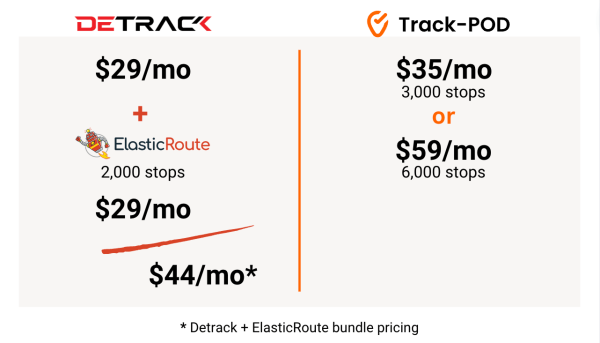 Track-POD pricing
Track-POD charges per vehicle OR per number of orders – you can choose and switch between pricing models as you go. All subscription plans come with out-of-the-box features, which makes Track-POD a single dashboard solution.
If you choose to pay per vehicle, you have the following options depending on the features included.
Standard $29/mo (annually) or $35/mo - 3,000 tasks.

Advanced $49/mo (annually) or $59/mo - 6,000 tasks.

Advanced Plus $69/mo (annually) or $79/mo - unlimited tasks.

Enterprise – available upon request.
If you choose to pay per number of tasks a month (1000 drivers included), you have the following options.
S Plan $285 – 1,500 tasks $0.19 each.

M Plan $510 – 3,000 tasks $0.17 each.

L Plan $900 – 6,000 tasks $0.15 each.

XL Plan $1440 – 12,000 tasks $0.12 each.
Implementation
Before we move on to specific features and capabilities, we need to understand the setup, i.e. how long it will take to get started with the actual delivery management.
As established earlier in this post, Detrack does not have a multi-stop route planner and uses the ElasticRoute integration instead. Therefore, we'll be comparing Detrack + ElasticRoute vs Track-POD.
While both solutions are cloud-based, it takes a minute to integrate Detrack and ElasticRoute. Namely, you'll need to log into the systems separately, retrieve your API key, and then map your fields.
Once you've integrated Detrack and ElasticRoute, you can go on to adjust your settings and configure both systems to your liking.
The best way to use Detrack and ElasticRoute is on multiple monitors.
Meanwhile, getting started with Track-POD takes no further setup than logging in, adding your vehicles, and adjusting route optimization/notifications/etc. settings.
Because Track-POD is a single dashboard solution, you'll need a single device for all of delivery management. Getting started takes less than a day even with multiple vehicles.
Order import
Delivery management starts with order import. Let's see what the order import workflow looks like in Detrack + ElasticRoute vs Track-POD.
Both systems allow you to add orders manually or upload them in bulk. However, the workflow is multi-step in case you're using Detrack + ElasticRoute.
Add orders to Detrack.

Pull orders from Detrack to ElasticRoute.

Plan & optimize routes in ElasticRoute.

Push routes back to Detrack.
Again, you might need to use multiple monitors to import orders smoothly.
If you use ElasticRoute by itself, please keep in mind that orders can be imported only if your CSV file is of the exact format required by the system. No field mapping is available.
In Track-POD, orders are added to the routing dashboard directly, which makes order import a matter of seconds.
Route planning
We move on to route planning – the cornerstone feature of delivery software.
The ability to plan and optimize multi-stop delivery routes for multiple vehicles at once is what makes delivery software indispensable to any logistics operation.
Below is a brief comparison of the core features of ElasticRoute and Track-POD route planners.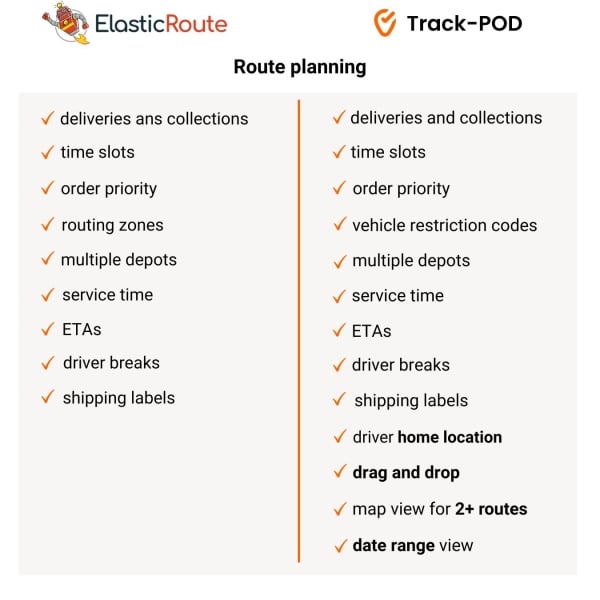 As you can see, both ElasticRoute and Track-POD provide the core features for route planning and optimization. The biggest difference is in the UX.
In Track-POD, routing and optimization happen in a single drag-and-drop dashboard with an interactive map.
In ElasticRoute, you'll need to switch between tabs to see orders, routes, map, and calendar – not to mention pushing routes back to Detrack, which is a separate system.
Driver app
Both Detrack and Track-POD facilitate instant order dispatch via the mobile driver app. For both systems, drivers receive unique login details set by the dispatcher.
As the web and mobile parts are synced in the cloud, dispatched routes appear on the driver's side automatically. Here's what it looks like in Detrack vs Track-POD.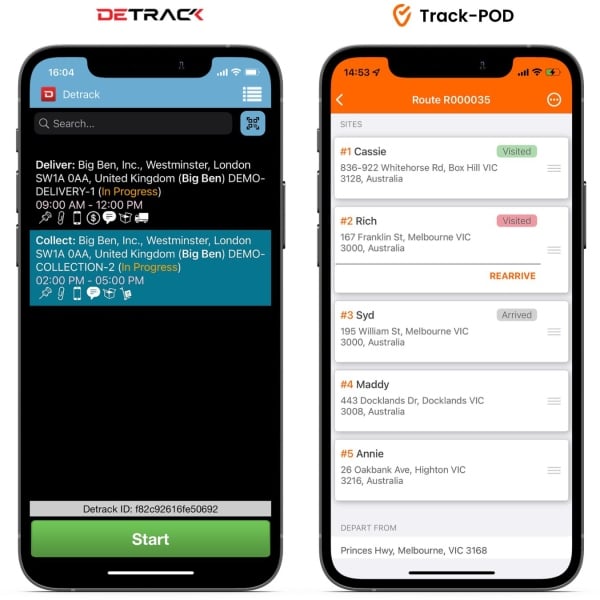 Both Detrack and Track-POD driver apps fulfill the core functionality of a delivery driver app solution. Below is a brief overview.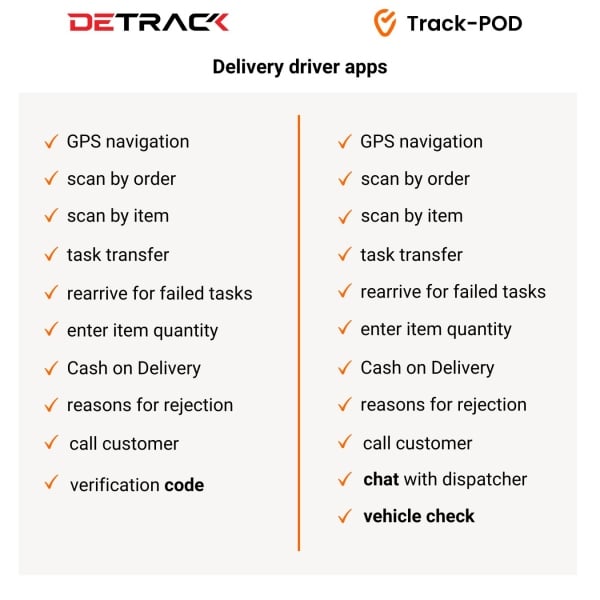 As you can see, both driver apps are versatile and provide a wide range of tools for couriers to deliver and collect packages.
Delivery notifications
Delivery service is incomplete without SMS or email delivery notifications. Notifications and live tracking is what allows delivery operations to build a self-service workflow, i.e. customers don't have a reason to call and ask about the status of delivery.
Both Detrack and Track-POD offer a wide range of notifications that can be shared via SMS or email. Below is a list of use cases for delivery notifications available in both systems.
Advance notifications – after a job is scheduled.

En route notifications – when a job is in progress.

Live tracking & ETA – for track and trace.

Delivered/collected notifications – when a job is done.

Proof of Delivery – contains a PDF.

Customer feedback – rating of the service.
All notifications can be personalized and branded.
Proof of Delivery
Electronic Proof of Delivery (ePOD) is what allows logistics operations to go paperless and provide contactless delivery services.
Detrack and Track-POD are Proof of Delivery apps, providing couriers with tools to collect delivery confirmation.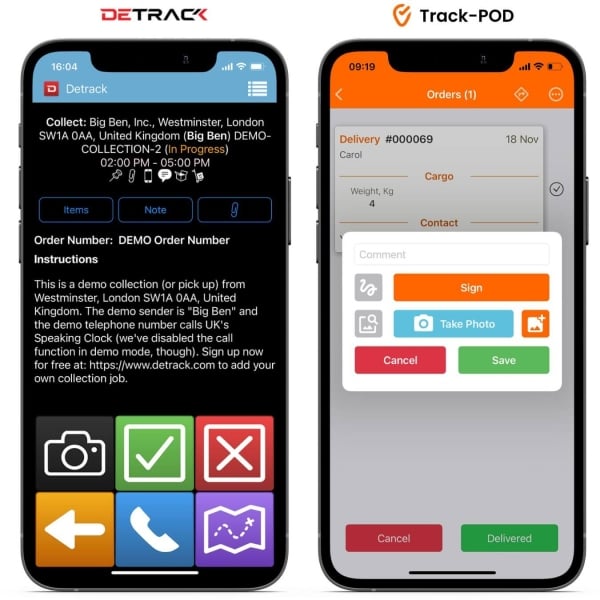 A signature feature of both Detrack and Track-POD is customizable Proof of Delivery PDFs. These are automatically populated with the data collected by couriers and then shared with customers when the job is completed.
Below is an overview of the ePOD features offered by both apps.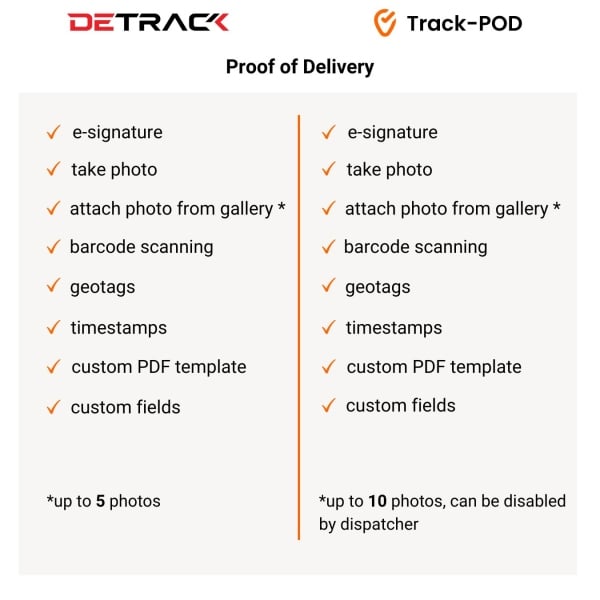 Analytics & reports
Last but not least, we'll take a look at analytics and reports available in Detrack and Track-POD. Real-time and historical data is what allows delivery operations to analyze current performance and get better at forecasting.
Below is an overview of what kinds of analytics you can get in Detrack + ElasticRoute vs Track-POD.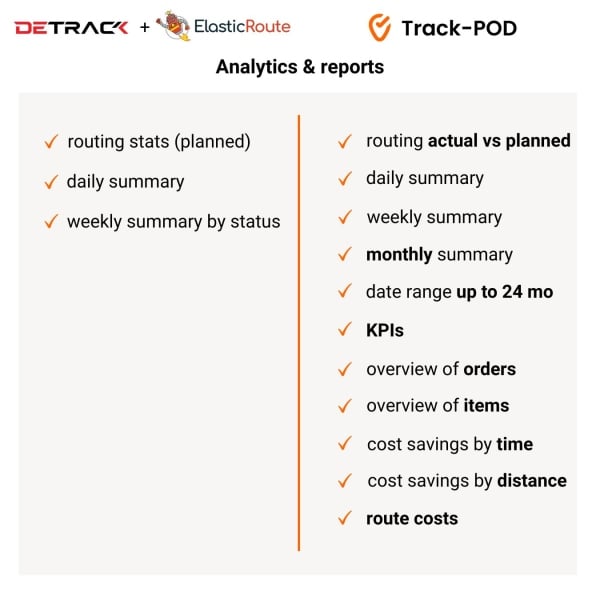 As you can see, Detrack + ElasticRoute offer limited analytics, mostly daily stats. To compare your planned and actual daily performance, you'll need to retrieve data from two systems manually.
As far as the weekly summary is concerned, analytics are limited to order status.
Meanwhile, Track-POD offers a range of analytics and reports, both real-time and historical going up to 24 months back. In addition to downloadable reports, you get a visualization of the main logistics KPIs.

Because Track-POD lets you benchmark your planned and actual performance, you get better at performance evaluation, forecasting, and cost optimization.
Final thoughts
When it comes to choosing the right software solution, there are many criteria to consider. From the pricing structure and implementation to very specific features essential to your operations.
Detrack, ElasticRoute, and Track-POD are used by thousands of logistics operations with different needs. The question is, what setup makes the most sense for you?