Track-POD vs eLogii: Know What You're Buying
Updated on February 27, 2023 by Yulia Miashkova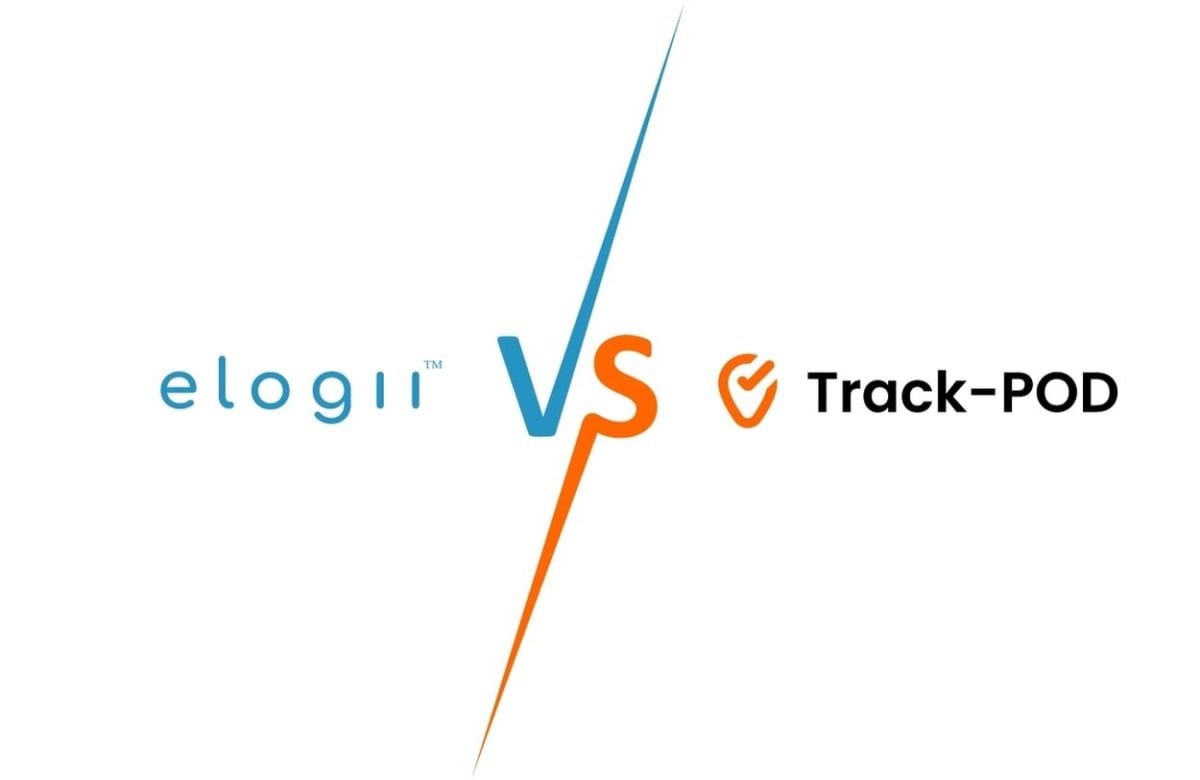 Finding the right logistics management software is similar to finding the right person for your team.
You need to understand their full capacity as well as limitations, not to mention the learning curve and compatibility with other systems/staff members.
Last-mile logistics software is not something you invest in as a one-man operation. You're likely to have multiple vehicles and drivers to deliver/collect products or perform field services.
If you're at a point where you understand your needs and budget and want to choose the best logistics management software for the job, you've come to the right place.
In this blog post, we're comparing eLogii and Track-POD software for delivery optimization. Let's roll.
Driver app & ePOD
Pricing
The first thing to know about logistics software is the licensing model and pricing. There are two types of licensing in the delivery software category: by vehicle and by order.
Both eLogii and Track-POD offer by-order pricing, while Track-POD also offers the option to pay per vehicle/driver.
For the sake of this comparison, let's look at the cheapest by-order plans to see what you're getting with the minimum subscription.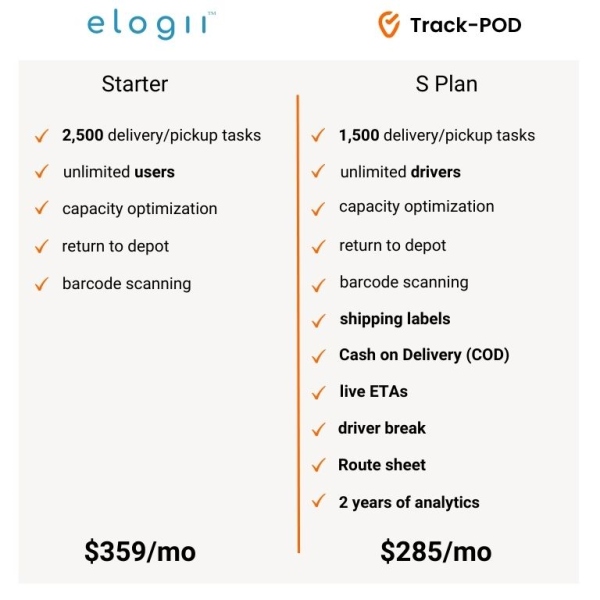 As you can see, the smallest eLogii subscription covers 2,500 orders/jobs a month. The smallest Track-POD subscription, meanwhile, covers 1,500 orders/jobs. However, it's not only about the number of tasks.
In Track-POD's by-order pricing, all features come out of the box. In eLogii, many features are available with bigger subscriptions only.
So while eLogii offers more jobs/tasks per month, you'll need to pay 8,000 or even 40,000 orders/mo to have access to all features. Let's now review delivery optimization features in eLogii and Track-POD in more detail.
Order & user management
First, we have user and order management constraints. Because both eLogii and Track-POD are designed for delivery teams, we need to consider how they handle software user rights and permissions.
Web dashboard users
When we talk about web dashboard users, we need to cover 2 points: how many web users are allowed and how many roles and permissions they have.
While eLogii offers unlimited web users, it only has 3 user roles: Admin, Full access, and Viewer. Track-POD, meanwhile, offers 15 web users but has 5 user roles with customizable permissions for each:
View-only.
Dispatcher.
Carrier.
Shipper Manager.
Admin.
Each role comes with customizable permissions, e.g. Allow view, edit, duplicate, etc. All in all, you have 20+ configurations for user rights.
Custom fields
Both eLogii and Track-POD offer custom fields designed to add any data that's not available in the platforms out of the box. To see use cases of custom fields in logistics software and get inspired, check out this guide.
Custom task fail reasons
When a job doesn't go as planned, your staff should have the tools to report on it. Logistics operations work with certain scenarios (B2C, B2B, deliveries, collections, field services, etc.), so it helps to be able to customize reasons for failed tasks to speed up the process.
Both eLogii and Track-POD allow you to create custom reasons for failed jobs.
Customer portal
Giving your customers the tools to add and manage their orders is a great way to save time on manual tasks. Both eLogii and Track-POD allow you to give your shippers the rights to add orders to the system.
In eLogii, this is realized by means of a customer dashboard; in Track-POD - by means of a dedicated Customer Portal.
Route planning & optimization
Route planning and optimization is a key part of logistics management. Depending on how well your delivery software handles routing, you'll save time and get more done with the same resources.
Let's see how eLogii and Track-POD handle route planning and optimization.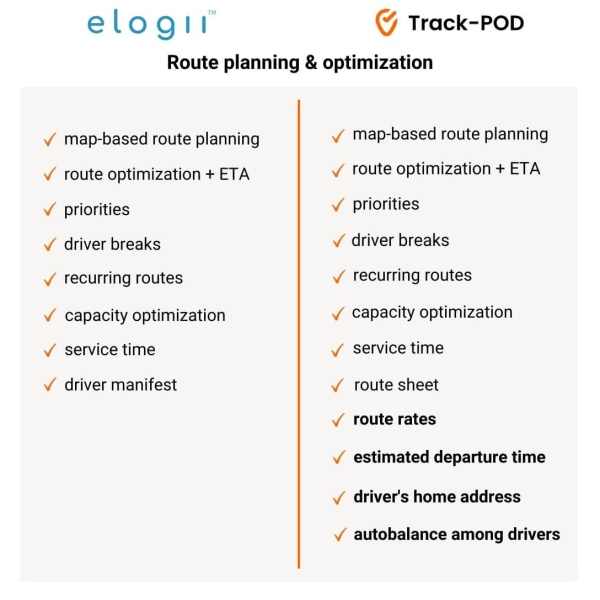 Drag-and-drop routing
Planning routes can be a mess, especially when you have multiple drivers and thousands of orders per day. In terms of user experience and speed, it helps to work in a responsive interface.
Both eLogii and Track-POD allow you to drag and drop jobs in the dashboard, saving time on task and order management.
Optimization + ETA
There's no doubt that route optimization algorithm is the backbone of any delivery management software. Fully automated route optimization will save you hours of manual work every day. Not to mention being able to optimize thousands of orders at once.
Both eLogii and Track-POD offer automated route optimization and live ETA. This means you can be sure all jobs will be routed in the most efficient way possible, while you and your customers will be able to track progress in real-time.
Priorities
In any logistics workflow, there come up urgent tasks and priority assignments. In eLogii, you can indicate the priority of customers and tasks. In Track-POD, you can assign priority to customers, addresses, and tasks.
Recurring routes
Recurring routes are regular, scheduled delivery runs that are used in B2C (meal subscription, cleaning services, etc.) and B2B (distribution, supply, etc.) scenarios alike. Both eLogii and Track-POD support recurring routes.
Please note that in eLogii, recurring routes are available with the biggest subscription only (40K orders/mo).
Capacity optimization
In eLogii and Track-POD alike, you can optimize routes according to vehicle capacity. That way, by specifying parameters like height, weight, volume, distance, etc., you can make the most of your fleet resources and minimize waste.
Route sheet
Route sheet (aka driver manifest in eLogii) is a list of all stops in the route in the order that the algorithm assigned. Please note that while in Track-POD S Plan this feature comes out of the box, in eLogii it's a premium package feature.
Route rates
Route rates are the costs that you can put into your logistics management system to calculate total route costs with every optimization scenario. While eLogii doesn't offer route rates, Track-POD allows you to specify them in the settings and calculate costs pre-dispatch.
Drivers' home address
Routing commercial vehicles is not always as simple as specifying a depot address and customers' addresses. Some logistics operations work with contract drivers or drivers who operate a grey fleet, i.e. privately owned vehicles.
Being able to add drivers' home addresses gives you more flexibility in terms of routing and billable driver hours. This feature is available in Track-POD only.
Task autobalance
When you have a team of drivers to manage, it's important to give them an equal workload. While eLogii doesn't support autobalance among drivers, Track-POD offers this feature out of the box.
Driver app & ePOD
Delivery driver app can make or break a delivery operation. When the app is intuitive and versatile, you can be sure your drivers have the tools to deliver excellent service. Let's look at eLogii and Track-POD delivery driver apps side by side.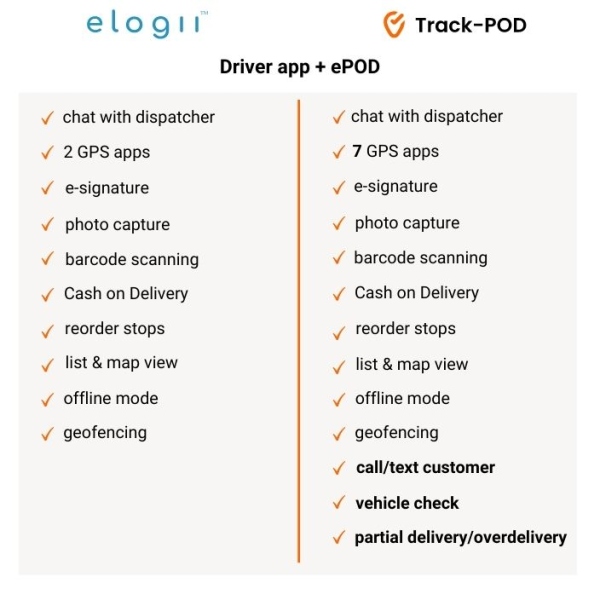 Chat with dispatcher
When you manage a mobile workforce, having an easy way to keep in touch is essential. In-app chat will save you time and protect your data without distracting your drivers. Both eLogii and Track-POD support in-app messaging.
GPS navigation
Having a variety of GPS apps to choose from means always having the option to go for a better navigation system. While both eLogii and Track-POD offer a selection of GPS apps for drivers to choose from, eLogii supports 2 apps and Track-POD - 7.
Google Maps.
Apple Maps.
Waze.
TomTom.
HERE WeGo.
Sygic
Hammer
ePOD
Proof of Delivery is the key application of delivery driver apps. Both eLogii and Track-POD give your drivers the tools to collect paperless Proof of Delivery: photos, e-signatures, barcode scanning, notes, etc.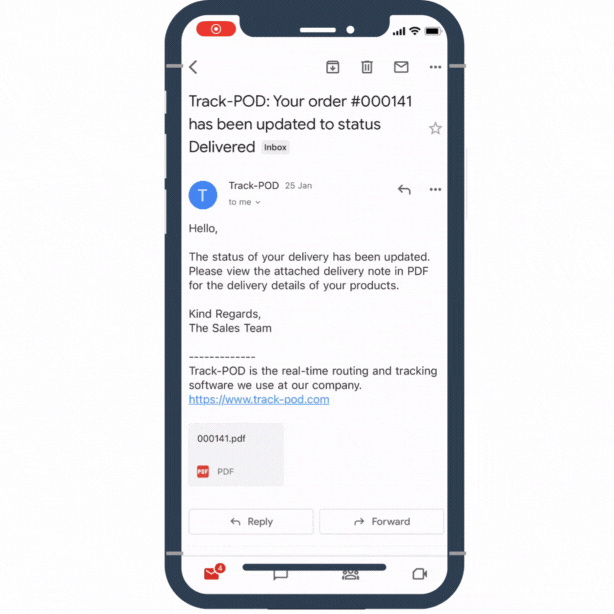 To give your customers more flexibility and payment options, consider implementing Cash on Delivery (COD).
Reorder stops
Sometimes, stops in a route need to be reordered. This can happen due to a number of reasons, and you can give your drivers the tools to change the sequence of stops in a route from their mobile app. Both eLogii and Track-POD allow you to do that.
Geofencing
Geofences are areas that you assign to each pickup or dropoff location. In eLogii and Track-POD alike, you can use geofencing to prevent drivers from completing orders while not being in the proximity of their respective customer locations.
Vehicle check
A vehicle safety check is a routine procedure followed by many commercial drivers before and/or after each route. If you'd like to add vehicle checks to your drivers' to-do lists, you can do so by creating a custom safety checklist in Track-POD.
Partial delivery/overdelivery
As the name suggests, partial delivery is the delivery of less than 100% of items in an order. In short, it's not delivery in full.
Overdelivery, on the other hand, is a case where over 100% of expected items are delivered. This is a common scenario in B2B delivery, e.g. a distributor or manufacturer delivering products to a storage location.
In Track-POD driver app, it's possible to enter the quantity of products actually delivered/collected. This way, your drivers can document partial delivery and overdelivery.
Notifications
Delivery notifications is the lens through which customers look at your delivery service. Both eLogii and Track-POD enable you to share delivery updates via SMS and email. Let's look deeper.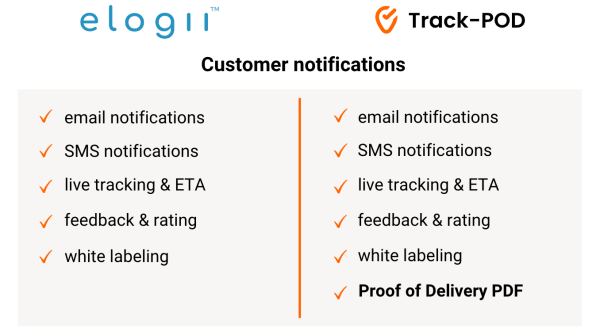 Live tracking & ETA
Live tracking and live ETA is the #1 way to minimize unnecessary interactions with customers expecting their orders. By sharing a live tracking link and updating ETA en route, you can give customers the tools to trace their orders without contacting you.
When customers can see the status and location of their packages in real-time, they're more likely to be at home to receive the order, which helps you improve your rate of DIFOT (delivery in full, on time).
Feedback & rating
The best way to measure the quality of your delivery service is to collect customer feedback. Both eLogii and Track-POD allow you to collect customer feedback and ratings 1-5. You can then analyze driver performance based on the rating they receive from customers.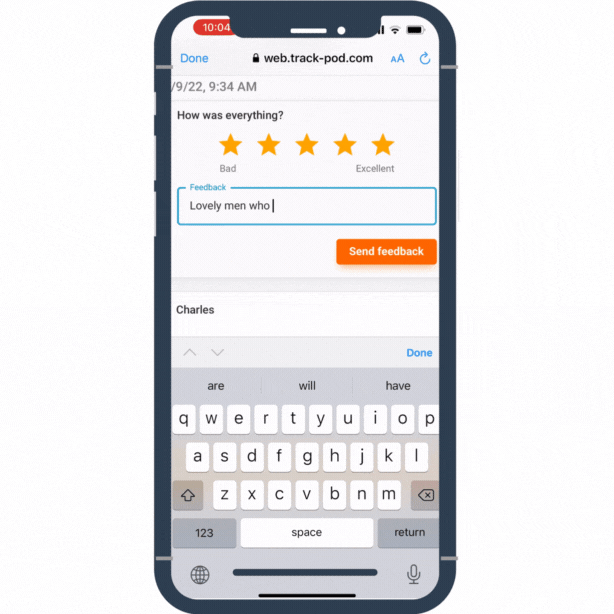 White labeling
White labeling is a way to further promote delivery success as you can customize customer communications according to your brand. For example, by sending emails and Proof of Delivery with your logo helps you improve brand recognition and customer loyalty.
Proof of Delivery PDF
Proof of Delivery/service/collection is a crucial document in any logistics operation. In addition to being able to collect paperless delivery confirmation, it makes all the difference if you can share it with customers in a friendly interface.
Use Track-POD to customize ePOD template and share delivery confirmation PDFs automatically upon task completion.
Analytics & reports
Last but not least, we'll look at analytics and reports available in eLogii and Track-POD. Through analytics and reliable performance insights, you're able to address performance gaps and improve your strategy.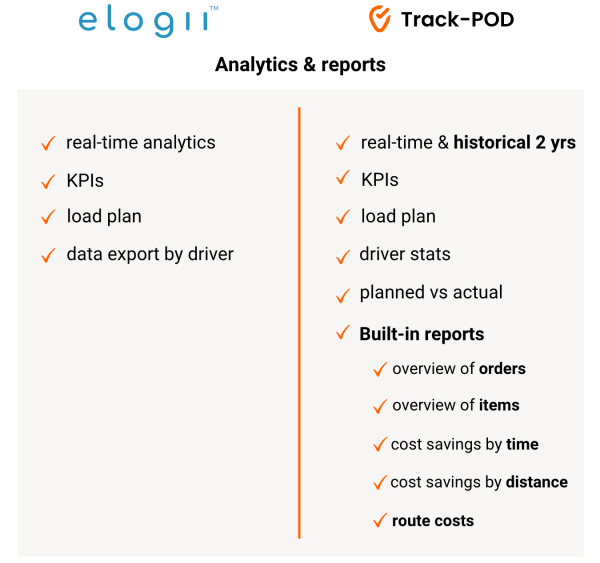 Real-time & historical analytics
When it comes to analytics, both real-time and historical insights are important. By looking at your day-to-day progress as you go, you can identify room for improvement and address daily performance issues.
By looking at data over time, you can spot patterns and make informed strategic decisions. Both eLogii and Track-POD give you access to real-time analytics. With Track-POD, you can also download Route Manager app to monitor real-time progress on mobile.
Track-POD stores performance data for 12-24 mo depending on the subscription plan. You can export this data at any point.
KPIs
Key performance indicators (KPIs) are shortcuts to your performance insights. Both eLogii and Track-POD allow you to measure key performance metrics.
On time delivery.
Success rate.
Average service time.
Customer feedback.
Driver stats
Driver stats is how you can analyze performance, track hours of service (HOS), and evaluate individual team members. While eLogii allows you to export raw data pertaining to your drivers' performance, Track-POD has a dedicated Driver stats report that you can download in a single click after specifying a date range.
Planned vs actual
Planned vs actual is a type of analytics that benchmarks planned time/mileage pre-route to actual time/mileage post-route based on your drivers' performance.
Track-POD offers planned vs actual reports and mobile analytics in real-time.
Reports
Shipping reports is a great way to analyze performance over time and report to stakeholders. Thanks to easy data export and pre-configured reports, you can quickly retrieve any data you need from Track-POD.
Overview of orders.
Overview of items.
Cost savings by time.
Cost savings by distance.
Route costs.
Bottomline
Track-POD and eLogii are both solid solutions for logistics management. While they boast similar features, there are some key differences that need to be considered, e.g. the pricing structure, out-of-the-box features, and scalability.
If you're looking for maximum features for a lower number of orders, go for Track-POD's S plan.
eLogii doesn't offer a free trial or disclose its pricing, which makes it harder to know what you're signing up for. So make sure you do your research and choose wisely.
If you're curious to try Track-POD, start your free trial now or book a custom demo to ask questions and discuss your implementation timeline.