Business Analysis in Track-POD: Interview w/ BA
Updated on October 14, 2021 by Yulia Miashkova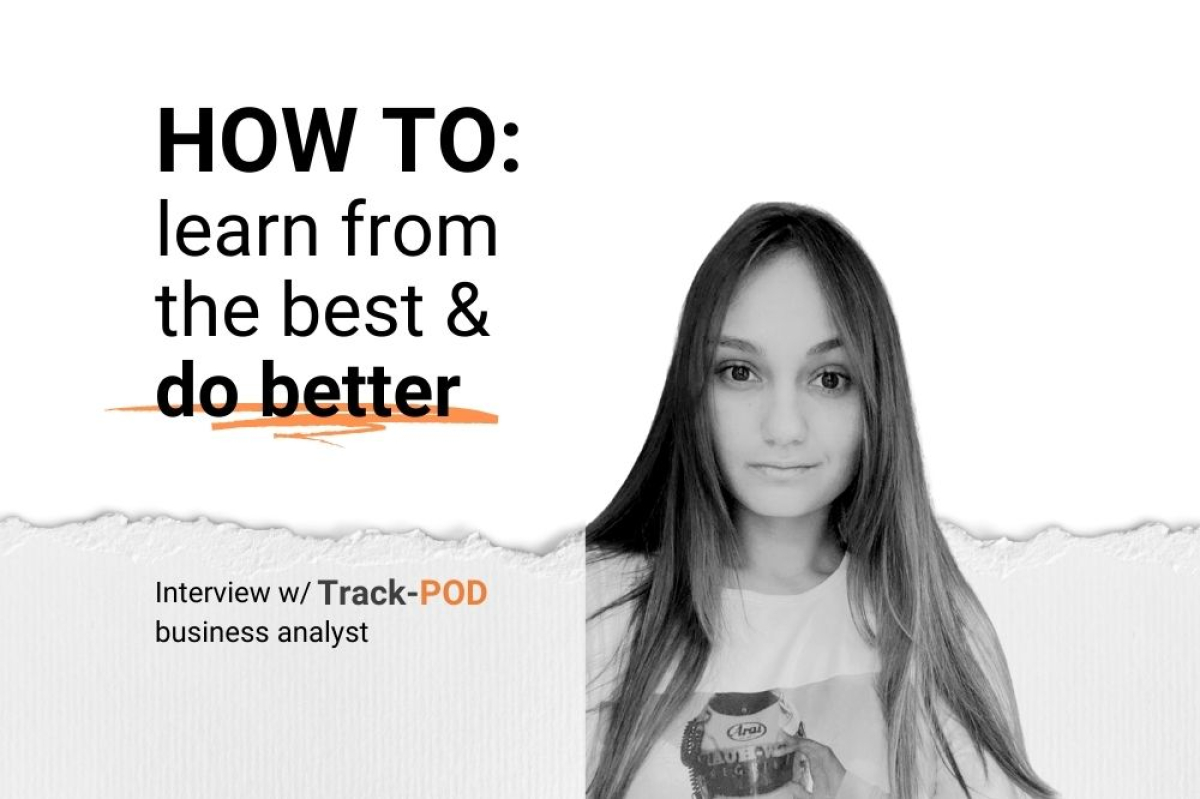 This is the fourth interview in our Meet the Team series where we sit down with the people behind Track-POD to talk about what they do on a daily basis. We've now talked to a developer, a customer success guru, and a QA engineer. Meet Tamara Komarovskaya, our Business Analyst.
---
How long have you been with Track-POD?
It's been two years since I joined the team.
What's your journey inside the company?
I began working as a UX writer. My responsibilities included crafting text for the interface of web and mobile applications. That is, in fact, I who came up with what the buttons, individual options, dialogs would be called, created errors text, push-notifications, and the like. As a matter of fact, I managed to work with all the text that our users see when they open the Track-POD app.
Thanks to this, I delved into the interface, which helped me to become more aware of the value of the product for the user and subsequently become a business analyst.
What does your grandma think you do?
I asked her before the interview, she thinks I'm... a French-English interpreter! Well, not bad at all.
Describe your regular workday in 5 words or less.
Meetings, requests, teamwork, requirements, and research.
What's one product change/improvement you're most proud of?
We really had enough improvements to be proud of. I would highlight the following things:
geofencing,
an amazing new version of the application (I especially like the live tracking page),
integration with large e-commerce and accounting apps (Shopify, WooCommerce, Xero, etc.),
improvements for integration via Zapier,
dynamic ETA,
goods scanning with the input of the current quantity,
input Overdelivered qty,
transfer of orders between drivers, and much more.
There's still plenty of stuff planned so we have something to please our users.
What's your favorite Track-POD competitor and why?
In the categories that Track-POD belongs to, there are decent competitors. Among them, I would single out Onfleet for the ability to create teams, customization of the tracking page, planning capabilities on the map, and for their extensive chat. I would also like to mention the Tookan application for a wide set of user rights and for a voluminous Analytics module. There is also Routific, which I like for its ease of use and excellent UX.
What's one thing about Track-POD you wish more people knew?
I want our users to know that their voice is an important benchmark for product development because most of our tasks consist of customer requests. We really appreciate the truthful feedback and suggestions for improvements.
What's the best thing about working at Track-POD?
Working in a Track-POD means working with professionals in their field and that's highly motivating. It is also good to realize that you can bring something new and participate in creating a unique useful product.