New Age of IoT in Logistics - Key Applications
Updated on September 21, 2022 by Kamal Rupareliya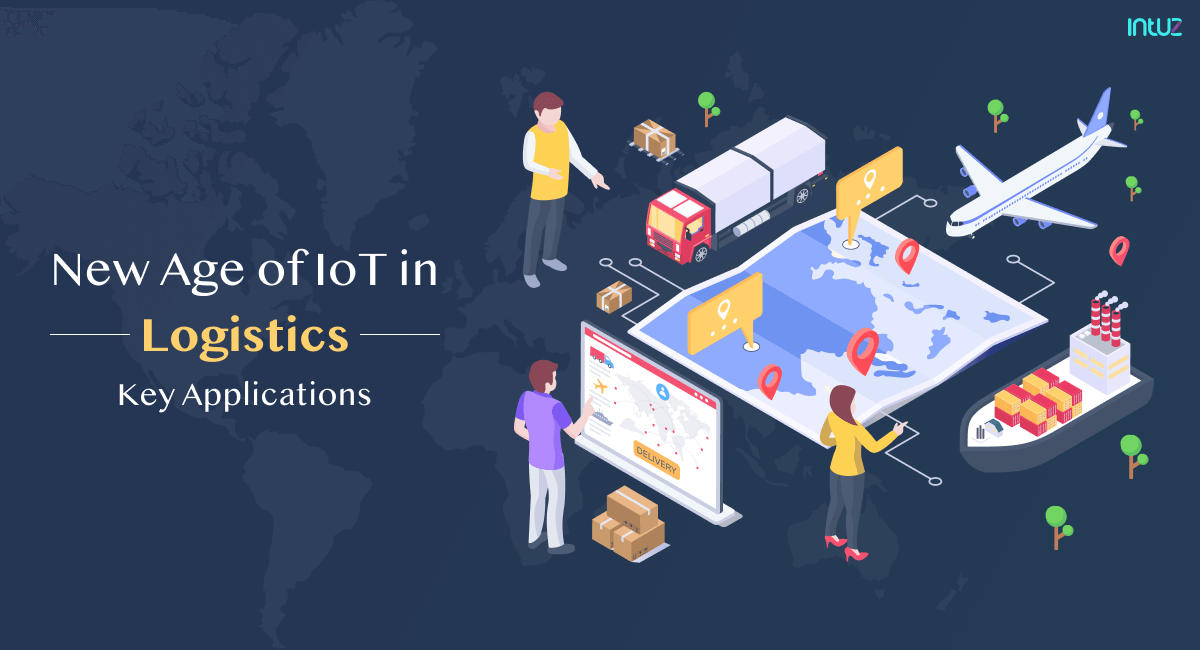 In this post, guest writer Kamal Rupareliya shares his insights on the new age of IoT in logistics.
---
When it comes to technological disruption, IoT always ranks in the top entries. Since Alexa has been introduced to your homes, IoT has taken the world by storm. It has impacted almost every industry sector, including manufacturing, electronics, production, etc.
As per recent stats, the IoT market is speculated to hit the $650.5 billion mark by 2026. The number is huge, which is why we all tend to hear something new every day related to IoT.
From simple personal assistants like Alexa to autonomous cars like Tesla, IoT has revolutionized the way we look at the world. One of the sectors that have been deeply affected by IoT is logistics. Manufacturing is one part, but logistics is more crucial as it is, after all, responsible for the management and delivery of goods.
Now, how is IoT changing the logistics sector, what it is, and how can it be used? All these queries will be answered in the article. Keep reading to find out.
Key essentials of a logistics company
Well, the logistics sector was able to function even before the term IoT was coined. With the use of IoT, it will just be enhanced. Though there are various moving parts in the logistics sector, here are some of the indispensable ones.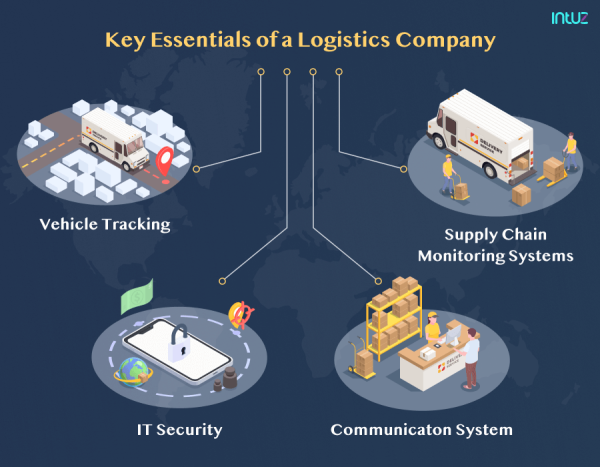 Vehicle tracking
One of the chief aspects of the logistics company is the vehicle tracking system. These systems use highly precise GPS sensors in vehicles to analyze the status of their fleet of vehicles.
Supply chain monitoring systems
Just like the final shipment, gathering materials is also an indispensable part of logistics. This is the reason supply chain management is a pillar element of the logistics business.
Communication systems
As the name suggests, communication systems are required to keep a tap on the status of shipments and raw materials. Because there is a limit to which sensors can perform.
IT security
Being a logistics business, you have a lot of personal data of the users. Therefore, it becomes critical for you to have a robust IT security system to ensure safety from cyberattacks and data theft.
Key applications of IoT in logistics
Well, as we are well aware of the initial applications of IoT, let's see how IoT affects the logistics sector.
IoT in logistics, as of now, has a massive market that is racing at a CAGR of 13.2% till 2030.
The sole reason behind this massive rise is widespread adoption. Here are some critical applications that prove the existence of IoT in logistics.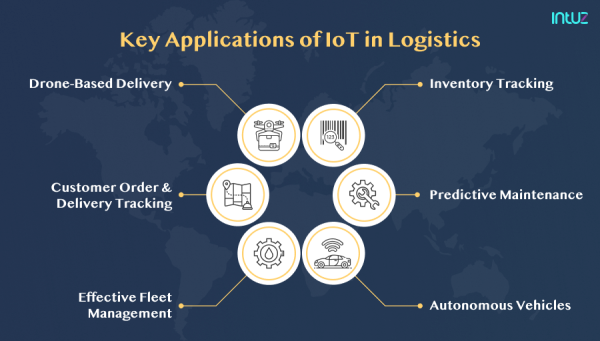 Inventory tracking
Ok, inventory is the chief element of every product-based business. Unlike traditional methods, where in-store inventory was manually managed on paper, today, IoT has made it super easy.
The inventory elements in a warehouse or godown today are fitted with sensors and RFID tags to make them easily identifiable. These items can be instantly scanned, and their status is updated automatically in the central database. Thus, helping store owners know if the item is still in-store or has been shipped.
Along with these sensors, a Warehouse Management System is also used to check and manage all devices.DHL is a brand that uses IoT for inventory management.
Predictive maintenance
Predictive maintenance is an awesome pro of IoT. So far, it has been used in the manufacturing sector. However, it has the potential to be a part of logistics too. Predictive maintenance deals with the analysis of the machinery present in a plant and taking necessary actions to prevent a complete breakdown.
As logistics have machines like conveyors, forklifts, lathes, robots, and carts, it will be super convenient if you know about their health beforehand.
As logistics have machines like conveyors, forklifts, robots, and carts, it will be super convenient if you know about their health beforehand. For example, by fitting oil sensors, vibration sensors, temperature sensors, etc., in the machines of a warehouse, you can monitor their health and take necessary actions if anything seems to go sideways.
As all the data is collected in real-time, the chances of errors are near zero.
Autonomous vehicles
No matter how performant your vehicles are, they are always a risk of accidents on the road. With the eCommerce market skyrocketing, it has become necessary for companies to focus on autonomous vehicles.
As of now, the use of autonomous vehicles or self-driving trucks is not that much, but it is surely in talks. There are some areas where autonomous vehicles are used for shipping in a limited geographical area. The horizon of the use of autonomous vehicles is yet to get wide, which will help ensure low operation costs and fewer road mishaps.
Effective fleet management
The fleet of vehicles is kind of the backbone of the logistics industry. Other than using predictive maintenance for in-house machines, vehicles like delivery trucks can also be fitted with IoT sensors to get updates about their status.
For example, the delivery trucks can be checked for fuel consumption, tire pressure, driver's driving behavior, time taken, and other critical aspects. These can be further analyzed to find out if the fleet of trucks is performing well.
If not, the issues can be analyzed beforehand using live data from the sensors to make the required repairs and maintenance on time.
Customer order and delivery tracking
Just like inventory tracking, IoT sensors can also be integrated into collective product packages. This can be beneficial for both merchants as well as customers. Customers can track the status of their orders at any time. Moreover, merchants can be free from the hassle of stocking products.
The fitted sensor data can be analyzed to find out when to restock the products.
Drone-based delivery
Well, to some of you, the heading might have seemed hilarious. But, the concept of drone delivery has been in talks for a decade now. Amazon and many other firms have even tried drone delivery in the US and other countries.
Just like autonomous cars, the concept of unmanned aerial vehicles for delivery comes under IoT but is not well-adopted today. However, the future holds a lot of potential if the regulations are met.
Why use IoT in logistics?
IoT has been performing tremendously well since its inception, and its entry into logistics will bring nothing but benefits. However, there will be one key challenge, and that is cost. The IoT sensors can be super costly and can be tough to implement because of that. But, again, it is a one-time investment.
Once invested, you can leverage the following benefits.
Employee safety: Warehouse management is not an easy job. There are chances that your workers may not feel well or engage in some sort of accident. Hence, providing them with smart wearables can help you track and manage them. With their health parameters in control, you can also ensure employee safety.
Easy tracking: With multiple sensors placed across the warehouse, fleet, etc., you can track everything from a single dashboard. This saves a lot of time and effort spent in calling and physically visiting the spot for inquiry.
Theft prevention: With IoT sensors in the picture, you will have a complete insight into each and every product at every stage of logistics. It means that no matter where, if something gets misplaced or lost, you will know.
Conclusion
So, the new age of IoT in logistics is splendid. There are a bunch of new things coming up in the IoT sector, and they are sure to affect the logistics sector too. As of now, the trend of autonomous vehicles and drone delivery is in the works. However, it will be surefire to take IoT to new heights in the future.