Logistics Manager Salary: Best Countries to Work in Logistics
Updated on July 26, 2021 by Yulia Miashkova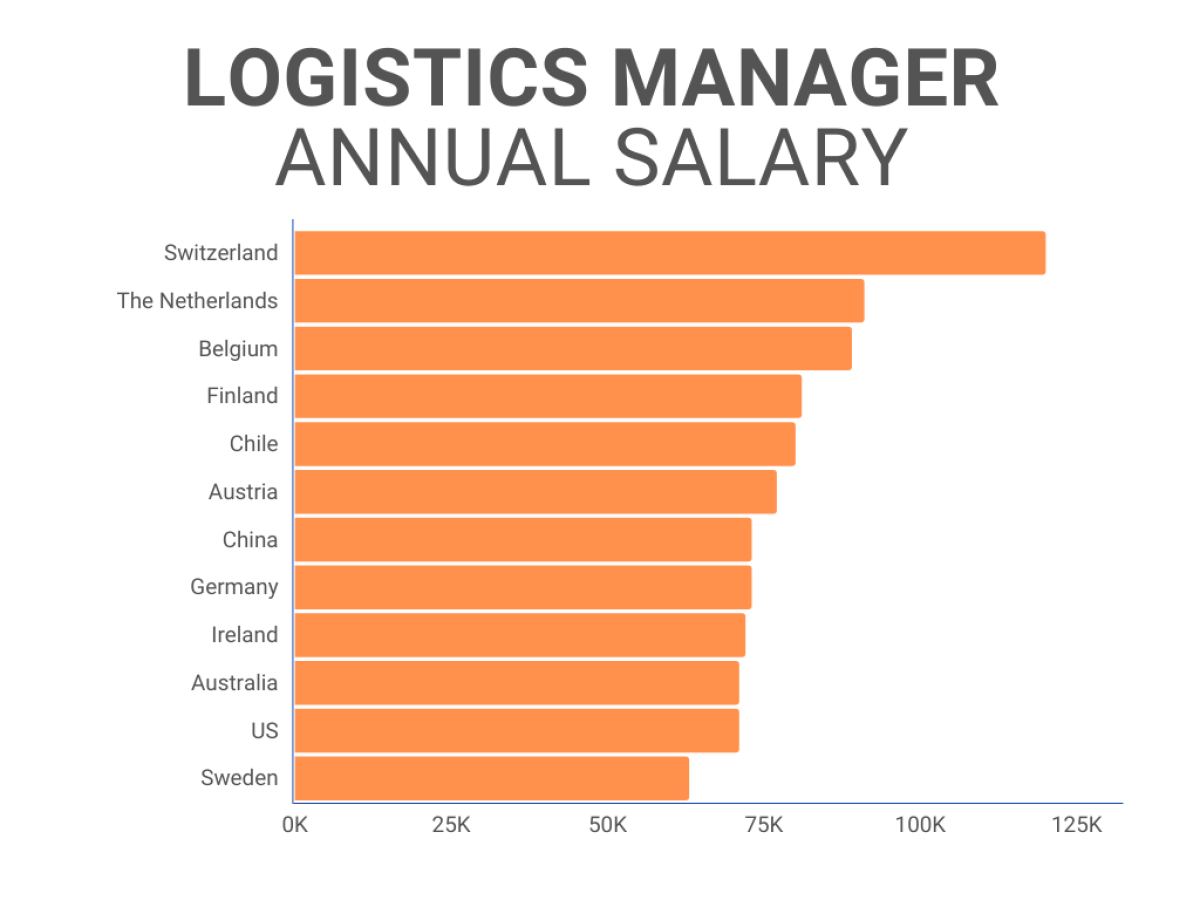 Logistics manager is an essential role in any delivery operation. They're responsible for - quite literally - keeping things moving, and oftentimes that means management of a big chunk of the supply chain. How much do people in logistics management make globally? How big of a pay range are we talking moving across the ocean?
In this blog post, we take a close look at the job of a logistics manager in 30 countries across the world. Curious about the best places to be a logistics manager? Keep reading.
Logistics manager job description
Before we get to the good stuff, let's see what kind of job a logistics manager is. Below is what it takes to land a job title of logistics manager.
Logistics Manager responsibilities
Planning, optimization, and supervision of routes and shipments.
Management of all transportation and warehouse activities.
Research, evaluation, and selection of carriers.
Estimation of budgets and cost reduction.
Liaison with manufacturers, vendors, employees, and customers.
Order fulfillment and supply chain management.
While this list of responsibilities seems intimidating, it's important to understand that logistics managers rely on transportation management software. Systems like these are packed with tools that solve a lot of the challenges that logistics managers have to deal with. Route planning & optimization, fleet management, customer communication, and Proof of Delivery can all be automated to perfection with the right tools.
Logistics Manager requirements
Bachelor's degree in logistics, supply chain, or a relevant business field.
2+ years of experience in a similar role.
Knowledge of distribution channels.
Inventory and storage management record.
Analytical, problem-solving, and people management skills.
Good communication skills.
A logistics manager is obviously not an entry-level job and therefore requires a deep understanding of logistics processes in the context of larger business goals across industries. A logistics manager's pay will differ from company to company but we can still look at the base salary and the average salary from location to location.
Let's now review the national average for the job of a logistics manager in 30 countries. We'll be looking at annual salaries in USD equivalent as reported on Glassdoor.
How much does a logistics manager make?
To quickly compare logistics manager salaries across the world, you can take a look at the infographics below.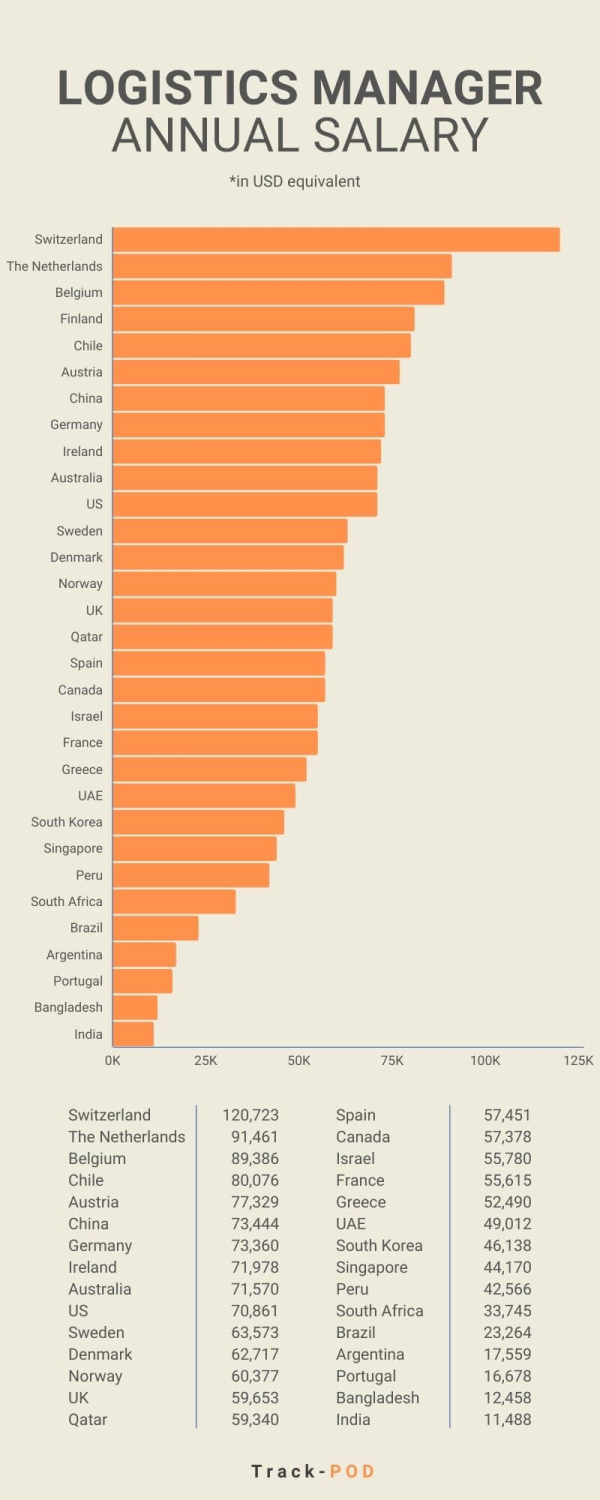 Logistics Manager salaries in Schengen area & UK
Schengen counties lead the way as far as logistics managers' compensation is concerned. The average logistics manager salary across the European continent (13 EU member states included in this analysis + the UK) is $67.5K. The absolute highest pay a logistics manager can receive happens to be in Switzerland where the national average for logistics managers is over $120K annually.
Out of the Schengen countries we were looking at, Portugal holds the lowest salary margin for logistics managers - $16.6K a year.
Logistics Manager salaries in South America
Although in South America we were looking at only four counties, the logistics manager pay range is significant: $80K in Chile all the way to $17.5K in Argentina. If we look at the counties' GDPs per capita, Chile has close to $15K and Argentina has under $10K. Still, in terms of logistics managers, compensation can be very different.
Logistics Manager salaries in North America
In North America, we're looking at the logistics manager salary in the US and Canada. The compensation for logistics managers in these two countries is $70K vs 57K respectively. Naturally, within the US states, there will be an internal range in logistics manager salary. New York City to San Francisco to Los Angeles - even the biggest cities will differ in terms of standard of living and hourly rates.
Logistics Manager salaries in Asia
Within Asia, we compared logistics manager pay across 5 counties. Because of how vast this region is, the GDPs and salaries range is huge. The average logistics manager salary distribution is $73K in China all the way to $11K in India. Companies in this region differ as much as national average salaries so compensation for the logistics manager job comes in a huge range.
Logistics Manager salaries in the Middle East
Across the territory of the Middle East, we're looking at three counties. Logistics managers are paid the most in Qatar - $59K a year, and the least in the United Arab Emirates - $49K annually. As you can see, the range here is not significant.
One country that didn't fit into any of the above categories is Australia. There, the national average for logistics managers is $71.5K a year, which puts Australia in-between Ireland and the US as far as logistics managers' pay goes.
Wrapping up
The job of a logistics manager is complex, to say the least. So is the salaries structure and the compensation each specialist receives depending on the region, management and other employers, resources, services, and a lot of other factors.
How much does a logistics manager typically gets paid? What skills do you need to become one? Is a career in logistics worth it? You have the median annual numbers - now is the time to do the math and decide for yourself.