Onfleet Alternative: Save 40% on Every Task
Updated on November 30, 2023 by Yulia Miashkova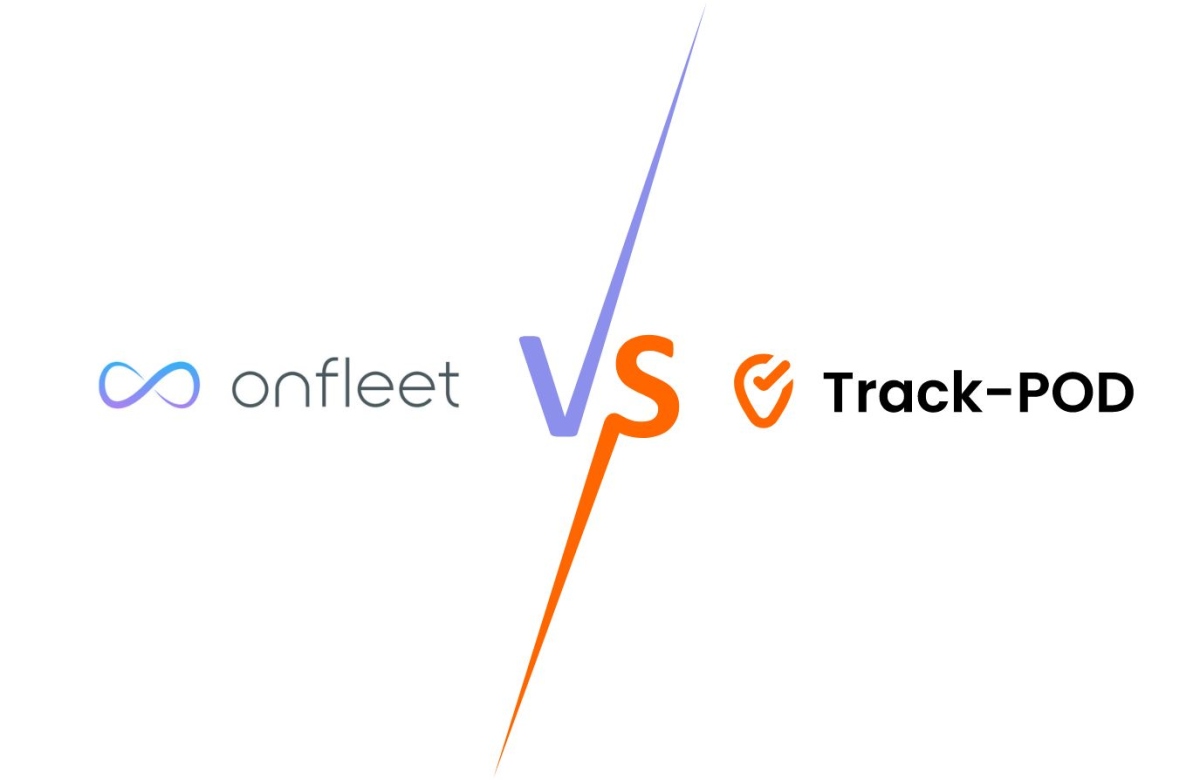 Implementing logistics software is a big commitment. You can terminate a subscription, sure, but you can never get back hours of implementation, onboarding, and staff training.
Therefore, researching alternatives is a must – both before making the decision and if you need to shift to a different software provider.
Whether you're considering investing in Onfleet or looking to replace it, we have a must-read for you. An in-depth, feature for feature comparison of two last-mile delivery software vendors: Onfleet and Track-POD.
Pricing
Before we dive into specifics, we need to understand the pricing structure, i.e. the flexibility you get with Onfleet and Track-POD.
For this comparison, we'll be looking at Onfleet's and Track-POD's most popular plans priced by the number of tasks you can carry out each month.
For Onfleet Scale (5,000 tasks/mo), you'll pay $1,265+/mo. Track-POD's L Plan (6,000 tasks/mo) comes at $900/mo.
You pay $0.15 per order/task with Track-POD and $0.25 per order/task with Onfleet.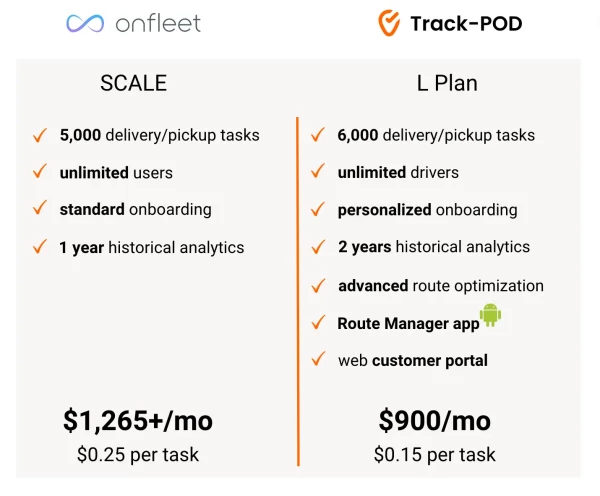 In Track-POD, you also have the option to pay per driver. Then, the monthly cost of your 1-driver operation can be as low as $29/mo if paid annually (3,000 tasks).
As you can see, both software options have some degree of pricing flexibility. Consider your operational needs and make a decision as to which pricing fits you best.
Now, onto features.
Route planning & optimization
First of all, your last-mile delivery software is meant to take care of route planning & optimization. Time slots, predictive ETAs, and service time are some of the many sub-features that go into route planning. Let's dive in.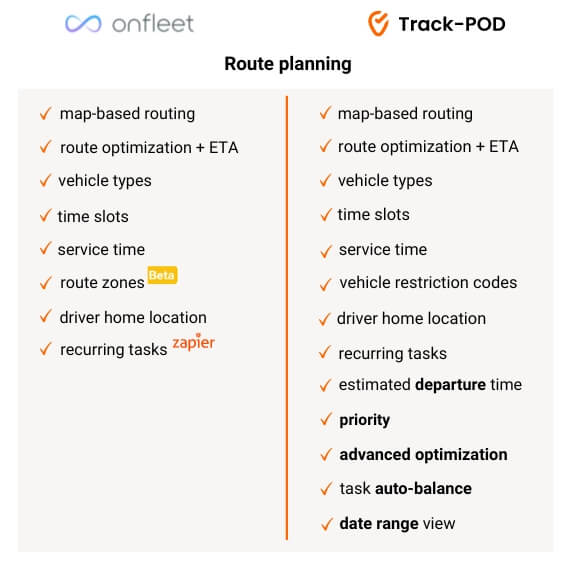 Map-based planning
Onfleet offers map-based route planning, i.e. you can create orders right from the map. Track-POD, meanwhile, lets you import/create orders first and then drag-and-drop them from the map for routing.
Route optimization
Onfleet's route optimization can be organized by 3 scenarios.
Always arrive on time.

Balance driving time and arrival times.

Minimize drive time.
Starting and ending routes can be set up in different ways as well.
Anywhere.

Team's hub.

Driver's address.

Another team's hub.
In Track-POD, your orders and routes are assigned to drivers automatically based on optimization settings and the strategy you've chosen: time, distance, or expense.
For starting and ending routes, you can have different setups too.
From driver location.

From Depot.

Ends at Depot.

Ends at driver location.
Note: If your delivery operation requires order auto-balance between drivers, consider Track-POD among other Onfleet competitors as this feature is not available in Onfleet.
Predictive ETA
Onfleet offers live ETAs as well as predictive ETAs. This doesn't include estimated departure time for location. With Track-POD, you can see estimated arrival and departure time for all locations.
Vehicle types
To make sure your routes are planned and optimized to the max, both Onfleet and Track-POD consider vehicle type. In addition to truck, car, motorcycle, and bicycle options available in Track-POD, Onfleet offers the option to have orders delivered on foot.
Service time
When planning and optimizing routes, Onfleet considers a daily schedule for each of your drivers. Drivers' home locations can be added both in Onfleet and Track-POD. Service time is also taken into consideration when building routes in both systems.
Advanced optimization
If you deliver different types of orders by different vehicles, advanced optimization is something you'll be using a lot. To indicate the capacity of each vehicle, Onfleet lets you indicate only one value, e.g. boxes, kilograms, pallets, etc.
Track-POD has more advanced fleet optimization, with multiple maximum values specified for each vehicle. For example, you can indicate the maximum weight, volume, and pallets, as well as maximum sites/orders, work time, distance, or speed for each vehicle.
On top of that, Track-POD offers route rates.
Cost per distance.

Cost per hour.

Base fare.
Note: If multiple cargo values, route rates, and speed ratio per vehicle is something you require in fleet optimization, then Track-POD is your best bet.
Recurring routes
If you require your last-mile tracking system to automatically assign multiple routes per driver per day, as well as consider recurring routes aka milk runs, then you should go for Track-POD over other Onfleet competitors. In Onfleet, recurring tasks is something you can set up via a Zapier integration.
Priorities
Track-POD creates routes accounting for the priorities you've given to customers, addresses or orders. Onfleet doesn't offer location priorities for route optimization – in case this is something you will be using, consider Track-POD.
Live traffic & zones
Onfleet offers live traffic data as part of advanced route optimization but only across the U.S. territory and only with the Onfleet Enterprise plan. Meanwhile, Track-POD doesn't use live traffic data and relies on statistical traffic data instead.
Territory management and time slots are available in Onfleet and Track-POD alike. For territory management, Onfleet supports custom map overlays, i.e. users can create zones on the map for different teams. In Track-POD, this is done via vehicle restriction codes.
User & order management
Another set of features on the dispatcher's side is user and order management. When adopting last-mile delivery software, it's crucial that you have full control over user rights. The more complex your delivery operation is, the more user rights varieties you'll need. On top of that, your tool needs to account for every type of order you might have.
Let's take a closer look at what kind of features you can use in Onfleet and Track-POD to handle software users and orders smoothly.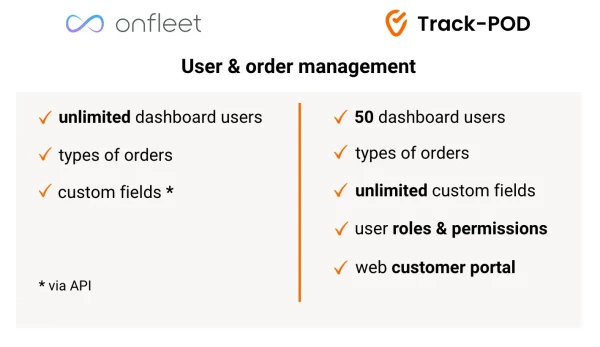 Dashboard web users
Onfleet lets you add as many dashboard web users as you like. To organize work across depots, you can also add teams of dispatchers and drivers. Track-POD, meanwhile, supports up to 50 dashboard web users under L Plan.
Roles and permissions for web users
When you need to grant different types of access to different users, having a variety of user rights is a must. While Onfleet gives you the exclusive option to assign View-only rights, Track-POD has many user rights options you can choose from.
Allow view Routes.

Allow user management.

Allow view Analytics.

Allow duplicate.

Allow view Vehicle Check.

Allow edit orders.

Allow view Directories.

Allow edit completed orders.

Allow Edit directories.

All 'Depots'.
All of these will help you streamline your delivery operation and control how much dashboard web users can do in the software.
Web customer access
If you have recurring customers (shippers) who need to have access to your last-mile delivery software to add and manage their orders, then Track-POD is the obvious choice for you. Onfleet doesn't give web customer access, so make sure you consider it before making a purchase.
Types of orders
Delivery is not the only type of task handled by the driver. Sometimes, your drivers need to complete a sequence of tasks such as delivery, pickup, or dropoff.
While Onfleet allows you to specify pickup and dropoff as tasks for drivers, you need to enable the add-on featured Linked Tasks in order to create a sequence or dependency between tasks.
To help you manage a variety of tasks carried out by the driver, Track-POD lets you assign any of the following tasks and task sequences.
Delivery.

Collection.

Pickup & Delivery.

Pickup - Hub - Delivery.
Custom fields
A great way to judge software is by how much room it leaves for customization. Not custom development – although that's always a plus – how much you can adapt the system to fit your business needs.
Onfleet gives you the option to use the Details area to add a comment or note to your order. Via Onfleet API, you can also configure additional fields, but this might require custom development.
Track-POD, on the other hand, provides unlimited custom fields that you can add to the order (checkbox, number, text, date, etc.).
To control driver access in Track-POD, you can choose to display custom fields in the driver app or not, as well as to allow your drivers to edit the fields or not.
Driver app + ePOD
While we're on the driver's side, let's discuss mobile apps. Your last-mile delivery software is as good as its mobile app because you need to be in complete sync with your drivers in order to deliver.
Both Onfleet and Track-POD offer solid mobile apps that bridge dispatchers to drivers to customers (photo and signature proof are among the many core features). We'll now go into detail about each driver app to see which provider covers more of what your delivery operation requires.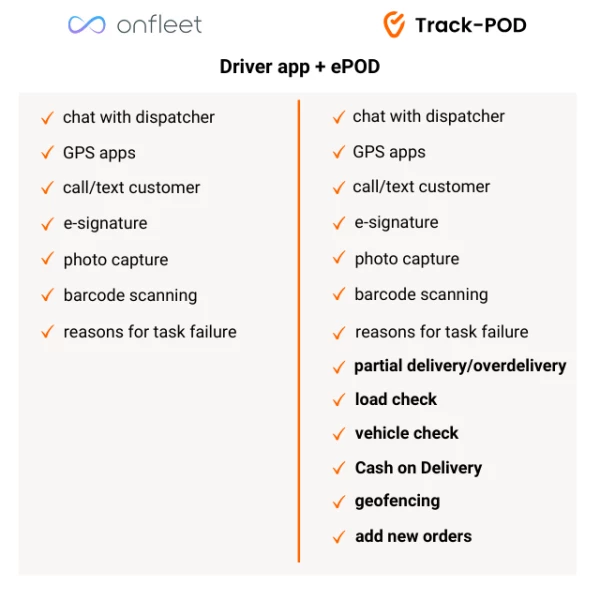 Chat with dispatcher
Both Onfleet and Track-POD apps offer embedded chat with the dispatcher, including photo sharing. Because Onfleet has teams as a feature, drivers can also chat within their team (other drivers and dispatchers).
GPS apps
Both Onfleet and Track-POD offer a variety of GPS apps to choose from. Drivers can switch between navigational apps depending on the area and personal preferences: Google Maps, Apple Maps, Waze, TomTom, Sygic, etc.
E-sign & photo
Being Proof of Delivery apps, both Onfleet and Track-POD support electronic signature capture and photo capture.
In Onfleet, pictures can be used only as proof of successful delivery. Track-POD offers photo capture for documenting delivery issues, too.
Barcode scan
Barcode scanning is a must-have feature for Proof of Delivery apps. Both Onfleet and Track-POD support barcode scanning for orders and items. Meanwhile, barcode scanning in Onfleet is only available upon task completion. Barcode configuration happens via Onfleet API, e.g. making scanning obligatory, etc.
In Track-POD, scanning is available both during loading and completing the task. There's no need for additional setup as all scanning settings are available out of the box.
Partial delivery/overdelivery
Onfleet gives the drivers the option to either confirm completion of the task or skip the stop. In case you require more nuanced reporting (for example, only one part of the product was delivered), Track-POD offers the Partially Delivered status and accounts for overdelivery.
On top of that, Track-POD gives the driver the Rearrive feature, i.e. changing the status from Not Delivered to Delivered after they've returned to the customer with the right goods in case there'd been a mistake or any damage occurred.
Reasons for task failure
Both Onfleet and Track-POD driver apps support multiple reasons for task failure. In Track-POD, drivers also have the option to reject goods quantity and enter the actual goods quantity while scanning.
Note: if you want your drivers to be able to transfer their orders to other drivers or rearrange orders in the route sequence, then Track-POD is your best bet among Onfleet competitors.
Load check
Before your drivers start the route, you might want them to control the loading of the vehicle. For example, you want your drivers to scan QR or barcodes to make sure they're heading off to the right address with the right cargo.
While Onfleet doesn't offer load check, Track-POD lets you enable it when needed or make it mandatory ahead of the route. By using this feature, you make sure no deliveries are left behind as all unloaded orders are assigned the status Not Delivered and you can see this in your analytics.
Vehicle check
When it comes to driver safety, checking that the vehicle is in order is a must. The question is, how often do you require your drivers to check on their vehicles and report to you?
If you'd like to make it an integral part of each route, Track-POD lets you enable mandatory vehicle checks that can be run before or after the route – or both. You can create a custom driver safety checklist as well as indicate min and max values. This way, all vehicle issues are stored in your analytics.
Note: vehicle checks are not provided in Onfleet. If you need this functionality, consider investing in Track-POD.
Geofencing
Track-POD allows your dispatchers to turn on the Geofencing feature. Then, you can make sure your drivers can't mark the order as Delivered when they're not in the vicinity of the customer's point. Onfleet doesn't offer this feature.
Offline mode
In case it is common for your drivers to lose their Internet connection, you need to make sure their driver app is functional while offline. This is something offered by Track-POD, with all data synced with the dispatcher as soon as the driver is back online.
Cash on Delivery (COD)
Another unique feature of Track-POD driver's app is Cash on Delivery. The way it works is the driver needs to type in the exact amount of cash specified by the dispatcher to confirm successful delivery.
Add new orders
With Track-POD, you can allow your drivers to add new delivery or collection orders to active routes from mobile. This can be useful when drivers need to create additional tasks for themselves without involving the dispatcher.
Notifications
Delivery notifications is what determines how successful your last-mile delivery software is at keeping your customers at the center of the shipping process. Let's look at how Onfleet and Track-POD handle this.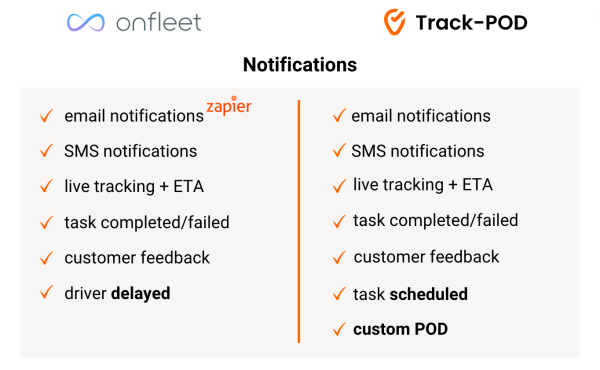 Live tracking & ETA
Onfleet sends notifications when the driver starts their route, with an option to share a tracking link. To help you provide the best customer experience, Onfleet makes all text and tags customizable. Track-POD works in the same way, including the option to display the client's number in line.
SMS and email delivery notifications are enabled in Track-POD by default. Onfleet offers SMS notifications out of the box but requires an integration with a third-party service to send emails.
En Route
Onfleet offers several types of notifications when the driver is on their way.
Driver Arriving is triggered when the driver is within 150m from their destination.

ETA Is notification is triggered when estimated time of arrival falls below a certain specified threshold.

Delay Is notification is sent when the task is delayed by a certain customizable threshold.
In Track-POD, meanwhile, you can send en route notifications automatically upon departure from the previous stop – or enable your drivers to do it manually. Naturally, all of these are customizable with the text and tags personalized by you.
Completed/failed
Onfleet sends post-delivery notifications after the task has been marked successful or failed, with customizable text and tags. Track-POD does all of the above, via embedded notifications by email (free of charge) with customizable delivery confirmation in PDF.
Customer feedback
Both Onfleet and Track-POD enable you to collect customer feedback on the delivery service, by allowing your customers to rate every delivery and collection. You can then see your average rating in the web dashboard analytics.
Task scheduled
Onfleet allows you to send notifications with predictive ETAs via SMS, sometime between 1 and 8 hours before the task's ETA. This works for optimized routes only. Track-POD offers shipping notifications after the route has been scheduled. These can be sent at any time.
Analytics & reports
When managing a delivery operation, having clear and transparent analytics & reporting is key to keeping all of your stakeholders well-informed. We'll now dive into the types of analytics provided by Onfleet and Track-POD to keep you in full control.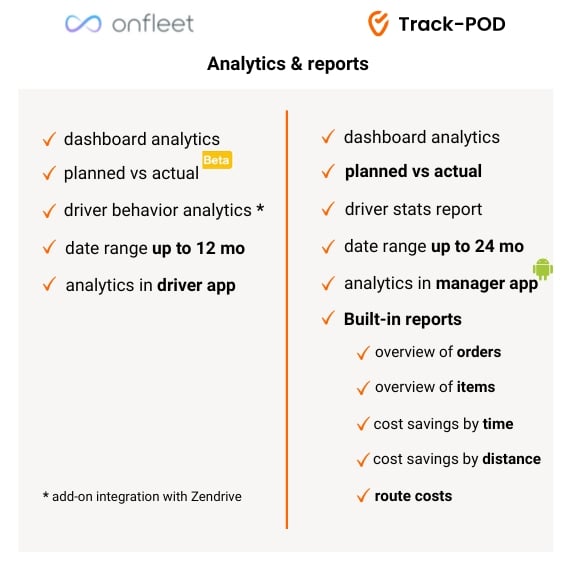 Dashboard analytics
In Onfleet, you have access to task analytics broken down into 5 key metrics.
Completed tasks.

Delay time.

Service time.

Task type.

Feedback.
Onfleet Scale stores analytics for up to 12 months.
Track-POD lets you specify a period of time for analytics presented in columns that can be disabled for customization. You can export data in PDF, Excel, or JSON. On top of that, Track-POD provides analytics organized by KPI.
Delivery in full – total percentage of successful deliveries + a pie chart with reasons for rejection.

Partially – total percentage of partially delivered orders + a pie chart with reasons for rejection.

On-time deliveries – total percentage of on-time deliveries.

Average service duration.

Feedback.

By cargo parameters: weight, volume, pallets with values.
Track-POD offers up to 24 months of analytics history.
Planned vs actual
In Onfleet, route analytics is still in Beta, but the idea is to allow you to benchmark planned vs actual time, distance, etc. Track-POD offers complete planned vs actual analytics, including on mobile.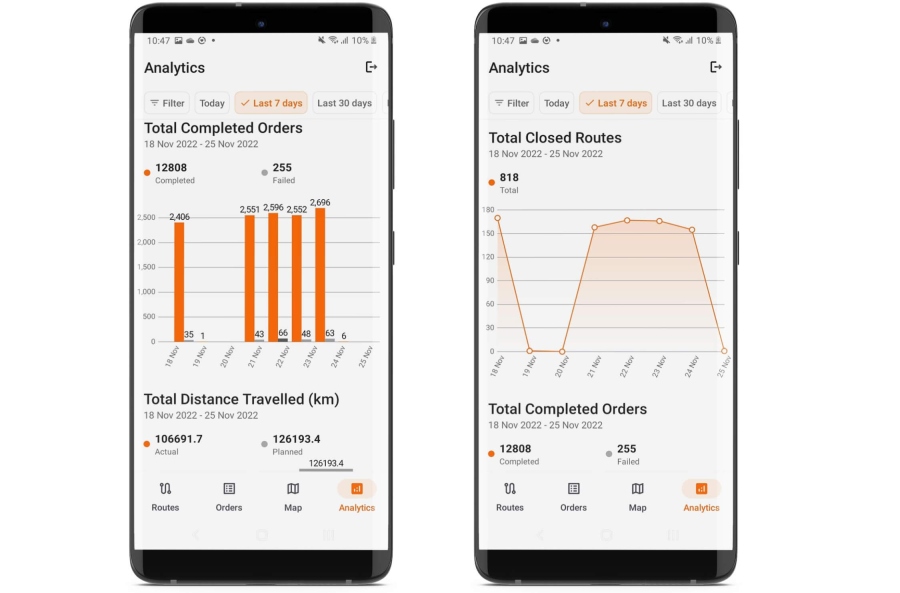 Reports
While Onfleet doesn't provide built-in reports, CSV export from analytics is available if you want to compile your own reporting sheets.
Track-POD, on the other hand, offers a variety of embedded reports to choose from.
Bottomline
Transportation and logistics software is a big market. Last-mile delivery software is only a part of it, but you need to have a helicopter view of the entire supply chain to make informed choices.
Unless you've built your own custom last-mile delivery software from scratch, there's no perfect ready-made option that covers 100% of your needs. However, by looking deep into the features offered by last-mile delivery software you can eventually see your best fit.
I hope this comparison helps you get the best value for your investment and commit to the solution you'll stick with.