5 Best QuickBooks Online Shipping Integrations
Updated on November 09, 2022 by Yulia Miashkova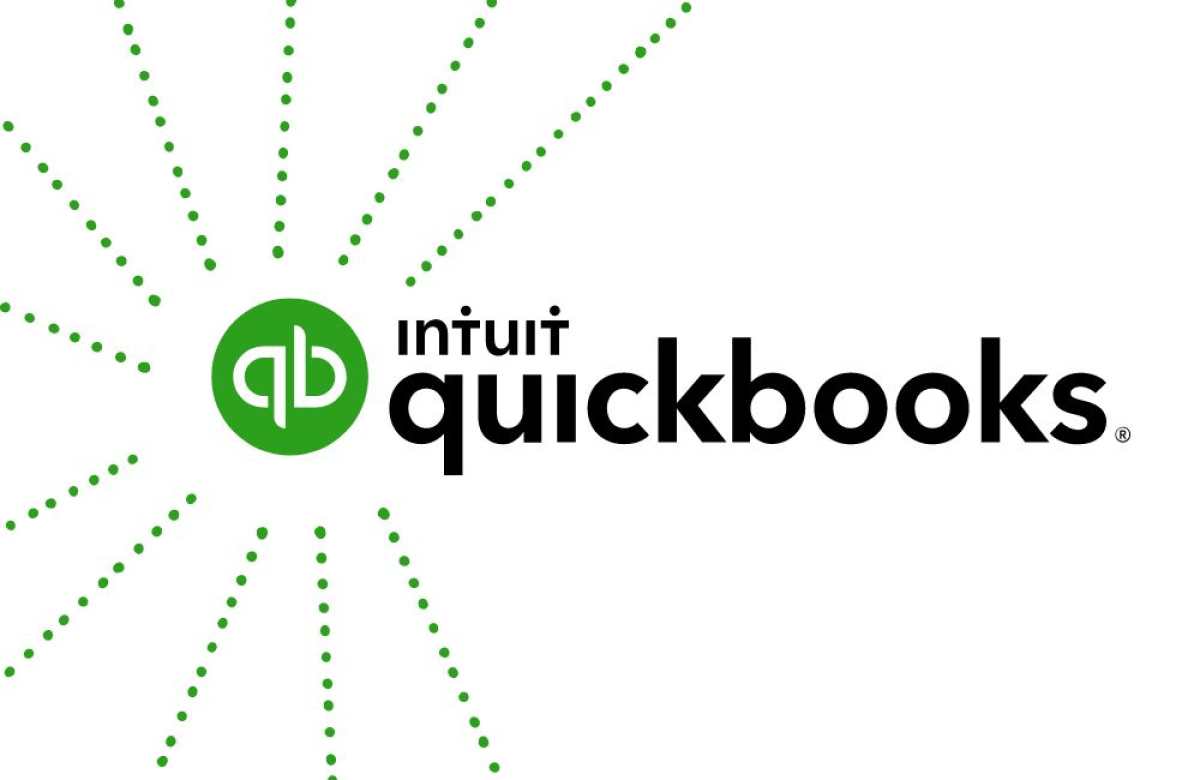 Do you use QuickBooks Online as SMB accounting software? Do you ship orders to customers? Would you like to do a better job delivering orders and see Proof of Delivery on the QuickBooks side?
If the answer is YES to all of the above, it's time to take shipping matters into your own hands.
In this post, we'll be reviewing 5 best QuickBooks integrations with last-mile logistics software. If you like QuickBooks but aren't a fan of outsourcing deliveries to UPS, USPS, or FedEx, this guide is for you.
But first, a recap.
What is QuickBooks used for?
According to Investopedia, QuickBooks is a full-featured business and financial management suite.
To put it simply, QuickBooks is a swiss army knife for any small business owner.
What makes it the most popular platform for tracking income and expenses for SMBs is a wide range of features for keeping track of all financial functions.
Inventory.
Invoicing.
Payment processing.
Payrolls.
Mileage tracking.
Budgeting.
Tax filing.
Through partnerships with third-party systems like Guideline, QuickBooks is even able to offer solutions like retirement planning. In short, it's a truly versatile tool, chosen by many first-time business owners.
The problem with QuickBooks shipping
QuickBooks was designed for small teams. As such, it offers features for in-house order fulfillment. From payment processing to mileage tracking, QuickBooks is a perfect fit for businesses that handle delivery independently.
However, QuickBooks lacks the tools for last-mile logistics management. Instead, it offers outsourcing deliveries to UPS, USPS, or FedEx.
While this might be a good option for some businesses, others struggle because of poor visibility, delays, shipping mistakes, and numerous calls on the status of deliveries they don't even handle.
If you'd like to take shipping into your own hands, you can use last-mile delivery software that integrates with QuickBooks.
Why use QuickBooks shipping software?
When you are able to integrate QuickBooks with logistics software, you can take charge of your shipping and improve customer service. Let's see how.
Improve speed
When it comes to shipping, speed is the name of the game.
Whoever can deliver faster than the competition will always have an advantage.
By integrating QuickBooks with shipping software, you can streamline order import. This accomplishes 2 things: 1) no manual entry and errors; 2) instant route planning.
When you're able to instantly see all new orders in your delivery management system, you can plan routes and assign deliveries right away.
Improve visibility
Visibility is the #1 concern when it comes to outsourcing logistics. Even though QuickBooks gives you the option to track packages when you outsource to UPS, USPS, or FedEx, visibility can still be an issue.
When you use last-mile delivery software together with QuickBooks, you can track all of your drivers/field service agents in real-time and give customers the link to follow the progress of their orders.
By sending SMS or email delivery notifications with a live tracking link and an ETA, you eliminate calls to customer service and improve delivery success.
Instead of using a tracking number on a carrier's website, customers can receive branded emails and go to live tracking in 1 click.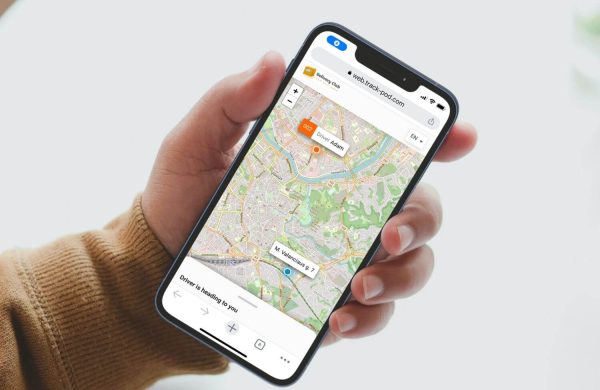 Optimize costs
When you handle deliveries in-house, there are many ways you can optimize logistics costs.
Combine multiple deliveries into one route.
Cut mileage and fuel consumption with route optimization.
Optimize vehicle space with load planning.
A good route optimization algorithm is always a money-saving tool. By building the fastest routes, it gives you many opportunities to reduce expenses.
Eliminate mistakes
Delivery mistakes are the costliest part of last-mile logistics. Even if all shipment details are filled out correctly, there's still a risk of getting the wrong or damaged package to the right customer.
An advantage of using QuickBooks shipping via UPS, USPS, or FedEx is that you can print shipping labels for these carriers. The good news is that you can generate and print shipping labels even as an in-house logistics operation.
By scanning shipping labels before departure, your drivers can make sure they follow the loading plan and have the correct packages on board.
Analyze performance
When you use dedicated logistics software integrated with QuickBooks, you can monitor and analyze the performance of your team in detail.
You can run performance evaluation of drivers, compare individual performance, and reward team members.
By checking planned vs actual mileage and time, you can optimize your rates and make better use of your resources.
5 best QuickBooks Online shipping integrations
Now that we've reviewed the benefits of using QuickBooks shipping software, let's compare some of the best vendors on the market.
1. Track-POD - built-in
Track-POD is a full-cycle delivery management software solution featuring a powerful route planner and customizable Proof of Delivery in a friendly user interface.
It's a great fit for SMBs because it offers Enterprise-level features like shipping labels and a barcode scanner app out-of-the-box while charging per vehicle/driver. This allows you to start small and scale as you go.
Another thing that makes Track-POD a go-to for SMBs is a variety of integrations, both in-built and Zapier integrations (5,000+ apps). Track-POD's QuickBooks shipping integration is built-in, which means you can connect the systems instantly without the use of third-party tools.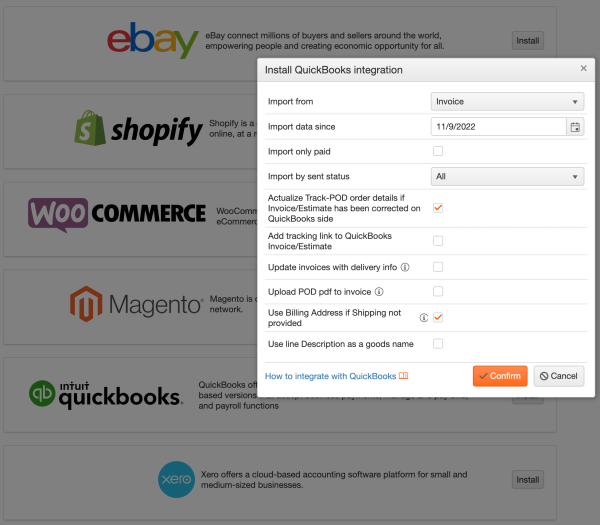 Live tracking and ETA notifications, as well as a fully customizable Proof of Delivery with photo confirmation, help you get happy customers by providing excellent service.
Using Track-POD, you can automatically upload Proof of Delivery/Service PDFs to QuickBooks invoices.
Pricing: starting at $29/mo per driver if paid annually. You can switch to paying per the number of orders a month with unlimited drivers. A 7-day free trial is available.
2. Onfleet - via Zapier
Onfleet is a last-mile delivery software vendor that powers many retail and eCommerce businesses. It integrates with QuickBooks via Zapier and offers a range of solutions for a smooth delivery experience.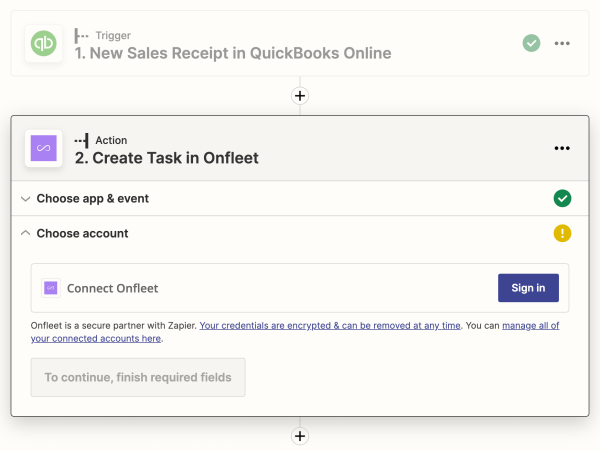 Notify your customers via SMS or set up email notifications via Zapier.
Anonymize driver-customer communication.
Provide live tracking and ETAs for transparency.
Collect proof of delivery, including barcodes and contactless signatures.
Similar to Track-POD, Onfleet boasts its own route optimization algorithm that considers time slots, capacity, and live traffic data.
Pricing: starting at $500/mo for 2,000 tasks with unlimited users. There's no option to pay per vehicle/driver. A 14-day free trial is available.
3. Route4Me - via Zapier
Route4Me is a marketplace for delivery planning solutions. This means that you get to build your shipping software by yourself by enabling free and paid add-ons.
Similar to Onfleet, Route4Me integrates with QuickBooks via Zapier. Once synced up, the systems will exchange customer profiles, allowing you to plan and optimize deliveries instantly.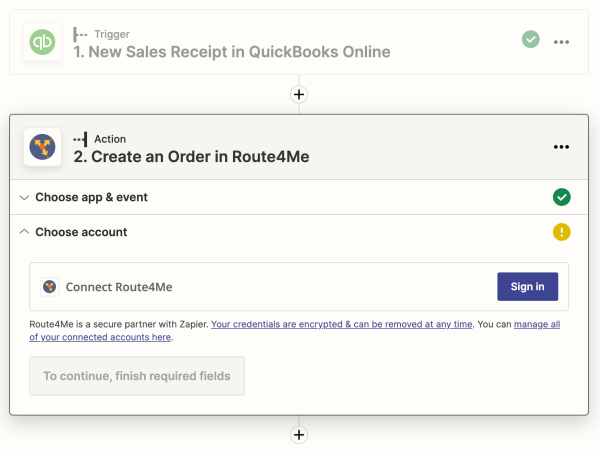 When a new paid order appears, you can even add it to an already optimized route automatically.
Please keep in mind that with Route4Me, you'll need to set up many add-ons and pay extra on top of your base subscription fee. For example, SMS alerts come with 3 separate $20 charges for every type of notification: scheduled, you are next, and completed.
Pricing: base subscription fee starts at $199/mo for up to 10 team members. You can test Route4Me for free for 7 days.
4. WorkWave Route Manager - via Zapier
WorkWave Route Manager is a route optimization solution for businesses looking to improve the efficiency of their delivery operations and delight customers.
It integrates with QuickBooks via Zapier, ensuring a two-way sync between the systems. Please note that your customers will always need to specify a delivery address before an order can be sent to WorkWave Route Manager.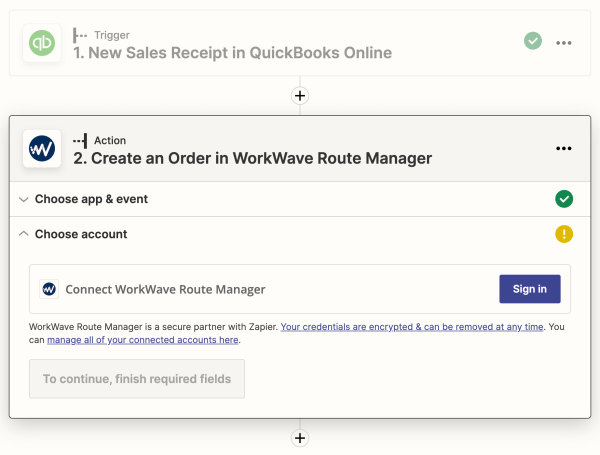 WorkWave Route Manager offers all of the features needed to create a smooth delivery experience.
Customer notifications via email and SMS.
Predictive ETAs and live tracking.
Proof of Delivery.
Meanwhile, solutions like barcode scanning, geocoding, and route simulations allow you to minimize risks and delivery mistakes to make the most of your resources.
Pricing: starting at $49/mo per vehicle, with monthly, quarterly, or annual plans available. While there's no option to start a free trial, you can book a demo to see the system in action.
5. Tookan - via Zapier
Tookan is a delivery management software solution favored by SMBs because of its affordability. The system integrates with QuickBooks via Zapier.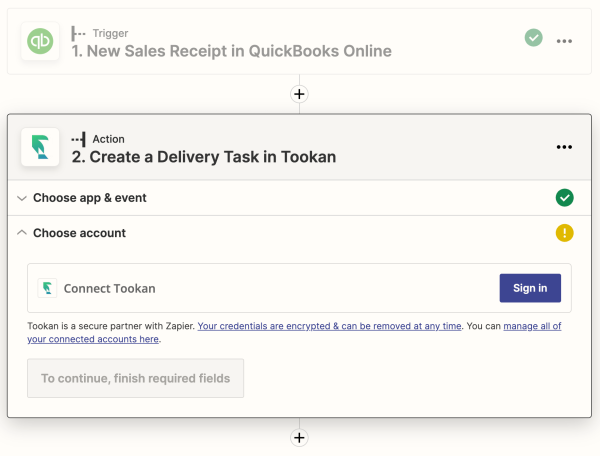 Once integrated, Tookan will send email and SMS notifications to customers, power live tracking and ETAs, and optimize routes for both deliveries and collections.
Because Tookan offers photo proof of delivery and barcode scanning, you can avoid delivery mistakes and make sure customers can always locate their packages in case of contactless delivery.
Tookan boasts its own Customer App, allowing you to receive orders from regular buyers skipping the QuickBooks integration.
Pricing: starting at $29/mo per 200 tasks with unlimited drivers. A 14-day free trial is available.
Wrapping up
When you manage any kind of business, integrating your systems is crucial for smooth operations. QuickBooks is a versatile tool that can be synced up with shipping software for excellent in-house delivery service.
I hope this guide helps you see the value in taking shipping into your own hands - and do so with the right last-mile logistics software.