Self-Delivery vs Third-Party Delivery: When Is In-House Delivery Worth It?
Updated on July 19, 2022 by Yulia Miashkova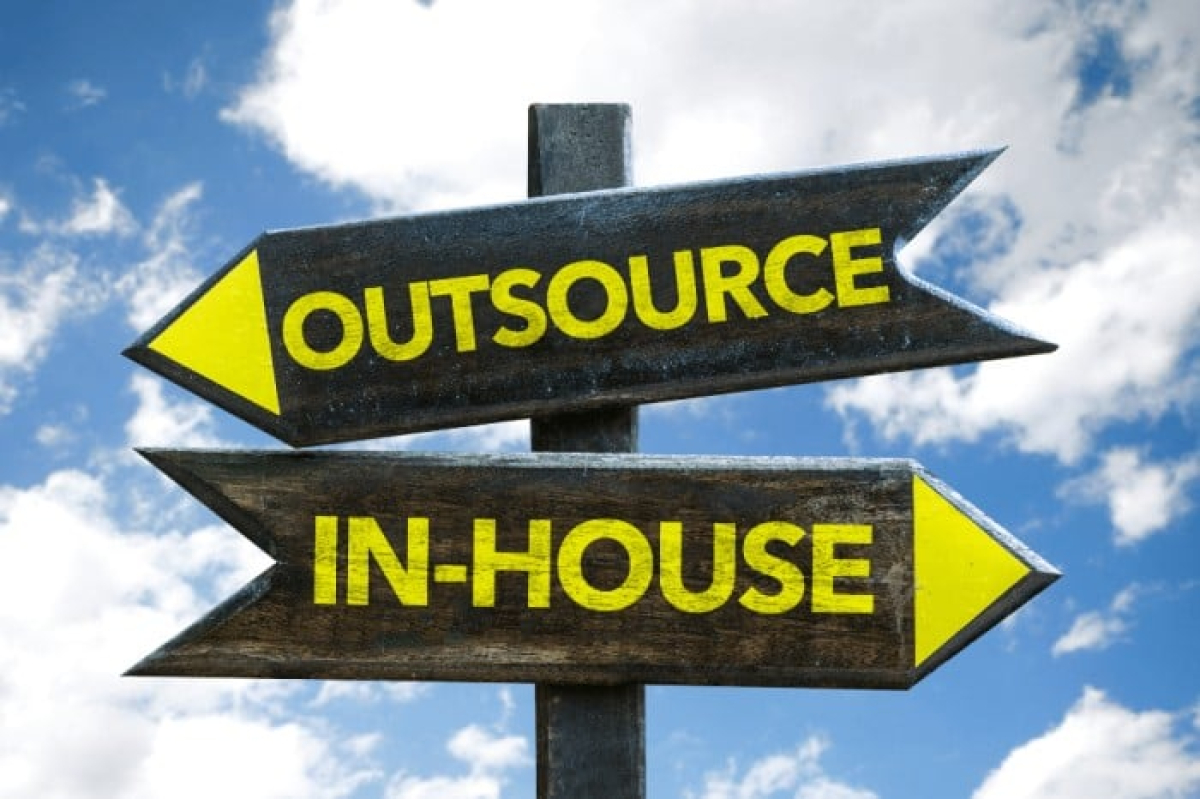 In-house or third-party delivery - that is the question.
Regardless of the industry you're in, there comes a time when you need to consider your delivery options. But before you even start thinking about same-day delivery or contactless delivery, you need to decide if you'll be outsourcing or handling delivery in-house.
Whether or not self-delivery is on the menu for you depends on a lot of things. The nature and maturity of your business, the size of your staff, the technology you're using, as well as the cargo you will be delivering among other things.
To fulfill your orders and delight customers with excellent delivery services, you need to know when you can handle in-house delivery and with what last mile delivery software.
Today, we take a close look at two types of delivery service - self-delivery vs third-party delivery company - to help you make the right decision and manage your deliveries cost- and time-efficiently.
What is in-house delivery vs third-party delivery?
Pros and cons of self-delivery
Pros and cons of third-party delivery
What is in-house delivery?
In-house or self-delivery refers to the type of transportation handled solely using your business' own resources. It means you control your drivers, customer communication, vehicle tracking, Proof of Delivery, and everything that comes with managing a delivery operation.
Third-party delivery, on the other hand, refers to the type of delivery handled via outsourcing logistics services. In this case, you don't need to have drivers or even a fleet for that matter.
When you partner with a business that provides delivery services on your behalf, you essentially delegate a part of customer experience to a vendor.
Let's think in terms of the costs and benefits of each delivery process to see which businesses work best with which delivery options.
Pros and cons of self-delivery
Self-delivery is a lot of work. But who said it doesn't pay off? Below are some of the reasons businesses opt for having their own delivery service.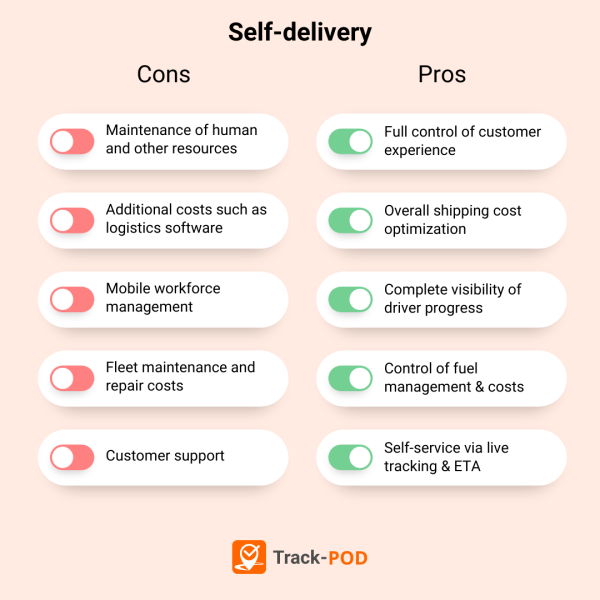 Pros of self-delivery
➕ You control the entire delivery experience.
➕ You have access to all order data and can optimize costs.
➕You're in charge of and can therefore improve order fulfillment.
➕You can track all your drivers in real-time.
➕You handle customer communication independently.
➕You can make sure that your vehicles are being used efficiently.
➕You control fuel management.
➕You determine your delivery commission.
At the same time, handling all deliveries in-house comes with a number of challenges. Let's see what these drawbacks may be.
Cons of self-delivery
➖You need to sustain a staff of drivers.
➖You need a designated platform for delivery management.
➖Route planning & optimization are your jobs too.
➖Fleet maintenance and repairs costs can pile up.
➖You need to fulfill every order: from inventory management to Proof of Delivery.
As you can see, self-delivery has its ups and downs. We'll now consider the pros and cons of using a third-party delivery service.
Pros and cons of third-party logistics
First off, let's look at some of the key gains that businesses that use third-party logistics (3PL) services experience over time.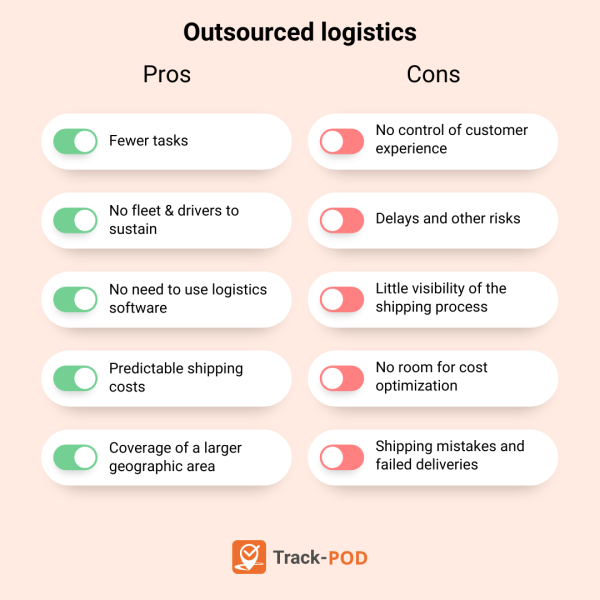 Pros of using 3PL
Third-party order fulfillment is not uncommon, especially among businesses like restaurants that resort to Uber Eats - or eCommerce merchants that use Amazon or Shopify order fulfillment services. The biggest reasons they do so are limited resources and geographic reach.
➕You don't need to employ and pay in-house drivers.
➕You don't need to sustain a fleet of vehicles.
➕You delegate routing and route optimization.
➕Your delivery fees are predictable.
➕You're able to deliver outside of your geographic area.
Naturally, we need to look at the downsides too. Below are the most common challenges experienced by businesses that outsource delivery to third-party transportation companies.
Cons of using 3PL
➖You're not there to oversee customer experience end-to-end.
➖Delivery costs can be unclear.
➖You don't have first-hand performance data.
➖You have limited visibility of the shipping process.
➖You may experience delays and mistakes.
➖You put your reputation in the hands of other companies.
The relationships you build with your delivery partner determine a huge chunk of customer experience and the overall customer centricity of your business. Hence, you need to know the value of your delivery partners and focus on finding an arrangement that works for your customers and in-house staff.
In-house delivery checklist
Regardless of which pros and cons are your dealmakers and dealbreakers, it's important to understand that a lot of businesses handle in-house delivery efficiently thanks to technology and good processes. What follows is a self-delivery checklist with the corresponding tech that makes everything better.
✔️Drivers.
✔️Vehicles.
✔️Routing & optimization.
✔️Customer communication.
✔️Delivery notes.
✔️Analytics.
Drivers
To get started with in-house delivery as a restaurant, flower shop, or any kind of small business really, you need a minimum of one driver and a system that will help you plan and deliver orders.
You don't need to hire full-time drivers as having reliable tech means you can work with contract drivers and still enjoy full visibility.
To keep your costs low and make the most of your delivery management platform, go for a solution that allows you to pay per driver/vehicle.
This kind of pricing model will cost you much less than similar platforms that price per number of orders a month.
Vehicles
Much like with your driver staff, you don't need a huge fleet of vehicles. As a matter of fact, many logistics operations use grey fleets, i.e. drivers' own vehicles.
Make sure your in-house delivery management tool supports many types of vehicles - even if your fleet is one type of vehicle now, things are likely to change in the future and you want to remain flexible.
Routing & optimization
A multi-stop route planner is a must-have tool for planning and dispatching orders. To keep your delivery process smooth, take your time researching route planning platforms to make sure you're happy with results.
A powerful route optimization algorithm will consider time slots, driver breaks, vehicle capacity, order priority, and many other factors to build efficient routes for multiple vehicles in seconds.
Customer communication
As a business owner, you want to empower your customers and minimize unnecessary interactions with your team. In delivery & transportation, this is done via live tracking notifications.
By sharing SMS and email delivery notifications, you keep the customer at the center of the shipping process and improve your rate of successful deliveries.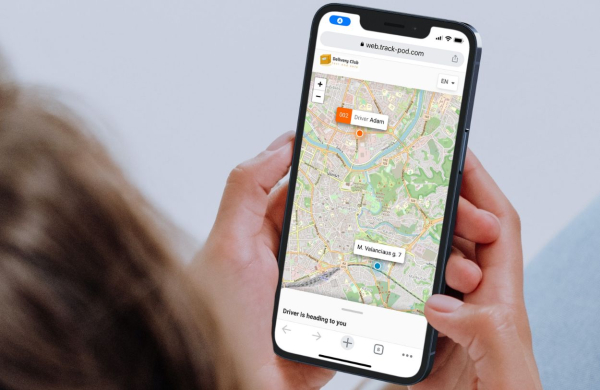 Delivery notes
To confirm that an order was delivered, you need a reliable driver app that allows your customers to sign on glass and confirm a successful delivery service. Your couriers should also be able to take photos and add notes for contactless delivery.
This requires an app that works online and offline and captures all order data to produce a Proof of Delivery (POD) note. Check out this comparison of Proof of Delivery apps to benchmark your options.
Analytics
To keep the cost per delivery low and your customers happy, you need to continuously improve your operations. For this, you need real-time and historical analytics that you can draw performance insights from.
When you browse delivery management platforms, look out for reports and analytics with a breakdown into key performance indicators like Delivery In Full, On Time (DIFOT). This way, you can perfect your business model based on numbers and not hunches.
Bottomline
Choosing between self-delivery and third-party delivery services is a choice every business needs to make. There are many pros and cons to both, and you need to look at companies similar to yours, educate yourself on the key processes, and figure out an arrangement that works best for you.
When is self-delivery worth it? When you have the tools to serve a good delivery experience - simple as that.
I hope this article helps you gain insight into the way in-house and third-party delivery work. If you have doubts about your capacity to run self-delivery, don't hesitate to get in touch and we'll find a solution for your particular business goals.