Every Shipping Integration in Track-POD [2023 Edition]
Updated on August 07, 2023 by Alina Kostukova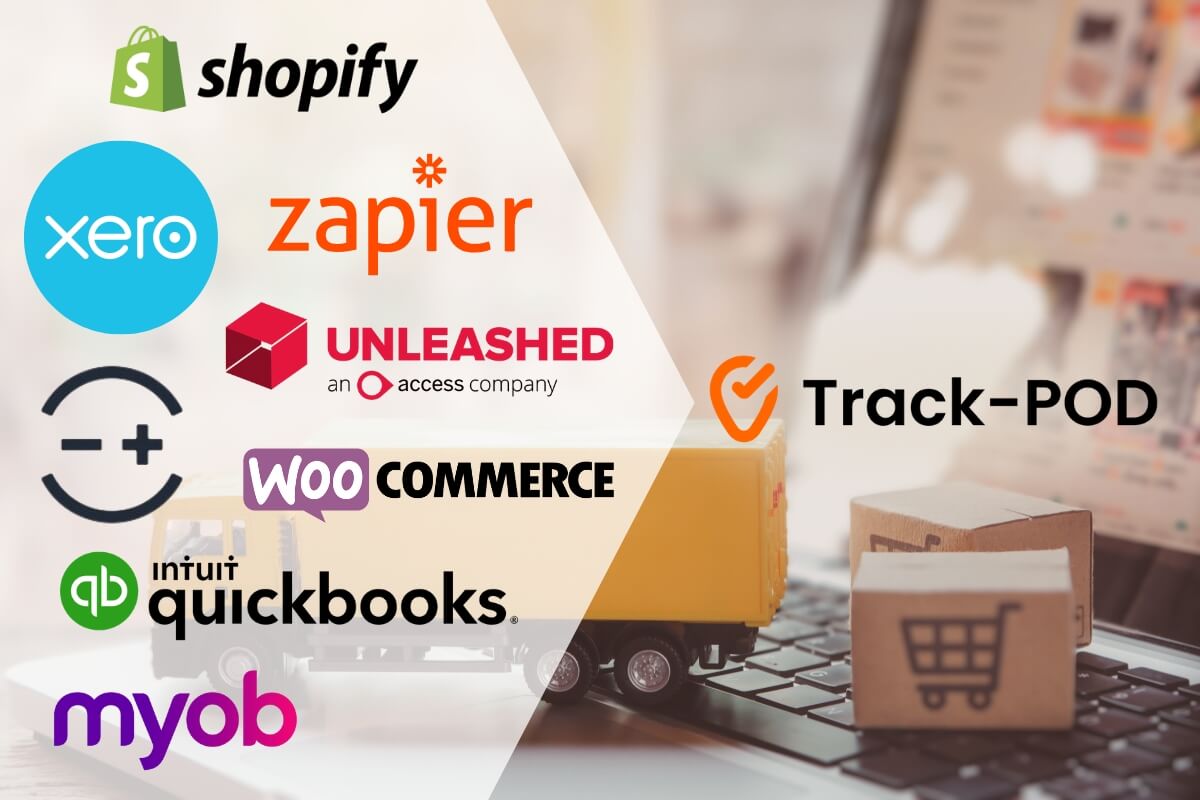 Track-POD's integrations provide the ultimate toolset to upgrade productivity and bring automation to the next level.
By seamlessly integrating Track-POD into your existing workflows, you can effortlessly manage the entire order fulfillment process, from accounting to shipping.
We've listed all of Track-POD's integrations and discussed the benefits they can bring to your daily operations. Dive in to build your perfect workflow.
Shipping integrations in Track-POD 2023
What is a shipping integration?
A shipping software integration refers to the process of connecting an ecommerce platform, order processing or invoicing solutions with delivery management software.
Ecommerce shipping integration makes the whole order fulfillment system work together.
This integration is a critical component of the ecommerce ecosystem, as it streamlines the entire fulfillment workflow, from order placement to last mile delivery.
Benefits of having a shipping integration
At its core, ecommerce shipping integration facilitates the exchange of data and information between the ecommerce platform and shipping software.
Let's discuss some of the core benefits of integrating your last mile shipping software with other systems.
Facilitated order processing: The shipping integration automatically sends the relevant order details to the last mile software once an order is placed. This includes the customer's shipping address, package weight, dimensions, and any special shipping instructions.

Simplified tracking and notifications: Customers and the ecommerce store's administrators can access real-time tracking information, allowing them to monitor the package's journey from the warehouse to the customer's doorstep. Automated notifications can also be sent to customers, informing them about their orders' status, expected delivery dates, and any potential delays.

Streamlined order fulfillment: The shipping integration assists the fulfillment team by providing a clear overview of pending orders, shipping requirements, and labels. This streamlines the packing and shipping process, reducing the chances of errors and delays.

Saved time and resources: Integrating your last mile software with order processing or invoicing tools saves time on manual data entry procedures.

Eliminated paperwork: Some last mile integrations allow synchronization of shipping documentation between systems. It means that electronic proof of delivery (ePOD) and other shipping documents will be available in invoicing or order processing software.
Shipping integrations in Track-POD 2023
Now that we've talked about the benefits of combining your ecommerce order management and invoicing systems with last mile software, let's get a full picture of all possible Track-POD integrations.
Zapier
Zapier is a powerful automation tool that connects various web applications and services, enabling seamless data transfer and workflow integration.
As a bridge between thousands of apps and services, Zapier enables seamless integration and data exchange without requiring coding skills.
Zapier < > Track-POD integration benefits
With Zapier, users can automate repetitive tasks, streamline processes, and enhance productivity by creating "Zaps"– automated workflows triggered by specific events.
By eliminating manual data entry and promoting data flow between Track-POD and other apps, Zapier integrations simplify complex processes, save time, and improve efficiency.
You can connect Track-POD with the apps you use every day to automate your workflow.
Let's look closely at some of the apps that can be integrated into Track-POD via Zapier.
Top Zapier < > Track-POD integrations
Easy integrations with eBay, Salesforce, Gmail, Slack, Microsoft apps, WooCommerce, Magento, Shopify, Sage One, Zoho CRM, and numerous other apps via Zapier make order processing faster than ever.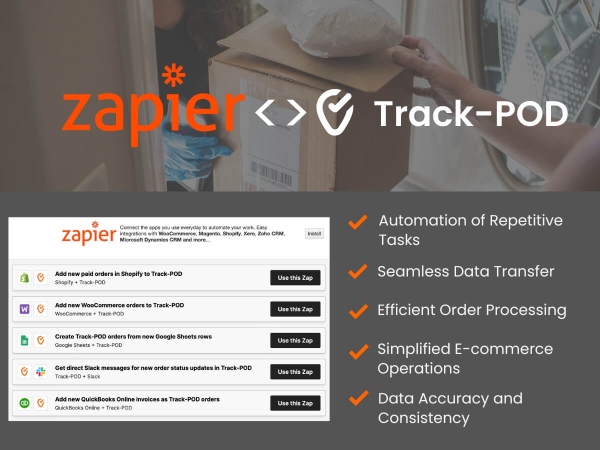 Shopify
Shopify is a popular e-commerce platform that empowers businesses of all sizes to create, manage, and grow online stores.
With powerful features and a user-friendly interface, Shopify offers numerous benefits to e-commerce businesses looking to build a solid online presence and drive sales.
Shopify delivery apps, like Track-POD, can help to simplify order shipping workflows and eliminate unnecessary manual work with order import.
Shopify-Zapier integration can be used to automate new orders import directly to the Track-POD dashboard.
Once done, you can plan and optimize your routes to deliver orders effectively and on time.

Sage Accounting
Sage One aka Sage Accounting is an accounting software that runs in the cloud and gives small and medium-sized businesses a safe way to keep track of their finances.
Sage Accounting helps businesses make better choices, be more efficient, and focus on their core operations with tools like invoicing and informative financial reports.
The Sage Accounting < > Track-POD integration via Zapier allows businesses to:
Update Track-POD orders based on Sage invoice updates;

Create Sage invoices based on Track-POD order status changes;

Update Sage invoices based on Track-POD order status changes.
In-built integrations
Track-POD offers several quick integrations that are easy to install in just a few clicks. Let's go through each of Track-POD's easy integrations and its benefits.
1. MYOB
MYOB is a widely used accounting software that helps businesses of all kinds run their finances more efficiently.
MYOB offers a range of features and tools that can help businesses improve their accounting processes and make better financial decisions.
Track-POD & MYOB integration benefits
This ecommerce shipping integration's main benefit is the possibility of automating order import from your MYOB Business account without a complicated setup.
Track-POD and MYOB integration facilitates ecommerce order fulfillment and connects the processes like invoicing and shipping into one workflow.
Track-POD & MYOB integration allows order management, delivery tracking, and accounting to work together seamlessly.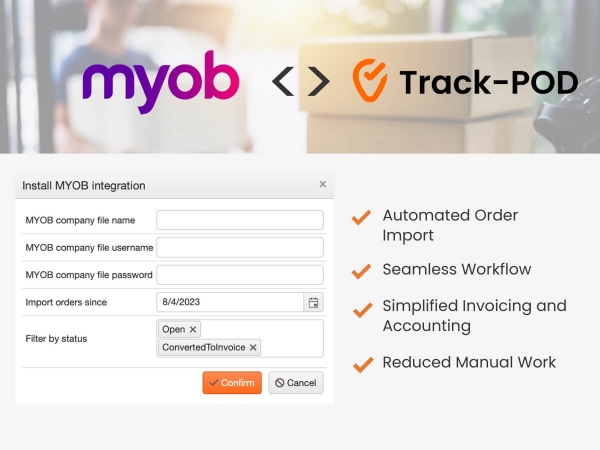 2. Linnworks
Linnworks is a powerful and versatile multi-channel ecommerce software that simplifies and automates various aspects of online selling for businesses.
This cloud-based platform serves as a central hub for managing inventory, order fulfillment, and shipping across multiple sales channels.
Track-POD & Linnworks integration benefits
Linnworks shipping integration with Track-POD makes order fulfillment and delivery management a breeze.
Businesses using Track-POD and Linnworks can easily connect and share data between the two systems without compatibility issues or complex setups.
The integration ensures seamless order synchronization between Track-POD's delivery management system and Linnworks' order management platform. With automatic syncing, your orders are always up-to-date, saving you time and reducing the risk of errors.
When the 'Label is printed' is set for each order in Linnworks, orders are automatically imported into Track-POD every 5 minutes.
The system also provides the option to enable 'Set live tracking number,' which allows Track-POD to generate tracking numbers and send them back to Linnworks.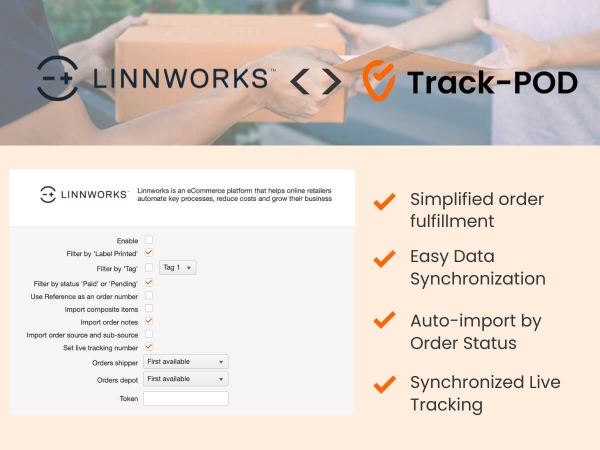 3. WooCommerce
WooCommerce is a popular ecommerce platform built as a WordPress plugin, making it an ideal choice for businesses looking to create online stores within their existing WordPress websites.
WooCommerce offers a user-friendly and customizable solution to launch and manage online businesses of all sizes.
In WooCommerce dashboard, you can set up multiple plugins and create a workflow suitable for our ecommerce business.
Track-POD & WooCommerce integration benefits
Track-POD and WooCommerce integration offers a comprehensive solution that covers multiple aspects of last mile delivery, making it an ideal choice for local online stores with their own delivery resources.
The integration between Track-POD and WooCommerce is instant and two-way, meaning that data is synchronized between the two platforms in real time.
This ensures that both systems stay updated with the latest information regarding orders, delivery status, and shipment details.
You can forget about manually exporting and importing orders after you've connected your WooCommerce shop to the Track-POD route management dashboard.
Among other tools, Track-POD can import delivery date and time slot information from the WooCommerce Order Delivery extension.
This feature helps provide accurate delivery estimates to customers during checkout, reducing delivery-related inquiries.
Track-POD and WooCommerce integration streamlines order fulfillment by automating route planning, and saving time on order export and import.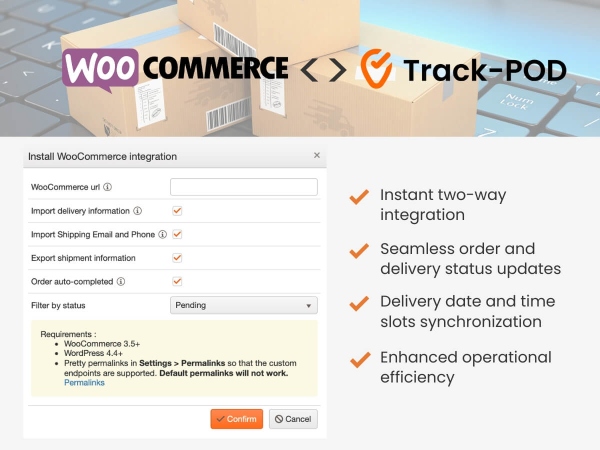 4. QuickBooks
QuickBooks is a renowned and widely-used accounting software developed by Intuit, designed to meet the financial needs of businesses of all sizes.
With features such as income and expense tracking, invoicing, payroll processing, and tax preparation, QuickBooks offers a centralized and organized approach to financial management.
Track-POD & QuickBooks integration benefits
QuickBooks integration's main benefit is the possibility of generating Track-POD orders from QuickBooks Estimates or Invoices.
This means that all delivery-related information, such as order details, invoices, and payment status, is automatically transferred between the two systems.
You can also import some important historical transactions from QuickBooks starting from a specific date. If QuickBooks transaction is corrected, Track-POD will pick up new data within 30 seconds.
QuickBooks shipping integration with Track-POD also automates the process of adding proof of delivery documents. POD information is synchronized with QuickBooks system, so you don't need to input any data or upload the documents manually.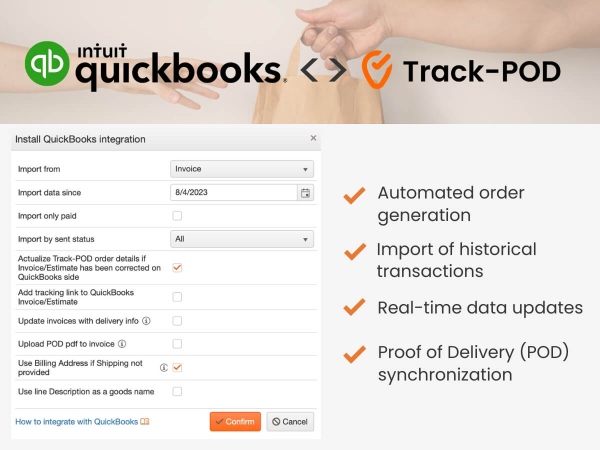 5. Xero
Xero is a popular cloud-based accounting software that caters to the financial needs of small and medium-sized businesses.
With Xero, users can effortlessly manage invoicing, billing, bank reconciliation, expense tracking, and payroll processing, simplifying complex financial tasks and saving time.
Track-POD & Xero integration benefits
Track-POD's integration with Xero provides a fully automatic flow of processing data, saving time and effort spent on manual data entry.
Users can select a period to upload historical transactions during the integration setup, allowing for precise data integration.
This ecommerce integration offers a flexible setup, where users can choose the source for generating orders on the Track-POD side from either Quotes or Invoices.
You can also filter imported Invoices or Quotes based on their status, allowing for a more targeted integration process.
Track-POD automatically grabs ongoing Xero transactions every minute, ensuring the data is always up-to-date. Users can ensure accurate invoicing for partial deliveries with the option to update invoices with delivery info.
Xero integration allows attaching the POD document to the Invoice once the order is delivered, streamlining document management.
The Track-POD and Xero integration considers any status changes made on the Xero side, preventing duplicate or incorrect data imports.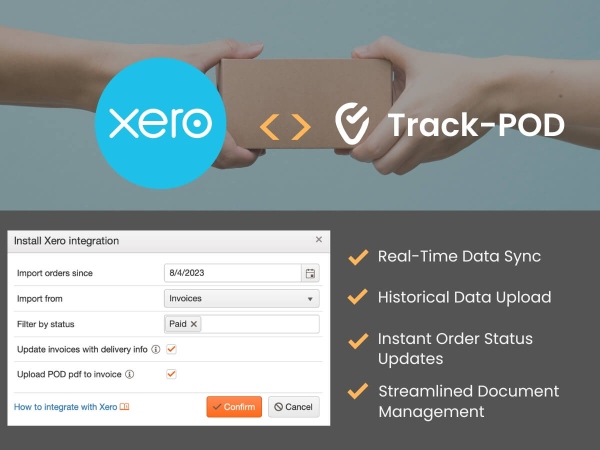 6. Unleashed
Unleashed is a market-leading cloud-based inventory management software for businesses of all sizes.
With Unleashed software, companies can keep track of their inventory in real time and across many locations with ease and precision.
Unleashed gives businesses visibility and control over their suppliers, production, inventory stocks, and sales.
Track-POD & Unleashed integration benefits
If you are already using Unleashed or only planning to get a new inventory planning system, consider this integration for seamless supply chain management.
Let's review some of the most crucial advantages of Track-POD & Unleashed integration.
You can trigger your orders to come through from Unleashed system to Track-POD.

You can easily add a new 'Sales order,' enter the delivery and product details, and click on "Create a shipment."

Once done, the order will appear quickly and easily in Track-POD's "Orders" dashboard.
The Unleashed integration allows you to filter orders created in the app and choose specific statuses to import into Track-POD. This adds more flexibility and visibility to the order management process.
For instance, you can select which order statuses from Unleashed ("Parked," "Completed," "Backordered," and "Placed") should appear in Track-POD's "Orders" dashboard for delivery.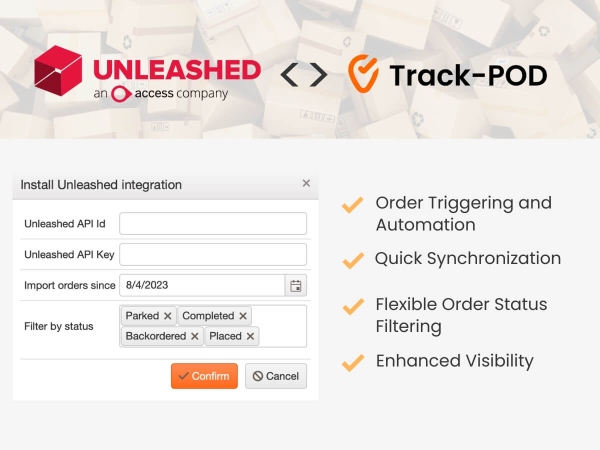 Track-POD API
Track-POD also offers an option of building custom integrations via API.
API shipping integration in Track-POD refers to the seamless connection between the Track-POD delivery management system and any other external apps using its Application Programming Interface (API).
API integrations allow for the data exchange, real-time updates, and streamlined communication between Track-POD and other business tools. This empowers businesses to harness the full potential of Track-POD's tools within their existing tech stack, fostering greater operational efficiency and customer satisfaction.
Webhooks for real-time updates
When using Track-POD's API integration, you can get instant updates about any changes to your orders through real-time messages sent via webhooks.
A webhook is essentially a message dispatched by Track-POD to your app's webhook endpoint.
You'll find JSON data and essential metadata within the message's request body. The exact content of the data payload varies depending on the nature of the event.
In simpler terms, this message carries information about what's happening to your orders. You can set it up so that when certain things change, like creating a new order or updating an existing one, Track-POD sends you a message.
Upon setting up a webhook, you'll be able to receive HTTP updates for a range of events, including:
Order creation

Order updates

Order deletion

Route creation

Route updates

Route deletion

Order status updates

Route initiation

Route completion

Route optimization
You can stay in the loop effortlessly with Track-POD's webhooks and ensure you're always up to date with what's happening with your orders.
Wrapping up
With Track-POD's robust quick and API integrations, automation is taken to a new level, resulting in higher productivity and streamlined processes.
Depending on your goals, you can try different software combinations to achieve the best results, save resources and improve overall efficiency.
We hope you are off to a great start with Track-POD integrations! Book a free custom demo to take a tour.