Tookan + Mappr = Track-POD [No Code, Ready to Use]
Updated on June 09, 2022 by Yulia Miashkova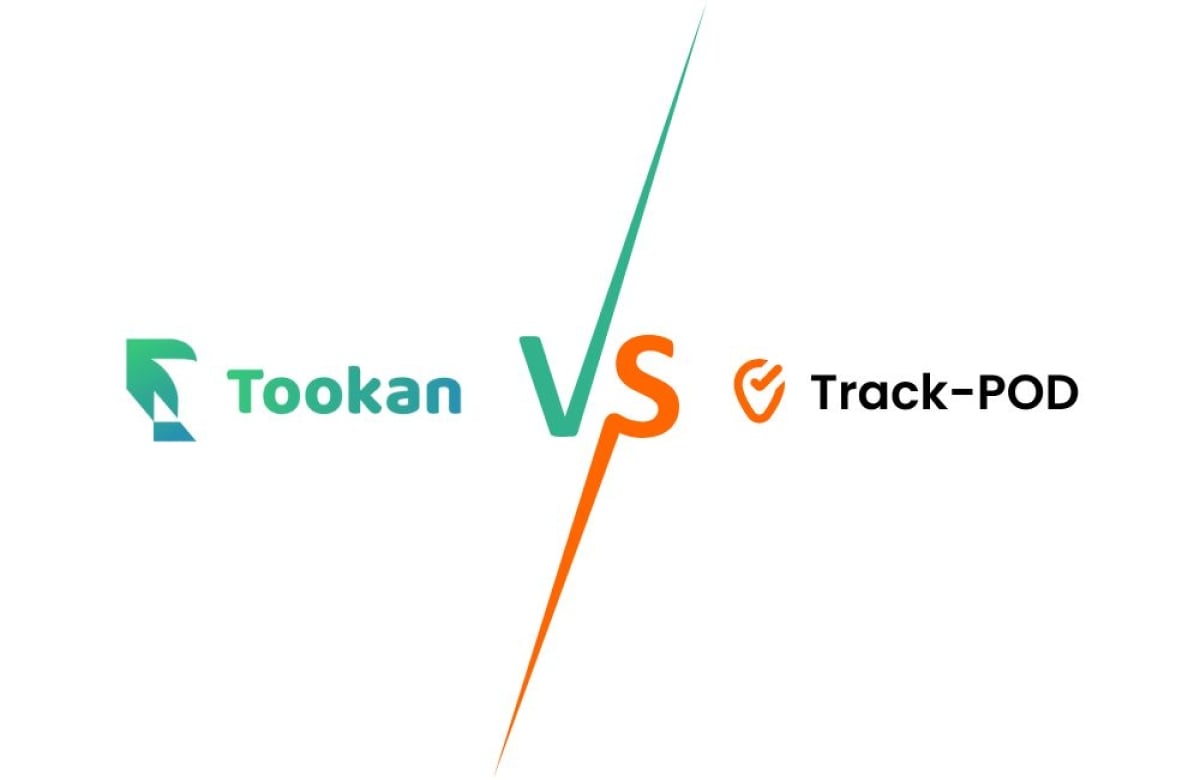 Not to sound alarming but if you're managing a delivery operation without delivery management software, you're losing time and money even as you're reading this.
In the past, you could only rely on dispatchers and fleet managers to plan, route, load, and dispatch your deliveries. These days, there are plenty of tools that will do an excellent job for you. The trick is to find yours.
The market of delivery management software is booming, and it's easy to get lost in the options. Onfleet, Routific, Route4Me, OptimoRoute are just a few of the brand names you get bombarded with when shopping for software.
Tookan is another contestant, and today we'll take a closer look at its delivery management features in comparison to Track-POD for a better perspective.
Let's roll.
Pricing model
Tookan prices per number of tasks, which means you get to use the software with as many drivers as you want but for a limited number of jobs per month. If you exceed your tasks limit, Tookan lets you purchase additional tasks for a fee that varies from plan to plan.
Standard is the most popular subscription plan, with 5,000 tasks per month and a $499 base fee. To use route optimization, you'll need to pay extra for integration with Jungleworks' Mappr.
On top of the base fee of $499/mo you will be charged extra for route optimization ($600), ETA ($49/mo), barcode scanning ($11.99/mo), etc. The sum total is over $1,160/mo.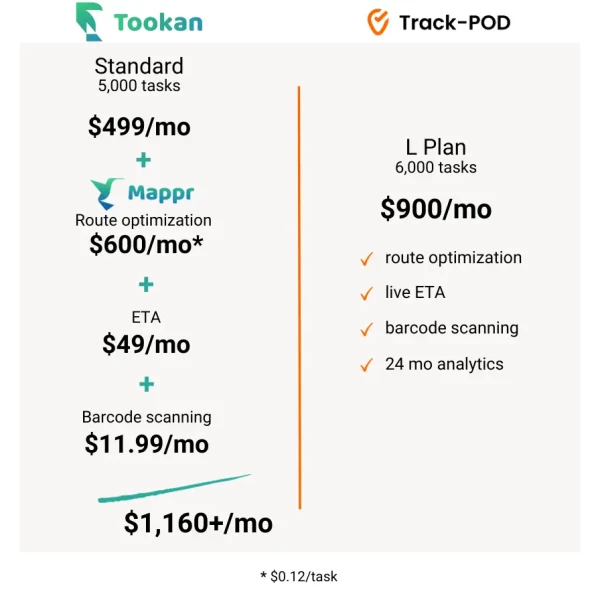 Track-POD, in the meantime, has a flexible pricing model with no extra fees. You can choose to pay per number of tasks like Tookan or per driver/vehicle. For the sake of this comparison, we'll be looking at the pricing per number of tasks a month.
With Track-POD, 6,000 orders per month with unlimited drivers will cost you a flat fee of $900.
Route planning & optimization
We've now established that Tookan lacks a native route optimization solution and uses the Mappr integration instead. Therefore, we'll be comparing Track-POD and Mappr route planners.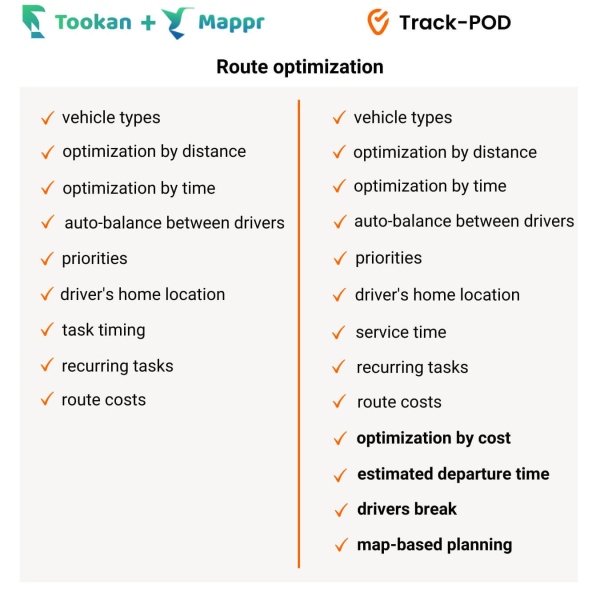 Vehicle types
Many delivery businesses have different types of vehicles in their fleet. You might have trucks, cars, motorcycles, or bicycles and your delivery management software needs to consider that when planning and optimizing routes.
Both Tookan and Track-POD do that, so you can be sure your software has your back.
Optimization strategies
A good route optimization algorithm is the backbone of any successful logistics operation. It dictates the overall logic your delivery management system uses to plan and dispatch your routes.
Tookan offers two types of optimization: time and distance. It also provides different setups for starting and ending routes, which means you can control more nuances in your route planning.
Track-POD, in the meantime, provides three optimization strategies to choose from.
Time.

Distance.

Expense.
Priorities
Priorities, as the name suggests, is a feature that lets you indicate the importance of orders for smooth planning. Both Tookan and Track-POD allow you to assign priority to orders to make sure high-priority customers are handled first.
Drivers' home locations
Not all delivery routes start from the depot location. Sometimes, to save time or account for the usage of grey fleet, i.e. privately owned vehicles used for commercial purposes, it makes sense to plan routes from drivers' home locations.
Both Tookan and Track-POD let you indicate a home location for each driver and use it when building delivery routes.
Service time
In addition to the time it takes your driver to get from A to B, your route planner should consider how much time the driver/agent needs to perform their services.
Especially if you provide some kind of field services, service time needs to be considered when planning routes.
Tookan offers task timing and Track-POD calls it service time - either way, you get to indicate how long it takes for your staff to do their job at the customer's address.
Recurring tasks
Recurring tasks is a very useful feature for delivery businesses that have regular customers or offer B2B deliveries. Tookan offers recurring tasks, which means you get to save and repeat your regular deliveries.
Track-POD, meanwhile, supports recurring tasks and routes. You can repeat them every day, month, year, or any specific day of the week. You can also choose ending dates for recurring routes.
Route costs
Cost optimization is the #1 job of any logistics manager. It is also the primary task of any delivery management software - to help businesses cut costs and make better decisions.
By assessting route costs before dispatch, you can compare expenses and choose the best strategy.
Both Tookan and Track-POD allow you to indicate route costs. On top of that, Track-POD offers a separate route optimization strategy - By expense - that organizes the whole of optimization.
Drivers' break
Driver breaks is another factor considered when planning and optimizing routes. If your drivers carry out multi-stop routes, they need some time off during the day and your delivery management system needs to take that into account.
While Tookan has no option to specify driver's breaks, Track-POD lets you indicate them when planning long-distance routes.
Map-based planning
Map-based route planning is a useful feature that lets you manage orders in bulk based on their proximity to each other on the map.
Tookan offers separate geofences for teams and agents, which means you need to assign people to territories. Track-POD, meanwhile, lets you grab and manage orders from the map regardless of which drivers the orders belong to.
User & order management
Unless you plan to be managing and dispatching all your orders by yourself, exploring user and order management capabilities of your delivery management system is crucial before you invest in it.
Let's see how Tookan and Track-POD let you manage orders and users of your web dashboard.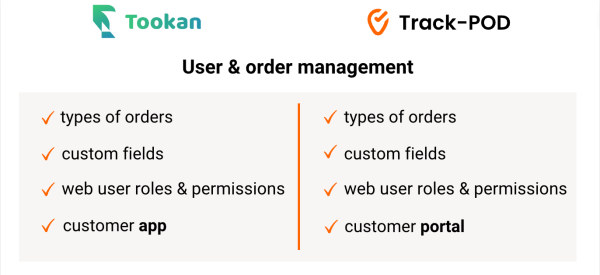 Types of orders
As a logistics operation, you're likely to have different types of tasks for your staff. Tookan lets you choose between the following types of tasks.
Pickup & Delivery.
Appointment.
Field Workforce.
Track-POD, in the meantime, offers four types of tasks.
Delivery.

Collection.

Pickup & Delivery.

Pickup-Hub-Delivery.
Custom fields
Custom fields let you specify any order-related information that doesn't fit into the built-in fields. Both Tookan and Track-POD let you create unlimited custom fields to make sure you can convey all order-specific information in formats like invoice number, shipper info, etc.
Roles and permissions
Tookan offers a wide range of permissions grouped by categories: task, agent (driver), customer, teams, and settings. Under each, you have the following permissions you can specify.
Create.

Update.

Delete.

Read.
Track-POD, meanwhile, offers 10 user roles.
Allow view Routes.

Allow user management.

Allow view Analytics.

Allow duplicate.

Allow view Vehicle Check.

Allow edit orders.

Allow view Directories.

Allow edit completed orders.

Allow Edit directories.

All 'Depots'.
Customer portal
When you have regular customers, it helps immensely to have a place where they can log into and manage their orders independently, saving you tons of time you'd spend creating and monitoring deliveries.
Both Tookan and Track-POD give you the option to give customers the tools to manage their orders. Track-POD's Customer Portal and Tookan's customer app empower you to delight customers with the best user experience.
Driver app & ePOD
In the same way you need to consider the web dashboard of your delivery management tool before making a decision, you need to take a close look at the mobile app for the driver. Let's see how well Tookan and Track-POD handle their driver apps and Proof of Delivery.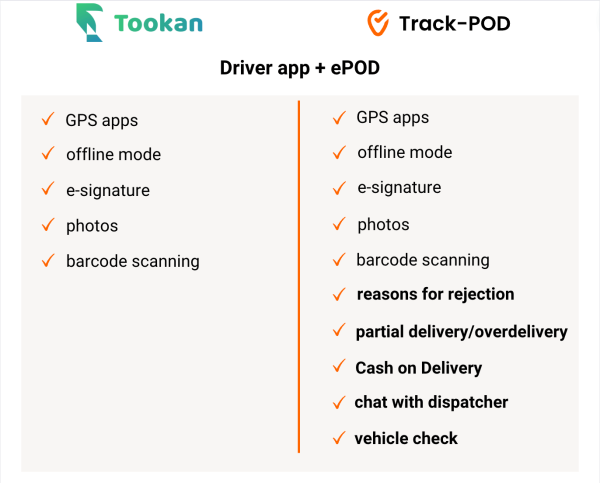 GPS apps
The driver's app is there to, first and foremost, guide the driver towards their destination. Both Tookan and Track-POD offer a selection of GPS apps to choose from. Tookan uses Google Maps, Waze, and Apple Maps APIs.
Track-POD, meanwhile, lets drivers choose any of the following third-party GPS apps.
Google Maps.

Apple Maps.

Waze.

TomTom.

HERE WeGo.

Sygic.
Offline mode
When looking for a mobile app to be used by your field staff, it's always important to check how it's operating without a connection to the Internet.
Both Tookan and Track-POD mobile apps work offline, with all data synced with the web dashboard as soon as the connection is restored.
Photo & e-signature capture
To confirm a successful delivery, your drivers need their mobile apps to be able to collect photo proof and electronic signatures. Both Tookan and Track-POD provide that so you can be sure your drivers can collect what they need for paperless Proof of Delivery.
QR/barcode scan
QR and barcode scanning is another way to ensure that the driver is departing to the right address with the right cargo. Both Tookan and Track-POD can generate shipping labels that can be scanned to confirm that the package belongs to the address.
While Tookan allows you to use the same barcode for multiple orders in a route, Track-POD lets you use the same barcode for items within a single order. Then, your drivers can scan and count as they go.
Reasons for rejection
Whenever a delivery didn't go as planned, drivers need to specify the reason. If a delivery has been rejected, Tookan lets drivers indicate a reason in a designated field.
Track-POD lets drivers choose a reason for rejection from the dropdown customized to the site and order.
Partial/overdelivery
Using the Track-POD app, drivers can enter the actual quantity of goods wherever it doesn't match the one specified for the order. This can be done whenever a partial delivery or overdelivery occurs.
In addition to having the option to enter the number of goods, Track-POD offers a Partially Delivered order status for clearer reporting.
Cash on Delivery
Cash on Delivery (COD) is a feature that lets the dispatcher specify a certain amount that is to be collected and entered by the driver in their mobile app upon successful delivery. If you want to give your customers more flexibility in terms of payment options, explore COD.
Rearrive
To make sure all deliveries can go from failed to successful, Track-POD gives drivers the option to rearrive at the site, i.e. go back to the delivery address with the right goods and change the order status from Not Delivered to Delivered.
Partial delivery and redelivery are both more nuanced cases of logistics management. Make sure you have these options if you want this kind of flexibility.
Chat with dispatcher
In addition to good coordination around the area of delivery, drivers also need to have the tools to connect to their dispatchers back at the office.
While Tookan doesn't provide the option for drivers to chat with dispatchers using their mobile app, Track-POD offers the chat option, including photo sharing.
Analytics & reports
For any manager looking to optimize their operations, having access to instant, reliable analytics is crucial. Let's take a closer look at what kind of analytics and reports you can find in Tookan vs Track-POD.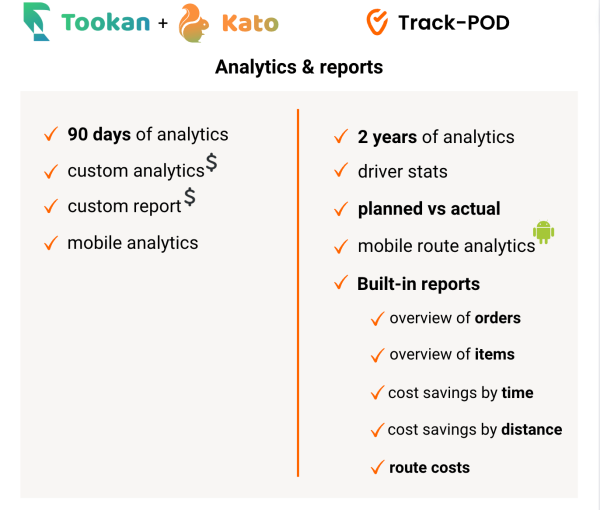 Analytics
Both Tookan and Track-POD offer analytics dashboards that cover different metrics and performance insights. Being a part of the Jungleworks family, Tookan is integrated with Kato, the analytics platform. Tookan's own analytics tab includes the following.
Real-time data.

Task analysis.

Performance.

Effectiveness.

Efficiency.

Marchant stats.
While Tookan offers 90 days of shipping analytics, Track-POD stores 2 years of data.
Track-POD's analytics dashboard, meanwhile, is organized in columns, and you can add or remove columns until you get the look that you prefer. Alongside analytics, Track-POD offers insights into specific KPIs.
Delivery in full.

Partially.

On-time deliveries.

Average service duration.

Customer feedback.
Both Tookan and Track-POD offer predictive analytics but Tookan uses the Kato integration and Track-POD has it out of the box.
Reports
Having built-in reports helps when you need to quickly export and share performance insights with the larger business. Tookan offers Task Status report as well as paid custom reports available upon request via Kato.
Track-POD, meanwhile, offers built-in reports that you can export at any point in time without additional fees or integrations.
Overview of orders

Overview of items.

Cost savings by time.

Cost savings by distance.

Route costs.
Final thoughts
Choosing a delivery management system is a commitment and you don't want to jump into things without researching your options. Tookan and Track-POD are both great choices but you still need to know your operational needs in order to choose right.
I hope this article answers your questions and clears some doubts about Tookan and Track-POD. If you have more questions about the Track-POD solution for your delivery business, book a free demo and let's brainstorm growing your business.