Dispatcher Salary: How Much a Truck Dispatcher Makes
Updated on August 23, 2021 by Yulia Miashkova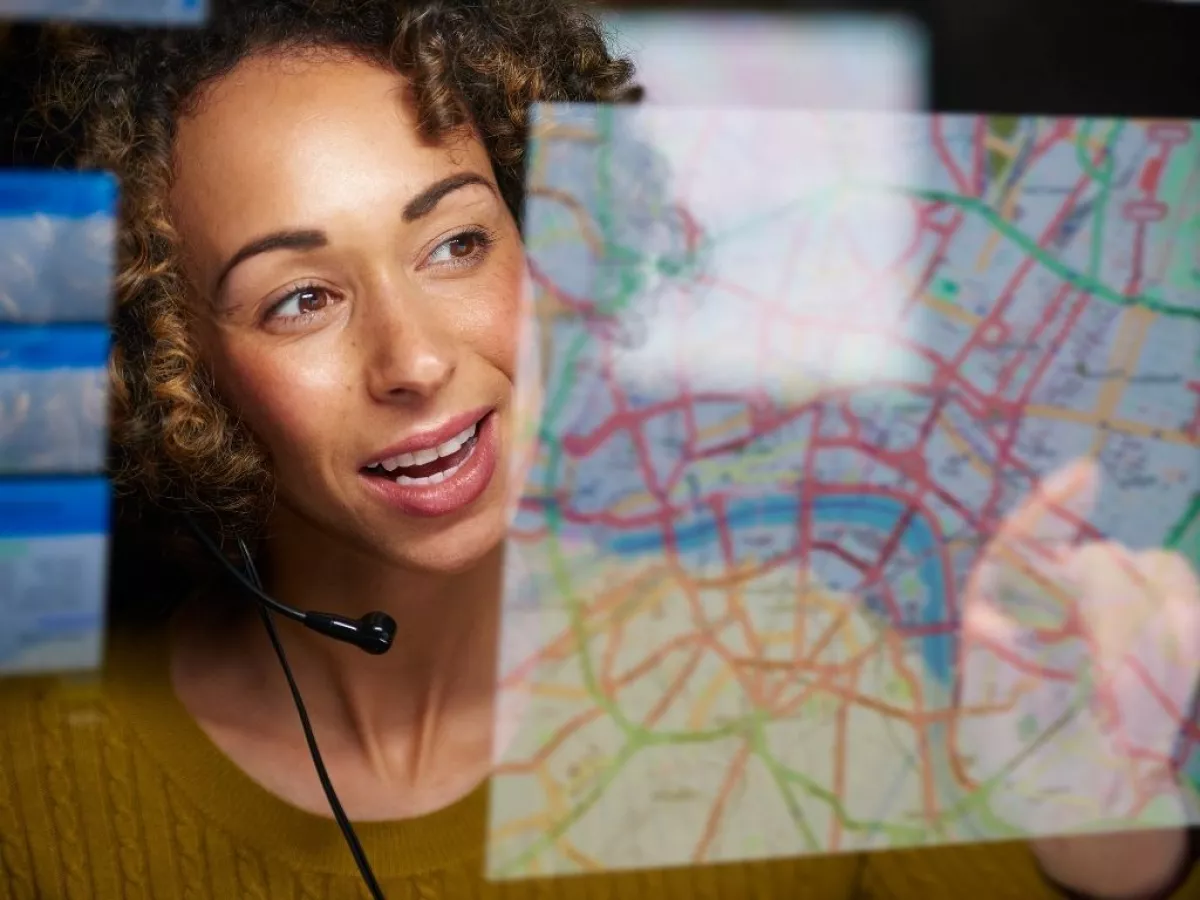 The logistics industry is a lucrative field for a lot of people. It's essential, stable, and well-paid - provided you get the right training and choose the right path. We've talked about logistics jobs before by diving into the role of a fleet manager and even benchmarking logistics manager salaries across the world. Today, we're looking at dispatchers, particularly truck dispatchers.
What skills do you need to acquire to work as a dispatcher? Do you need a degree? Where do you find dispatcher jobs and, most importantly, what's the salary range you can expect? Keep reading to learn all about the truck dispatcher job.
How to become a truck dispatcher
Truck dispatcher job description
How to become a truck dispatcher
First things first - how do you become a truck dispatcher? Let's explore what education and training you need to land the job.
1.Get your high school diploma
The education minimum to become a truck dispatcher is a high school diploma or GED. While these may vary from country to country, an equivalent of a high school diploma is a must to get started.
2.Explore dispatching courses & free resources
Dispatching courses are resources you can find online while being in school or working another job. Finding free, helpful courses might take some time but if you can afford to invest in paid courses you can always turn to a site like Udemy or LearnDispatch.
If investing in dispatching courses is not something you can afford at the moment, you can explore free guides and blog posts related to the logistics industry as such. Below are some of the guides you can dive into right away.
3.Consider getting a Bachelor's degree
While it may not be a requirement, getting a Bachelor's degree in logistics management or supply chain management will be a huge plus. A degree in a relevant field will help you negotiate your position and pay, not to mention increased promotion opportunities.
4.Apply your skills
Any experience in dispatching or related roles will definitely create a competitive advantage. More often than not, any experience in business environments as well as with office software will be beneficial. See if you can find a job opportunity with a local delivery business as those are easier to find.
By gaining experience in deliveries, you can gradually move to larger transportation operations and take on duties specific to trucking and dispatching.
Truck dispatcher job description
Next up are the actual duties of a truck dispatcher. What are they expected to deliver on a daily basis and in the long term? Let's take a closer look.
Tuck dispatcher responsibilities
A day-in-life of someone in the truck dispatcher career path could look something like this.
Route planning & optimization
Route planning and route optimization are two key things that truck dispatchers need to manage. Route planning, as the name suggests, is planning routes each truck driver will need to make on a given day. Depending on the business, drivers may need to make multiple routes a day, and it's the dispatchers' job to make sure the routes are successful.
Route optimization involves using loads of insider knowledge about the fleet and drivers, as well as the service area, to make sure all driver employees use the trucks efficiently and no detail is missed. To determine the best routes for all trucks given their capacity and restrictions, dispatchers use designated route planning software.
Scheduling truck drivers
To schedule and dispatch routes, dispatchers need to manage truck drivers. Freight deliveries happen according to shipping schedules and truckers' individual schedules too. In this case, delivery success depends on how well truck dispatchers manage the schedule matrix.
Among the tips on managing truck drivers is pre-scheduling freight deliveries with the help of courier dispatch software like Track-POD. This type of software considers every driver's daily schedule and reports on individual and overall performance to keep dispatchers organized.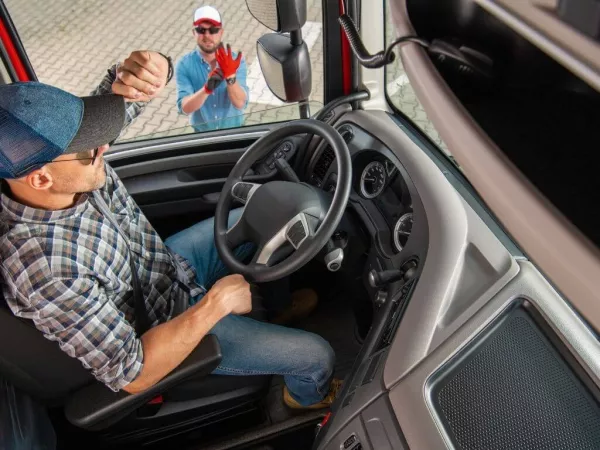 Customer communication
Customer communication is a core responsibility for any dispatcher. To keep customers informed and at their respective delivery locations, dispatchers may need to make calls, write emails, or communicate via other channels - depending on what the company prefers.
Of course, this can be automated too. Companies that use last-mile delivery tools can automate all communication with customers with the help of SMS, email, and driver-to-customer chat. In this case, customers receive shipment notifications at the time specified by the dispatcher. Having a tool like this saves dispatchers loads of time.
Maintenance & repairs
Commercial truck maintenance consists of proactive maintenance and reactive maintenance, i.e. repairs. The job of a dispatcher is to reinforce preventive maintenance programs to keep trucks in perfect condition and minimize downtime and repair costs.
Any company needs its fleet in top condition to dispatch freight according to the schedule and keep customers as well as suppliers happy. By using a vehicle check app like Track-POD, dispatchers and fleet managers can take care of the vehicles with drivers' help by making vehicle checks an essential part of every route.
Freight documentation
Keeping freight documentation in order is crucial to the success of any transportation process. Truck dispatchers do their part by making sure freight bills, invoices, Proof of Shipment, and any relevant reports are ready and available for the larger business in one centralized location.
As more and more companies are digitalizing their processes and moving to paperless procedures, freight documentation becomes digital too. Especially if the company does contactless deliveries, storing photo proof takes designated Proof of Delivery tools.
Truck dispatcher requirements & skills
As you can see, truck dispatchers rely on various tools to manage, dispatch, and report on their fleet and drivers. As a rule, transportation companies use designated Transport Management Systems (TMS), and any experience with one of those will be a plus.
Below are some other requirements and skills needed to become a dispatcher (in addition to the education requirements we discussed above).
The ability to negotiate.
Good command of trucking regulations.
Computer skills.
Attention to detail, excellent reporting.
Communication skills.
If you're willing to search for a job as a truck dispatcher, make sure you not only have the education needed for this position but also the interpersonal skills aka soft skills.
Truck dispatcher salary
Now that we've looked into truck dispatcher training, requirements, and skills, let's dive into the average pay for the truck dispatcher job across companies.
According to Glassdoor, the average annual truck dispatcher's salary in the United States is $41,920. This can vary from business to business, with the salary range being $12-23 hourly. To determine salaries, employers look at the education and related qualifications, years of experience in this career, and certifications if any.
Before pursuing a career in dispatching, spend some time online browsing hourly dispatcher salaries by company to know what businesses are paying dispatchers in your area.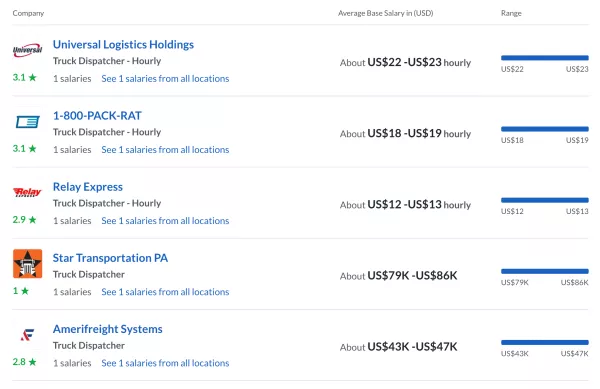 The average salary for truck dispatchers in the UK, according to Glassdoor, is £24,086 or a little over $33K a year. Again, a truck dispatcher's hourly rate will depend not only on the national average in a given location but also on many other details such as the candidate's qualifications and professional experience.
Truck dispatcher salary vs 911 dispatcher salary
In the dispatcher line of work, not all jobs are the same. For example, a 911 dispatcher in the United States makes about $43K on average. A truck dispatcher's average annual pay is not very different - close to $42K/yr - but the work environment and job specifications vary a lot.
For obvious reasons, emergency dispatchers will have drastically different schedules and hour-to-hour intensity. Being a successful dispatcher in any industry or business takes commitment and years of experience but working at a trucking company generally comes with less stress.
Truck dispatcher jobs
If you've kept reading up to this point, you must be motivated to land a truck dispatcher job sometime soon. Let's see where prospective truck dispatchers can search for jobs and check what they'll be paid.
Indeed
Indeed is a tried and tested platform for job search in any industry. You can sort truck dispatcher job openings by location, company, experience, and many other filters.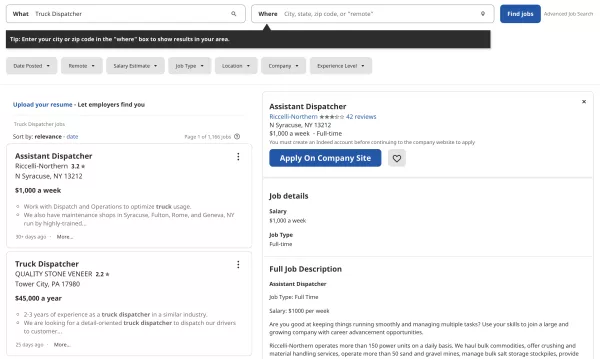 The more filtering conditions you apply, the more refined your search will be. Even if you won't be applying for jobs right away, this research is helpful in painting an overall picture of the job market, hourly rates, and other details.
LinkedIn
LinkedIn is an excellent platform for business communication, job search, and salary & sign-on bonus research too. If you don't have a LinkedIn profile yet, create one and start browsing actual jobs in trucking or any other industry. LinkedIn is especially good because it lets you find complete information about any company that's hiring.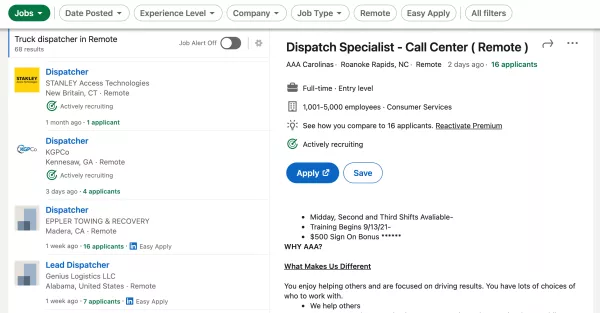 See how many drivers they employ, what kind of shipping and freight services they offer, and what's their position on the market. Use these insights during your interview and throughout the hiring process to make an impression and complete your CV with a profound understanding of the freight business.
ZipRecruiter
ZipRecruiter is another tried and tested marketplace that can be used by aspiring truck dispatchers to find jobs in specific locations. You can browse job openings to see the full trucking, freight, and shipping landscape of your region and understand what kind of professionals are in demand where you live.
Wrapping up
Truck dispatchers are crucial people in any freight shipping operation. In addition to managing truck drivers and all freight processes, truck dispatchers supervise vehicles, communicate with customers, and report to the larger business. On average, the loads carried by truck dispatchers are huge - that is why this job takes specific education, qualifications, and skills, including computer and software skills.
Transportation management systems like Track-POD were built to make everyone's job easier. Dispatchers get a web dashboard for route planning, optimization, fleet details, documentation, and reporting. Drivers get a mobile app synched with the web dashboard so that they're immediately updated on daily tasks, routes, and loads.
If you're curious to see Track-POD in action, book a demo with our team and we'll show you around.