Guide to Carbon Neutral Shipping When You Aren't UPS
Updated on July 21, 2021 by Yulia Miashkova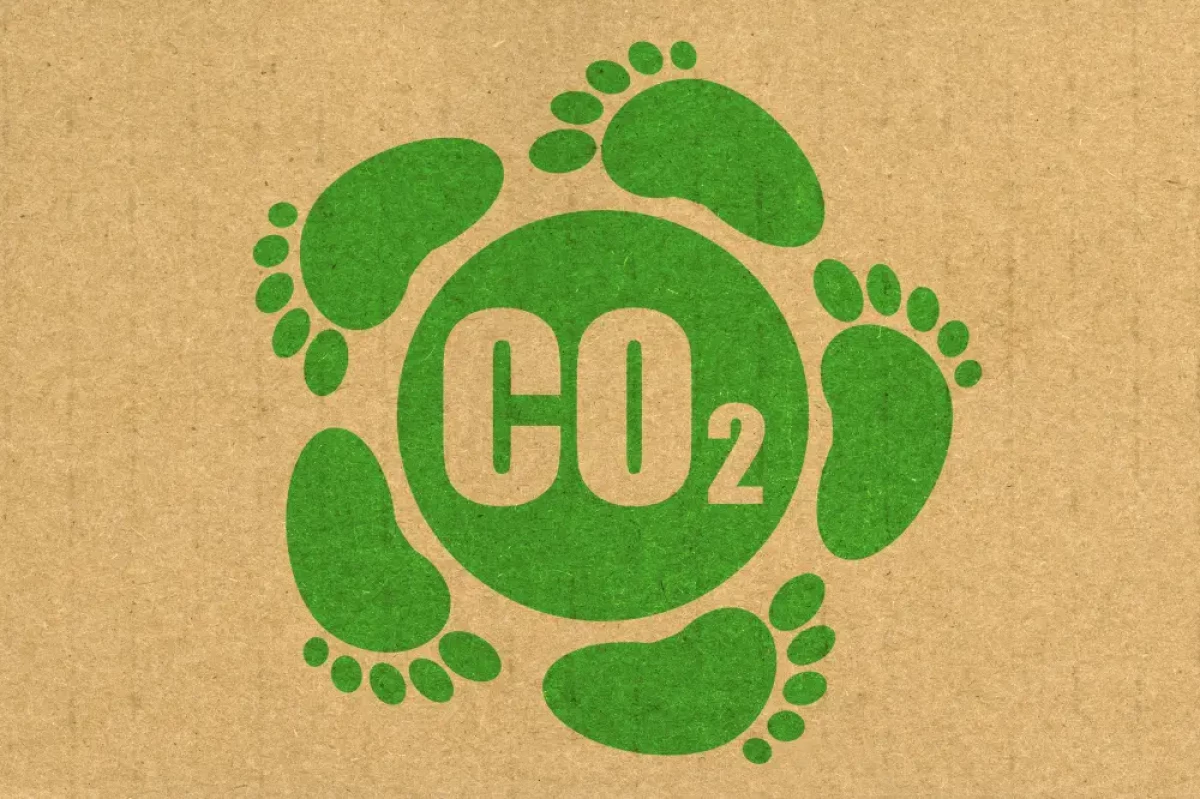 Ecommerce buyers are no longer oblivious to how companies contribute to climate change. In addition to that, people are encouraged to take individual action and make eco-friendly choices. The result: businesses are dealing with climate-conscious customers who want green, zero-emissions solutions. Carbon neutral shipping is no exception.
Sadly, the transportation industry is one of the key contributors to global greenhouse gas emissions. In 2010, as much as 14% of the global greenhouse gas emissions came from the transportation industry. Things like offset, environmental impact, and carbon footprint are on everyone's mind, and logistics providers have to take climate action to retain their customer base.
Let's look at what's happening with the logistics industry globally and locally, what kind of business landscape emerges from the carbon-neutral movement, and how companies can make sustainable choices when it comes to shipments.
But first...
What is carbon neutral shipping?
Before we get to the definition of carbon neutral shipping, we need to define some similar carbon-related terms.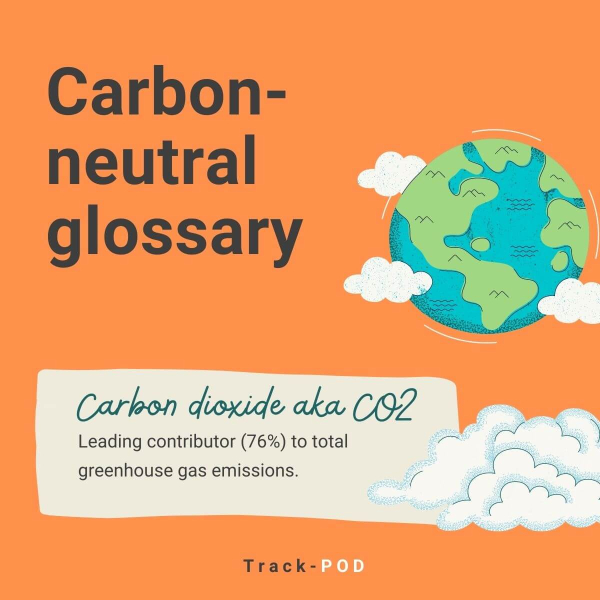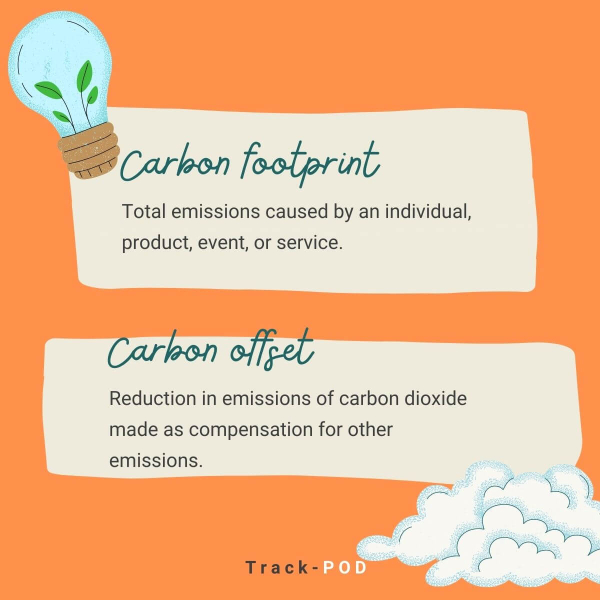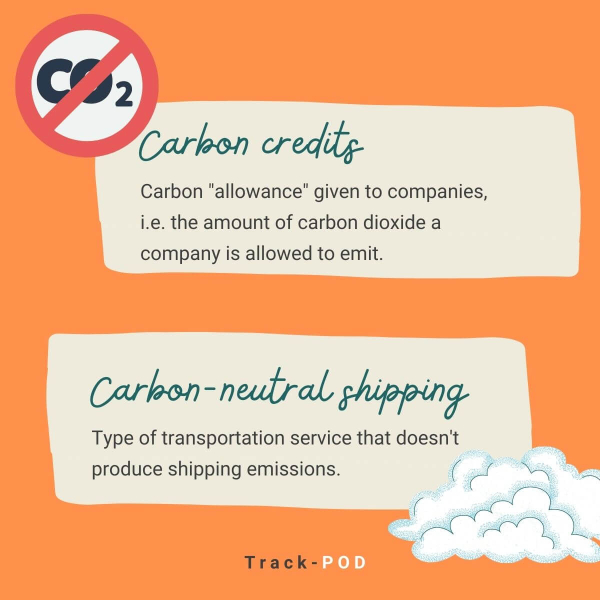 Carbon dioxide aka CO2 is the leading contributor (76%) to total greenhouse gas emissions.
Carbon footprint is the total emissions caused by an individual, product, event, or service.
Carbon offset is a reduction in emissions of carbon dioxide made as compensation for other emissions.
Carbon credits refer to the carbon "allowance" given to companies, i.e. the amount of carbon dioxide a company is allowed to emit.
Finally, carbon neutral shipping is a type of transportation service that doesn't produce shipping emissions.
Carbon neutral shipping is referred to as green, sustainable, eco-friendly, or environmentally friendly shipping because it brings no carbon emissions into the atmosphere. This is good for the air quality, helps slow down climate change, and is generally great for the planet.
What are companies doing about carbon emissions?
Every company - big or small - will have to think about its carbon footprint soon, if not already. The bigger the business, the greater the environmental impact. Therefore, more needs to be done about the carbon footprint and carbon offset. Let's look at how the biggest names in the logistics industry are taking action to be more eco-friendly by implementing carbon neutral shipping.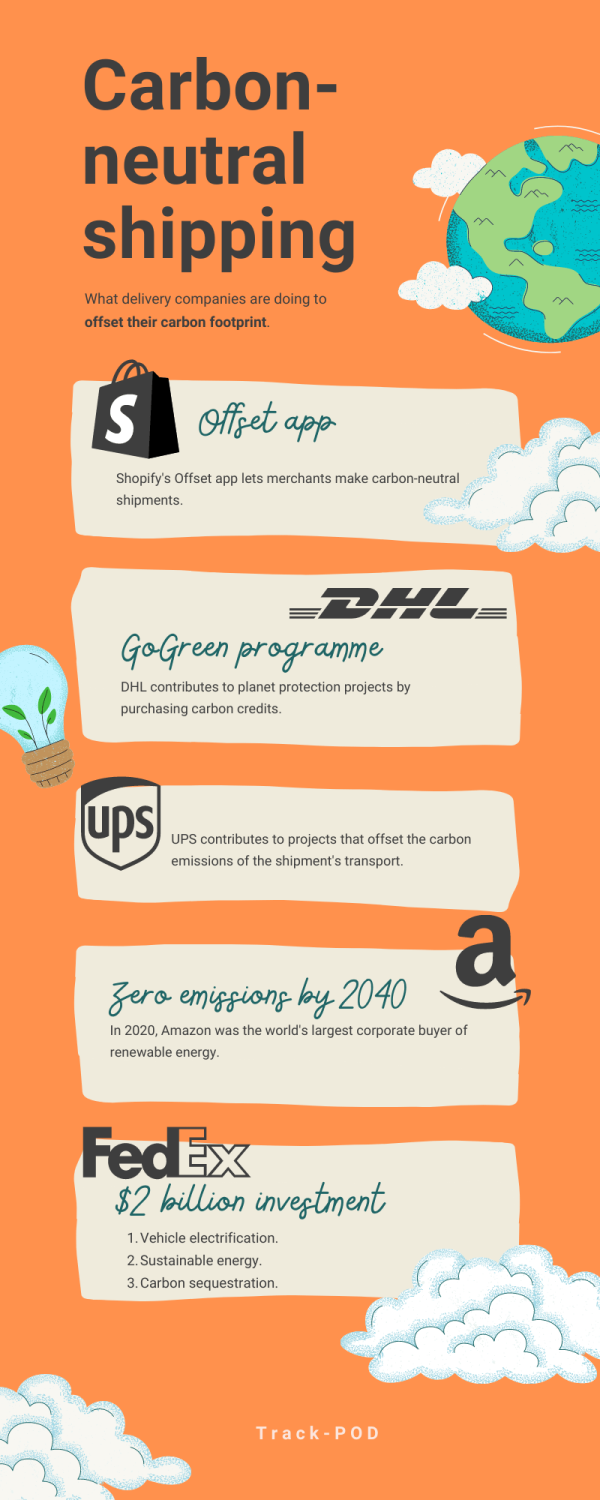 Shopify
Shopify is one of the leading eCommerce platforms that help merchants all around the world get their products to customers. In addition to the Shopify delivery apps used by eCommerce business owners to run self-delivery, the platform offers its own fulfillment services known as the Shopify Fulfillment Network.
In its 2020 Year-In-Review report, Shopify spoke about its Offset app that lets merchants make carbon neutral shipments. Furthermore, every time a buyer uses Shop Pay, delivery is carbon neutral. During the Black Friday Cyber Monday shopping weekend alone, 62,000 tonnes in carbon emissions were offset. Shopify clearly makes the effort to account for its carbon credits and bring more and more sustainable practices to the customers.
DHL
DHL's GoGreen program is essentially the company's climate-neutral service meant to reduce DHL's carbon footprint. Every package is delivered as per usual except the company commits to making a corresponding contribution to a planet protection project by purchasing carbon credits.
DHL uses a measurement process to calculate the amount of carbon emissions produced during each shipment. Then, a corresponding amount of carbon credits is purchased from verified environment protection projects that work to reduce the amount of CO2 in the atmosphere.
UPS
Similar to DHL, UPS doesn't provide carbon neutral shipping per se. Instead, the company contributes to projects that offset the carbon emissions of the shipment's transport. The projects supported by UPS include reforestation, landfill gas destruction, wastewater treatment, and methane destruction.
While this is not perfect and the business could be doing more to improve its delivery solutions, DHL obviously feels the impact of customers becoming more conscious about their CO2 records.
Amazon
Amazon is committed to reaching net-zero carbon emissions by 2040. To get there, the delivery giant measures its total impact on the planet and develops carbon reduction strategies. In 2020, Amazon was the world's largest corporate buyer of renewable energy. This couldn't be more timely seeing how the company saw a 20% increase in its carbon footprint in the same year.
According to Amazon, the business is still in the early phase of becoming carbon neutral. With the world's eyes on Amazon's incredible growth during the pandemic and its consecutive impact on the environment, the company is set to move towards sustainability and green practices.
FedEx
FedEx - the world's largest cargo airline - made the news when it announced a $2 billion commitment to become carbon neutral by 2040. This is an initial investment meant to go in three different areas that all lead to a carbon neutral future.
Vehicle electrification.
Sustainable energy.
Carbon sequestration.
Even though carbon neutral is a long way to go for FedEx, the company has to become more environmentally conscious if it wants to outperform its competition.
How can you provide carbon neutral shipping?
Going carbon neutral is not something only huge companies can do. In fact, the smaller your business, the fewer resources and materials you will need and the less waste you will be generating anyway. As a business that runs self-delivery, you can make a difference to your local community and, by extension, to the world, by building carbon neutral shipping practices.
Eco-friendly packaging
Your carbon neutral shipping starts with eco-friendly packaging. To minimize waste across your entire operation, explore biodegradable materials that your customers will appreciate. Going for natural packaging will help you win the support and loyalty of buyers and contribute to a zero-waste business operation.
If you're struggling with choosing an alternative packaging that does the job well while being harmless to the environment, check out this lineup of 9 alternatives for packaging made out of natural materials.
Fleet electrification
Of course, the biggest impact in reducing your carbon footprint will come from moving from fuel management to a 100% electric fleet. This is easier to do if you're starting out than if you have a diverse fleet already, but if the nature of your business allows it you can always introduce cargo bikes.
Cargo bikes are an excellent investment for anyone determined to delight their customers and benefit the community by providing zero-waste shipping support. This is what a zero-emissions delivery company ZMOVE did using Track-POD, and they've been successfully growing the business with sustainability, clear air, and resource optimization at the core of all processes.
Environmentally conscious route optimization
Even if you have a fleet of cargo bikes and electric vans, you still need to use your resources wisely, and that applies to routing just as much as packaging and materials you use. Look for a route planner that offers different route optimization strategies based on the vehicles in your fleet as well as your overall business strategy.
Track-POD route planning & optimization software works with three optimization scenarios - time, distance, and expense. With a fleet of electric vehicles, it makes sense to optimize your routes by distance. Route optimization software will also help you make sure your vehicle space is used wisely and each package is loaded correctly, i.e. your carriers won't need to make additional trips to complete shipping.
Carbon neutral shipping tracking
Package tracking is one of the customers' favorites. It promotes transparency and customer-centricity as you keep the buyer at the center of shipping. While some delivery companies require customers to insert an order tracking ID, best practice is to make this into a single-click routine with track and trace.
The track and trace feature allows any customer to track their delivery vehicle by clicking on the link they receive in an email or SMS. This kind of technology keeps your shipping service completely transparent which is one of the benefits of running a sustainable business.
Paperless workflow
Carbon neutral shipping is great for the environment but if you keep using paper documents in your process you aren't future-proof. Shipping is one of the areas where you can dramatically reduce the usage of paper by switching to paperless Proof of Delivery (POD).
Using their courier app, your riders will be able to collect electronic signatures and take photo proof of deliveries in case you provide contactless delivery. When you're using a Proof of Delivery solution like Track-POD's, paperless & contactless delivery comes at no additional cost, and yet your environmental policy gets additional benefits.
Final thoughts
Carbon neutral shipping is not reserved for the likes of Amazon, DHL, and FedEx. In fact, the smaller your delivery operation is, the easier it is to reduce your carbon emissions and contribute to a healthier atmosphere. By using the tools that make transitioning to carbon neutral hassle-free, you can build a business that serves the greater cause of keeping the Earth a safe place to live.
If you're set to reduce your business' carbon footprint at no extra costs, book a demo and let's see how we can help you become carbon neutral for the good of the Earth.