How to Build a Customer-Centric Delivery Business
Updated on June 08, 2021 by Yulia Miashkova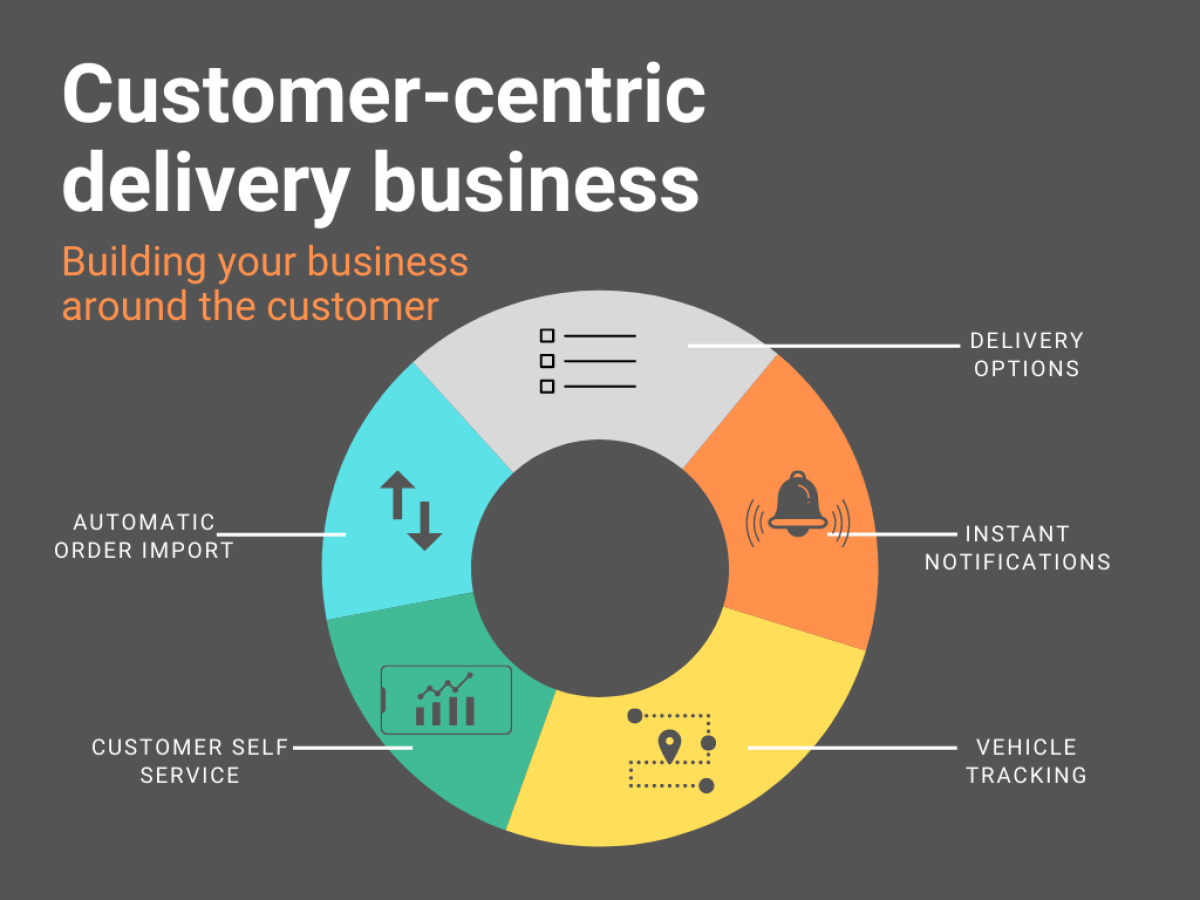 As a business owner, you get bombarded with all things customer-centric. As a result, customer-centric became a bit of a cliche that hardly anybody believes in. Isn't your whole business built around customers? If so, should you even bother creating customer-centric processes that require additional effort and investment?
The fact is, companies that lead with customer experience outperform the rest by nearly 80%. Building customer-centric practices pays off in real money, and there's no reason for your company to miss out on that.
As a delivery business, how do you deliver top-notch customer experience? You give buyers options, and you put them at the center of the supply chain. In this article, we dive into customer centricity and explore the ways in which your delivery business could level up customer experience to drive measurable results.
As usual, let's start with the basics.
[IMAGE_AD]
What is customer centricity?
Customer centricity is a way of doing business that puts the customer first – simple as that. Being customer-centric involves building business processes that make the customer journey smooth and straightforward, while also making buyers feel in control of how and what they put money in.
For a delivery business, this means giving the customer tools and options to be a part of the process – or opt-out in case they want minimum involvement. We'll first explore the ways in which the customer benefits from being a part of a customer-centric buying experience and then dive into the benefits for the business. Lastly, we'll go over the steps you can take to become customer-centric.
Ready, set, go.
Why buyers love customer-centric businesses
As a buyer, you want to deal with customer-centric businesses for many reasons. We'll go over the biggest ones to give you a better understanding of what it is that draws consumers towards customer centricity.
Clear buyer's journey
Nobody likes shady businesses, hidden fees, and complicated business structures. When choosing a company to buy from, consumers gravitate towards those that offer clear pricing options and well-articulated services. If the buyer's journey you provide involves unnecessary steps and confusing directions, customers will bounce off your website and seek similar services from your competition.
As a delivery business, you want to make sure your services are articulated in the clearest way possible and available in just a few clicks. Then, you get a steady flow of new orders without much involvement from your team.
Options, options, options
Whoever said buyers don't like too many options has obviously never worked in the delivery business. In a world of booming eCommerce, buyers want same-day delivery, contactless delivery, and free delivery. The competition is crazy and whoever offers the most options ends up winning the most customers.
When your business offers multiple delivery options, you get more orders and can therefore move from on-demand to prescheduled delivery. By packing multiple orders into a single route, you can easily reduce your cost per delivery to 10-20 cents. This isn't too far from free delivery, is it?
Empowerment
As a business owner, you want your buyers to be independent. Buyers want it too – the more tools they have to manage the delivery process, the more they move towards self customer service where they don't require assistance from your team. The feeling of control over order placement and delivery motivates customers to come back to your business because they're at the center of the whole process.
For you, it means fewer man-hours spent negotiating terms with the customer and more free time on scaling and growing your business.
Accountability
When dealing with a delivery business, customers might need to interact with several people from your side. From order placement to Proof of Delivery – there are many people involved in the process and sometimes it's hard to hold one person accountable for the entire journey.
When you empower customers to act on their own and enable instant communication between them and the driver delivering their order, you eliminate confusion and let customers resolve disputes before they even arise. Having one person associated with your delivery business – the driver – helps straighten out communication and improve accountability.
Business benefits of being customer-centric
Apart from the obvious "getting more business" perk, there's a lot your company can gain from embracing a customer-centric approach. Let's explore what it is exactly.
Reduced costs
We've already looked at how more orders mean lower costs per order. Becoming customer-centric is much more than that. Since you give your customers the tools to place and manage their orders independently, you save yourself hours of confirmation calls and customer service emails. However, if customers still feel like connecting with you regarding any issues, businesses can opt for telephone customer service. Providing such service is cheap and offers businesses to resolve different issues with various customers at a time.
On top of that, streamlined, prescheduled deliveries mean less fuel consumption, lower maintenance costs, and much better fleet management. Essentially, you take the job of a fleet manager and share it with your customers while having your part supported by technology.
Customer retention
Providing consistently high customer satisfaction is a guarantee of customer loyalty. When you remove friction from the buying process and grow trust in your business, customers want to stay with your business and even help you expand your customer base by word of mouth. Happy clients means good business, and a sure-fire way to make your clients happy is to build customer-centric experiences.
In B2B delivery business, customer loyalty translates into regular shippers. And regular shippers means little to no time negotiating with new shippers and finding new suppliers more often than you need to.
Fewer disputes
It might seem obvious but keeping your customers happy reduces the number of disputes your team has to deal with. With self customer service, transparency, and accountability comes greater trust in your business and a lower risk of conflicts you need to resolve with the customer.
As a delivery business, you also want to make sure your Proof of Delivery is shared instantly with the buyers so that they can refer to the delivery confirmation document before they decide to start any disputes. When you collect electronic signature and photo proof of successful deliveries, you provide security both for the customer and your business.
Room for growth
All of the benefits outlined above contribute to growth and scalability of your delivery operation. The happier the customers, the bigger the customer base. With lower delivery costs and ever-growing loyalty comes more room for expansion.
In addition to that, the more customer-centric you get, the more future-proof your delivery business will be. More delivery options and focus on customer satisfaction means you'll keep meeting ever-growing customer demands, outperforming your competition in the meantime.
How to build a customer-centric delivery business in 5 steps
Okay, you're convinced. Customer centricity is a win-win and you want to get on board. Where do you start? Let's go over the steps.
1. Offer multiple delivery options
The first step you can take in building a customer-centric delivery process is to embrace as many delivery options as you can. You might not be able to provide free delivery right away – although with the right route planner it's only a matter of time – but you can definitely introduce no-contact delivery by requiring your drivers to take photo proof of successfully delivered packages.
As you get more efficient at route planning & optimization, you can even move on to same-day delivery. For this, however, you'll need an excellent order import workflow. More on this below.
2. Enable automatic order import
Your order management system – be it a Shopify store or a CRM – needs to be integrated into your delivery management software for orders to be uploaded for routing as soon as they are placed. This way, you spend no time importing data and your customers don't need to wait too long before their order gets processed for delivery.
Also unifying customer data in a sprawling digital ecosystem is one of the main targets of customer data platforms. These are the best option when it comes to building a Customer 360 framework by incorporating data from all sources into one centralized location.
Track-POD offers built-in integrations as well as an API integration that lets you connect route planning and your customer-facing system. The in-built integration with Zapier alone allows you to connect Track-POD to 2,000+ apps for smooth delivery management.
3. Keep customers in the loop
Buyers don't want to interact with a dozen people from your team to be included in the delivery process. Still, it doesn't mean you can't keep them in the loop with instant customer notifications via email and SMS. In addition, you need to implement DMARC policy for your email notifications to prevent email spoofing and enhance the security of your communication.
Track-POD lets you send customizable shipment notifications to customers at each stage of order fulfillment. You can choose to send as many or few notifications as you like but make sure the customer is informed of the delivery time window as well as an accurate estimated time of arrival (ETA).
4. Vehicle live tracking
Live tracking of vehicles shouldn't be reserved for your dispatchers. Customers should be able to trace their orders in real-time too. Providing this option is much easier than it seems: the only thing you need is a last-mile delivery tool like Track-POD.
One type of notification Track-POD sends to customers via email and SMS includes a vehicle tracking link alongside an ETA. Using the link, customers can follow the driver as they're moving towards their destination, which ups the rate of successful deliveries and supports accountability for the delivery process.
5. Put customers in charge
I mentioned before how you can give your regular customers the tools to manage their orders independently. This is what Track-POD's Customer Portal was built to facilitate, providing shippers with the options to add, track, and manage orders without having to involve your team.
If you facilitate B2B deliveries, Customer Portal is a life-saver as it keeps your shippers happy while making them work for you. Evil as it sounds, this is what self-customer service is all about. Empowered customers empower the business.
Wrapping up
Being customer-centric does not equal sacrificing parts of your business to please buyers with no return on investment. In fact, quite the opposite is true. The more you build your processes around the customer, the better business you get.
The best part about building a customer-centric delivery business with Track-POD is that it costs you very little but brings great results. I hope this article inspires you for customer-centric transformation with last-mile delivery software. If you have any follow-up questions about Track-POD or would like to see the software in action, book a demo.