Real-time ETA Notifications in Route Optimization
Updated on August 25, 2021 by Tanya Derevyanko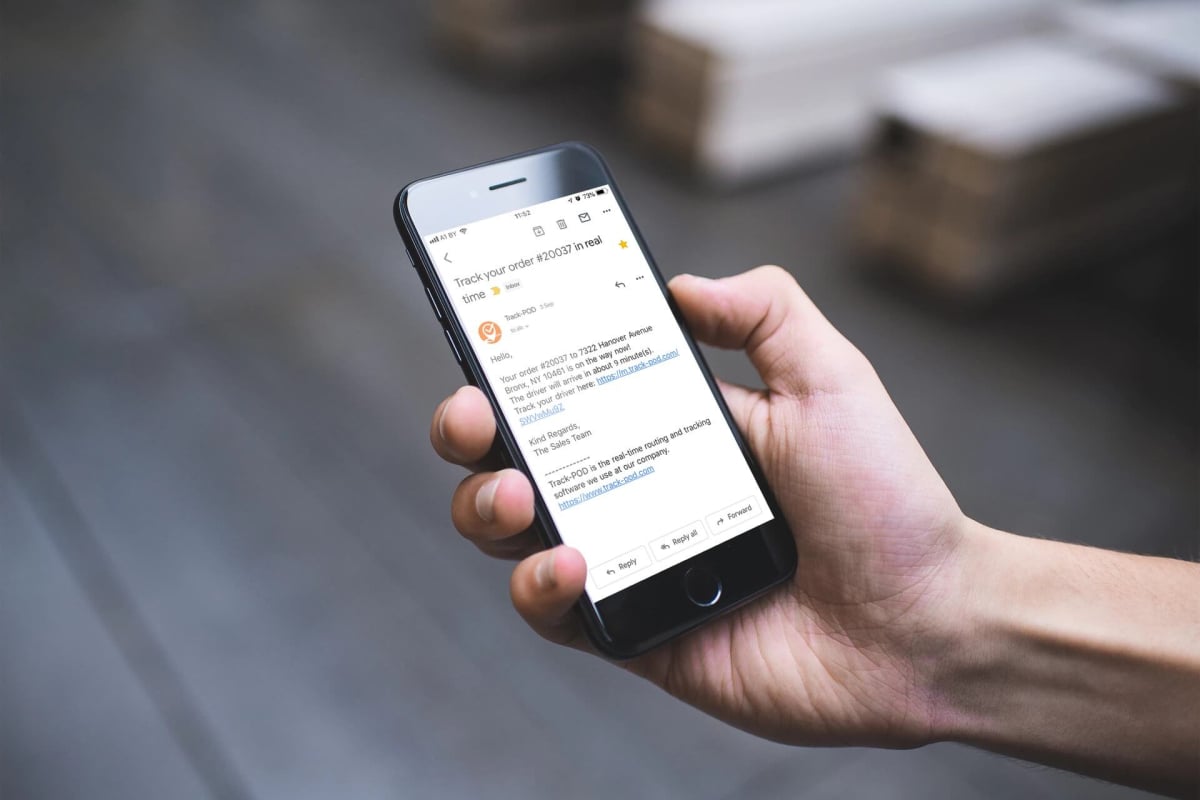 No matter what goods or services you deliver and what size of a company you are, if you belong to efficient and competitive businesses in the delivery market, you shall solve a certain set of tasks to reach your business goals, stay competitive and build long-lasting customer relationships.
The Track-POD team keeps that in mind and keeps designing important features for you to address these needs and boost your performance. Route optimization software is crucial for any delivery service – you spend less, you deliver more, and on time.
Optimize routes and create predictive notifications for customers in your route planner to increase efficiency and enhance customer experience. This blog post is all about estimated time of arrival notifications.
Why are ETA notifications important?
The question of why accurate and timely ETA notifications are important might seem like a rhetoric one, yet it's crucial to define the key benefits of using ETD and ETA in your delivery workflow.
Build trust in your processes
The shipping process involves a lot of moving parts and you can't control them all. Things like traffic, vehicle condition, cargo specifications, and any driver-related delays are pretty much outside of your control.
Yet you're supposed to provide customers with accurate data on departure date, arrival time, and any other relevant things.
By having an AI-powered solution doing the planning and optimization for you, you can be sure that ETA will be predicted with precision. With accurate ETAs comes trust in your commercial activities which is invaluable for the business.
Support package security
When you provide customers with ETA notifications, they're more likely to be at the delivery destination when the packages arrive. By capturing customers' signatures and photos of delivered cargo, you promote package security and avoid fraud.
Every time a shipping service occurs, there's room for mixups. When customers know their packages' ETA through notifications, they can make sure nobody else signs for their shipping.
Cut delivery costs
ETA notifications are helpful in improving your performance. For example, the driver won't need to go back to the delivery destination because the customer wasn't there.
Another case of ETA notifications being helpful is when the date and time of arrival are estimated in advance and the delivery destination is a long way.
Rescheduling the delivery service for another date comes with additional expenses, and estimated time of arrival helps avoid that altogether. To see our full take on the importance of accurate estimated time of arrival, check out this guide on ETAs.
How do ETA notifications work?
Below is the complete workflow of ETA notifications for the customer awaiting a package at the delivery destination.
1. Customer receives a notification with a tracking link
Track-POD sends two types of delivery notifications: SMS and email. As a business using the Track-POD delivery management solution, you can choose to send one or two types of notifications depending on the standard in your industry.
The notification sent by Track-POD includes a live tracking link. This is what track and trace is all about: instead of making the buyer use a live tracking ID to look up their package, they receive one tracking link and see their driver's location and distance from the delivery address.
2. Customer tracks driver's location + ETA in real-time
In addition to the tracking link, the customer knows when the package is expected to arrive, with dynamic ETA available for them on the same page. Think of your buyers as passengers waiting for their Uber to arrive and seeing the driver's location in real-time the whole way through.
When your customers know when their package is expected to arrive, they are more likely to be at the delivery destination. Giving buyers the option to also track their driver online is an important step in building customer-centric delivery practices.
3. Customer accepts delivery, signs on glass
The Track-POD courier driver app is not only a navigation and GPS tracking tool. It's also a tool for the driver to collect Proof of Delivery (POD) both when they're online and offline.
Using Track-POD, you can take care of your Proof of Shipping documents while keeping it paperless and contactless if you need to. At the delivery destination, the driver collects the customer's electronic signature or simply takes a photo of the package in case you're doing contactless delivery.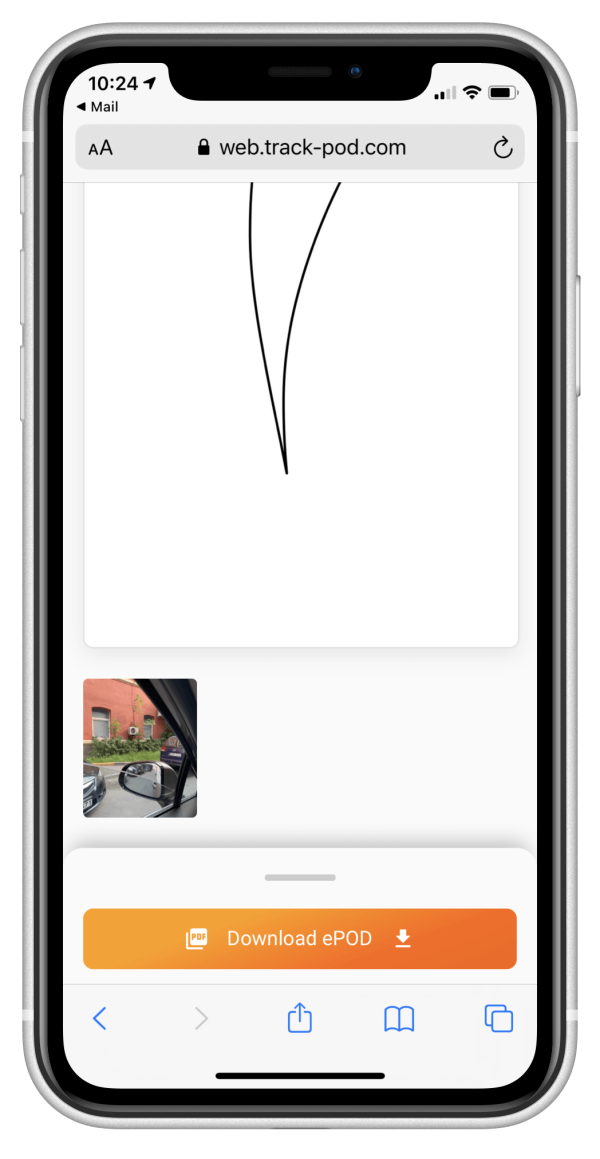 Once Proof of Delivery has been collected, the driver can complete an order in their app and it will be synced with your web dispatcher dashboard right away. Shortly after, the buyer receives a PDF document that you can customize to reflect your business style.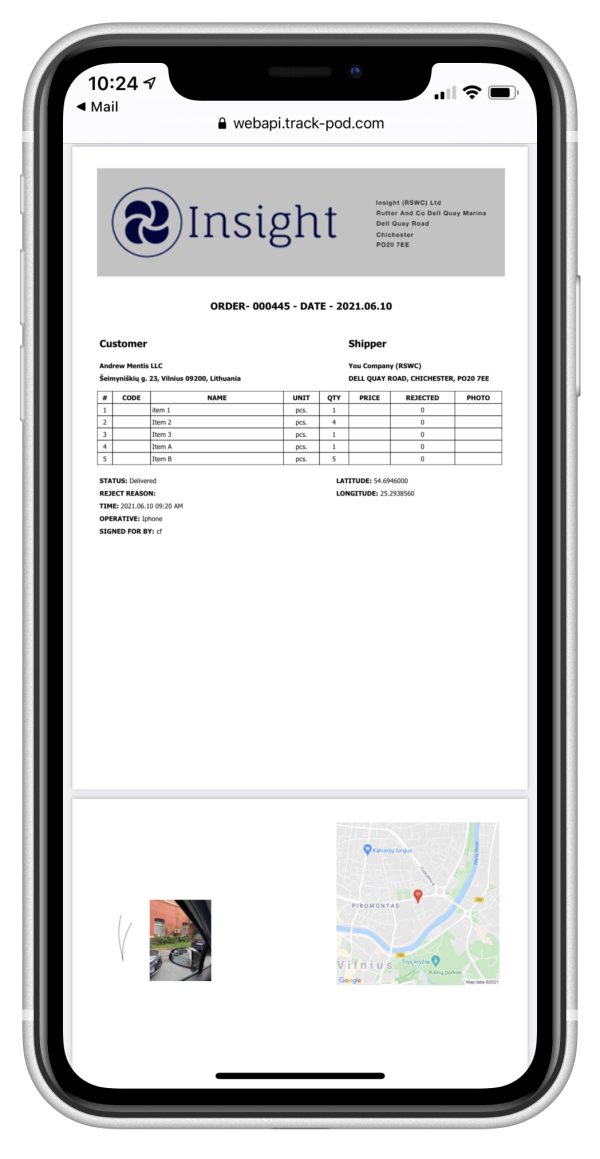 4. Customer is happy with your services
The reason you want to inform your customers of all their delivery appointments is to increase your rate of successful deliveries and up customer satisfaction with on-time delivery for every appointment.
Naturally, sending ETA notifications helps put the customer at the center of order fulfillment and improves the whole buyer journey.
Using TMS software like Track-POD is the most sure-fire way to improve your logistics operation: commercial vehicle routing to ETA to navigation. All of these provide excellent conditions for success with buyers.
Wrapping up
ETA notifications allow you to maintain a consistent level of quality service while visiting your customers. By arriving on time and being in touch with your customers, your company will avoid negative reviews and poor ratings on related websites and social media.
ETA notifications is a great feature that is beneficial both for your customers and your business no matter your industry.
If you're ready to implement ETA notifications in your logistics and delivery workflow, we're happy to give you a tour of our software. Book a demo with our team and see Track-POD in action.