Best Logistics Software for Small Business Needs
Updated on January 08, 2023 by Yulia Miashkova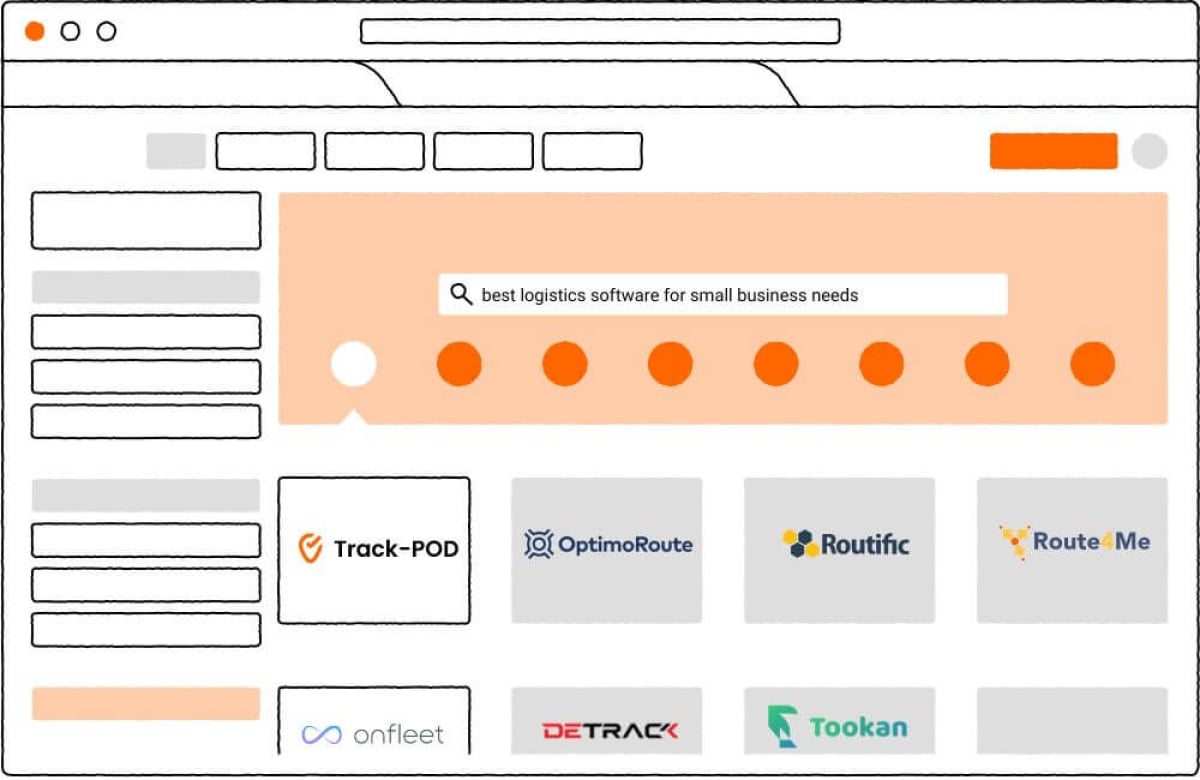 There's no single best logistics software for all delivery operations.
Because delivery operations vary in size, cargo and fleet specifications, driver capacity, and so many other things.
Even within the same business segment - say, logistics companies - there may be completely different needs depending on the services provided. Just to name a few.
Pickup and delivery support.
Time slots.
Contactless delivery.
A better way to look at logistics software might be by business size rather than industry. In this blog post, we take a deep dive into logistics software for small business needs.
First, we'll go over the key business needs of SMB logistics, then we'll review popular solutions, and, finally, compare some of the best last-mile logistics software providers.
Let's roll.
SMB logistics needs
SMB logistics solutions
Best logistics software for SMBs:
Small business logistics needs
What are the common needs that small logistics operations have? Below is a brief overview.
Fast implementation
No logistics operation - regardless of the size - has all the time in the world to implement systems and train staff. Therefore, logistics software needs to be intuitive and easily integrated into existing systems.
The fewer screens, the better. All you need to implement a small business logistics solution is a laptop and a mobile app for the driver that can be installed on any device.
How fast you can get started also depends on what kind of logistics management solution you have in place.
The best logistics software is cloud-based and will work with Excel sheets to be fully operational within a day.
Accessible systems
Small businesses may have very limited capacity in terms of fleet and courier staff. They might choose to work with contract drivers operating a grey fleet, i.e. personal vehicles used to conduct deliveries, collections, or field services.
In this regard, accessibility becomes a key requirement as all interfaces and solutions - including the driver app - need to be easy to grasp yet packed with features for tracking and fleet management.
An example of this can be a safety checklist for the driver that can be easily completed before and after every route, even if the driver is using a personal vehicle.
Flexibility
Flexibility is another key requirement small business logistics operations share. When we talk about flexibility, we mainly refer to SMB budget constraints vs the capacity to scale.
There are two pricing models offered by logistics management software. One is paying by vehicle/driver and the other is paying by the number of tasks you can plan and execute a month.
While the choice is simple for some businesses whose logistics processes are well established, others may find it difficult to commit to a pricing model that they won't be able to stick to in the long term.
The best logistics software for small businesses will consider this need and be flexible in pricing and how much room there is for scaling operations.
Transparency
Transparency is the key requirement in any supply chain management process. In small business logistics, transparency is dictated by the need to save time.
Dispatcher time - through real-time tracking of all drivers.
Customers' time - through live tracking & ETA.
Manager's time - through analytics & paperless operations.
Transparency determines customer satisfaction and order fulfillment as such. By investing in logistics software that supports transparency, small businesses can save a lot of time and money.
Value for money
Speaking of money, budget constraints will always be a challenge for small logistics operations. Therefore, you need all the value for money you can get.
As an SMB, what you're looking for is a transportation management system priced as a route planner.
Make use of your free trial options and go for a software solution that offers all the key features out of the box. As a small business logistics operation, you need to be extra mindful of hidden fees and pricy upgrades.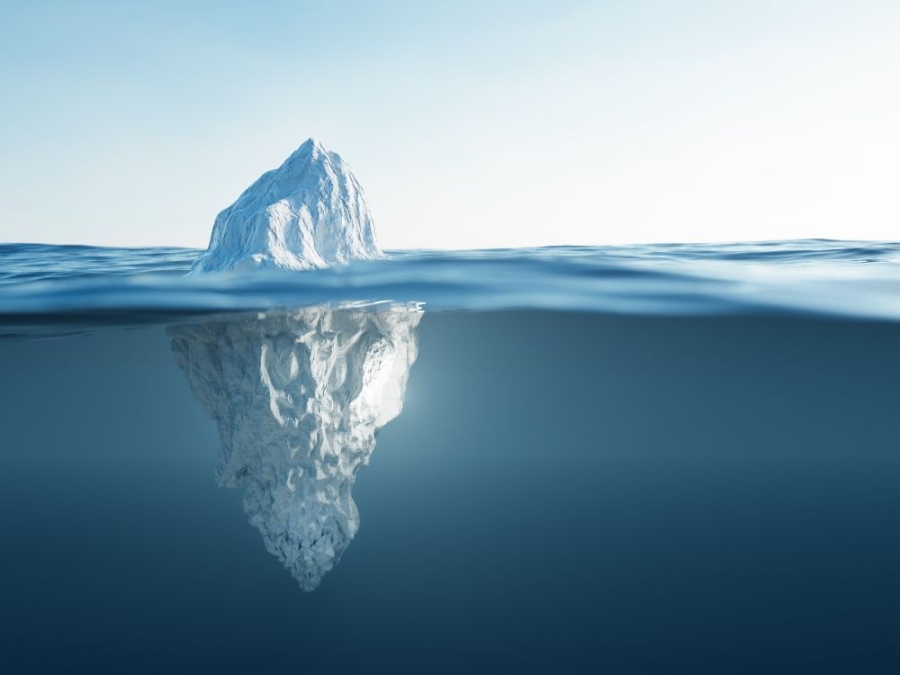 Small business logistics solutions
Now that we've reviewed the key small business logistics needs, let's go over some of the solutions offered by logistics software.
Integrations
As we've established, small businesses have no time to waste on the implementation of complex systems. The best logistics software for small businesses is cloud-based and easy to operate.
Another thing to be mindful of is how easily you can integrate logistics software with other systems. Not every small business has an inventory management or warehouse management system in place but all businesses have some kind of order processing system.
Whether it's a Shopify store or a CMR you can export orders from, you should be able to use built-in as well as Zapier integrations to set up automatic or semi-automatic order import without using API.
Shipping labels
Shipping labels is an extension of multi-stop route planning and optimization - something every logistics software provider will offer in one way or another.
Whether or not logistics software can generate shipping labels and provide barcode scanning is a good way to assess the system's route optimization capacity.
Shipping labels is what allows you to carry out error-free deliveries. By scanning QR or barcodes using their mobile app, couriers can check whether they have the correct packages on board. The best logistics software for small businesses comes with a shipping label generator.
Live tracking & ETA
Customer service is something every logistics operation strives to excel in. From offering different types of delivery services to providing real-time driver tracking - there are many ways to delight customers.
Logistics software for small business needs is built with an understanding of the delivery market.
Small operations have to compete with logistics giants like Amazon and UPS; therefore, they need to be able to provide equally good customer service.
SMS and email delivery notifications with a live tracking link and a dynamic ETA are the backbone of any successful logistics operation. Make sure you can use them without limitations to remain competitive and be able to scale.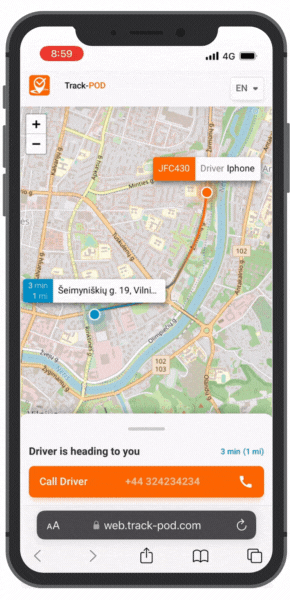 Proof of Delivery
Proof of Delivery can be many things: the customer's signature, photo proof, geotags, notes, and even audio recordings. One thing it can not be is paper-based.
Electronic Proof of Delivery (ePOD) is a must for any logistics operation that wants to save time and ensure transparency.
The best logistics software for small business needs will not only allow your drivers to collect all necessary proof of delivery but also allow you to customize the note and share it with customers as soon as the delivery service has been completed.
Analytics
Analytics allows small businesses to grow their logistics operations. By using real-time analytics, predictive analytics, and historical analytics, you can nail logistics management even with limited resources.
Small businesses can have powerful analytics, including on drivers' performance and customer satisfaction, without investing in complex transportation management systems.
Pay attention to what kind of analytics your logistics software can gather and how long it can store your data if you want to build a future-proof delivery operation.
Best logistics software for small business needs
We've now established the common needs of small business logistics operations and gone over some of the most popular solutions to these needs.
Let's now compare the best logistics software providers to see how they cater to the challenges of small business operations.
To give you a better picture of what you get with each software solution, we'll be comparing the cheapest subscription plan to the plan with the most features.
1. Track-POD
Track-POD is a last-mile logistics software provider with a flexible pricing model, which makes it perfect for small business needs.
All features are available out of the box, regardless of whether you pay for 1 driver or 6,000 orders a month with unlimited drivers.
What makes Track-POD a good choice for small business logistics operations is that it offers Enterprise features in an easy interface at the price of a route planner.
Plan thousands of deliveries and pickups at once.
Customize Proof of Delivery template in PDF.
Scan shipping labels with a barcode scanner.
Send live tracking links with delivery notifications.
Access 12+ months of performance analytics.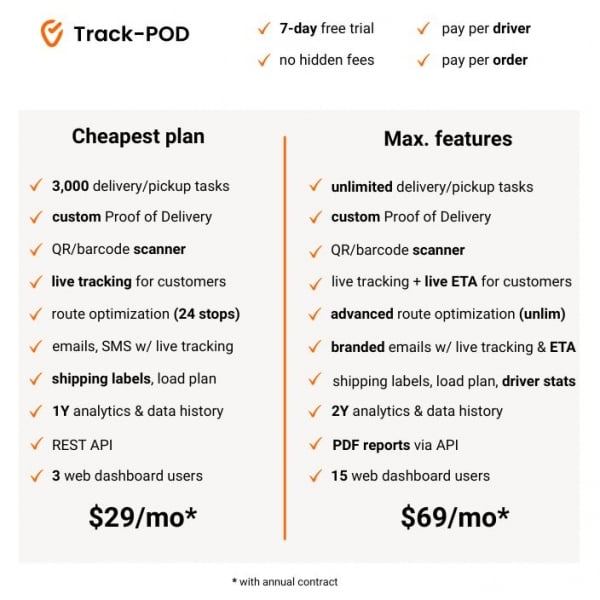 2. OptimoRoute
OptimoRoute is a route planning and workforce management platform used by logistics operations of every caliber. Its pricing model is by driver/vehicle, which makes it a go-to system for small businesses.
Like all logistics software solutions on this list, OptimoRoute works by sending routes to couriers via a mobile app. The app is what powers live tracking, ETA, and analytics.
If you're considering OptimoRoute as a small business logistics software system, keep in mind that Proof of Delivery, collection tasks, and analytics are not available with the cheapest plan.
Luckily, a 30-day free trial is more than enough to test out the system and see if it's a good fit for your business needs.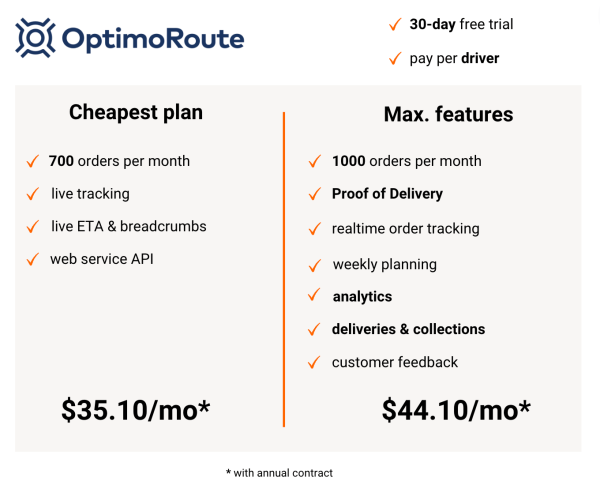 3. Routific
Routific is another logistics software vendor that charges per driver/vehicle. It offers extensive route optimization features, including vehicle capacity, priority scheduling, and time windows consideration.
Much like OptimoRoute, Routific limits some key last-mile logistics features to its more expensive plan. Proof of Delivery, live tracking, delivery status notifications, and even API are not available with Routific's cheapest plan.
As a small business, you also need to be mindful of additional fees like delivery notifications that are applied on a per-driver basis.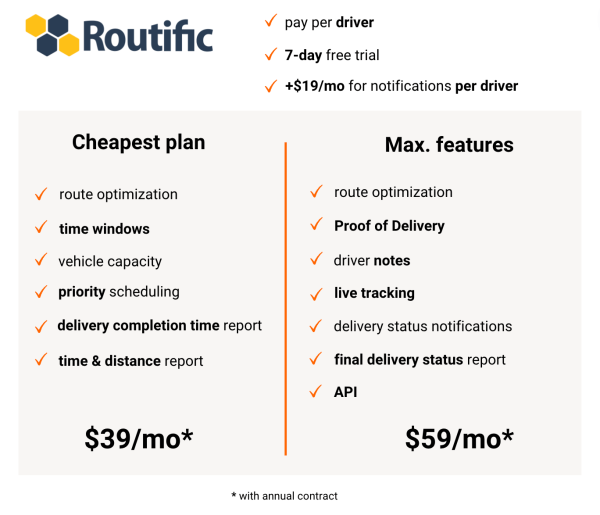 4. Route4Me
Route4Me is a popular route planning & optimization solution that charges by 10 team members at once, with every extra team member charged for separately.
In addition to the $69 charge for each new team member above 10 persons, there are add-ons (paid as well as free) that need to be activated through Route4Me's marketplace.
If you're considering Route4Me as a small business logistics operation, keep in mind that not all core logistics features come out of the box, as the platform requires quite a lot of setting up.
5. Onfleet
Onfleet is a last-mile logistics software vendor popular with growing teams. It charges per number of delivery or pickup orders a month, with unlimited users under all plans.
Onfleet's cheapest plan includes all the key features of logistics software: route optimization, Proof of Delivery, and notifications. The pricier plan also features a barcode scanner and age verification.
Any small business logistics operation that wants to scale can give Onfleet a try by taking advantage of its 14-day free trial.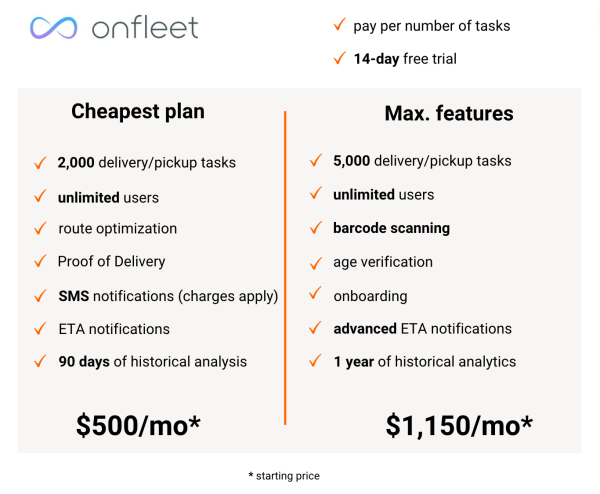 6. Detrack
Detrack is a popular choice among small business owners because it offers a free version with key features like Proof of Delivery, live tracking & ETA, as well as 30 email notifications a day.
One thing Detrack doesn't offer is a native route planner.
Instead, Detrack uses a paid integration with ElasticRoute, which means you need to import orders into one system, plan and optimize routes, then export orders and import them into another system yet again.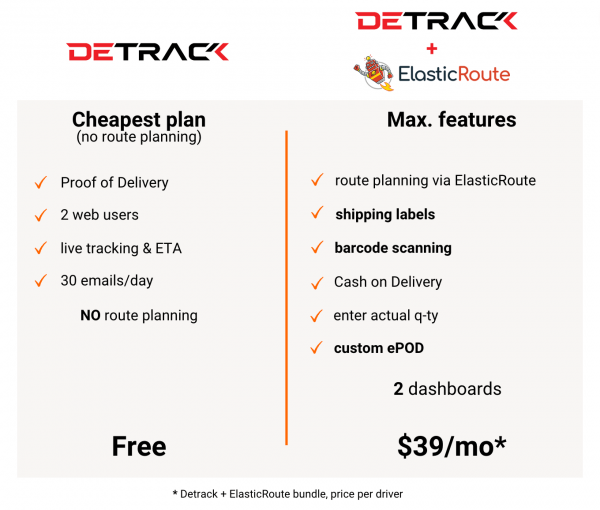 Detrack + ElasticRoute can be purchased at a bundle price of $39/mo. If you're comfortable switching between screens, the bundle is a cost-efficient solution with robust features like shipping labels and Cash on Delivery.
7. Tookan
Tookan is a delivery management platform that, much like Detrack, doesn't offer route optimization out of the box. The key advantage of Tookan is how affordable it is for SMBs: you get unlimited users and 700 tasks for a base fee of $129/mo. However, there's a catch.
Similar to Detrack, route optimization is handled via a paid integration with Mappr - $0.1 for every delivery, collection, or field service.
Tookan's pricing is a sum total of different components such as route optimization, ETA, barcode scanner, etc.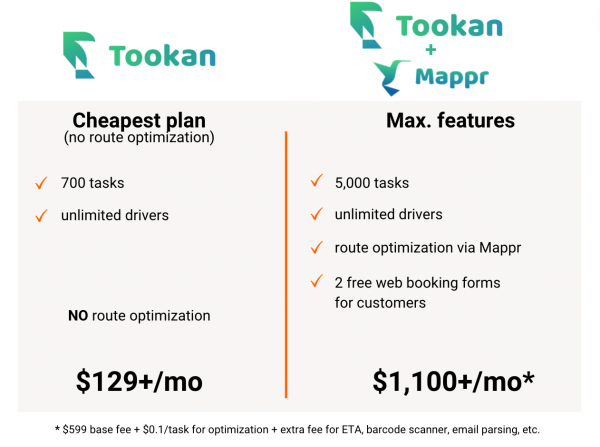 Even though you get to add unlimited drivers and organize up to 5,000 tasks per month, you need to be aware of the total costs - $1,100+ per month if you require route optimization, ETA, email parsing, etc.
Wrapping up
Choosing logistics software for small business needs is about identifying your key challenges and researching solutions available on the market.
By assessing the ease of use, accessibility, transparency, and scalability of different solutions, you have a good chance of finding a system that will support your daily operations and future growth.
In this comparison, we tried to benchmark some of the top-rated logistics software solutions against each other based on what kind of features they provide out of the box with their cheapest vs most feature-rich plan.
I hope this comparison helps you make an informed choice and handle your small business logistics like a pro.