How to Build a Solid Logistics Strategy for Small Businesses
Updated on January 18, 2023 by Burkhard Berger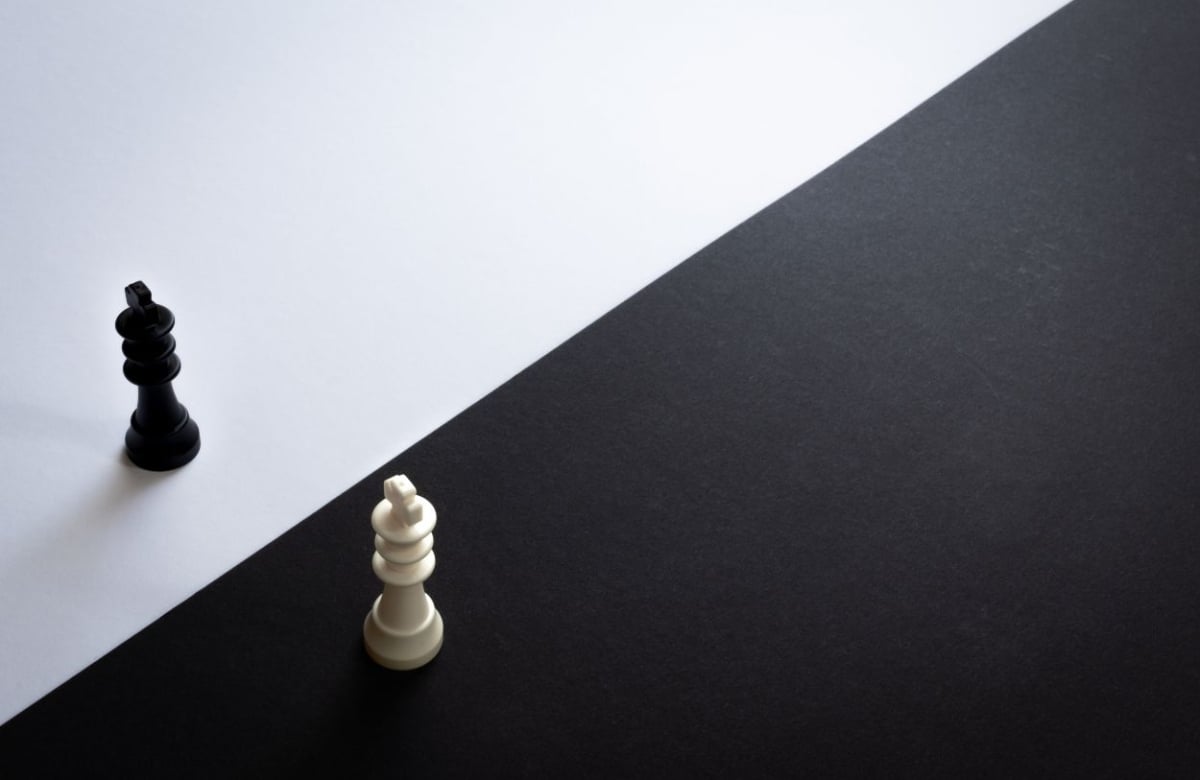 When you're running a small business, it can be difficult to keep up with the daily logistics operations of running your company. However, a well-thought-out logistics strategy can give you a competitive advantage that is paramount to your success.
When we say logistics, we don't just mean shipping. Its role in your business goes beyond that and involves the whole complexity of supply chain management. Its impact trickles down to other business functions, including customer service and reputation management.
In this article, we'll have a brief overview of what logistics is and its role in businesses. On top of that, we'll give you a guide on how you can make sure that your logistics functions are working optimally. By the end of this, you can start building your strategy to improve your logistics efforts and achieve your business goals.
What is logistics and how is it different from supply chain?
First things first, what exactly is logistics? Well, it's the process of moving goods from one place to another. However, that's the broad definition.
Let's make it a bit more specific.
It's not just about getting things from point A to point B; rather, it's the undertaking of planning, implementing, and controlling the efficient flow of goods from the point of origin to the point of consumption.
Essentially, it's the act of ensuring that promised delivery times are met in consideration of a wide range of variables. Many tasks in the logistics process focus on parts of the supply chain that are internal to an organization, such as inventory management.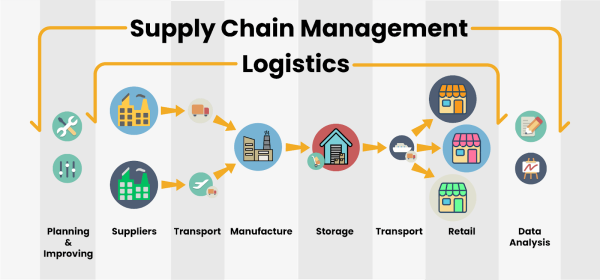 On the other hand, supply chain management (SCM) involves the continuous process of managing the various stages of production, from sourcing raw materials to the final product.
Additionally, it requires collaborative efforts among manufacturers, suppliers, logistics partners, wholesalers, and retailers.
Overall, SCM allows companies to plan for future growth and make sure the goods get delivered to customers quickly, efficiently, and on time. And logistics is just one of the many supply chain actions to achieve that.
Following our discussion of logistics, let's see what a strategy revolving around it involves.
What is logistics strategy and its different types?
The idea of creating an effective logistics strategy is to support the flow of commerce. It should be done by managing a series of connected steps needed to move a product from raw materials suppliers to the customer efficiently.
Developing a strategy for your logistics involves focusing on a few key areas, including the following.
Reducing costs.

Enhancing service quality.

Improving performance through optimizing workflows.
Overall, it requires the company to set up policies, plans, and processes that identify the priority objectives and long-term goals the business unit wants to achieve.
It should cover product movement, supplier selection, distribution channels, and customer service.
To help you understand more, we'll give you a brief overview of the types of logistics you need to be familiar with. By knowing the following, you can better understand what you should consider when creating a strategy.
A. Inbound logistics
Inbound logistics is the management of supply chains that focus on receiving products and materials. It coordinates inventory, production, and shipping to optimize the flow of materials into a facility or manufacturing operation.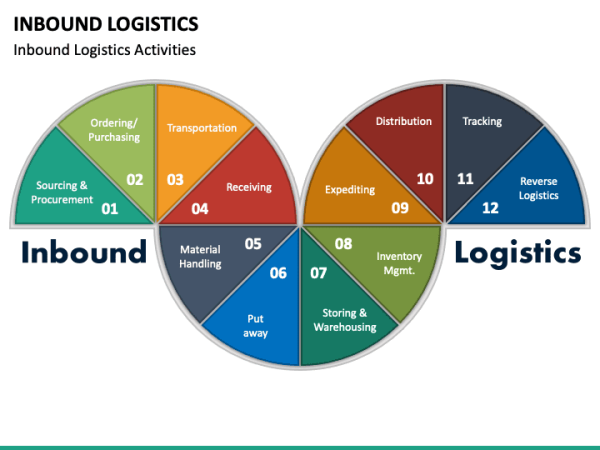 The purpose of inbound logistics is to reduce lead times, improve service levels, and increase profits by reducing costs.
B. Outbound logistics
Outbound logistics is the movement of goods from a company's warehouse location to the end user within a specific timeframe. This can be broken into three components for better understanding.
Warehouse management
It involves storing items to keep them ready for transportation when needed. Often, warehouses are in centralized locations so carriers can pick up or drop off shipments easier.
Crating
It involves ensuring that a product arrives safely and without damage to the destination by being put into a box or other container before shipping it out.
Transportation
It's the actual moving of goods from one place to another. The method of transportation used to accomplish this differs and can include ships and airplanes.
C. Third-party logistics (3PL)
This is self-explanatory and just means that third-party logistics partners are commissioned by the company. They're trusted to guarantee that the goods are delivered to customers on time.
In general, third-party logistics service providers can also be involved in other parts of the logistics network, such as storage, freight forwarding, and packaging.
If you're a Shopify brand, this is something you might be familiar with. Let's take a real-life Shopify-powered face mask eCommerce store as an example. The brand is based in Phoenix, Arizona but its products are for sale across the United States.
The Shopify fulfillment network acts as the 3PL that picks, packs, and ships face mask orders to the customer. Plus, Shopify has other 3PL partners the brand can work with and integrate into its store.
By partnering with a third-party logistics company, the brand can focus more on other aspects of its business strategy.
D. Reverse logistics
Reverse logistics is the process of managing returned goods. There are many reasons why a customer may return the products to the company, including being defective or obliged by product recalls.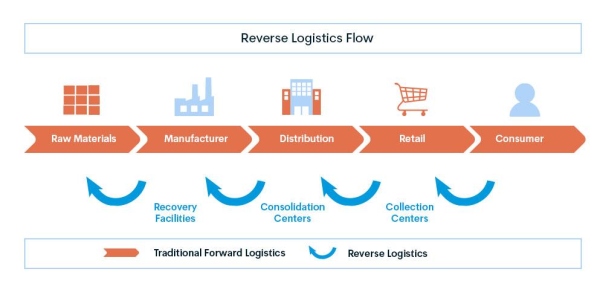 Integrating reverse logistics is an effective way for companies to build trust with their customers by allowing them to return the products they've bought. However, product return policies have to be honored by customers. Not to mention, your policies will be based on your products.
For instance, if you have car cleaning equipment, the products that the customers wish to return must be in brand-new state (except if they had factory damages) and complete with the box and accessories it came with. Otherwise, you can decline the customer's return request.
Thus, your reverse logistics process or strategy must include detailed guidelines to avoid miscommunication, which can lead to customer dissatisfaction.
E. Distribution logistics
This is a huge part of the supply chain, and it encompasses everything from warehousing to delivery. Distribution logistics professionals must have an understanding of the entire supply chain from beginning to end, including all stages of production, processing, and delivery.
You have to figure out how many products you will need, where you will store them, how you will transport them to your customers, and how much they will cost.
Afterward, you have to consider how best to get your product on the shelves at retail outlets.
With that, it's time to move forward and discuss the methods you can use to develop a profitable logistics strategy for your small business.
7 must-know approaches to creating a solid logistics strategy
The logistics industry might sound easy on paper, but applying it to your small business can be difficult. Without a strong foundation, it can be a stumbling block and cause your overall business strategy to fail.
But worry not. We've compiled a guide you can follow to build a compelling strategy for your logistics operations.
1. Identify your key performance indicators (KPIs)
KPIs are measurable targets, and you need to identify them from the start to use them as a guide for making decisions. Additionally, they should help you understand where you are now and where you want to be in the future. The KPIs could also help you identify the areas for improvement.
As a small business, you can initially focus on just a handful of KPIs that focus on costs and efficiency. For instance, you can concentrate on the cost per unit shipped or stored and the average inventory turnover rate.
As far as last-mile delivery is concerned, a good starting point is to measure your Delivery in Full and on Time (DIFOT or OTIF). As your business grows, you can certainly add more KPIs relevant to your goals.
As such, you also need to be ready to scale your business so your operation won't halt. If you're an eCommerce brand, you're going to need a hosting platform that can meet your growing business needs and help you achieve your increasing KPIs. Without a scalable platform, you're going to be stuck as a small business and have no additional KPIs.
2. Implement technology
We live in the digital era, so make the most out of it to ensure that you have an effective supply chain and profitable logistics strategy. With so many variables, functions, and actions involved, it's best to have reliable technology to help you avoid what could be costly human errors.
For instance, some logistics actions require instant time updates, including delivery times and transit times. As such, you can utilize a data pipeline stream to display real-time updates whenever a delivery or shipping occurs. It's a great way to know if everything is proceeding as planned. Plus, you can use it to identify delays and pinpoint what problem to address.
Thus, reducing the number of times a customer calls for an update about shipping. This will save a lot of time and money. And your customer service staff can focus on more serious concerns that need more attention.
As a small business, using logistics technology to your advantage can aid you tremendously.
Many automation tools are low-cost but can make your operations more efficient. For example, you can utilize delivery management software, like Track-POD, to review and authenticate if your goods are getting to customers on time.
3. Find the best shipping partner
It doesn't matter whether you're not shipping the products, if they get to the customers late or damaged, you'll be the one marred with complaints. As such, collaborating with a dependable shipping company is a must.

What's more, choosing wisely will ensure that your business has access to the most efficient and cost-effective shipping methods to get your products where they need to go.
And you must select a shipping partner that you can communicate clearly with.
Look for a company that understands your business needs and can be flexible enough to meet them. With the right partner, you can save costs and meet customer expectations.
This can be a tedious task and can be overlooked as you have your hands full managing your small business. Hence, one of the most efficient ways to get this done is by hiring a virtual assistant.
They could undertake the research and compile the list of best suppliers for your business. So, you'll only have to review a couple of them and move forward with a decision. It'll save you a lot of time to focus on other things, such as your operations strategy.
4. Utilize outsourcing
As a small business, the complexity of your supply chain strategy and logistics can overwhelm you, especially when you're just starting. Thus, it's just logical to outsource logistics tasks as part of your overall strategy.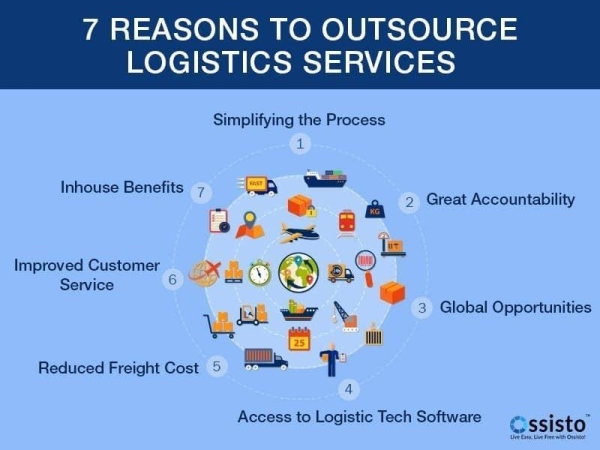 When you outsource the tasks, you can focus on the core competencies of your business, making it easier for you to scale up. Additionally, you can take advantage of the expertise they have in the field.
Using their expertise as a resource, you can streamline processes and increase efficiencies to save money and experience growth in profits.
Our advice would be to look for logistics partners who can effectively communicate with your customers and suppliers. Take the time to review their systems and processes to ensure that they're efficient even when working on numerous projects.
5. Identify your transportation needs
Identifying and planning your transportation needs as part of your logistics strategy is a great way to lay the foundation for efficiency. It's not just about getting your products from point A to point B. It also involves ensuring that you're using the right kind of transportation for the job.
In doing so, you can make sure that you're building a plan that works for both your business needs and your customer base. The following are some of the methods of transportation you can consider.
Air freight.

Ocean freight.

Ground shipping.
Two of the most important points you should review to have informed decisions are what types of goods you sell and where you need to send them. By considering this you can save money while still providing a great service for your customers.
For example, if you're selling huge items like stand-up paddle boards with bulky accessories and need to ship them within your city, a car is not enough and you should utilize a truck instead to handle their massive sizes and weight. And if the customer is across the country, the most efficient strategy would be to shift to air freight to ensure it gets there fast and on time.
6. Be prepared for challenges
When doing your logistics planning, it's best to identify the challenges you may face. As such, you can develop a risk management plan to counter those possible issues with effective solutions. This can save you plenty of time and money moving forward.
For complex logistics or overwhelming planning, consult professional logistics experts. Their experience optimizes your supply chain for efficient operations.
For instance, one of the biggest issues faced by the logistics industry is when natural disasters strike.
When that happens, almost all modes of transportation face interruption. As such, you need to be ready to communicate with your customers and give them a heads-up for the delay.
One of the things you can do is integrate a website popup to address the issue. During natural disasters, when customers visit the website, it will notify them of the delays to their shipments due to current events.
Additionally, you can review several eCommerce popup ideas to ensure it fits your branding. Plus, an effective popup design can diffuse the situation a bit, at least with more understanding customers. This is a great way to utilize a configurable solution as a small business to appease your customers.
There are other challenges you might face, including rising fuel costs, labor shortages, delayed flight times, and many more.
These issues are worrying for any company, but a small business like yours can experience bigger consequences due to limited resources. Hence, the need to plan and be prepared with contingency plans.
7. Make customer satisfaction a focal point
As a small business owner, making customer satisfaction a high priority in your logistics strategy will help you grow. Make it a goal to keep your logistics operations running smoothly and efficiently to meet or exceed all customer expectations.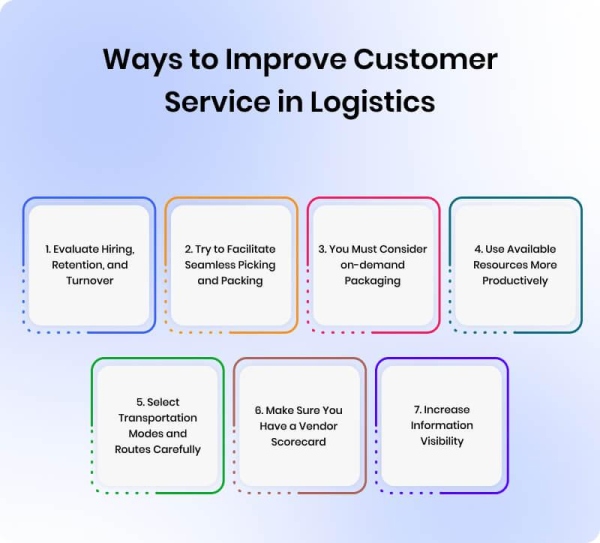 Guaranteeing that you're always on time to deliver products to customers can determine how many of them stay loyal and how many referrals are made. Plus, positive customer experiences lead to better reviews, which is great for business.
You could also use customer service software to improve their buying experience. For example, if you have an eCommerce shop, you can include it in your strategy to utilize Helpdesk for Shopify to help you compile customer tickets and assign them to your staff accordingly. Thus, you can avoid missing queries and leaving concerns unanswered.
Conclusion
Logistics is a complex process and without a proper strategy, it can make or break a company. There are always many hands in the pie, so to speak. From production to finally shipping to the customers, it requires an extreme eye for detail.
So, how are you going to cope with the intricacy of logistics as a small business?
By following the guide we've given you. It shows you the information you must consider in developing your logistics strategy. They'll give you a great foundation to build, and allow for improvement as your business grows.