NEW Customer Portal: One Click to Make Your Shippers Happy
Updated on May 17, 2021 by Yulia Miashkova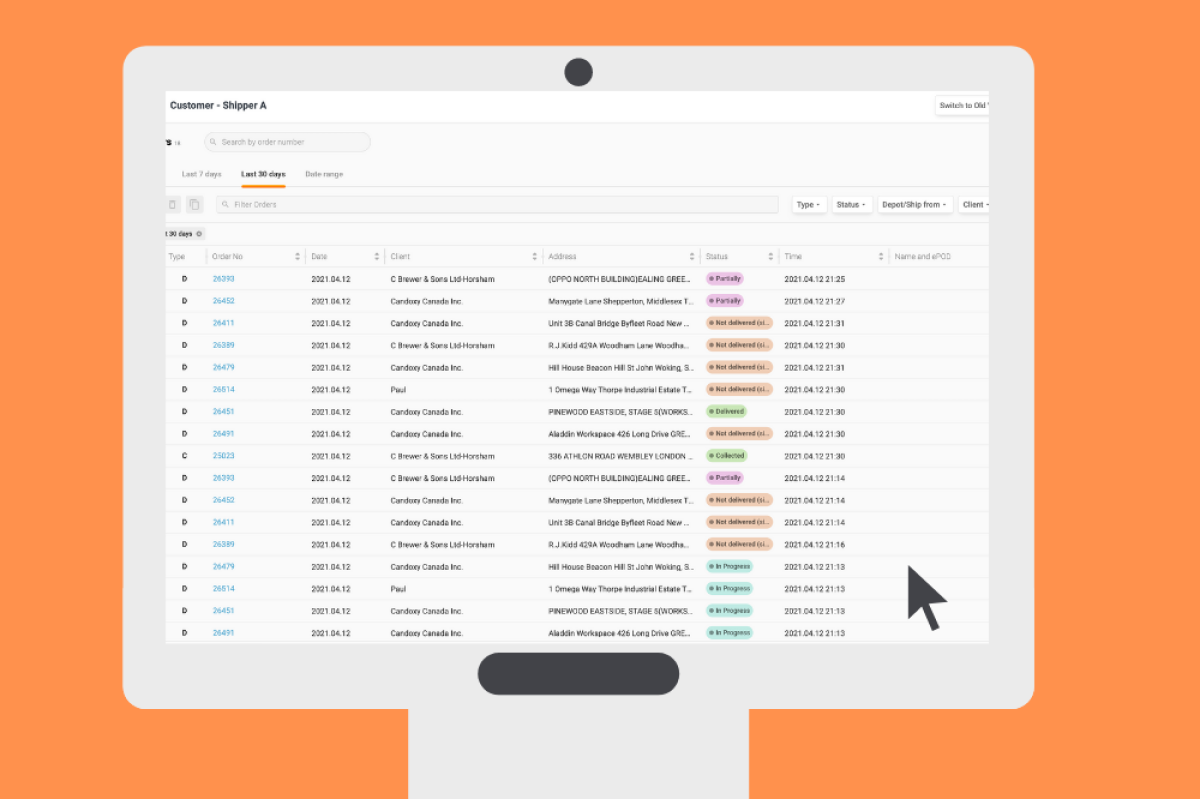 Delivery business, just like any other business, is all about teamwork. You have dispatchers and supervisors, you have drivers, and then you have customers. While dispatcher and driver can technically be the same person, customer is always a separate entity, and a key one too.
Being a major part of the supply chain, customers can add a whole lot of work to your already complex delivery process. But who said you can't get your customers to work with you and reduce the time it takes to complete a delivery? Here's how.
Self customer service in last-mile delivery
Self customer service means giving customers resources and tools to act independently. Traditionally championed by customer support departments, self customer service is meant to educate clients to resolve their issues without involving a human customer support representative.
In last-mile delivery management, self customer service is also about empowerment. You give your most prominent customers the tools to participate in delivery management and, by doing so, reduce your workload and get things done quicker.
At Track-POD, we believe that the customer can be a part of last-mile delivery management. That is why we built a web-based Customer Portal that allows shippers to add and track their orders without involving the dispatcher or supply chain manager.
To provide an even better customer experience to your shippers, we now released a new version of Customer Portal. It has everything the old version had to offer + more space for collaboration in a user-friendly interface.
Ready to see Track-POD's new Customer Portal in action? Let's roll.
Shippers hub 2.0
Track-POD's new version of Customer Portal is not only about the looks and usability. Let's dive deeper into what your shippers can do in the updated interface. But first...
Getting started
Switching to the new version of Customer Portal takes one click exactly. All you need to do is locate the Switch to New Version button to the top-right corner of your Customer Portal window.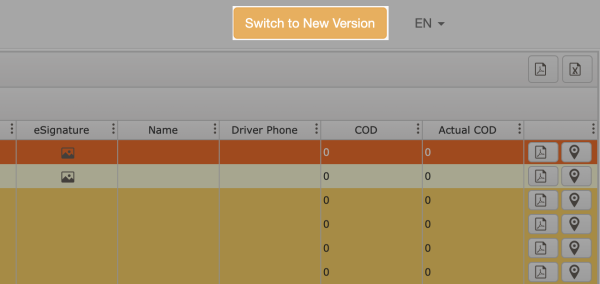 Voilà! You're good to go in the new interface. Please note that this switch is not permanent – your shippers can always go back to the old version with that same one click.
Order overview
Right away, your customers can see all of their orders under one dashboard. Alongside each order, they can see details such as type, order number, date, client, address, delivery status, and more. As always, the dashboard is fully customizable, allowing your customers to see as little or as much as they'd like to.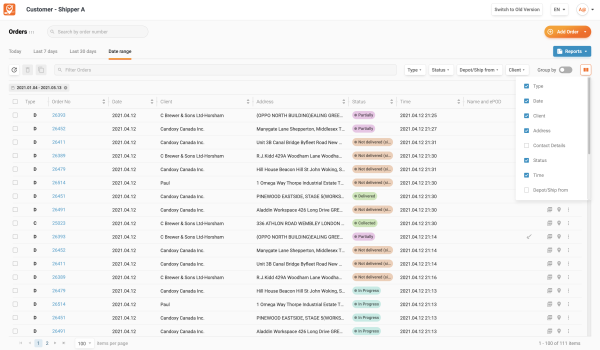 In addition to the dashboard being fully customizable, it also offers multiple filtering and grouping options to help your shippers locate specific orders. By clicking on any column, the orders will be sorted accordingly. Whenever one particular order needs to be retrieved, customers can use the Search by order number field.
By clicking on any single order number, your shippers will see an extended order preview that contains all details of this particular order.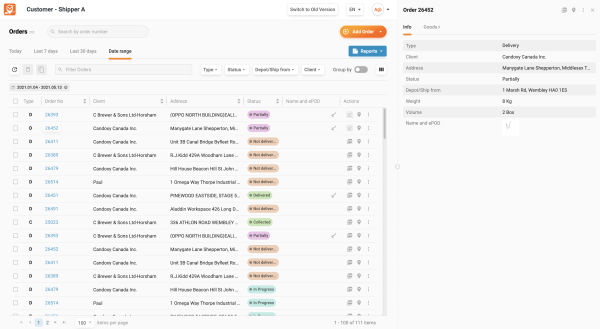 Here, you also have the Goods tab that contains all the goods delivered within that order with the search option for quick lookup.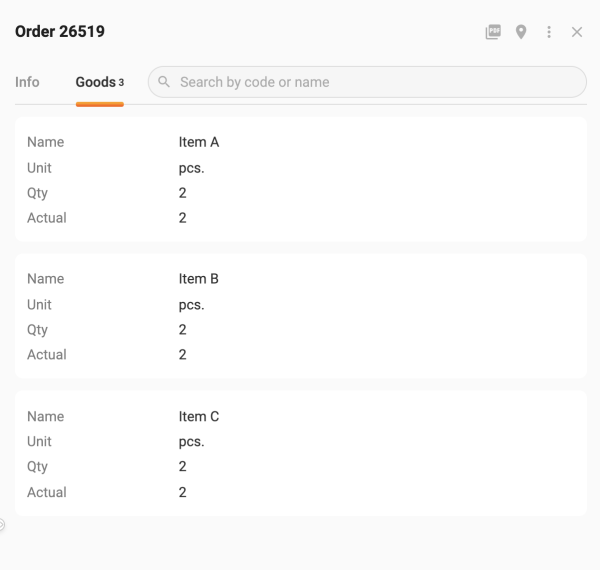 The search option for goods works with codes and names. This is one of the new features of the updated Customer Portal. Previously, shippers had to scroll through goods in the order, which takes some time in case of large deliveries.
Let's look at more of the new features introduced in this version of Customer Portal.
NEW: quick filters
On top of the filtering options described above, we introduced quick filters by date, allowing your customers to extract orders dated today or anytime in the last 7 or 30 days. As usual, there's the option to specify a date range.
To streamline order management even further, we also brought forward filters by order type, status, depot, and client.

All of these will help your shippers manage their orders smoothly and efficiently.
Adding orders
In the new version of Customer Portal, adding new orders is easier for shippers than ever before. All they need to do is locate the Add Order button to the top-right corner of the screen, and choose whether they'd like to add orders manually or import them in bulk.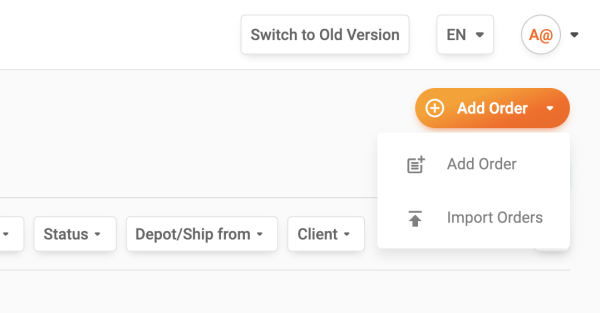 If your shipper chooses to add orders manually, they'll see a new window with 4 tabs corresponding to the 4 types of tasks they can add to Track-POD.
Delivery.
Collection.
Pickup & Delivery.

Pickup-Hub-Delivery.
Regardless of task type, your shippers will see fields for order details: main, client details, additional, and custom fields, as well as designated fields for goods.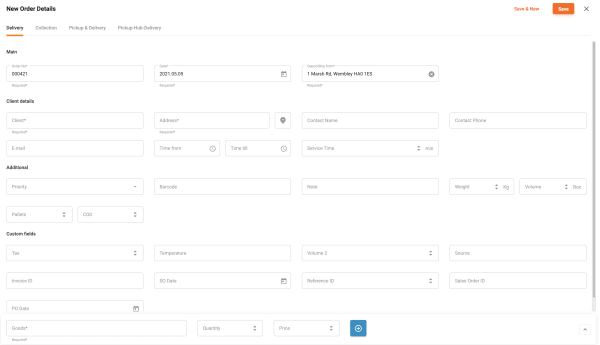 If your shippers choose to import orders in bulk, they'll see an order import window with the option to drag and drop their Excel or CSV files. On that same page, you can find templates of .xlsx or .csv files that work for importing orders. Your shippers can use these to make sure they're importing all data correctly.
When building the new Customer Portal, we focused heavily on clear design and mapping. Order import is one of the features that improved a lot thanks to the new, user-friendly interface.
More actions
Customer Portal stores all data related to the orders. Naturally, this means that your shippers can use the dashboard to live track any jobs still in progress or retrieve photos and ePOD's for all completed orders – all in one click.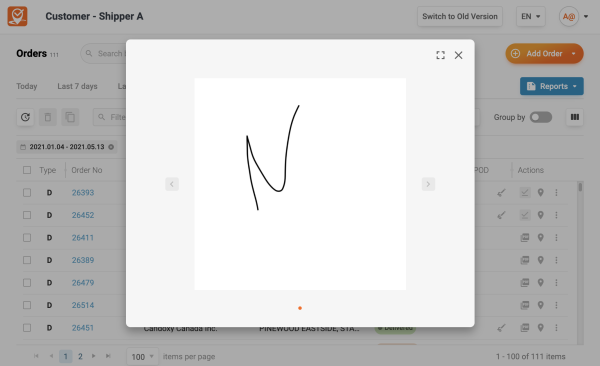 The Actions column is also where your shippers can duplicate orders. The new interface makes navigating around Customer Portal intuitive and effortless. This further supports self customer service and saves you lots of time and effort.
Reporting
Last but not least, we'll take a look at reporting. The dashboard is a brilliant way to have all orders-related information available at a glance. But sometimes, your customers need to share this data further with their team or management. To make reporting truly effortless, we offer one-click export of the entire dashboard to an Excel file.

Since the whole dashboard is customizable, your shippers' reports can be customized too. By rearranging the columns, you get different versions of the report.
By clicking the Reports button, you also get the option to export and print shipping labels to be used by drivers while scanning orders.
Ready, set, go!
Just like that, your shippers are all set for effortless order management in the new Customer Portal. Improve your business' self customer service and make shippers more empowered and happy to help you out. And if you have any questions or would like to see Customer Portal in action, do not hesitate to get in touch and book a demo.