5 Best Paperless Applications for Delivery Drivers
Updated on May 10, 2022 by Yulia Miashkova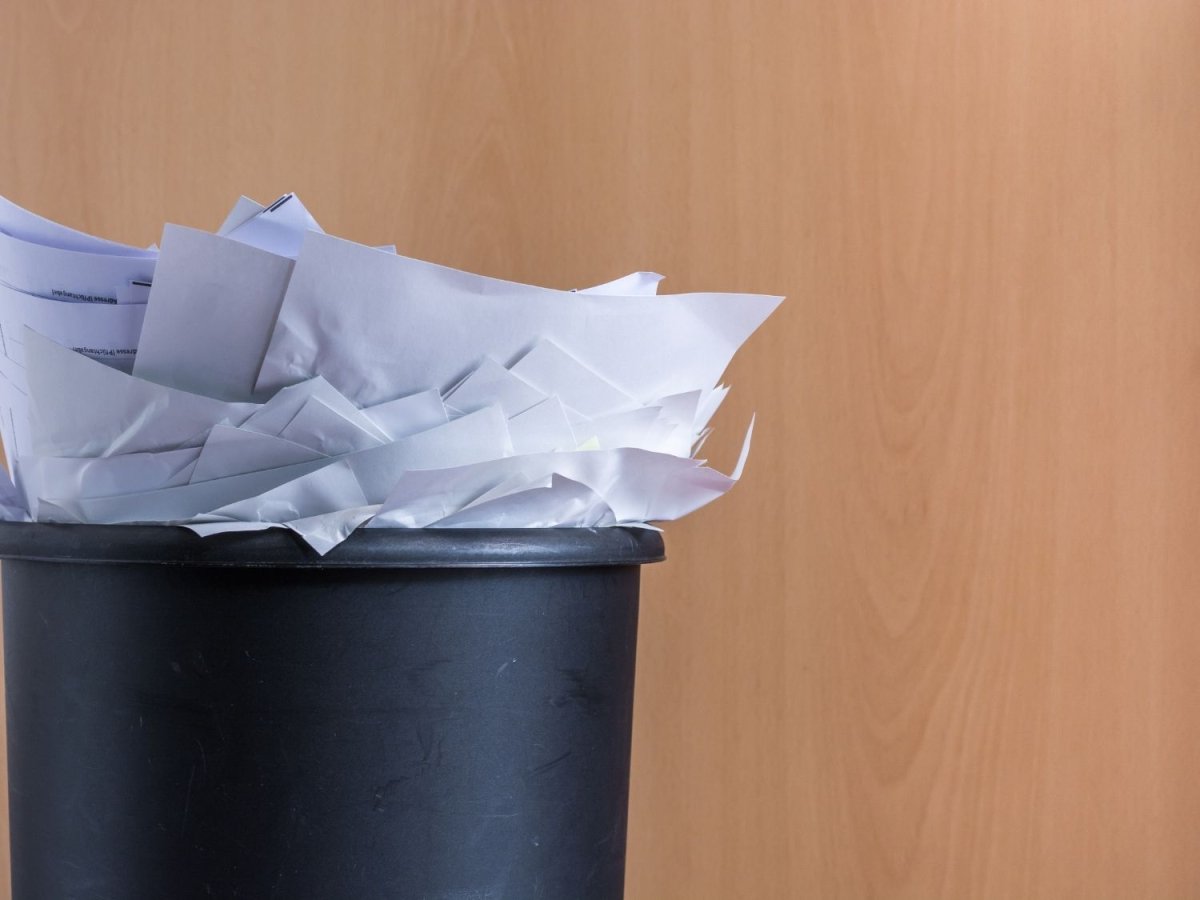 Going paperless is an objective every delivery business should have.
Why? Because paper document processing will only slow you down and cost you extra hours of driver and back-office staff time.
The best part of going paperless as a delivery business is that you can do it with one software solution in place and minimum onboarding for your drivers.
In this blog post, we take a look at the best paperless applications delivery drivers can use to collect electronic Proof of Delivery and do their job faster, better, and more efficiently.
Must-have features of paperless applications for delivery drivers
Before we dive into the best paperless apps for delivery drivers, let's briefly overview the features that make a good delivery driver app.
Spoiler: it's more than just Proof of Delivery.
E-signature capture
We start with the obvious. A delivery driver app is first and foremost a Proof of Delivery app. As such, it needs to support electronic signature capture.
E-signature in a delivery workflow is what allows you to move from multiple pieces of paper invoices brought in by each driver to a streamlined system where all documents are instantly available and easily retrievable.
Photo capture
If you want to offer your customers contactless delivery, then photo capture is a must-have feature of your paperless app for drivers.
Using only their mobile phone camera, delivery drivers can take photos of completed orders that will then populate a Proof of Delivery document together with or instead of the e-signature.
Geotags
Geotags are used to indicate the exact location of a dropoff. This is possible thanks to GPS tracking enabled through the driver's mobile app.
On the one hand, GPS tracking allows both the dispatcher and the customer to see the delivery driver's location en route. On the other, it powers geotags that then populate the ePOD document.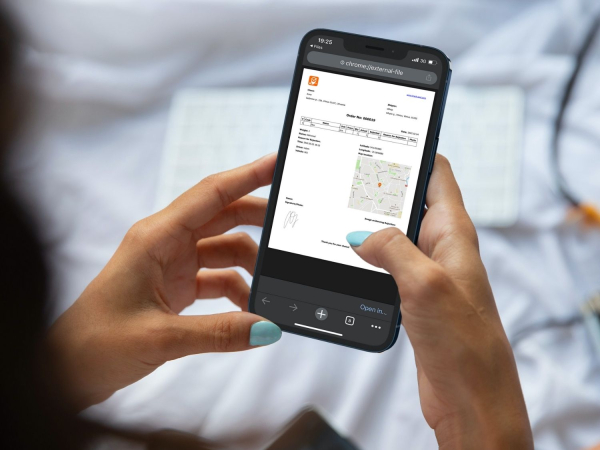 Barcode scanning
Did you know that delivery drivers' paperless applications can also work as QR and barcode scanners? Using a single mobile device, your couriers can scan packages before/after loading to make sure the right cargo is headed to the right customers.
A scanning app works together with a back-office dashboard that makes shipping label printing/scanning possible in the first place.
Load check
Load check is the primary use case of the barcode scanning functionality. As an extension of load planning, it serves the purpose of not only optimizing vehicle space and making the most of your fleet resources but also minimizing delivery failure and returns.
With simple load confirmation in place, you can avoid wasting fuel and driver time on round trips and up your rate of successful deliveries by correcting mistakes and re-loading right at the depot.
Vehicle check
Vehicle check aka safety check went from drivers filling out paper forms to completing a truck driver safety checklist with a few of taps on the screen.
The best part about it is that you can make a vehicle checklist from scratch and include all of your couriers' essentials as well as vehicle maintenance parameters.
Partial delivery
One thing you can never do with a paper-based delivery workflow is account for partial deliveries. This might be the case when some items in the order have been damaged and the customer only accepts part of the delivery.
Some paperless applications for delivery drivers offer multiple order statuses including partial delivery. Then the driver can mark their job as partially done, specify reasons for rejection, and take photos if necessary.
5 best paperless applications for delivery drivers
We've now gone over the key features that make paperless apps the drivers of digital transformation.
Let's look at 5 of the best apps for delivery drivers that offer all or some of the features that power a paperless office.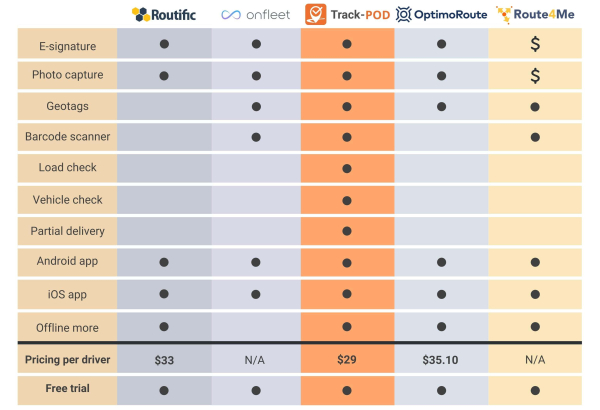 Routific
Routific is a delivery management solution that offers 2 paperless applications for the driver - Routific Driver and Routific Driver Lite. Either way, couriers will receive their daily tasks via SMS.
Drivers can complete delivery jobs and collect Proof of Delivery or skip stops and specify the reason why they did it, with the option to add a note and attach a photo. There's no option to deliver partially.
While the Routific driver app offers basic features for electronic Proof of Delivery (e-signature and photo proof) it doesn't extend much beyond that.
Pricing: under Routific's cheapest plan, you will be charged $33/mo (annual billing) per driver.
Onfleet
Onfleet is a last-mile delivery platform that covers routing and courier dispatch with a paperless delivery driver app. The app powers electronic Proof of Delivery via e-signatures, photos, and barcode scanner features.
Please note that Onfleet's barcode scanner is used only as part of the ePOD workflow. It can't be used as a load check solution before route start.
Onfleet delivery driver app is a reliable business communication solution as it offers both the in-app chat with the back-office and a tool for customers to get in touch with delivery drivers in an anonymized way.
Pricing: Onfleet charges per number of tasks a month, the cheapest plan (1000 tasks) will cost you $149/mo if billed annually.
Track-POD
Track-POD is an all-in-one delivery software that helps delivery operations go paperless and contactless. It's a 2-part solution that features a web dashboard for the dispatcher and a mobile app for the driver synced in the cloud.
Track-POD's driver app is a powerful tool that offers all of the essential features paperless applications for delivery drivers should have.
E-signature capture.
Photo capture.
Geotags.
Barcode scanning.
Load check.
Vehicle check.
Partial delivery.
Order transfer.
Offline mode.
Real-time chat with dispatcher, and many more.
Track-POD is best suited for delivery teams that need flexibility and reliable scalable solutions. You can choose to pay per vehicle/driver or per number of orders a month to include as many drivers as you need.
Pricing: starting at $29/mo per driver if billed annually.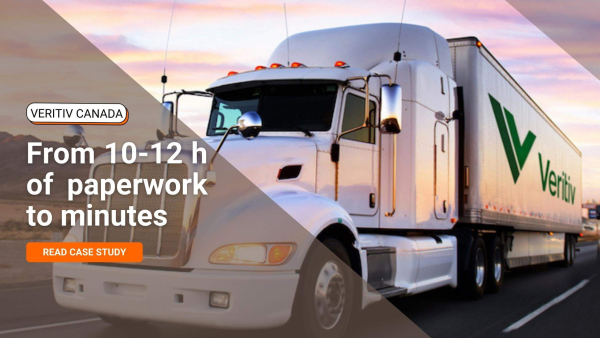 OptimoRoute
OptimoRoute is a routing and delivery management solution that features a mobile app for the courier. The app is straightforward and offers an overview of daily jobs, with updates appearing in real-time.
In terms of Proof of Delivery, the OptimoRoute driver app covers electronic signatures, photo proof, and geotags. Drivers can also add a note to the ePOD.
As far as order statuses go, OptimoRoute lets drivers choose between completed and failed orders with the option to add notes and attach photos. Partial delivery is not supported.
Pricing: starting at $35.10/mo per driver if billed annually.
Route4Me
Route4Me is a route planning software vendor that offers a paperless driver app as part of its delivery management solution. One thing to know about Route4Me is its feature and pricing model.
While some features like in-app voice-guided navigation are included in the price, many solutions like electronic signature capture and photo proof of delivery need to be purchased as add-ons.
Overall, Route4Me is an advanced and trusted solution to many logistics challenges but you'll need time to set it up and purchase all the features that you need.
Pricing: starting at $199/mo per 10 drivers, add-ons are charged extra.
Wrapping up
Paperless applications is the backbone of future-proof businesses and delivery operations are no exception.
To streamline your workflow and continuously improve performance you need reliable and easy-to-use apps that help your drivers go paperless.
I hope this shortlist of the best paperless applications for delivery drivers gives you a good overview of your options in terms of software vendors and helps you make the right choice for your delivery operations.
If you're curious about Track-POD solutions for paperless & contactless delivery operations, get in touch or book a free demo to get a guided tour.