10 Best Proof of Delivery Apps for Couriers in 2023
Updated on September 20, 2022 by Yulia Miashkova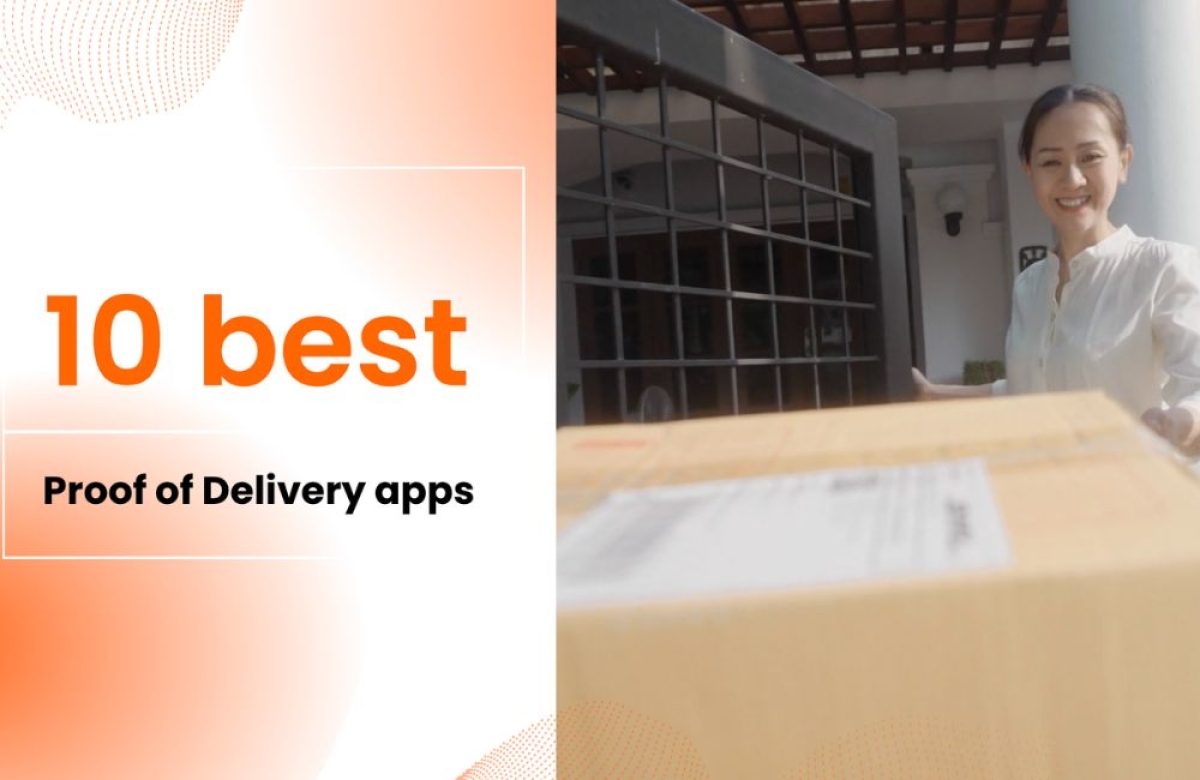 Proof of delivery (POD) apps keep logistics teams paperless and organized.
Drivers don't need to carry with them paper invoices and other documents to be signed by customers. In fact, all they need is a mobile app for delivery drivers installed on their smartphones.
Meanwhile, the back office gets all PODs in the system as soon as they've been generated with the data from the drivers' mobile devices.
Proof of Delivery apps is a win-win and a crown jewel of digitalization in the logistics and transportation industry. With so many apps available on the market of delivery management software, how do you know which one is the best for you?
This guide is here to help you out.
Proof of Delivery apps 101
First things first: there's no such thing as Proof of Delivery apps.
This is because courier apps that power delivery or service confirmation can do much more than that. To name a few:
Navigation via built-in GPS apps.
Drop management (reordering, drop transfer).
Chat with the dispatcher.
QR and barcode scanning for load confirmation.
Safety management via digital checklists.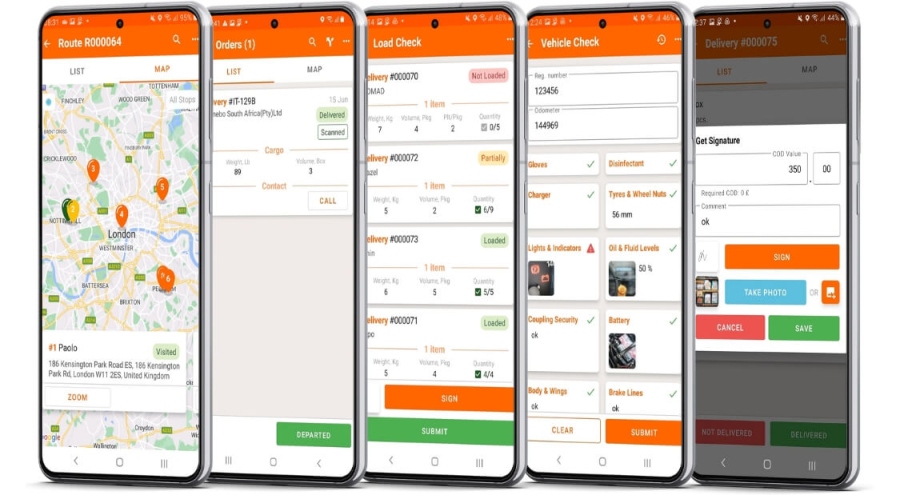 Although delivery confirmation is a central part of courier apps, there are many more features to check for - especially if you're looking to get the most out of your investment.
In this article, we focus on electronic Proof of Delivery features: the ability to collect e-signatures, take photos for contactless delivery, and provide a confirmation PDF to the customer upon completion of the service.
Without further ado, let's take a look at the 10 best Proof of Delivery apps for courier services.
10 best Proof of Delivery apps
For each Proof of Delivery software vendor, we'll give an overview of the delivery management solution and then focus on delivery confirmation features and the delivery note itself.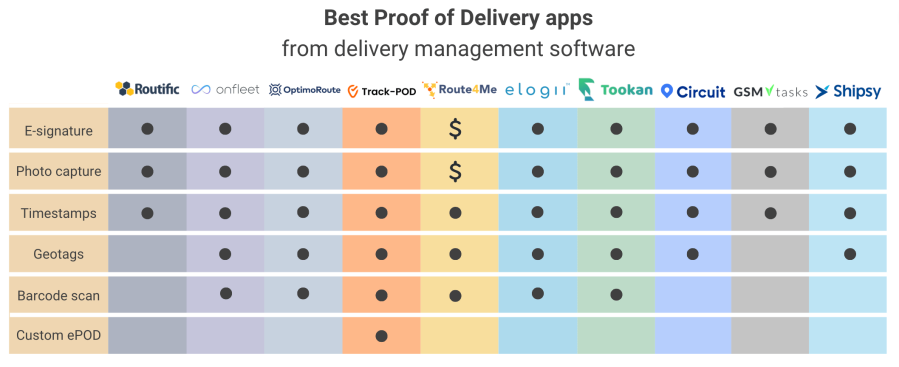 1. Track-POD
Track-POD driver app is part of the delivery system built to power paperless and contactless delivery. The software is an advanced solution for planning multiple deliveries in real-time, dispatching field service jobs, and providing delivery tracking via SMS and email delivery notifications.
Track-POD software contains a route planner for teams, with different user roles assigned to dispatchers, managers, drivers, etc. - to make sure you can add all stakeholders into the software and give them the required access for their needs.
In addition to the web planner capable of optimizing routes and planning loads, the driver mobile app covers delivery confirmation via a free barcode scanner built into the app.
The ePOD contains the customer's electronic signature, photo proof, geo coordinates, and any info you'd like to add via custom fields, e.g. the invoice number.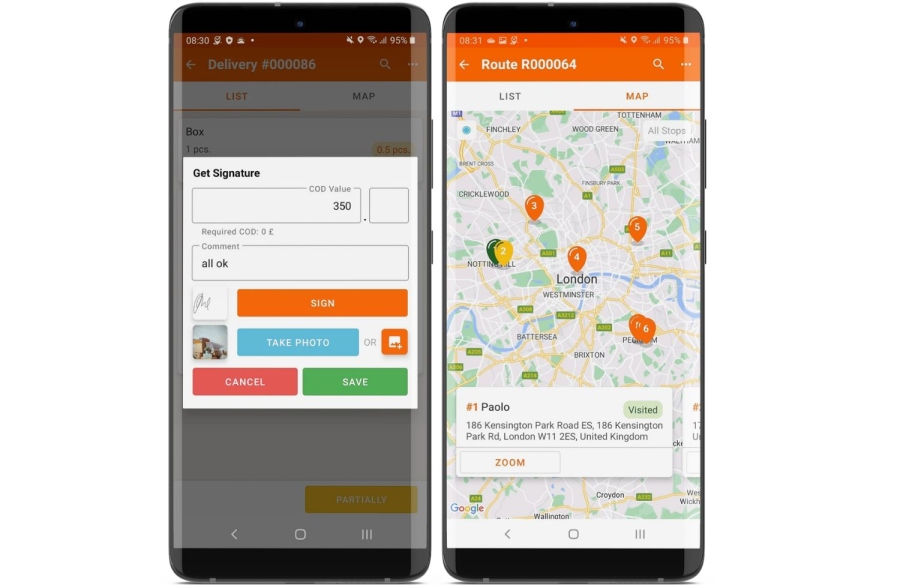 To recap, here's what makes Track-POD delivery management app the best Proof of Delivery solution for couriers.
E-signature and up to 10 photos for Proof of Delivery.
Cash on Delivery (COD).
Barcode scanner for multiple items in one order (Scan & Count).
Partial delivery and Overdelivery (enter quantity, take/upload pictures).
Geofencing (proximity to customer address is needed to collect POD).
Unlimited custom fields (include any additional info).
Fully customizable Proof of Delivery PDF.
Pricing
Track-POD proof of delivery app is installed for free from the App Store or Google Play Store. To get started, you need a subscription charged either by driver/vehicle or by the number of orders per month. The cheapest plan is $29/mo per driver if paid annually. A 7-day free trial is also available.
2. Routific
Routific is a delivery software provider capable of planning and optimizing multiple stops for multiple couriers daily. It's built to help companies provide top-notch delivery experience to customers while keeping track of all drivers in the field.
Through delivery notifications, Routific provides estimated time of arrival (ETA) and live tracking to customers, helping businesses up their rate of Delivery in Full & On Time (DIFOT).
Routific offers 2 mobile apps for couriers, both of which power Proof of Delivery.
Routific Driver supports both e-signature capture and photo proof (one photo per delivery) while Routific Driver Lite allows e-signatures only.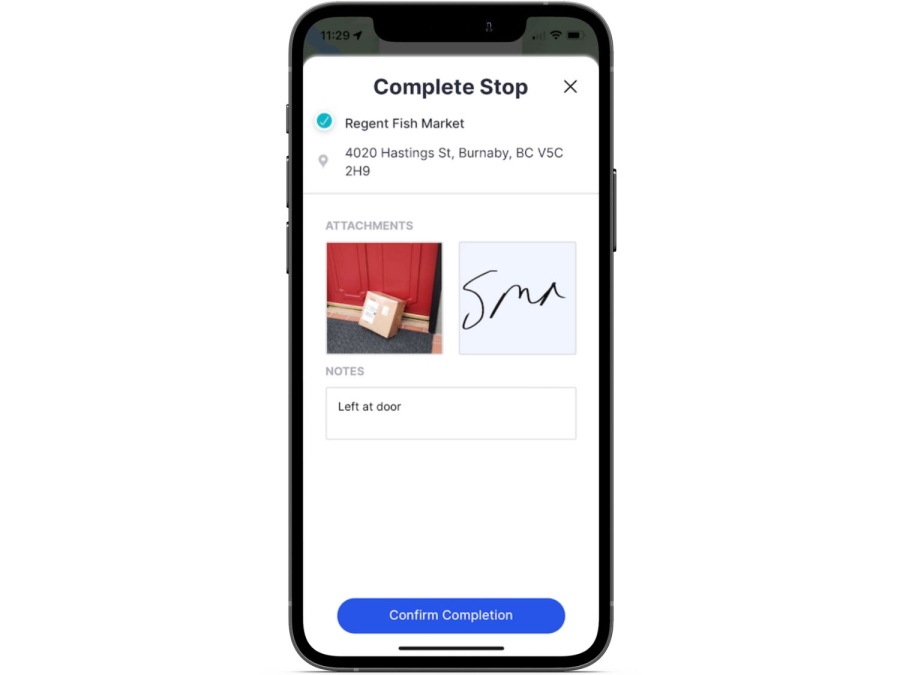 As soon as delivery confirmation has been collected, dispatchers can see it on their side. With Routific Driver, dispatchers can see both e-signatures and photo proof. With Routific Driver Lite, only the electronic signature is visible.
Pricing
Routific charges per driver per month, offering 2 subscription options. Since the cheaper option doesn't cover Proof of Delivery features, you'll have to go for the more expensive subscription and pay $49/mo per driver, and $78/mo per driver if you need to share delivery notifications with customers. A 7-day free trial is available to help you test the software before investing.
3. Onfleet
Onfleet is a delivery management system that covers multi-drop route planning and optimization, customer notifications with ETAs and live tracking, as well as Proof of Delivery with feedback collection.
Like other delivery management software systems, Onfleet integrates with third-party solutions in place at your organization via API to ensure smooth data transfer in real-time.
Onfleet driver app supports photo capture, electronic signature capture (including contactless signature collected via SMS), age verification in cases where this is needed, as well as barcode scanning.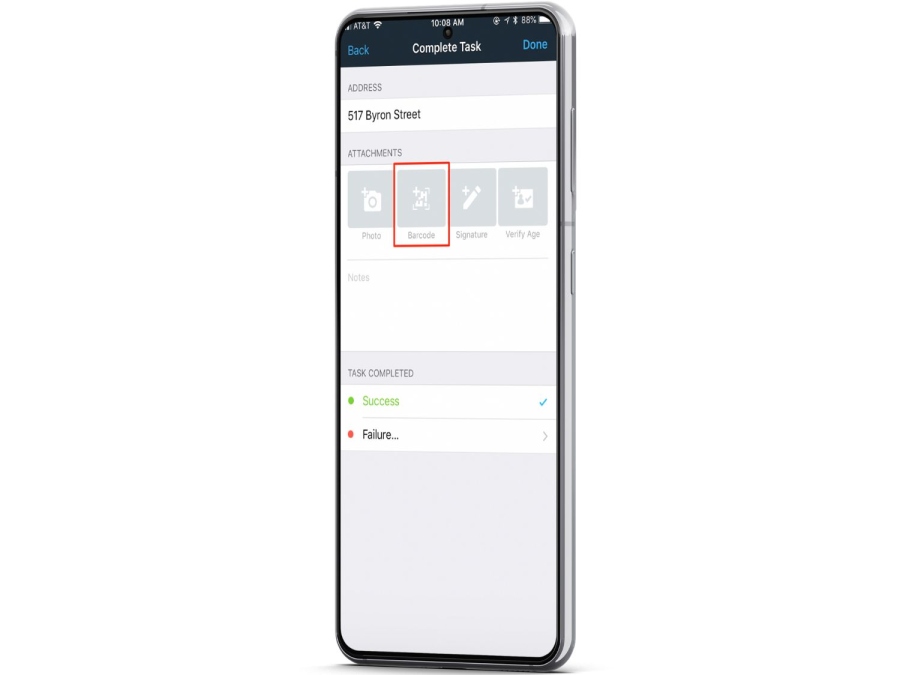 Please note that the barcode scanning feature is not included by default and needs to be enabled as an add-on.
Pricing
Onfleet prices per number of tasks a month, with the cheapest plan covering 2,000 tasks ($500/mo). If you wish to use barcode scanning and age verification as part of your Proof of Delivery workflow, you'll need to opt for more expensive plans ($1,150+/mo). A 14-day free trial is available.
4. OptimoRoute
OptimoRoute is a route planning and Proof of Delivery software vendor that offers all essential features for multi-drop delivery management as well as field service management.
Similar to other solutions on this list, OptimoRoute comes in 2 parts: a web app for the back office and a mobile app for the driver.
With features like customer notifications, live tracking, and ETA, OptimoRoute helps businesses offer excellent delivery experience, part of which is electronic Proof of Delivery.
Proof of Delivery with OptimoRoute consists of 3 components.
Electronic notes.
E-signatures.
Photos (multiple photos are allowed within one order).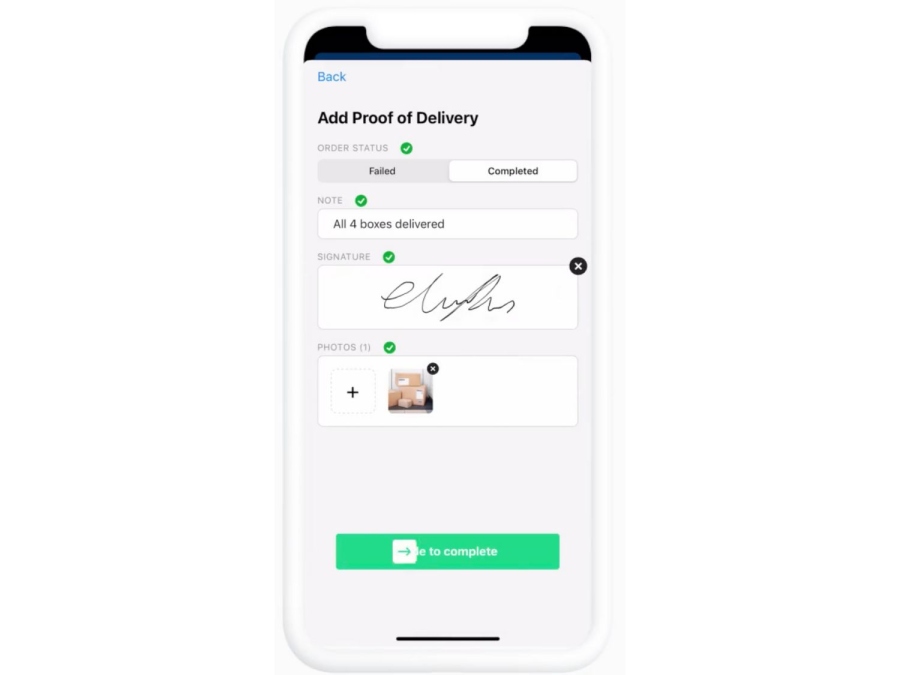 Meanwhile, dispatchers can see newly created ePODs in the Live tab as well as in the Analytics tab. If you want to share your Proof of Delivery documents with customers, you'll need to download the PDFs first.
Alternatively, you can enable ePODs inside real-time order tracking - then the customer will be able to see the delivery/service note as soon as the job has been completed.
Pricing
OptimoRoute charges per driver per month, offering 3 subscription plans with different sets of features. Proof of Delivery features are available under the Pro plan ($44.10/mo). A 30-day free trial is also available.
5. Route4Me
Route4Me is a paperless delivery system that covers all the steps of an efficient delivery workflow.
From instant multi-drop routes to delivery notifications, driver tracking, and logistics KPIs, Route4Me helps organizations make the most of their transportation resources while keeping customers happy.
Paperless Proof of Delivery is an essential part of Route4Me's ecosystem. Here's how your drivers can use the Route4Me app to collect delivery confirmation data.
Collect e-signatures.
Take photos.
Leave notes.
Take videos.
Record audios.
Once all required data is collected, an ePOD file is accessible from all devices connected to the account. This covers the web dashboard and the route planner app.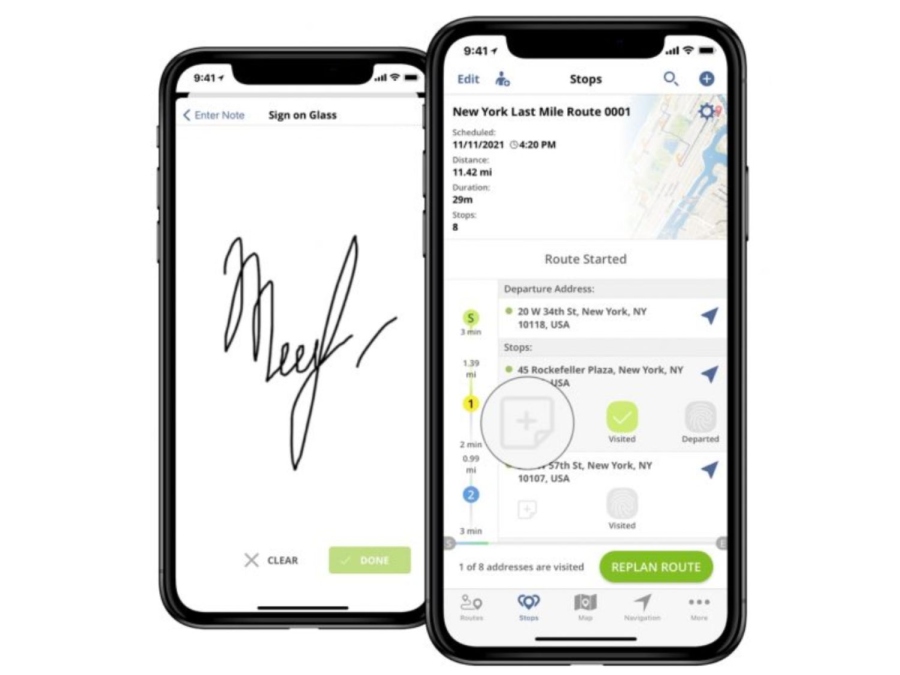 Pricing
Route4Me offers 3 subscription plans ($199-$349/mo), each covering up to 10 team members. The platform is a marketplace, and features like e-signature and photo capture need to be paid for additionally because they're enabled as add-ons. A 7-day free trial is available.
6. eLogii
eLogii is a logistics management platform that comes in 5 modules: Routing and Planning, Operations Management, Fleet Management, Customer Experience, and Insight and Analytics.
It offers all of the must-have features that delivery operations need to plan and execute multiple deliveries per day. Data is seamlessly transferred via API and customers are always kept in the loop with live tracking and notifications.
As part of its delivery confirmation workflow, eLogii provides electronic signature and photo capture, barcode scanning, security codes, geo stamps, timestamps, and age verification capabilities.
Once generated, ePODs are automatically uploaded to the main back office system. From there, dispatchers and route managers can quickly fetch all documents.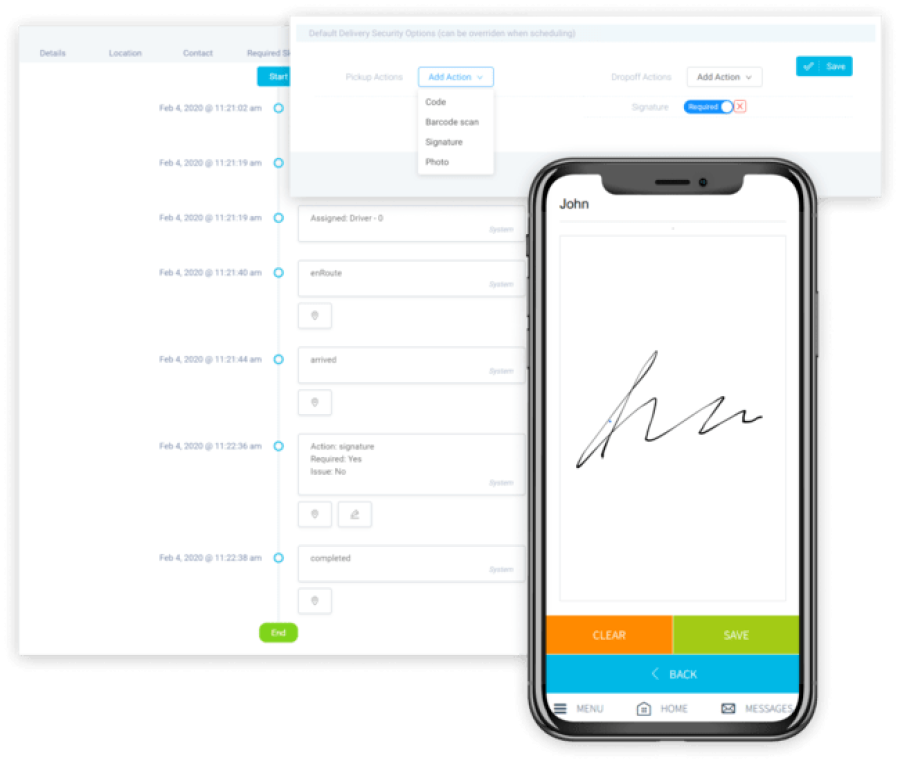 Pricing
eLogii pricing is available upon request. It will vary from operation to operation depending on the needs and the scope of logistics activities. There's no free trial option available.
7. Tookan
Tookan offers a wide range of solutions to business challenges. From delivery management and route optimization to booking forms, field fulfillment, and even a customer app - there are features built for many use cases of business operations.
All delivery management solutions provided by Tookan are meant to help delivery teams go paperless and improve customer experience. Electronic Proof of Delivery is an essential part of both.
Below are some of the delivery confirmation solutions powered by Tookan.
QR code and barcode scanning for pickup and delivery.
Geofencing to ensure the right location.
Photo capture to prove task completion.
Image captions for comments.
Electronic signature to confirm delivery.
E-forms for detailed product information.
With all ePODs stored digitally and accessible at any point in time, paperwork can be eliminated and all records can be kept in order.
Pricing
Tookan charges per number of tasks a month. The plans range from $129/mo to $599/mo but you'll need to pay extra for features like route optimization and email parsing. A 14-day free trial is available.
8. Circuit
Circuit is a delivery management platform available in 2 modules: Route Planner for individual drivers and Circuit for Teams for multi-drop route planning, tracking, and delivery confirmation.
Proof of Delivery features are available under the team plan.
Among the data your drivers can collect to prove successful completion of services are the customer's name, signature, and photo proof.
Drivers can also add text notes to provide any additional details relevant to the dispatcher or route manager. Once the delivery has been completed, Circuit can send SMS and email notifications to customers with all the details of the rendered service.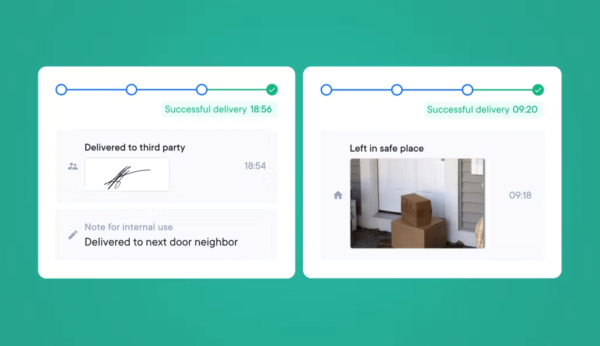 The customer's e-signature and photo proof will be available in the manager's web dashboard upon completion of the delivery service.
Pricing
Curcuit for Teams comes in 3 plans, with Proof of Delivery features available under the Recipient plan ($200/mo per 3 drivers). A 7-day free trial is available.
9. GSM Tasks
GSM tasks is a delivery software vendor that offers multi-drop routing, instant scheduling, live tracking, fleet analytics, and Proof of Delivery solutions to logistics operations that want to go paperless and improve their efficiency.
GSM Tasks integrates with eCommerce platforms like Shopify and WooCommerce as well as CRMs and warehouse management systems (WMS) for instant data transfer and smooth routing and scheduling.
To power delivery confirmation, GSM Tasks allows drivers to specify the customer's name, collect electronic signature, take photos, and leave text notes.
Once generated, signed ePODs can be sent to customers to confirm successful delivery and avoid misunderstandings or disputes.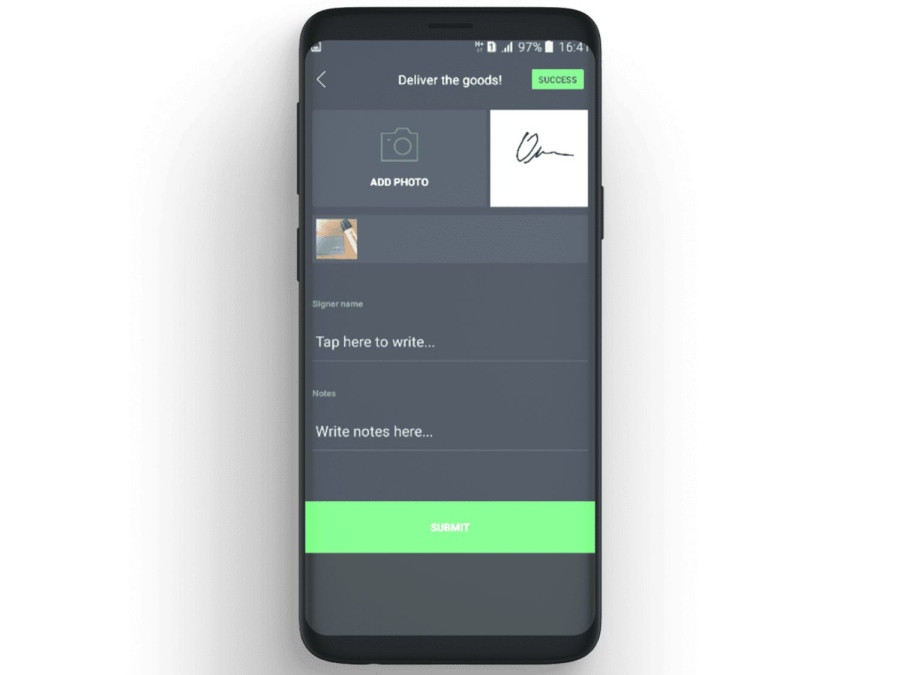 Pricing
GSM tasks charges per user, with unlimited tasks included in each subscription. The cheapest plan that covers Proof of Delivery features comes at $17/mo per user. A 14-day free trial is available.
10. Shipsy
Shipsy is a logistics software solution provider powered by AI. It's an advanced logistics platform built for many use cases and operation sizes, including international logistics and freight forwarding.
Some examples of Shipsy's last mile delivery solutions are route planning & optimization, geofencing, delivery driver app, and customer communication solutions ranging from SMS to WhatsApp.
Delivery confirmation is obtained with e-signature collection, photo proof, and timestamps. Customer feedback can also be collected as part of the delivery workflow with Shipsy.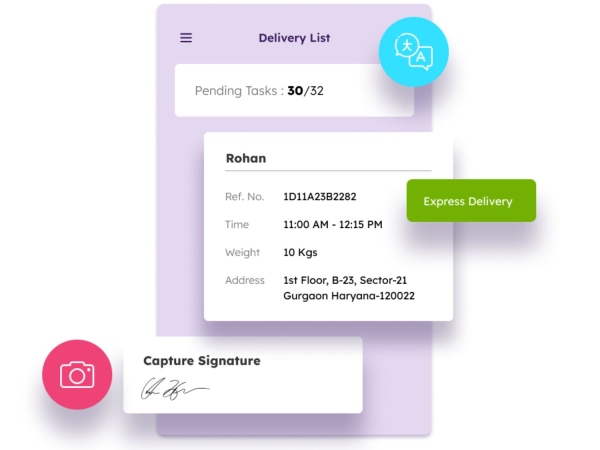 Pricing
Shipsy's pricing is available upon request. You can book a demo and get a custom quote for the features that your logistics operation will require. There's no free trial available.
Wrapping up
There are many advances to Proof of Delivery apps. From paperless operations to transparency, visibility, and customer experience - electronic Proof of Delivery saves businesses time and money and keeps customers happy.
I hope this list of 10 best Proof of Delivery apps for 2023 gives you an overview of your vendor options so that you can choose the best system for your needs. If you're curious about Track-POD solutions to delivery planning and confirmation, book a free demo and we'll give you a guided tour.