7 Tips To Ensure Your Shipment Doesn't 'Fall Off A Truck'
Updated on February 24, 2022 by Jake Rheude

In this post, guest writer Jake Rheude shares his best tips on ensuring that your shipments make it to the customer safe and sound.
---
If shipping orders are a part of your daily business operations, it's important to secure and protect your shipment. The last thing you need is for packages to fall off in transit, or for fragile goods to break.
However, to truly secure your shipments, it's not enough to implement 1 or 2 protective measures. You'll need to evaluate your fulfillment operations as a whole and rectify any problem areas because anything from poor packaging to untrustworthy drivers can cause shipping problems.
Here are a few simple ways to ensure your shipment doesn't 'fall off a truck', get stolen, or lower your bottom line.
1. Double-check addresses
Processing orders with invalid shipping addresses can cost you heavily. You'll end up paying for the labor and shipping costs, and if the shipped goods are perishable, the expense is even greater.
Unfortunately, incorrect addresses aren't uncommon in eCommerce. A seemingly simple mistake like a wrong zip code can evolve into a logistical nightmare. Worse yet, customers might fault your brand instead of taking responsibility - and you could lose their business altogether.
Fortunately, you can reduce this problem by double-checking addresses on your eCommerce store. You can include an address verification prompt at your eCommerce checkout, which is especially useful if your customers rely on auto-fill - because you can ask them to confirm the address at the end.
2. Use plugins
Technology has evolved to the point where you can reduce invalid address incidents effectively with the help of plugins and software. Address verification software kicks in the moment your customer enters their address and validates it in real-time, decreasing the frequency of invalid addresses.
Additionally, after validating the address, verification plugins can display a prompt asking users to manually confirm the address. This encourages customers to double-check their address before confirming the order.
Track-POD, for example, has a load check feature that lets the driver scan QR and barcodes before departure.
That's a best practice we fully support, as Red Stag Fulfillment's pick and pack team will scan orders at least three times to ensure we get them out accurately and are choosing the best carrier option.
3. Give options
Thanks to the rapid growth of eCommerce, customers are quite savvy when it comes to choosing a carrier. They know which services work best for their location and offer the most competitive pricing.
So, for the orders that you can't handle in-house, you can cater to their preferences by providing options for them to choose from popular carriers, like USPS, UPS, FedEx, and DHL.
Letting customers pick their carrier is also a weight off your own business. Your fulfillment team won't need to compare carrier costs and services for each shipment to determine the best one.
4. Communicate early and often
Shipping delays are an inevitability - you can't prevent them entirely. But how you respond to the delays can make the difference between losing or retaining a customer. In one study, respondents indicated a greater tendency to accommodate brands that communicated shipping delays.
This research aligns with what we already know about B2C relationships - customers value honesty and transparency. So when shipping delays or other fulfillment issues arise, do your best to keep customers in the loop.
Inform them about the issue early on, and frequently communicate any developments with them. Your carrier or delivery support software should provide real-time tracking, time of arrival estimates, and links you can share with customers so they easily access delivery notifications and statuses.
You're in this together.
5. Track your drivers
GPS tracking tools – especially those inside of last-mile delivery software – help you keep tabs on your delivery fleet, ensuring orders are delivered safely and on time. Tracking your drivers is important for maintaining productivity and keeping your costs under control - poor driving behavior (like speeding) or going off-route can increase your fuel and operational expenses.
Additionally, most GPS tracking tools come with built-in accelerometers to detect unsafe behavior and can warn your drivers if they're speeding or braking too hard. Fleet managers can track driving data to reward good drivers and make sure your delivery team is adhering to road safety.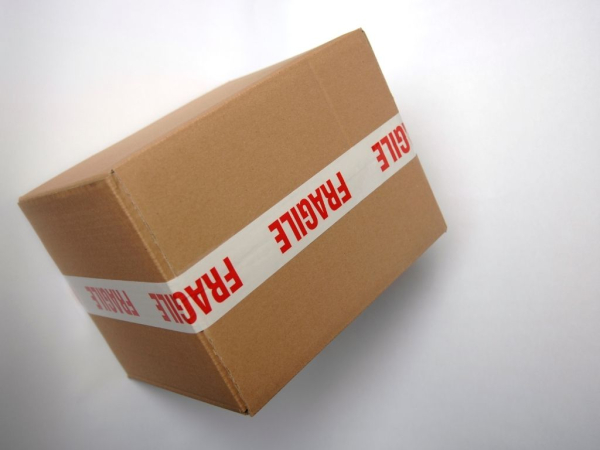 6. Send secure packages
Securing your packages is essential to protect your shipments from damage in transit. And there are a few things you can do to ensure shipments are delivered safely:
Use packages with the right dimensions. Don't use boxes that are too big - it leaves room for the good to shift around and suffer from impact damage.

Use appropriate dunnage. Depending on the items inside, you might want to use Kraft paper or a more effective material like bubble wrap (useful for fragile items).

When necessary, secure the goods inside the packaging. For example, you might need to tape dunnage to some areas or seal a case.
Securing your packages is a simple but vital step that improves your fulfillment process, protecting your own investment and ensuring a better customer experience. Back this up with additional tools designed to keep your packages secure in transit.
These can include route optimization and load planning that minimize the risk of harm thanks to proper driving and packing.
7. Use a trusted third-party fulfillment service
Given how extensive the order fulfillment process is, many brands choose to work with a trusted third-party fulfillment service to ensure seamless shipping.
Third-party logistics (3PL) providers manage the entire fulfillment process for you, from warehousing to shipping, which reduces your own responsibilities and also improves the customer experience.
A 3PL will pick, pack, and ship orders to your customers. They'll make sure the packages are secured and shipped on time, and will inform customers about any delays. Moreover, since 3PLs have dedicated teams of fulfillment experts, you'll see a decrease in errors and inaccuracies.
Last word
Truly optimizing your shipping process involves securing both your internal fulfillment operations and your customer's experience. You should:
Make sure your checkout process is optimized for shipping. Let customers choose the most cost-effective carrier, and be sure to verify their address. The cost of wrong deliveries is high - it includes logistics and reverse-logistics fees, labor costs, etc.

Secure your shipment by choosing packages of the right dimensions and using enough dunnage.

Keep track of your deliveries with GPS tracking, to minimize theft (and help with theft recovery) and ensure your drivers are well behaved on the road.

Keep your customers in the loop, especially when problems arise. Let them know about any delays and send them regular updates about any developments.
Implementing these best practices helps ensure that your shipments reach their destination safely. You won't have to worry about them falling off a truck.