Last Mile Delivery Tracking for Customers
Updated on March 01, 2022 by Yulia Miashkova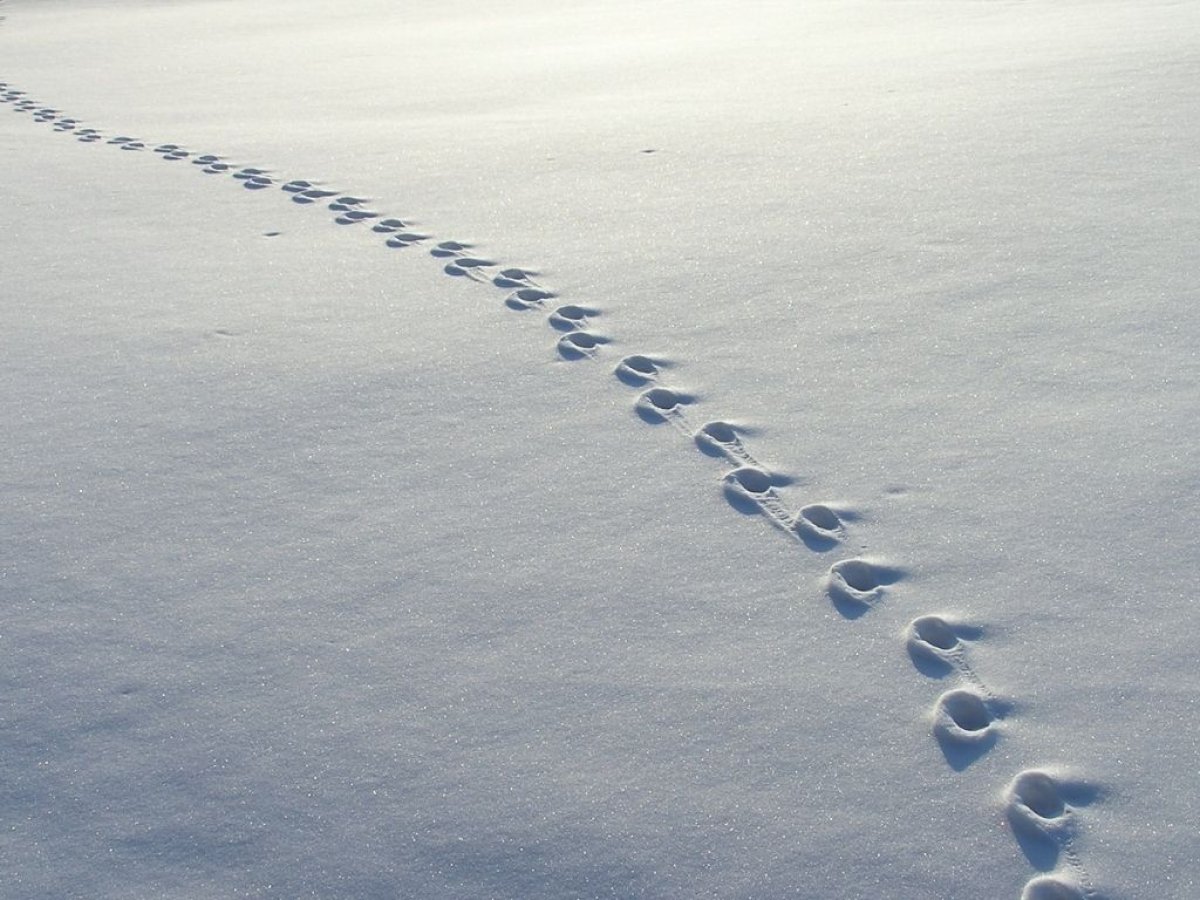 Last-mile delivery is all about the customer. From route planning to Proof of Delivery (POD) – there's a long way to go when building excellent customer service.
Right in the middle of the journey from routing to ePOD is one of the key components of the delivery experience. I'm talking, of course, about delivery tracking.
It goes by different names. Real-time tracking, GPS tracking, last mile delivery tracking, track and trace, etc. Whatever the name, it's a major part of building a customer centric delivery experience.
Let's see what track and trace is all about and how you can use Track-POD last mile tracking software to provide an exceptional customer self service.
What is track and trace in last mile delivery tracking?
Track and trace refers to determining the current and past location of an item, e.g. vehicle, parcel, or order.
It's another name for last mile delivery tracking that in turn relies on GPS tracking – either via the driver's mobile app or a physical GPS tracking device installed in the vehicle.
Back in the day, dispatchers were the only people who knew where delivery drivers were at any given time. The customer would call the back office to ask about their package's estimated time of arrival (ETA). The dispatcher would then need to call the driver, check their whereabouts, and report back to the customer.
Not anymore.
The reality of eCommcerce logistics is that buyers expect to have 1) delivery options and 2) tracking information that includes a tracking number.
Delivery companies, in their turn, strive to provide the kind of experience that matches customer expectations. This is done either through last mile delivery tracking or tracking IDs.
Let's see what the difference is and how it influences the delivery service.
Track and trace vs tracking ID
You don't need a lot of comprehensive data to benchmark track and trace against tracking an order via a tracking ID. Anyone who's been in the shoes of an online buyer will tell you that having the option to track the order in a single click is much simpler than using a tracking ID.
On the other hand, anyone who's designed a buyer's journey or thought about customer experience will confirm that having an additional step that can be skipped is never optimal.
Requiring the customer to copy and paste their order tracking ID onto a separate page adds extra steps that not all customers are willing to take.
More often than delivery companies would like to, customers simply forget about the tracking ID that was sent to them upon placement of the order. If you don't specify a time window for the delivery to happen, customers are even more likely to miss the delivery and lower your delivery success rate.
How do you make sure your delivery success rate is steadily increasing? Simple – you keep your customer in control of the delivery process by providing last mile delivery tracking.
Last mile delivery tracking with Track-POD
Last mile delivery tracking is one of the features that make Track-POD the perfect solution for delivery businesses that strive to provide the best user experience they can.
The entire delivery process is accompanied by instant notifications that can be sent via email or SMS. This way, you keep customers informed about their orders and give them a sense of control over the delivery process.
Let's look at Track-POD's last mile delivery tracking features in more detail.
1. Real-time package tracking
All of the notifications sent by Track-POD contain some information about the arrival of the package. It can be a delivery date and a time window or an estimated time of arrival and a live tracking link.
The latter is triggered either manually by the driver or automatically by the system once the driver has departed from their previous location in the route.
By clicking on the vehicle tracking link, customers see a new window in their browser that displays a map with the exact location of their driver. This kind of visual representation of delivery status is something customers are familiar with (tracking an Uber car).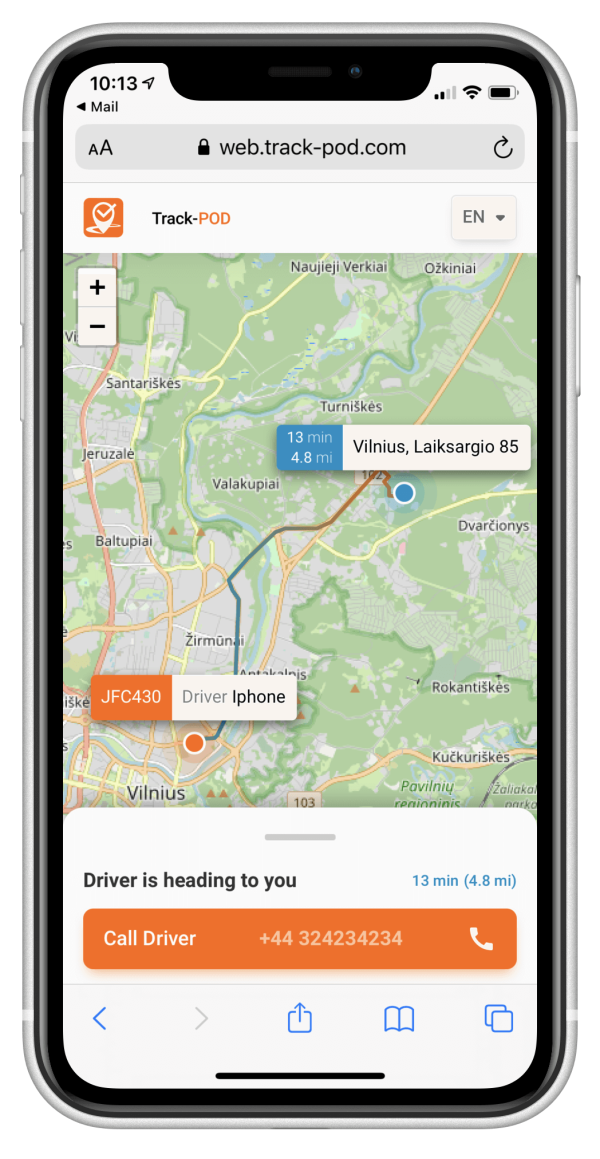 In the same window, customers can contact the driver and give updates on their current location or specify any preferences they failed to indicate when placing their order.
Pro tip: Track-POD's last mile delivery tracking window can be localized to different languages.
2. Just-in-time delivery
To ensure full transparency for just-in-time delivery, Track-POD offers a number of details your customers have access to.
Alongside the driver's number, the system also displays vehicle plate number, the details of the shop or supplier your customers ordered from, as well as a full list of the items they're expecting.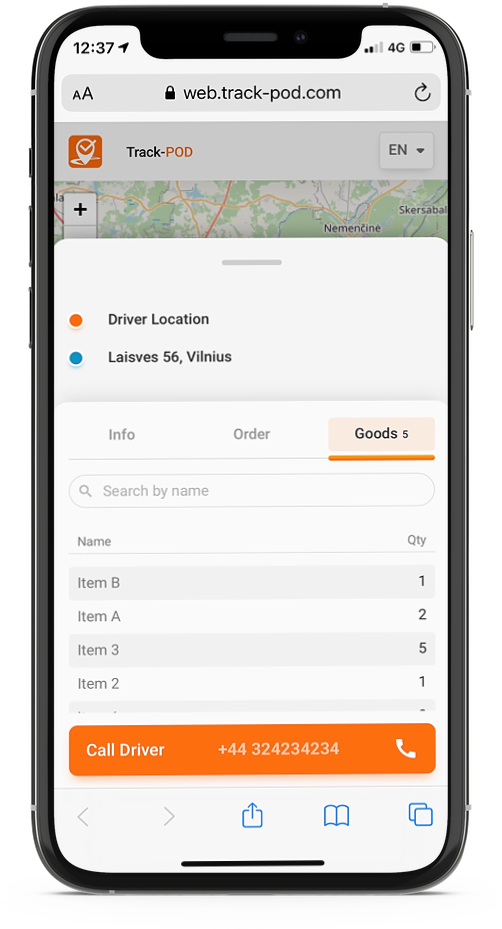 Having all of these details every step of the way – including on the last mile delivery tracking page – is how your customers get full transparency and accountability that plays a big part in customer satisfaction.
3. Proof of Delivery
Electronic Proof of Delivery (ePOD) is an essential part of your last-mile delivery workflow. Using the driver's app, your couriers can collect electronic signatures and take photo proof of successful deliveries.
Even if your drivers carry out contactless delivery and don't interact with customers at all, you still need to make sure your customers get their Proof of Delivery documents.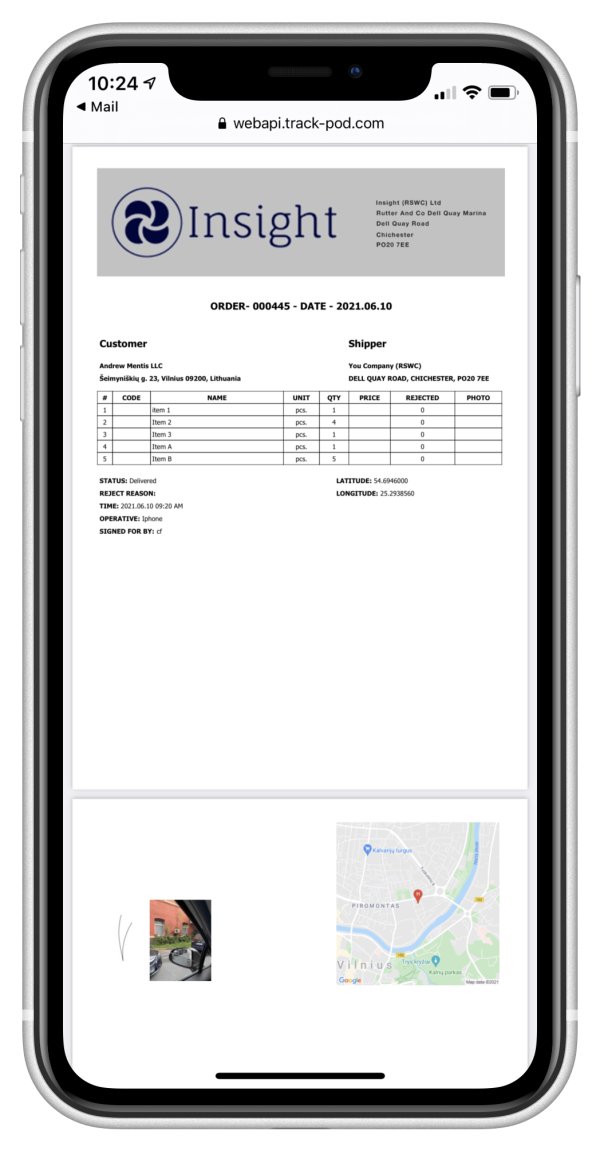 This POD document is sent to the customer in a post-delivery email as soon as the order status has been charged to Delivered or Partially Delivered. Now, your customers can access their signature, photo proof of the delivery, if any, the coordinates of the delivery address, and their POD from their mobile devices.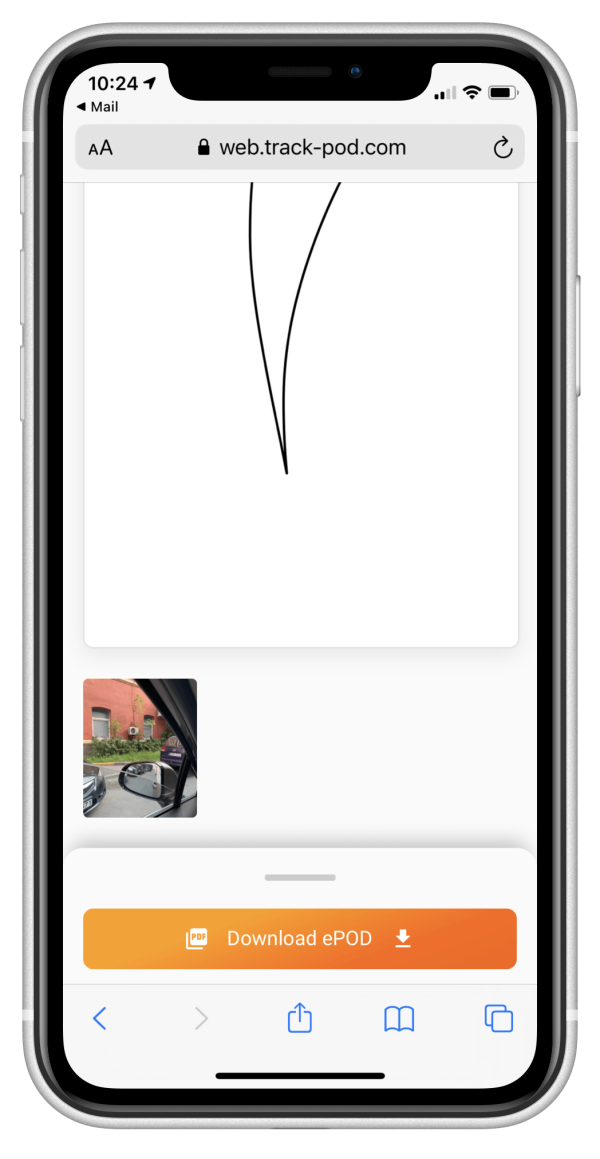 Last mile delivery tracking with Track-POD is completely intuitive. All of the order details available to customers give them dispatcher-level access to the delivery process. The only way to give your buyers an ever greater sense of involvement and control is to make them regular shippers that use Track-POD's Customer Portal.
Recap
Last mile delivery tracking is not created equal. Whether you give your customers a package tracking ID or send them a link that opens a live tracking window packed with useful information shapes the buyer's journey.
Track-POD's last mile delivery tracking makes delighting your customers easier than ever.