WorkWave Route Manager Alternative: Route Planner Battle
Updated on February 09, 2023 by Yulia Miashkova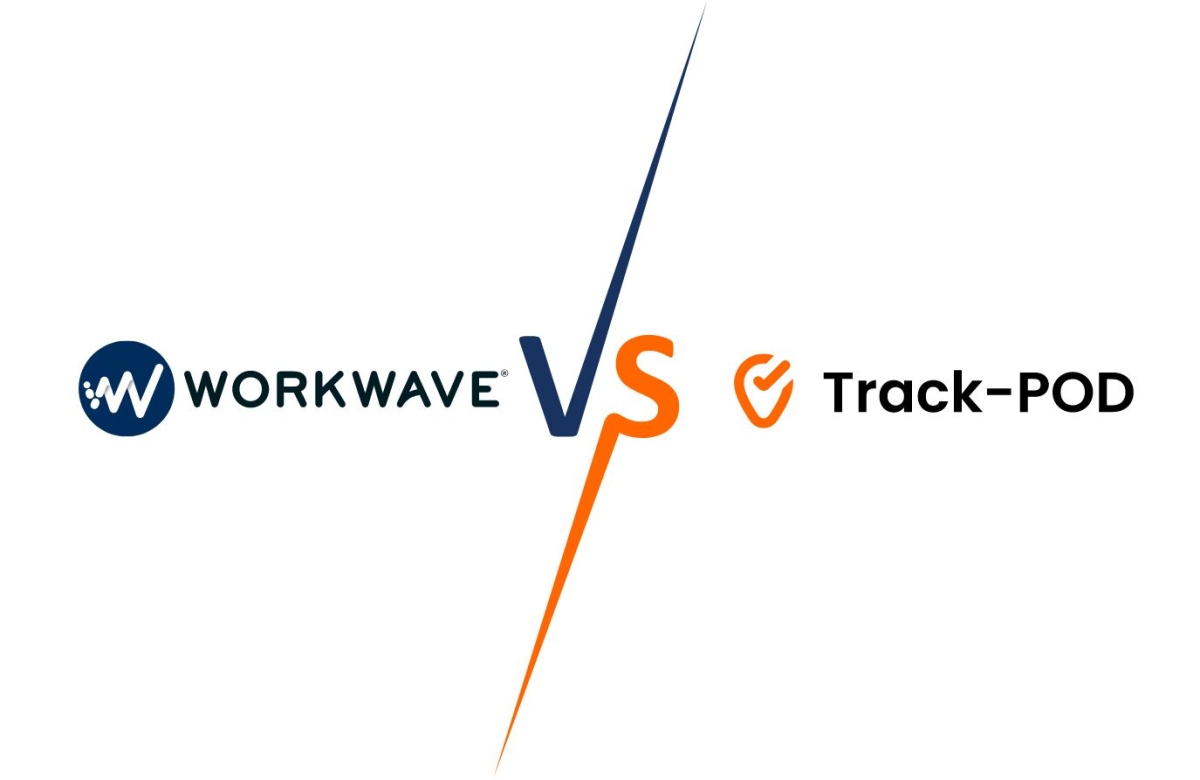 There comes a time in every transportation manager's life when they have to choose between two routing software providers. You may be guided by many things when making the choice: compatibility, price, the learning curve – you name it.
But ultimately, what you want is software that brings value with every feature.
Side-by-side comparisons are the best way to look at it. Previously, we explored Onfleet and Routific alternatives feature by feature. Today, we're looking at WorkWave Route Manager – one of the key parts of the WorkWave software family.
Because there are so many products that go under the WorkWave umbrella, it's hard to know for sure what you're investing in without being able to take the software for a test drive.
I'm here to help. What you'll find below is a feature-for-feature comparison of WorkWave Route Manager and Track-POD. Let's roll.
Pricing model
While Track-POD lets you choose if you want to pay per vehicle or per order WorkWave Route Manager only offers per-vehicle pricing. Because WWRM's final pricing per driver is not disclosed, we'll benchmark the cheapest plans against each other.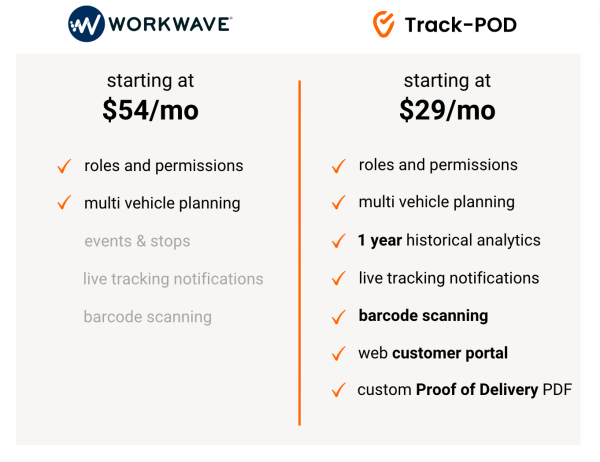 If you go with WorkWave Route Manager, your starting price per vehicle per month is $54. This will cover some basic features like route optimization, time slots, multi-vehicle planning, as well as different roles and permissions for web users.
Track-POD's cheapest subscription is a flat fee of $29 per vehicle if paid annually. This includes 3,000 jobs per month, custom Proof of Delivery, barcode scanning, live tracking notifications, and even 12 months of historical analytics.
The key difference between WWRM and Track-POD is pricing transparency. In Track-POD, there are no paid add-ons and all features come out of the box. What you see is the final price.
Route planning & optimization is the crown jewel of any routing tool. Let's see how WorkWave Route Manager and Track-POD handle their routing and which features you can count on.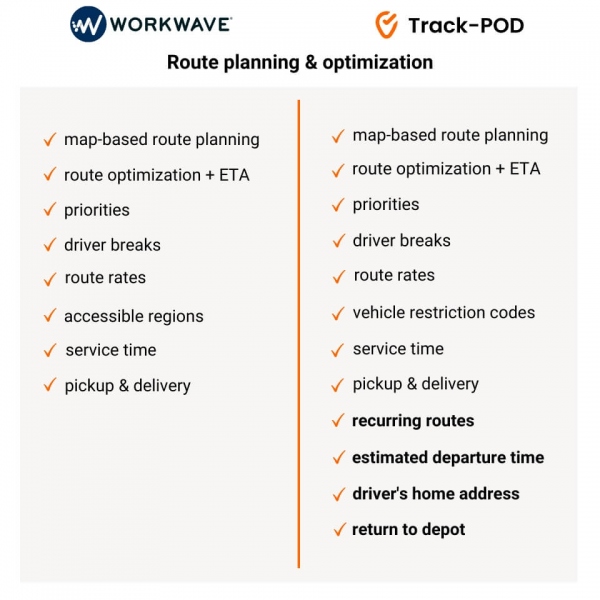 Map-based planning
When creating and optimizing routes, it helps to be able to do that right from the map. Both WorkWave Route Manager and Track-POD offer map-based planning, with the option to select orders in bulk.
Route optimization with ETA
Both WorkWave Route Manager and Track-POD provide route optimization with estimated time of arrival (ETA). On top of that, WorkWave Route Manager offers arrival and departure time, as well as service time. Track-POD, meanwhile, offers estimated arrival and departure times.
Priorities
It's important for a logistics manager to be able to prioritize some orders that need to be fulfilled urgently. Same goes for route planning software: it needs to account for tasks with higher priority when planning & optimizing daily routes.
WorkWave Route Manager lets you assign importance to orders: Lowest, Lower, Normal, Higher, and Highest. Track-POD, in the meantime, considers the priority you've given to customers, addresses, and orders.
Driver's breaks
Route planning & optimization is impossible without considering your drivers as humans who need to take breaks throughout the day. This is something your route planning software has to take into account, and both WorkWave Route Manager and Track-POD do that.
WorkWave Route Manager allows up to three breaks a day – you need to specify these for each driver. Track-POD also considers driver's breaks when creating multi-stop and long-distance routes, so you can be sure this need is covered.
In addition to driver's break, both route planners consider service time, i.e. how long it takes the driver/field service rep to complete the job.
Route costs
When adding a vehicle in WorkWave Route Manager, you can specify the following constraints: orders, mileage, speed, driving hours, working hours, minimum working hours, up to 5 loads, as well as tags to indicate that a certain vehicle is best used for certain orders, e.g. refrigerated goods require refrigerated trucks.
In addition to that, WorkWave Route Manager allows you to indicate costs.
Fixed.

Service time.

Driving time.

Idle time.

Break time.

Per mile.

Per stop.
Track-POD, meanwhile, allows you to specify multiple maximum values for things like weight, pallets, volume, maximum sites/orders, worktime, distance, speed, etc. – for each of your vehicles. It also offers route rates.
Cost per distance.

Cost per hour.

Base fare.
Vehicle area restrictions
When you need to route multiple vehicles at once, you might want to assign certain drivers to certain areas. Both WRM and Track-POD give you the option to do that.
If you're managing a smaller delivery operation and have different types of vehicles in your fleet – think truck, car, motorcycle or bicycle – consider Track-POD as it allows you to plan routes for different vehicle types.
Recurring routes
When you have regular customers or shippers you often work with, or if you provide a subscription-based delivery service, being able to add recurring routes aka milk runs to your route planner is crucial.
In Track-POD, recurring routes come out of the box and you can use them in your routing dashboard right away. In WorkWave Route Manager, you'll need to use the Simulations environment where you can experiment with routing without dispatching orders, as well as store repeatable routes or orders.
Driver's home address
Track-POD arranges orders and routes automatically considering your optimization settings and the strategy you're going with: time, distance, or expense. On top of that, Track-POD allows you to have different setups for starting and ending routes.
From driver location.

From Depot.

Ends at Depot.

Ends at driver location.
As you can see, there's a lot that goes into route planning and optimization. It's a 2-party effort: you input the correct data, and the software does its magic and arranges routes in the best way possible.
Return to depot
If you want your drivers to be able to complete more than one delivery route a day, you need to consider a route optimization algorithm that supports multiple runs, i.e. returns to depot, a day. Track-POD is a route planner that does that, allowing you to maximize the usage of your in-house resources.
User & order management
Managing a logistics operation, you want to make sure you control the level of access different people have to different parts of your supply chain. As far as last-mile delivery is concerned, your software needs to give you the tools to control this.
Let's take a closer look at what user and order management look like in WorkWave Route Manager and Track-POD.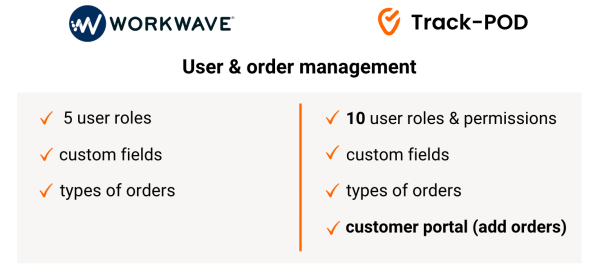 Roles and permissions for web users
WWRM offers 4 types of web user roles on top of Admin (one per organization). These are Planner, View Only, Guest, and Courier.
Track-POD, meanwhile, offers 10 user rights options to help you control what your team members can do with the software.
Allow view Routes.

Allow user management.

Allow view Analytics.

Allow duplicate.

Allow view Vehicle Check.

Allow edit orders.

Allow view Directories.

Allow edit completed orders.

Allow Edit directories.

All 'Depots'.
Custom fields
Custom fields is how you make sure you can specify as much order-related information as you need to. Orders come in all shapes and sizes, and not all fields will be there for you. Luckily, both WorkWave Route Manager and Track-POD have you covered.
WorkWave Route Manager lets you add custom fields when creating your orders. Same with Track-POD – it offers unlimited custom fields with different formats (text, number, date, checkbox, etc.). You can also control if the drivers can see or edit these fields in their app.
Order type
Both WorkWave Route Manager and Track-POD consider different order types. It's not always deliveries – sometimes, your drivers need to complete pickups or even a sequence of tasks within one order. Here's how you can handle that.
WorkWave Route Manager offers four types of tasks to choose from.
Pickup.

Dropoff.

Service.

Pickup & Dropoff.
Track-POD, in the meantime, lets you choose any of the following task types.
Delivery.

Collection.

Pickup & Delivery.

Pickup - Hub - Delivery.
Web customer access
Web customer access is what empowers your customers to help you by managing their orders independently.
If you have regular shippers who share with you the orders they need delivered, then you'll benefit greatly from letting them add and manage their orders.
While WorkWave Route Manager doesn't have a designated shippers hub, Track-POD does. With a newly redesigned Customer Portal, involving your shippers in the process is easier than ever before.
Driver app & ePOD
The driver app is the second essential component of a route planner. What you put together in the web dashboard back at the office needs to translate into a specific call-to-action for the driver. Let's look at the driver apps offered by WorkWave Route Manage and Track-POD to see which one will do a better job for you.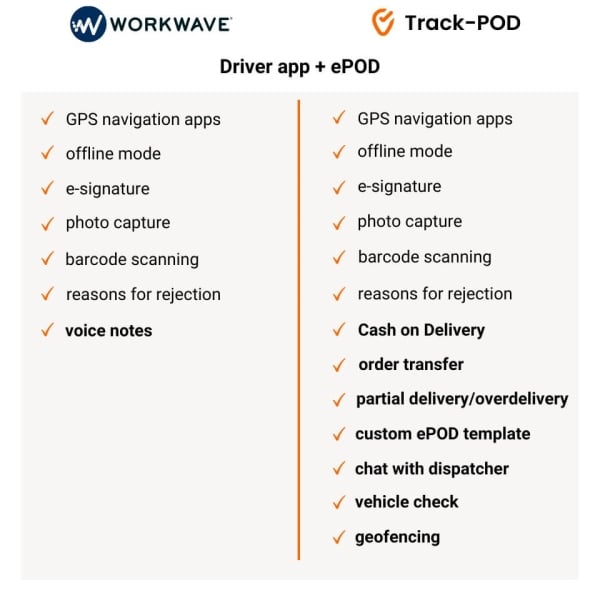 GPS navigation apps
Since the driver app is supposed to also serve as a navigator, it's crucial that you can choose the navigation system that works the best for your region and needs. By default, both WorkWave Route Manager and Track-POD use Google Maps. However, you can switch to alternative navigation systems.
On top of Google Maps, WorkWave Route Manager supports Sygic, HERE WeGo, CoPilot, VZ Navigator, Waze, and Yandex.
Meanwhile, Track-POD lets you choose between any of the following GPS apps: Apple Maps, Waze, TomTom, HERE WeGo, Sygic, and Hammer.
Offline mode
Offline mode is a lifesaver if your delivery operation includes areas with bad coverage. While the WorkWave Route Manager driver app doesn't work offline, the Track-POD app remains fully functional. As soon as the connection is restored, all order data is synced with the web dispatcher dashboard.
E-signature & photo
Both WWRM and Track-POD support e-signature and photo capture for Proof of Delivery. WorkWave Route Manager lets you take pictures both for completed and not completed orders – this can be specified in the settings from the web dashboard.
Track-POD allows multiple pictures to document both successful deliveries and delivery issues in case there are any.
Barcode scanning
Both WorkWave Route Manager and Track-POD offer barcode scanning as part of Proof of Delivery. Scanning of orders and goods is available.
Reasons for non-completion
Both WWRM and Track-POD allow you to customize the reasons for failed deliveries. In addition to that, Track-POD lets your drivers reject the default goods quantity and enter the actual quantity (partial delivery or overdelivery).
Another thing Track-POD lets you do is transfer orders from one driver to another.
Cash on Delivery
Cash on Delivery (COD) is an alternative payment option some businesses incorporate to give their clients more flexibility. With Cash on Delivery enabled in Track-POD, drivers need to collect payment upon completion of delivery.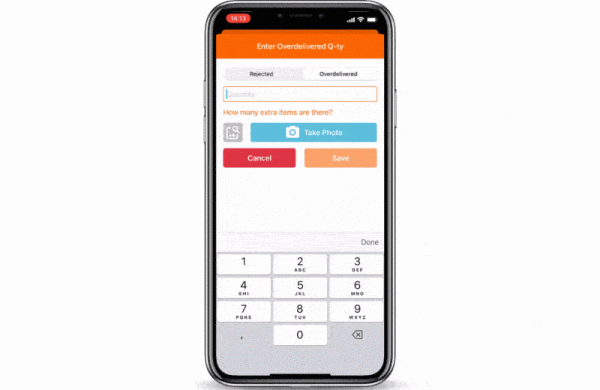 Custom POD template
In WorkWave Route Manager, Proof of Delivery is intended for internal use. It's sent from the driver back to your office for storing or export. You can also edit your PODs as the route happens and when it's over.
Meanwhile, Track-POD provides a fully editable POD template that can be branded and shared with your customers as well as your office staff.
Vehicle check
Vehicle check goes into fleet maintenance and helps you keep track of the state of your vehicles and any issues that need to be addressed before the repair costs blow up. While WorkWave Route Manager doesn't offer vehicle checks, you can find this in Track-POD.
Track-POD lets you make vehicle checks mandatory for all drivers before, after, or before and after each route.
You get to specify your own vehicle check criteria and indicate minimum and maximum values to make sure you can see all vehicle issues instantly reflected in your web dashboard. By keeping an eye on all critical cases, you save money on vehicle maintenance in the long term.
Geofencing
Track-POD allows you to set up geofencing and enable automatic check-in/out for drivers entering their delivery areas. Similarly, you can prohibit order completion if the driver is outside of their designated order area.
Chat with dispatcher
Since the dispatcher dashboard and driver app are two halves of the same system, they need to enable the perfect sync between your office and field staff. One way to do this is by supporting instant communication by means of a chat or SMS.
WorkWave Route Manager lets your dispatchers send SMS messages or email your drivers. Another way for drivers to be notified of the orders in the system is to check their notifications updates. Then, they'll see all their orders and the changes that occur (added, removed, edited, changed in position).
Track-POD, meanwhile, offers live chat between the dispatcher and driver. The chat supports text messages and photos for visual proof of issues.
Notifications
Notifications is another key feature of last-mile delivery management software. SMS and email delivery notifications save you hours of talking to customers on the phone and answering their emails.
Not that while both WWRM and Track-POD support SMS and email delivery notifications, WWRM requires you to choose either type for every order and Track-POD lets you send both.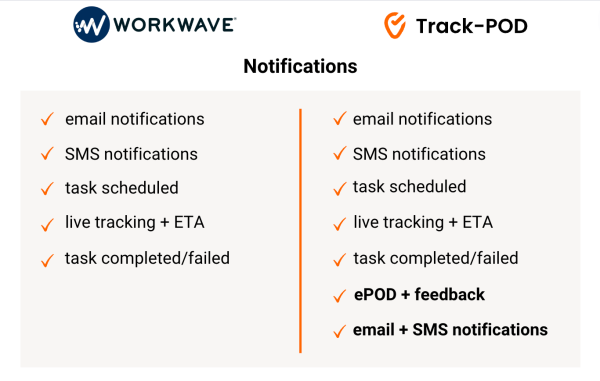 Route start
WorkWave Route Manager offers three types of notifications to customers.
Service Day.

Status Update.

Almost There.
The Status Update notification is the closest to Route start notifications you can get in WorkWave Route Manager. It is sent every time the status of an order changes. It can also be triggered by the driver from the mobile app to notify the customer of the route start. The driver also has the option to call the customer.
Track-POD, meanwhile, sends both automatic notifications marking the route start – including a live tracking link and an ETA – or manual notifications triggered by the driver when they've left a previous location. Track-POD sends notifications by email and/or SMS.
En Route
In WorkWave Route Manager, Almost There notifications is how you share with your customers a live ETA and a tracking link. It can be sent 10, 20, or 30 minutes before the driver's arrival either by SMS or email and is customizable except for the Hot Words (like @@OrderName@@) that are in-built.
Track-POD's notifications with a live tracking link and an ETA are fully customizable, with the option to edit text and tags.
Post-delivery
WorkWave Route Planner's Status Change notifications is how you let your customers know the delivery has been completed. As soon as the driver marks the order as Done in their mobile app, the customer will receive a post-delivery notification.
Track-POD, in the meantime, sends fully customizable email notifications with a PDF Proof of Delivery document attached. In the same browser window, the customer can leave feedback on the delivery service.
Reporting & analytics
Access to reporting and analytics determines how easy it will be for you to optimize your logistics operation. When choosing a route planner, make sure you're fully satisfied with the analytics and reports it provides. Let's see what we have here.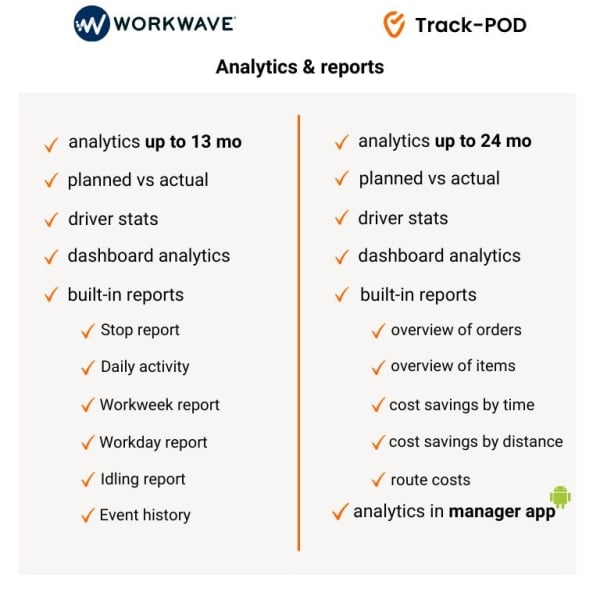 Analytics
The focus of WorkWave Route Manager's analytics is on vehicle utilization, violations of time window commitments, and order distribution. Going through the analytics charts, you can visualize use cases for specific metrics.
The analytics view can also be narrowed down to a specific vehicle or driver. In addition to that, WorkWave Route Manager lets you export to Excel or CSV executed routes (incl. Proofs of Delivery) or approved routes.
Track-POD, meanwhile, offers a customizable analytics tab with columns you can add or remove. By specifying a time frame, you can access data for a specific period of time and instantly export it to PDF, Excel, or JSON. To help you see a clearer picture of performance, Track-POD provides analytics per KPI.
Delivery in full – total percentage of successful deliveries + a pie chart with reasons for rejection.

Partially – total percentage of partially delivered orders + a pie chart with reasons for rejection.

On-time deliveries – total percentage of on-time deliveries.

Average service duration.

Feedback.
WWRM will store up to 13 months of your historical data; Track-POD will store up to 24 months.
Reports
WorkWave Route Manager lets you view reports for up to two weeks on the map or mail yourself reports for time periods up to the last twelve months. Below are the types of reports offered by the software.
Stops Report – all stops made by each vehicle.

Daily Activity Report – all vehicle activity for the day.

Workweek Report – when each vehicle started and ended multiple days.

Workday Report – when each vehicle started and ended in a day.

Idling Report – all instances of idle time for each vehicle.

Event History Report – events triggered by each vehicle.
As an add-on, you can also have the Driver Behavior Scorecard (calculated behavior score for each vehicle) and the Driver Behavior Event Report (all events used to calculate the driver behavior score).
Track-POD, in the meantime, gives you instant access to the following embedded reports.
Overview of orders.

Overview of items.

Cost savings by time.

Cost saving by distance.

Route costs
Bottomline
WorkWave Route Manager and Track-POD both pack a punch. When choosing your favorite, it's important to consider different aspects of running a logistics operation. Some questions you may want to ask yourself are:
Does my budget allow additional charges or am I looking for a flat fee?

What kind of Proof of Delivery document will I share with my customers?

Do I have regular shippers who could handle their own orders?
Of course, this list is not exhaustive. You're welcome to reach out with your own questions about route planning, fleet optimization, live tracking, no-contact POD, or anything else – we're happy to give you all the answers during a demo.