Best Route Planner App for Delivery Drivers 2023
Updated on September 21, 2023 by Yulia Miashkova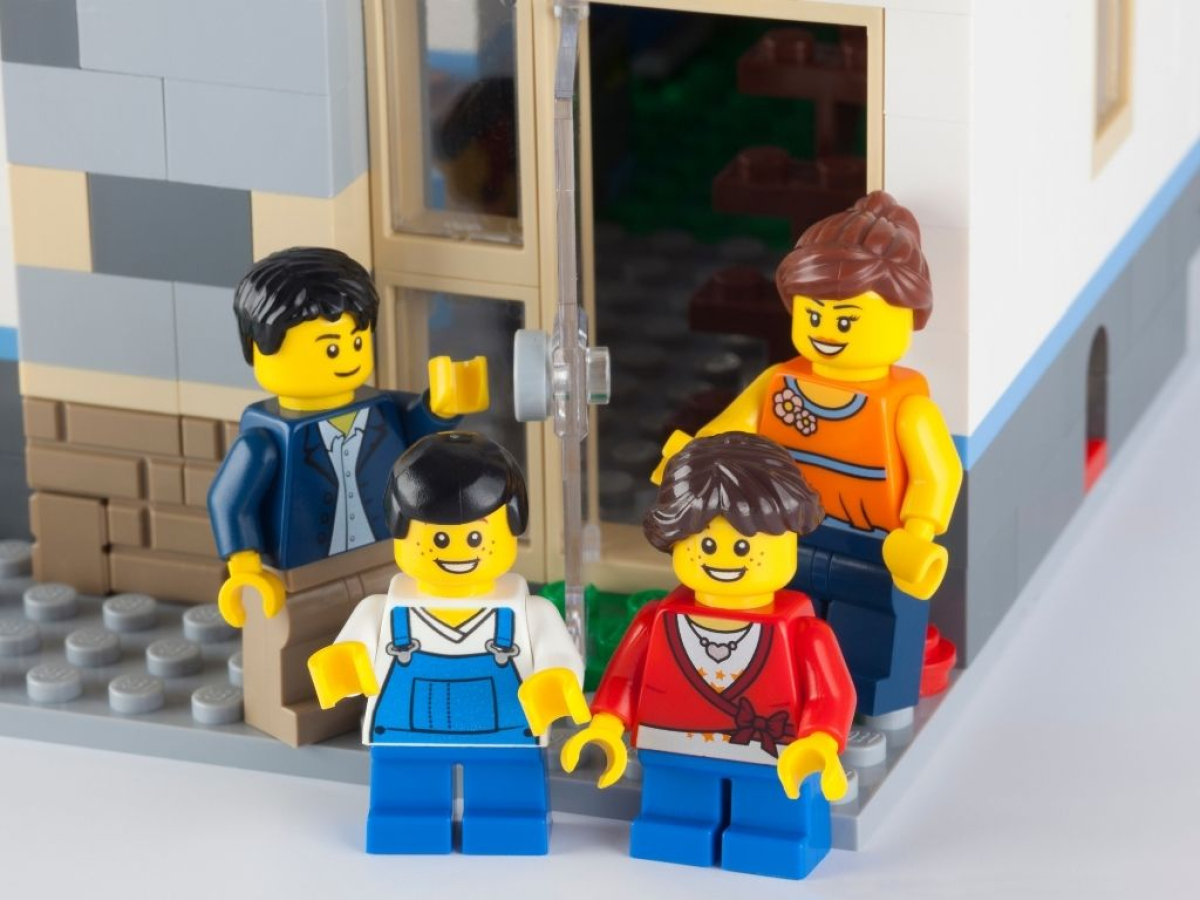 Looking for a route planner app is like looking for a team member. Because a good route planner can contribute as much to your efficiency as a good delivery driver or dispatcher.
Here's why.
An efficient route will save you fuel and driver time.
Manually routing multiple drivers and drops can take hours.
A route planner can work with unlimited stops.
Delivery services don't end at routing; a good route planner app will offer more.
The tricky part is choosing the best delivery route planner app. While there are both free and paid options to consider, this blog post focuses on route planners for business.
As a commercial driver, a free tool like Google Maps won't suffice - you need advanced route planning features. Let's see what kind of route planner apps the market has to offer in 2023.
1. Track-POD
It might seem indiscreet to start with our own product when talking about the best route planner app for delivery drivers. Except we honestly believe that. Below is an overview of Track-POD dispatcher dashboard and delivery driver app - see and decide for yourself.
Pricing: you pay per vehicle/driver or per number of orders a month, starting at $29/mo.
Free trial: 7 days, no credit card required.
2. Onfleet
Like Track-POD, Onfleet is a powerful route planner app. It works best for high-volume delivery operations, with unlimited drivers and dispatchers included in each pricing plan.
Let's see what kind of routing & optimization features you get if you opt for Onfleet route planner app for delivery drivers.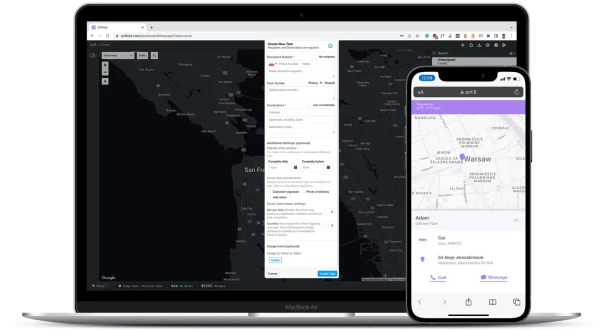 Route optimization with ETA
Onfleet will build and optimize delivery routes based on time windows, vehicle capacity, traffic data, and couriers' working hours. The predictive ETAs feature lets you notify customers of upcoming deliveries in advance.
The system will also give you warnings and flag errors if any. No route can be carried out until all errors have been addressed and fixed.
Please note: route optimization in Onfleet is available as an add-on. You need to enable it, having created a hub and assigned a team to the hub.
Route zones
Route zones is essentially map-based routing, i.e. it's a feature that lets you capture areas on the map to define your service areas.
Once you have defined a route zone, you can assign a team to it, as well as select the local time zone. Route zones is a handy feature for when you need to preview routes in a specific area and optimize tasks that belong to the same service area.
Route analytics
Analytics is an essential feature of any delivery route planner app for teams. It helps assess performance, reward driver behavior, and identify areas for improvement and optimization.
Onfleet lets you filter route analytics by team, driver, and date. You can compare planned and actual completion, absolute and relative differences, and dive deeper to view route details.
Driver app
Onfleet route planner app for delivery drivers is a solid tool for day-to-day operations.
Some features (like barcode scanning and age verification) come with more expensive subscriptions ($1,150+/mo), while others (in-app chat with the option to attach photos and record audio messages) are available out of the box.
Pricing: Onfleet charges per number of orders a month, starting at $500.
Free trial: 14 days.
3. Route4Me
Route4Me is a route planner app for teams of delivery drivers. It offers a marketplace of add-ons to help companies build a custom delivery route planner solution depending on unique business needs.
Some add-ons like in-app voice-guided navigation are free while others like address book and territory planning are charged for separately.
Let's see what kind of features are there to choose from on the Route4Me platform.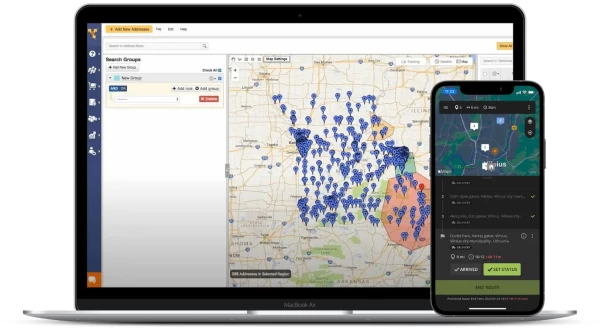 Time windows & priorities
Time windows and priorities are both available in Route4Me as paid add-ons. Both features are self-explanatory yet crucial for route planning and last-mile delivery.
The advanced constraint add-on, meanwhile, considers adjustable priority levels, last-minute customer requests, and scheduling windows.
Recurring routing
Recurring routing is a Route4Me's paid add-on that does exactly what the name suggests. The system will automatically plan and dispatch routes that repeat on a daily, weekly, monthly, or annual basis.
Naturally, you can still adjust routes to reflect urgent requests, remove canceled orders, and more.
SmartZone routing
Map-based routing and geofencing are features that you'll see a lot in delivery route planner apps for delivery drivers. Route4Me is not an exception: it offers SmartZone routing as a paid add-on that helps organize large volumes of addresses and stops into territories.
Each territory can be split into routes and assigned constraints such as max weight, revenue, cube, pieces, or time windows.
Driver app
Similar to other route planner solutions, Route4Me comes with a mobile app for delivery drivers. The app syncs with the web dashboard planner for instant dispatch and driver tracking.
In addition to that, Route4Me offers a standalone route planner app for professional drivers as well as a Route4Trucks solution for truckers. Using the standalone route planner app, drivers can plan and optimize their routes independently for $9.99/mo or $79.99/year.
Pricing: the standard Route Management package will cost you $199/mo (up to 10 team members).
Free trial: 7 days.
4. Routific
Routific is a delivery route planner that boasts a decade-old AI-powered route optimization algorithm. The system uses route optimization to automate routing and make the most out of driver time and other resources.
Let's take a closer look.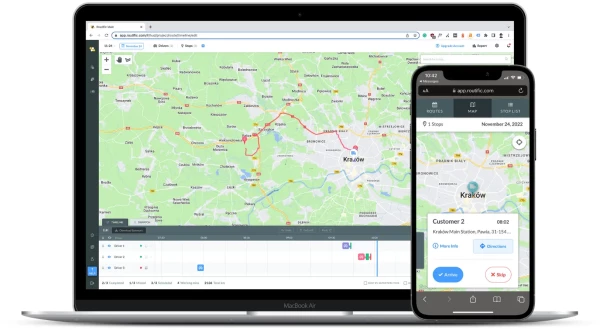 Optimization preference
Routific allows you to optimize planned routes by time or distance. If you choose to optimize routes by time, then the system will focus on minimizing driver time by building the fastest routes.
On the other hand, if you choose to optimize by distance, Routific will focus on minimizing mileage and fuel consumption.
Overnight routing
Overnight routing is exactly what it sounds like. You can plan routes through the night and into the next day. This is especially useful for long-haul routing.
Please note that there's a limit of 99 hours for multi-day routes.
Traffic simulator
As part of the Routific package, you get a traffic simulator with adjustable intensity. This means that you won't get live traffic data but instead will be able to tell the system what amount of traffic you expect for specific routes.
Driver breaks & late stops
Driver breaks is another feature you'll see a lot when browsing through the best route planner apps for delivery drivers. Routific offers a lunch break setting that accounts for break time in route planning in addition to regular working time.
To give your drivers even more flexibility, you can tell the system to allow late stops. Then the driver has a specified maximum number of minutes they can delay the stop duration by.
Pricing: Routific charges per vehicle per month, starting at $39 if billed annually.
Free trial: 7 days.
5. WorkWave Route Manager
WorkWave Route Manager is a delivery route planner app with optimization capacities. Like other route planners on the list, it will help you automate routing and cut dispatch and delivery costs.
Let's look at WorkWave Route Manager in more detail.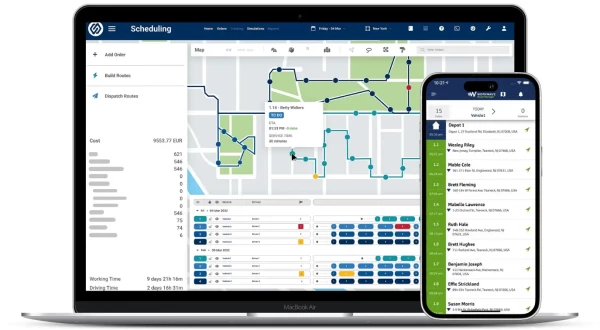 Optimization with ETAs
WorkWave Route Manager will optimize your fleet based on the constraints you specify for each vehicle. Speed, mileage, driving and working hours, orders, up to 5 loads, as well as costs will be taken into account when planning routes.
Meanwhile, real-time estimated time of arrival (ETA) is available to both dispatchers and customers. In addition to ETA, WorkWave Route Manager offers departure and service time.
Recurring routes & priorities
WorkWave Route Manager allows you to store recurring routes and orders in the Simulations environment. This is a space where you can plan routes without dispatching.
Order priority is another feature available in the system. WorkWave Route Manager offers 5 types of priorities, ranging from lowest to highest.
Road classes
To account for different types of roads and the restrictions that apply to speed, WorkWave Route Manager considers 5 classes of roads - from residential to highway.
One-way streets and pedestrian-only streets will also be taken into account when planning and optimizing delivery routes.
Mobile app
WorkWave Route Manager is synced with a mobile driver app for instant dispatch of deliveries. Using the driver app, you can navigate to each stop in your multi-drop routes, collect Proof of Delivery, and scan barcodes.
Please note that core features like Proof of Delivery, barcode scanning, and customer notifications are only available with WorkWave Route Manager's more pricey subscription plans.
Pricing: WorkWave Route Manager charges per vehicle per month, starting at $54.
Free trial: not available but you can book a demo.
6. OptimoRoute
OptimoRoute is a multi-stop delivery route planner app and a Proof of Delivery software provider. OptimoRoute solutions were built with field services in mind but cater to a wide range of businesses.
Let's see what OptimoRoute's route planning and optimization workflow is all about.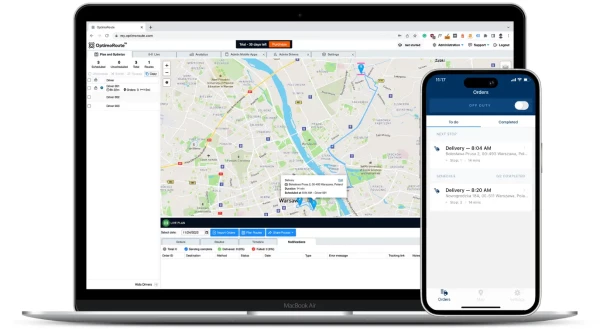 Location-based routing
While routing your commercial vehicles, OptimoRoute will consider service areas as well as drivers assigned to those areas. The system will also assess driver skills and availability before allocating a job.
Automated driver breaks
As for driver breaks, these are planned by the system as opposed to being input by the dispatcher. OptimoRoute calculates optimal times for drivers to rest during their routes, thus minimizing disruptions in service.
Task and order variations
Because OptimoRoute is focused on route planning for field services, the system considers things like multiple returns for unloading and restocking, wait times, backhauling, and different task durations.
Long-haul deliveries is also something you can plan comfortably with OptimoRoute. The route planner app will build and optimize multi-day routes with overnight stays while combining pickup and delivery.
Advance planning
To keep your team organized, you can use OptimoRoute's advance planning features. You can schedule jobs 5 weeks into the future while also having the flexibility to adjust routes on short notice and notify customers of any changes via SMS.
Driver app
OptimoRoute driver app is a robust solution for deliveries and field services. It supports several navigation options, works offline, and captures proof of delivery or service. It syncs with the web dashboard, which means all updates to orders and routes are visible on both sides instantly.
Pricing: OptimoRoute charges per driver, the cheapest plan limited to 700 orders will cost you $35.10/mo if paid annually.
Free trial: 30 days.
7. Badger Maps
Badger Maps is a delivery route planner dedicated to field sales. It's best suited for sales reps and sales operations that use a CRM and need a reliable route planning solution for field visits.
Let's take a closer look at Badger Maps route planner features.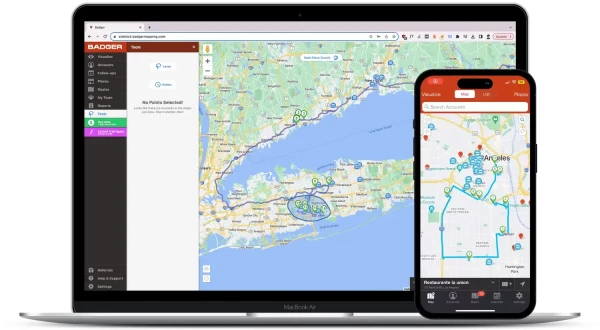 Lasso
Lasso is another name for map-based routing that empowers you to capture customer locations on the map and reassign accounts geographically and in real-time.
Lasso feature comes in handy even outside of route planning. For example, Badger Maps lets you capture a group of accounts on the map and update or delete them in bulk.
Route optimization
Field sales requires route optimization too. And Badger Maps can optimize up to 120-stop routes in seconds to make field sales faster and more efficient.
Among the criteria factored in when optimizing routes with Badger Maps is live traffic data, which is the biggest challenge when travelling through urban areas.
From leads to customers
Badger Maps is always an extension of a customer relationship management (CRM) system. That is why this route planner app is equipped with follow-up reminders and meeting notes, including photos.
Pricing: Badger Maps charges per user per month, starting at $49 if paid annually.
Free trial: 4-14 days.
8. Stream Go
Stream is a logistics management software that features a route planner for deliveries and collections alike. By building efficient routes, Stream Go is meant to reduce mileage and cut logistics costs.
Below is a quick overview of Stream Go delivery route planner app features.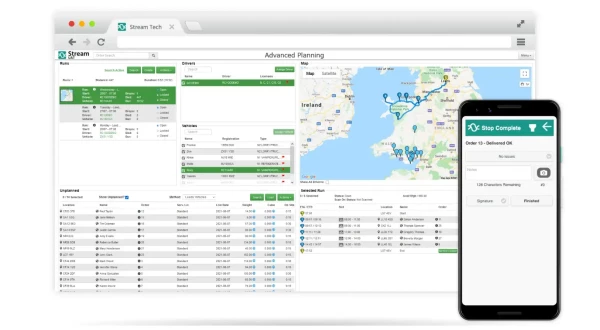 Route optimization
Stream Go will take into account vehicle parameters, route times, locations, and traffic data to optimize delivery routes and save you money in the long run.
Stream Go's routes are multi-drop, multi-depot, and multi-vehicle, which means that even complex logistics operations can rely on the route planner to optimize resources.
Milk runs
Milk runs aka fixed route planning is another name for recurring routes. Applicable both to collections and deliveries, milk runs enable logistics operations to schedule regular jobs and save time on routing.
Fixed routes doesn't mean you can't add stops for last-minute deliveries or collections. Stream Go allows you to add standalone jobs to service areas with milk runs.
Cross-docking
Cross-docking goods means moving them from inbound to outbound vehicles on the spot. This helps speed up order fulfillment and loading while also saving warehouse space that would be required to store goods.
Product classifications
If you transport goods that require special storage conditions or handling - like pharmaceuticals or frozen foods - being able to indicate these requirements is crucial to minimizing damage and returns.
Stream Go lets you indicate storage type, including fragile, hazardous, heavy, or radioactive. In addition to that, you get to set temperature requirements.
Pricing: Stream Go charges per vehicle per month, starting at $196.
Free trial: available upon request.
9. Mappr
Mappr route planner is a part of the Jungleworks software family. The tool offers route planning and vehicle-based optimization with the following features.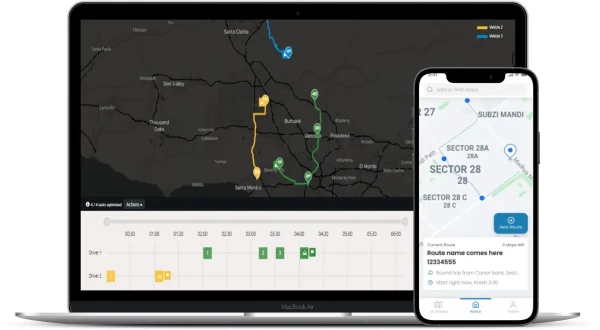 Vehicle-based optimization
Vehicle-based means that Mappr will plan and optimize routes based on vehicle type. E.g. routing a cargo bike is different from routing a car; therefore, the system will account for each vehicle's speed, volume, and fuel consumption.
Predictive routing
Mappr route planner app builds multi-stop delivery routes based on time, distance, and driver location. The system will also account for traffic congestion to make sure your staff loses no time on the road.
Dynamic route modification
While you can use Mappr to plan routes in advance, the system also accounts for last-minute changes that may occur in any delivery workflow.
You can add orders with high priority for on-demand delivery, replan order sequence, and deliver on time with no disruptions.
Pricing: Mappr has a prepaid pricing structure, with mapping and optimization costs separated, starting at $0 (bootstrap, 2 vehicles).
Free trial: 30 days.
10. GSMtasks
GSMtasks is a delivery routing & management software company catering to courier companies that want to complete with larger established carriers.
Below is an overview of GSMtasks delivery route planner features.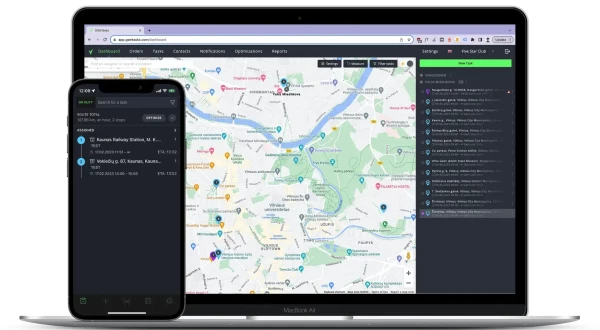 Multi-stop planning
GSMtasks offers instant routing and optimization for multi-stop delivery routes. The tool's routing engine turns hours of manual route planning and fleet optimization into minutes.
GSMtasks optimization algorithm organizes stops in a way that saves fuel and cuts delivery costs by minimizing driver time.
Recurring tasks
Recurring delivery jobs is something you can save in the system to further streamline route planning and optimization. GSMtasks will remember your daily, weekly, or monthly tasks and save dispatcher time.
Reporting
Analytics and reporting features in a route planner app is something no delivery operation can miss out on. GSMtasks offers routing data and metrics on individual driver performance.
Completion time, average delivery time, and cost per delivery are all metrics that you can monitor with GSMtasks to make data-informed optimization decisions.
Pricing: GSMtasks charges per user per month, starting at $17.
Free trial: 14 days.
11. Routetitan
Routetitan is a delivery route planner that serves a wide range of businesses. Let's see what makes it one of the best route planner apps for teams.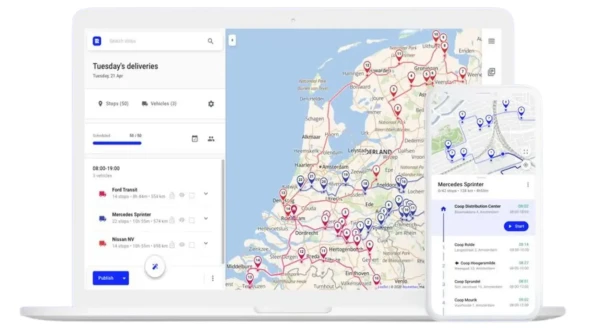 Flexible routes
Routetitan will consider delivery time slots, driver working time and breaks, speed restrictions, order priorities, and more. Once stops have been arranged in a route, you can still make adjustments, adding orders or reassigning the route to whichever driver is available for the job.
Please note that editing routes that are in progress is only available under Routetitan's Business plan.
Route visibility
Like other delivery route planner apps on this list, Routetitan helps you ensure visibility of your last mile via GPS tracking and customer notifications.
Customer notifications feature an estimated time of arrival and can be shared via email or SMS. Live tracking of orders is available to customers a few minutes or stops before their delivery.
Pricing: Routetitan charges per vehicle per month, starting at $59.
Free trial: 14 days.
12. Zeo
Zeo is a route planner company that offers a mobile route planner app for solo drivers as well as a web-based fleet route planner for teams with multiple drivers.
Let's review Zeo's fleet planning and optimization features.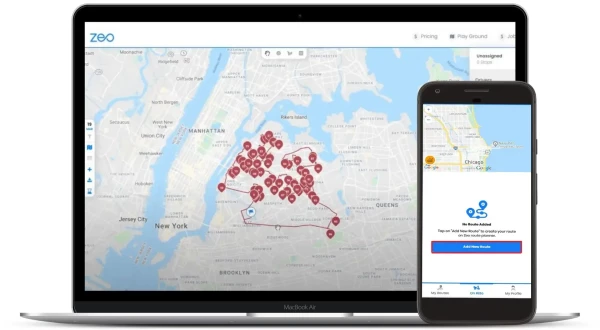 Driver hubs
Driver's hubs are areas assigned to a particular driver. To maximize efficiency and delivery success, you can tell Zeo route planner which drivers will be delivering in which areas so that the system doesn't assign any stops to drivers outside of their hubs.
Multi-stop & multi-driver
Zeo will plan and optimize routes for different vehicle types with multiple stops and automatically dispatch them to up to 200 drivers. The system also accounts for driver shortage and temporary capacity.
Seat-based pricing is Zeo's solution to having many drivers who work different shifts and churn out often. Based on which drivers you want on the routes, you can buy seats, assign, and remove courier staff from the system.
ETAs, analytics, and more
Zeo fleet route planner calculates estimated arrival times which are shared with customers together with current driver locations.
Driver tracking is also used in analytics that helps you assess individual driver performance and reward the highest-rated couriers.
Pricing: €2.69 - €130.00 per item.
Free trial: 7 days.
Wrapping up
Choosing a delivery route planner can be overwhelming, especially when you need to plan routes for a large team.
The good news is, there are many route planner apps on the market and they cater to different types of delivery operations, which means there's a near-perfect route planner solution for you out there.
I hope this lineup of 12 best delivery route planner apps helps you make the right decision.