The Logistics of Door to Door Delivery
Updated on September 16, 2022 by Yulia Miashkova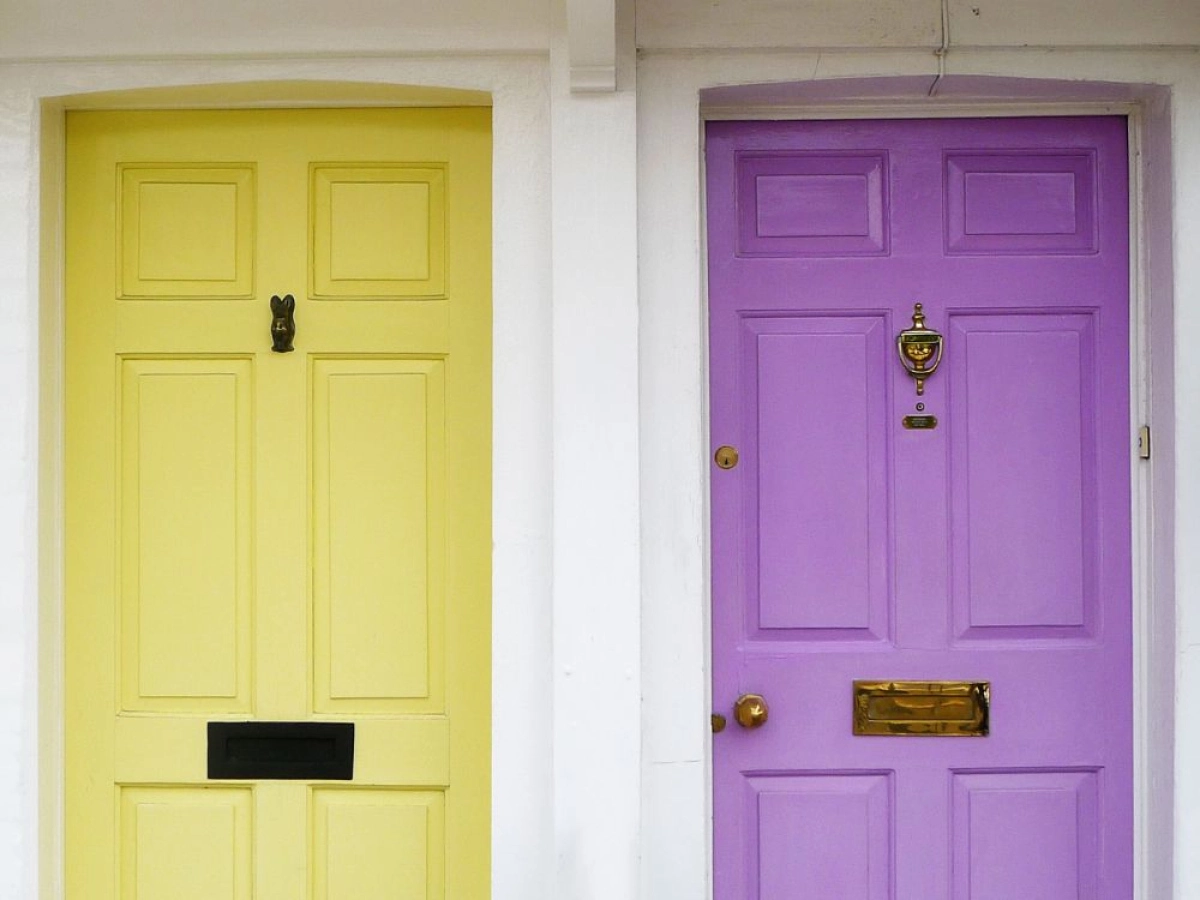 Most delivery operations work by loading the vehicles at a depot location (point A) and transporting the cargo to customer locations (point B).
In this case, routes start and end at the depot.
What happens if one more point is added to the equation? What if couriers need to depart from a depot (A), collect an item and load it at another location (B), and then travel to the final destination (C) to deliver what they picked up?
This is what door to door shipping is all about.
Below is a guide to planning and executing door to door delivery orders with last mile logistics software.
What is door to door shipping?
Door to door delivery is a type of courier service that includes the collection of an item at one location and the subsequent delivery to another. Instead of loading delivery vehicles at the depot, trucks are loaded at the pickup locations.
Door to door services are usually rush deliveries as the courier will travel from the pickup location to the delivery location within the same day.
Usually, customers opt for door to door delivery when they require transportation of a large item. In this case, couriers can handle the heavy item and transport it to the final location.
Door to door shipping can also refer to the services provided by freight forwarding companies. In this case, ocean freight, sea freight, or air freight, along with the customs clearance of the door to door cargo is handled by the freight forwarder.
Use cases of door to door delivery
What types of businesses do door to door delivery? We've talked about bulky items before but let's take a closer look at some examples.
Movers
Moving houses is a mighty task, more often than not impossible without professional help from movers or removalists. Because most people don't have adequately sized trucks on hand, door to door delivery is a requirement.
In this case, door to door shipping service is provided by a team of couriers who collect all items that need to be moved, load them onto a truck, and transport them to the new home location.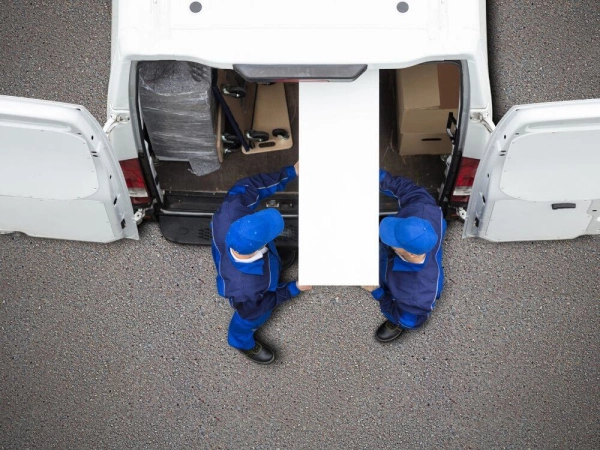 In-store shopping
Anything bulky bought in stores that don't offer shipping services, have enormous shipping rates, or don't cover the required area can be delivered door to door. In this case, couriers will go to the store, collect your purchase, and bring the bulky item home to you.
Whether it's furniture, home appliances, heavy equipment, or any other large items, you can trust door to door delivery services with transporting the goods safely.
Parcels
Parcel delivery has evolved a lot with the bloom of eCommerce. At the same time as online stores started offering many shipping methods (including same-day delivery and overnight delivery), postal services got an upgrade as well.
Parcel delivery can now be as simple as having your package picked up from your home address and delivered overnight or even on the same day. No need to worry about making it to the carrier's location or the post office during working hours.
Pet transport
Pet transportation is another use case of door to door delivery. Air transportation is not always an option for pet owners who want to minimize risks to the health and safety of their pets.
In this case, door to door delivery is the best option. Depending on the distance to be traveled, pets can be transported on the same day or overnight.
Other use cases of door to door delivery include laundry, maintenance or repair, and many other types of services that include picking up items before they are delivered back.
Door to door tracking
Door to door tracking availability is a key requirement for any delivery service that wants to offer this shipping option. Without tracking, customers will be calling the dispatcher or sales manager to check on the status of their pickup and delivery.
Having more points in the delivery route makes the tracking process more complicated than usual. You need to notify the customer and give them the option to track and trace two types of orders: collection and delivery.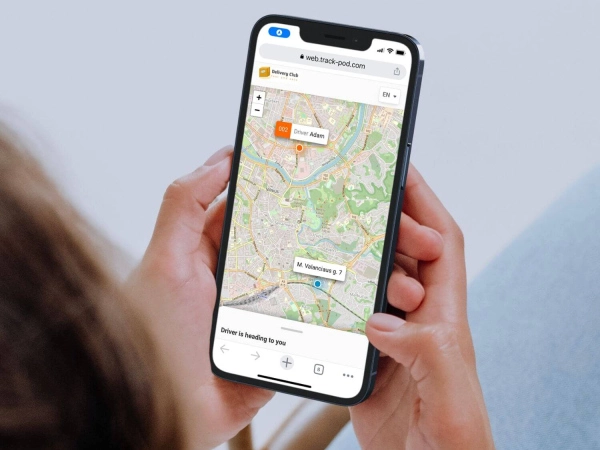 The easiest way to do this is by using a delivery management system with a mobile app for the driver. As long as the driver is using their Track-POD mobile app en route, their location is always visible to you as the dispatcher.
Together with the live tracking link you share with the customer, you can include a dynamic ETA that updates as your door to door shipping is in progress.
How to pick up and deliver
Door to door delivery orders can be tricky to plan and execute without the right tools. Let's look at how you can handle collection & delivery orders with Track-POD software.
Route planning
Door to door delivery starts with route planning. More precisely, you need to plan both the pickup and delivery, as well as arrange them in a route.
Using Track-POD, you can add Pickup and Delivery orders for route planning via API, CSV file, or simply pull them from a Google Sheet using a Zapier integration.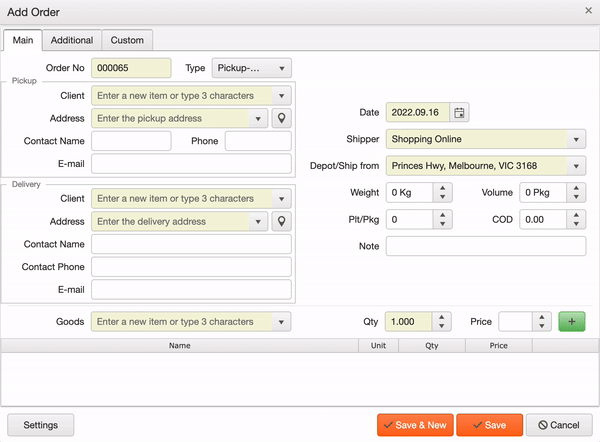 Track-POD route planner will arrange your pickup and delivery points into a delivery route considering the most efficient, fastest way for your couriers to travel to the destination.
Pro tip: by indicating service times for the pickup and delivery, you can account for the time it takes to load and unload all items.
Load optimization
Because door to door shipping is usually reserved for bulky items, load planning and optimization are essential parts of the process.
Track-POD will consider truck parameters, as well as the weight & volume of all items in the order to generate a vehicle loading list for your couriers to use. You can even print out shipping labels to put on all packages and items and then scan them for load and delivery confirmation.
Notifications
Delivery notifications is the cornerstone of any shipping process. With a delivery system like Track-POD, you can send automated notifications at every point of the delivery process.
When door to door delivery has been scheduled.
When collection/delivery is in progress (includes a live tracking link).
When the pickup/delivery is completed.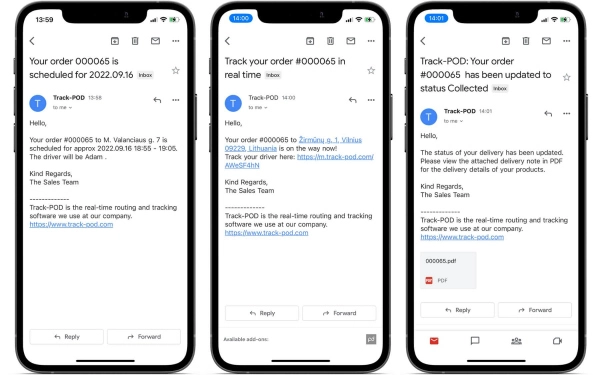 You can choose between SMS and email delivery notifications (or send both). Door to door tracking is made easy with the right tools.
Delivery confirmation
Door to door shipping needs proper documentation. Because Track-POD powers both door to door tracking and Proof of Delivery/Collection, you can make use of the following features to confirm a job well done.
E-signature capture.
Photo capture.
Timestamps.
Geotags.
Barcode scanning.
Custom ePOD (you can include any information you need using custom fields).
You can also view all of your PODs in order analytics (up to 2 years back) or get an overview of orders and items you collected and delivered door to door in Track-POD reports.
Wrapping up
Door to door shipping is a complex process that requires advanced solutions. From routing to door to door tracking and delivery confirmation - there's a lot to consider if you want to provide 5-star customer service.
I hope this article helps you understand the logistics of door to door delivery better. If you're curious about Track-POD solutions to door to door shipping challenges, book a free demo and see the software in action.