How-To: Delivery Driver Performance Evaluation
Updated on April 29, 2022 by Yulia Miashkova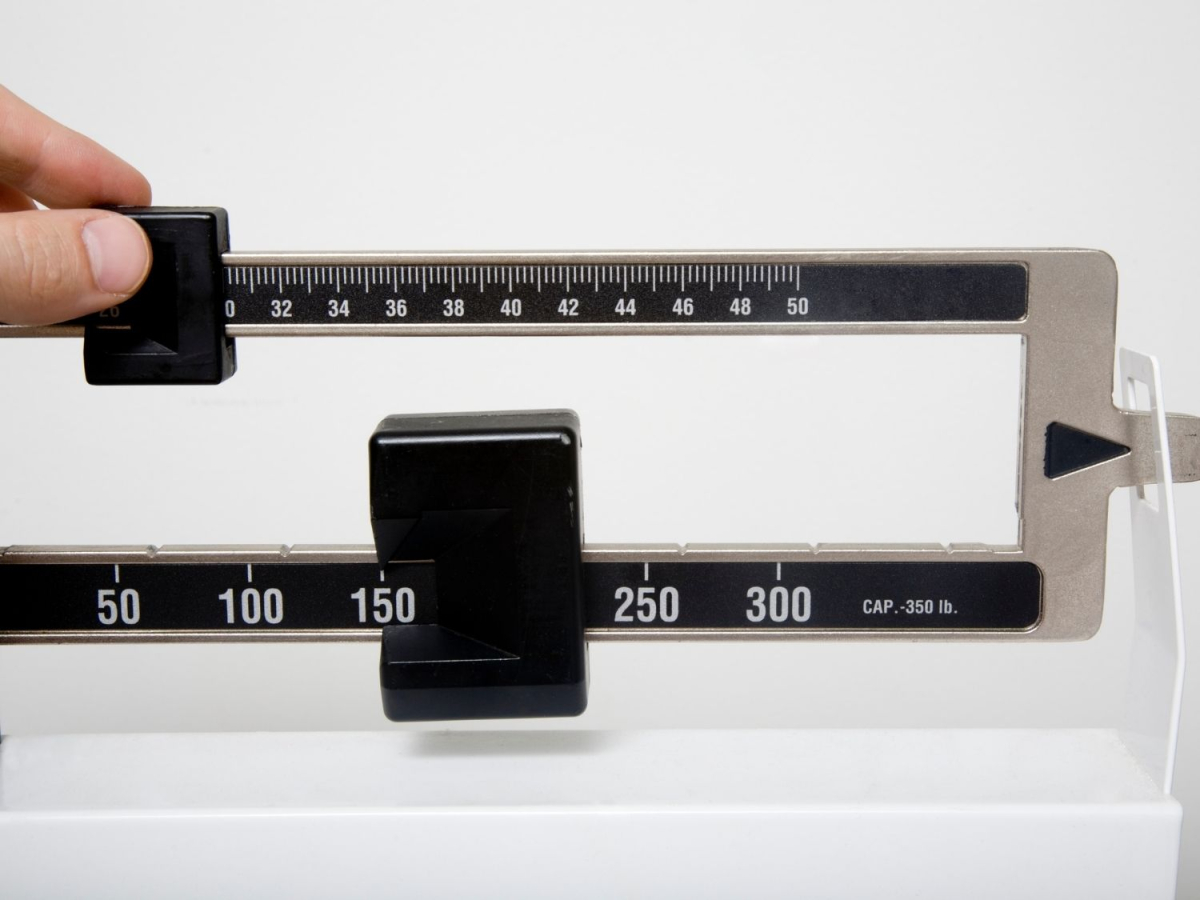 Managing a team of delivery drivers - big or small, in-house or outsourced, full-time or part-time - is always a challenge. Just to name a few.
Planning schedules.
Dispatching jobs.
Navigating driver shortage.
Tracking staff in the field.
Getting customer feedback.
Managing returns.
All of these are essential parts of delivery driver management that translate into daily tasks for the supervisor.
Based on how well you're handling delivery driver management, you either excel at or lack in driver performance evaluation. And poorly done performance assessment creates tension and oftentimes means losing money and customer trust.
In this blog post, we take a close look at delivery driver performance evaluation: what it means, how it's done, and how it can be automated with the right delivery driver app.
What is delivery driver performance evaluation?
First things first: what exactly is delivery driver performance evaluation and what does it look like?
When we talk about driver performance evaluation, we usually refer to the overall driver assessment that serves the purpose of making sure the person is fit for driving, i.e. able to operate a vehicle on the road.
This includes things like physical health, reaction time, decision making, etc., and involves filling out a driver evaluation form.
Meanwhile, delivery driver performance evaluation is based on business KPIs and performance analytics.
This can be as simple as looking at DIFOT - Delivery In Full, On Time - or assessing a wider range of metrics that include hours, mileage, customer feedback, and many other factors. More on that below.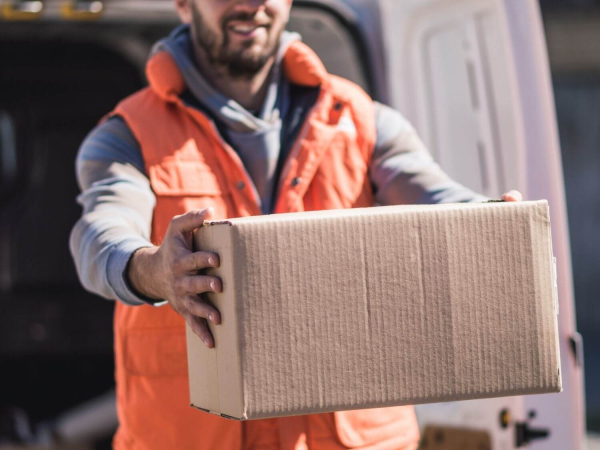 Driver performance evaluation example
Now that we've established that delivery drivers' strengths and weaknesses are measured in business KPIs, let's take a look at them.
Delivery in Full
Delivery in Full is the cornerstone metric of any logistics workflow. In terms of evaluating delivery driver performance, it's a top-level way of looking at how good of a job the person is doing.
Of course, it's important to look beyond the numbers and into specific reasons for rejected or partially delivered orders, especially if you're not doing contactless delivery and the customer is there to reject the goods in person.
But with careful load planning and load checks in place, it's largely up to the driver to see that a package makes it to the customer's doorstep intact.
On-time delivery
On-time delivery is another North Star metric of delivery driver performance.
Customers don't like waiting for their orders past the ETA (estimated time of arrival) or delivery time slot, especially when you use a system that offers live vehicle tracking to customers at home.
On-time delivery is a simple way to know if your buyers are getting their packages on time. The beauty of this metric is that you get to define "on-time" and set your own number on it.
Total time
Total time spent delivering and collecting orders is not telling by itself unless you put it into perspective. When you can see hours of service (HOS) for several drivers you can compare and reward efficient team members.
The reason total time spent is possible to calculate in the first place is thanks to delivery management systems that feature a mobile app for the driver.
As soon as the driver logs in and starts their first route for the day, the manager can see their activity in real-time and get in touch with the driver via the app. Having a clear driver time record is a must for efficient logistics operations.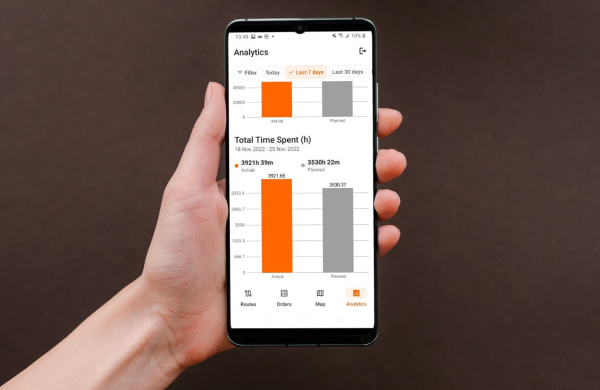 Total mileage
Total mileage is another metric that is best viewed in perspective. By benchmarking total time spent vs total mileage you can identify patterns in over/underperformance in drivers or see who's been ignoring the speed limit.
Even more so, mileage translates into fuel costs, which means keeping track of it is important and needs to be done continuously.
Total closed routes
While not all delivery drivers will be doing multiple routes a day, it's important to track the number of total closed routes on a weekly, monthly, or quarterly basis.
Analytics tools like the Track-POD Route Manager app can even provide these insights on mobile, with the option to sort total closed routes analytics by driver and compare performance across the team.
Total completed orders
Total completed orders is another important metric because most delivery drivers go on multi-stop routes and the number of stops will vary depending on the area and type of services the business provides.
Tracking total completed orders is how you know how many orders have been fulfilled by each of your delivery drivers over a period of time.
Average service duration
Route planning and optimization is not only about the time it takes to get from point A to B. It's also about the time spent providing the delivery/collection service or even a field service.
Because most businesses offer similar types of delivery services across the team, you can compare the average service duration for different team members and reward those who get the job done faster.
Customer feedback
Of course, delivery success is much more than providing a speedy service. Customer satisfaction and delight is probably the biggest, most important metric for evaluating delivery driver performance, although it's not so easy to measure.
The best way to get customer feedback on driver performance is to ask for it in a way that creates zero friction.
For example, Track-POD allows you to send a notification to the customer asking them to rate the delivery service.
Then you can compare delivery driver performance by what kind of feedback they receive over a period of time.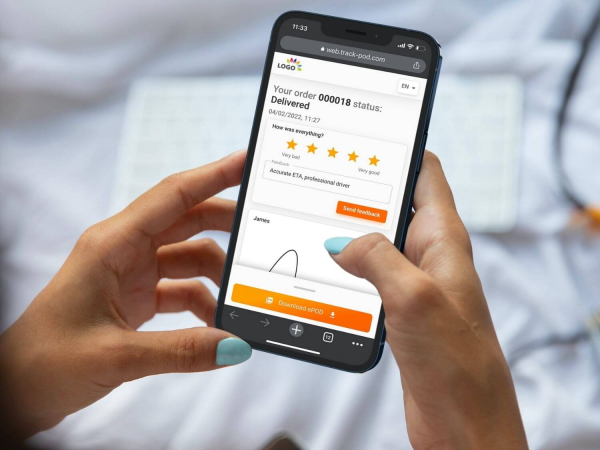 Must-have tools for delivery driver performance evaluation
With a full overview of performance metrics to be tracked for evaluating delivery drivers, we need to know the tools that make tracking possible.
Analytics & reports
No delivery management system is perfect unless it provides shipment analytics and reports, including reports that have driver performance stats.
Pro tip: look for a system that offers historical data (1+ year) and dedicated reports on driver activity. This way you'll be able to track all important metrics and KPIs in one place.
Delivery driver app
You can't know what your delivery drivers are up to at every point during the workday. However, you can use technology to sync up with them for real-time data exchange, instant communication, and reliable tracking.
Make sure your software solution for delivery planning features a driver app that works on both iOS and Android devices, as well as in offline mode.
Route manager app
Logistics managers need mobile solutions too, and those need to extend beyond real-time tracking and into performance insights.
To be able to monitor and analyze delivery driver performance on the go, explore software solutions that feature a mobile app for route managers. Pay special attention to mobile analytics.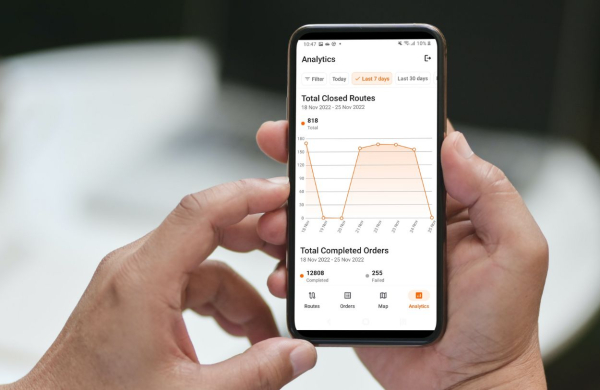 Recap
Evaluating delivery driver performance is a complex task that can make or break your delivery management. When done right, it doesn't eat up all of your time and provides valuable insights for team management and optimization.
I hope this guide gives you food for thought on how you can streamline and improve your delivery driver performance evaluation. If you'd like a tour around Track-POD solutions to driver management, book your free demo now.