Best Courier Software for SMBs in 2023
Updated on September 12, 2022 by Yulia Miashkova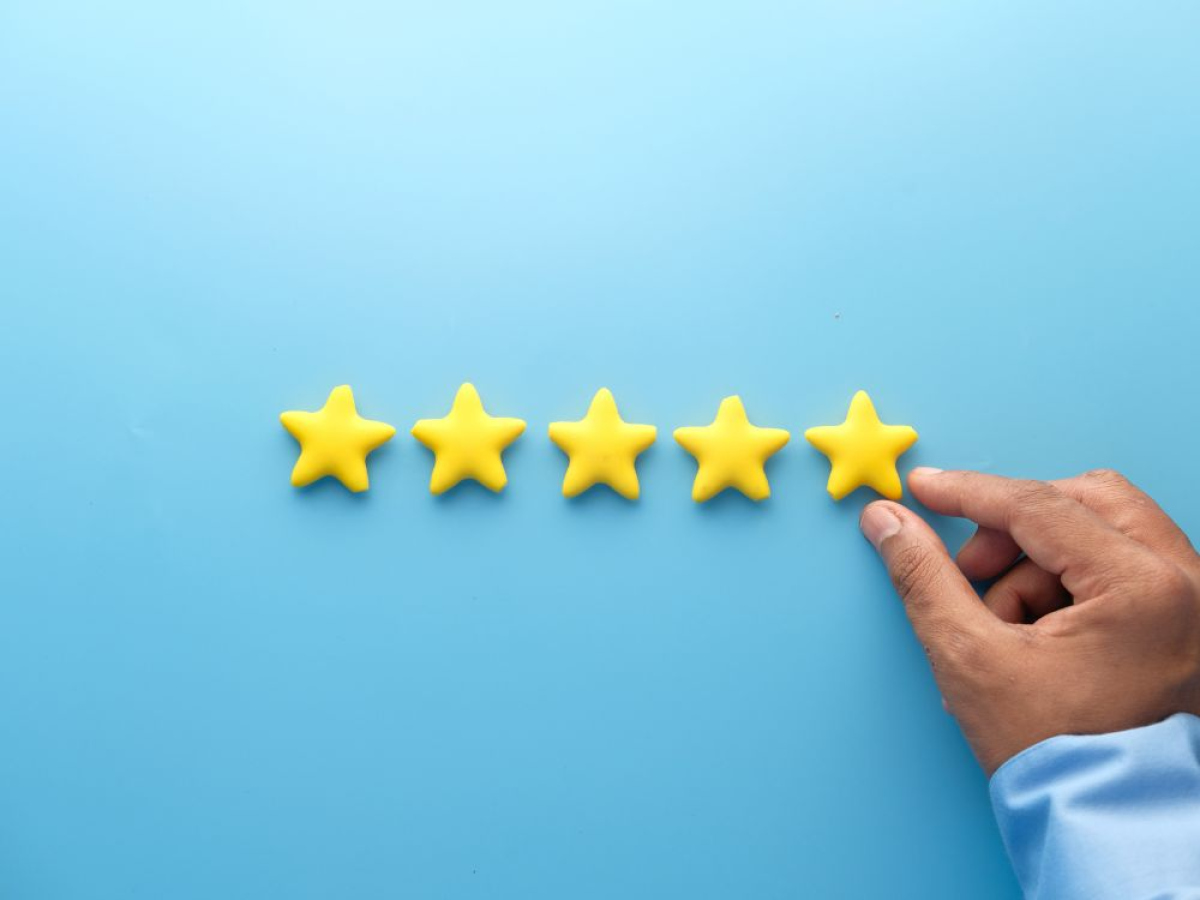 The global courier, express, and parcel market is expected to grow by 10% over the next 5 years - Report.
This is true both for B2C and B2B delivery as well as domestic and international shipping, which means that courier services are not expected to be out of business anytime soon.
The problem is meeting customer expectations and staying ahead of the competition. This is especially challenging for small to mid-sized courier businesses.
In this article, we'll be looking at what makes courier dispatch software a good fit for SMBs, as well as reviewing the best courier software vendors for 2023.
Let's roll.
SMB courier software basics
Before we can compare software vendors, we need to know what to look at. Specifically, what makes different courier dispatch systems a good fit for SMBs?
Below is an overview of the key features and solutions courier software can provide.
Route optimization
Anyone can do route planning, including with free tools like Google Maps. However, when looking at manual vs automated routing, it's clear that manual is only a good fit for personal trip planning.
Any courier business with a fleet of more than one vehicle and a workload of more than one delivery address per day needs automated route planning that includes optimization.
Route optimization is something free tools like Google Maps can't provide, and yet it holds the secret to efficient courier dispatch. Namely, building the fastest routes with the optimal number of drops for multiple couriers per day.
The best route optimization algorithms will even build a load plan to make sure none of the packages get damaged during the transportation process. This is something courier businesses can benefit from immensely.
Shipping labels
Shipping labels is the next step in minimizing delivery mistakes.
Small and mid-sized courier businesses simply cannot afford to deliver the wrong package to the wrong address. When this happens, time and money is lost on planning return trips, not to mention lost customer loyalty.
The good news is that with courier software, you can generate and print shipping labels even on a small business budget. Shipping labels is a natural extension of the route planner as couriers need to be sure they have the correct packages on board.
Barcode scanner
Barcode scanner is yet another step in the route optimization & load confirmation process any courier business will benefit from. The problem is that barcode scanners used to be exclusively third-party devices that had to be purchased additionally.
The best courier software of 2023 has a free barcode scanner app built into the courier app. This means that couriers can use their mobile phones with an all-in-one driver app installed on them to scan QR and barcodes.
No need for extra hardware or devices, as courier dispatch software with a mobile app can cover shipping label scanning at no extra cost.
Courier tracking
Tracking is something every courier business struggles with if they don't have a system of tools that support efficient tracking of multiple couriers at the same time.
Efficient means that no extra tools like GPS trackers need to be installed, as well as no extra hardware, e.g. PC monitors, needs to be purchased to be able to quickly locate all couriers on a single map.
Luckily, courier dispatch software developers came up with extremely cost-efficient ways to track all courier staff at the same time, making live tracking available to customers as well.
This is thanks to courier apps with built-in GPS tracking that can be easily installed on any mobile device. As long as couriers are using the app to navigate to and from customer addresses, their location will always be visible.
Notifications
If a courier business wants to stay competitive, it needs to prioritize customer service. As far as last mile delivery goes, customer service boils down to delivering on time and keeping the customer informed about the status of their order.
The easiest way to keep customers in the loop and minimize calls, misunderstandings, failed deliveries, and disputes is to implement automated SMS and email delivery notifications.
Courier software can share delivery notifications with live tracking links, estimated time of arrival (ETA), and any other details that will keep the customer in the loop.
This will save your couriers time and up the rate of successful deliveires while minimizing the rate of return trips and disputes with customers.
Delivery confirmation
Proof of delivery (POD) or collection is a key part of any courier workflow. No order can be considered completed until there's proof of the courier arriving at the location and dropping off/picking up the goods.
Delivery confirmation is something that can be automated fully with courier dispatch software and apps.
The courier collects the customer's signature on their mobile screen and/or takes a photo of the delivered package. The e-signature and photo populate a custom POD document that the dispatcher can see right away.
The same POD document is shared with the customer via delivery notifications. The result: the job is done and there's confirmation of it on both ends.
Best courier dispatch software for SMBs
Now that we've gone over the basics of courier dispatch software, let's look at some of the best vendors that offer the key features and solutions described above.
1. Track-POD
Track-POD is an all-in-one solution for courier dispatch and management. When we say all-in-one, we mean that all features and solutions come out of the box and available through a simple web dashboard and a mobile app.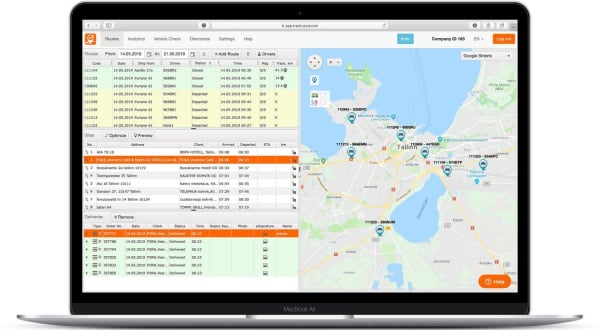 Below are the key features for courier management available in Track-POD.
Advanced map-based route planning and optimization.
Shipping labels generator and barcode scanner app.
Courier tracking on a single map.
Live tracking and dynamic ETA for customers.
Custom courier and fleet safety checklist.
Sign on glass app with photo capture.
Customizable ePODs in PDF.
Manager app for courier tracking & analytics.
Courier analytics and custom reports.
Shippers' portal for order management.
As you can see, Track-POD courier software covers all the basics of courier management and goes beyond that with advanced features like shipping labels and predictive analytics.
Pricing per courier: Track-POD's cheapest annual subscription (includes route optimization and Proof of Delivery) is $29/mo per courier. This covers 3,000 orders a month (collection, delivery, or mixed). A free 7-day trial is available.
2. OptimoRoute
OptimoRoute is a delivery management system designed to tackle every part of mobile workforce management, with a strong focus on route and schedule optimization. This makes it a go-to software solution for many courier delivery services.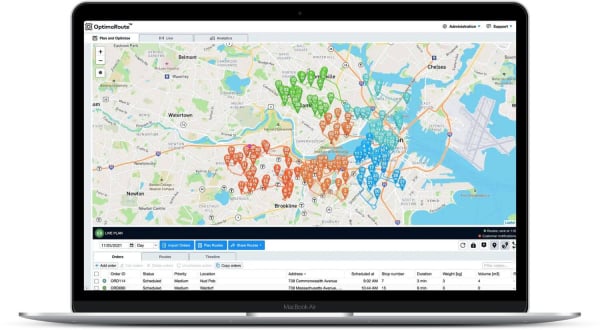 Similar to other courier software solutions, OptimoRoute works by synching the web dispatcher dashboard with the mobile courier app, allowing teams to allocate orders and provide a fast delivery service. Even if the courier is already en route, you can replan delivery drops and share the updated route with the driver.
OptimoRoute is good for milk runs courier scheduling, i.e. recurring deliveries and collections, as it allows you to plan and schedule courier jobs up to 5 weeks in advance.
Thanks to advance scheduling, you can see way ahead if extra couriers will be needed during a particular time and arrange additional workforce to make sure you can fulfill all orders as planned.
To keep customers up-to-date with delivery progress and status, OptimoRoute offers SMS and email delivery notifications with ETAs and live tracking.
Please note that Proof of delivery, being an essential feature of courier management software, is not available with OptimoRoute cheapest plan (Lite). If your delivery business requires POD, you will need OptimoRoute's Pro plan.
Pricing per courier: the Pro plan that includes Proof of Delivery comes at $44.10/mo per courier if paid annually. A 30-day free trial is available.
3. Onfleet
Onfleet is a logistics software provider with customers across many industries. Thanks to its advanced solutions to delivery planning and dispatch, Onfleet is favored by courier companies as well.
Onfleet system offers extensive route optimization features, including delivery time slots, load optimization, traffic congestion, as well as the proximity of delivery drops to each other.
In addition to that, Onfleet provides dispatchers with the auto-dispatch option, i.e. setting up rules that help the system automatically assign delivery jobs to couriers.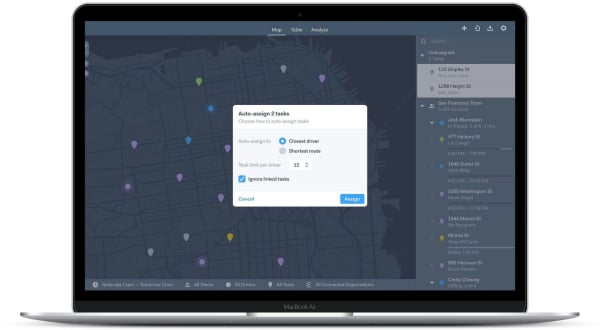 Being one of the best courier software vendors, Onfleet powers electronic Proof of Delivery (ePOD) that features e-signatures, photos, and barcode scanning. Unfortunately, customization of ePOD is not available with Onfleet.
Courier tracking in real-time, predictive ETAs, and SMS delivery notifications allow you to keep the customer in the loop and minimize calls on the status of the order.
Onfleet's reporting and courier KPIs, meanwhile, will help you accurately assess each staff member's performance and reward top-performing couriers based on analytics.
Pricing: Onfleet charges per number of tasks a month, e.g. 2,000 delivery or collection tasks with unlimited couriers will cost you $500/mo. A 14-day free trial is available.
4. Route4Me
Route4Me is a route planner marketplace with extensive optimization add-ons that help logistics operations keep track of their employees on the go.
Please note that Route4Me platform needs to be configured and some add-ons come with additional charges.
Courier businesses can use Route4Me to arrange multiple delivery addresses in optimized routes. This can be done via the web application or the route planner app.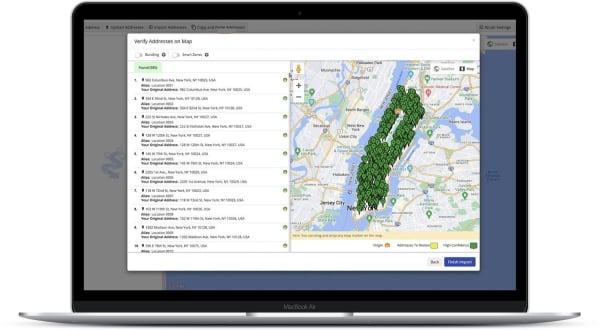 By optimizing routes through the web application, you'll be able to utilize features like time slots and priorities.
As soon as you're reading to dispatch delivery jobs to couriers, you can do so via the courier mobile app. Using the same Route4Me app, your staff will be able to collect e-signatures, take photos, videos, or even audio recordings that will populate your ePOD documents.
Using Route4Me courier app, you can also analyze your drivers' performance and compare planned vs actual KPIs to see your gaps and reward top performers.
Pricing: Route4Me charges per 10 team members at one. The platform's Route Optimization module will cost you $249/mo. A 7-day free trial is available.
5. Routific
Routific is a delivery management software solution with advanced features and a simple pricing model perfect for small and mid-sized courier businesses.
Being one of the best courier management platforms, it offers drag-and-drop scheduling and extensive route optimization features.
Time windows.
Vehicle capacity.
Priorities.
Type of delivery service.
Courier speeds & breaks.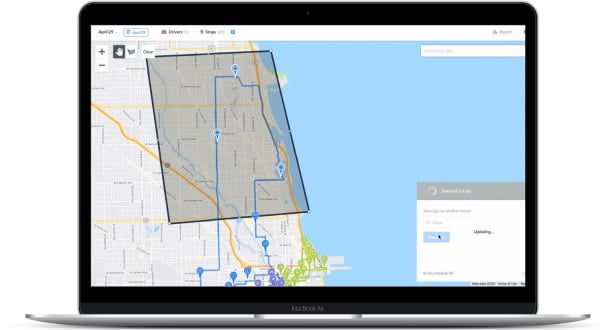 Thanks to SMS-based dispatch, you can allocate delivery jobs quickly and even add last-minute orders. Routific allows you to send delivery notifications to customers, including live tracking.
By collecting electronic Proof of Delivery, you can minimize customer disputes and reduce paperwork while holding the couriers accountable for their tasks.
Please note that ePOD is only available with the Professional subscription.
Pricing per courier: Routific's Professional plan that covers ePOD will cost you $59/mo per courier. A 7-day free trial is available.
Wrapping up
When choosing courier software for small to mid-sized businesses, it's crucial to decide on your must-have features and understand the pricing structure of different vendors.
I hope this comparison of the best courier dispatch software providers helps you make an informed decision. If you have questions about Track-POD courier dispatch software, book a free demo and we'll show you around.