How to Ace BFCM Logistics Without Seasonal Workers
Updated on October 28, 2022 by Yulia Miashkova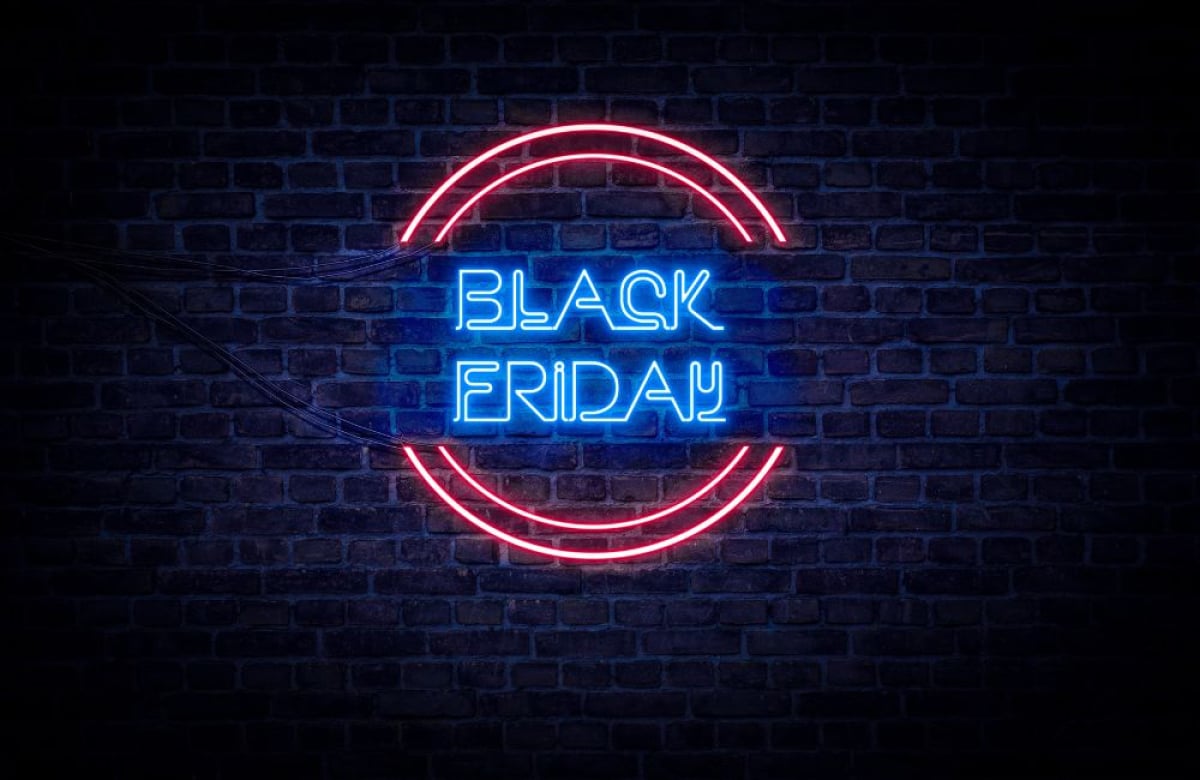 Black Friday and Cyber Monday (BFCM) are just around the corner.
For buyers, this means good deals and holiday shopping. For retailers, this means chaos and labor shortage - unless you come prepared.
While more buyers are expected to return to stores in person, online shopping is strong as ever. Retailers know that this means more orders for shipping and home delivery.
This blog post is all about BFCM logistics. How to prepare for peak season and how to survive it without seasonal workers.
Let's roll.
BFCM shipping dilemma
Any retailer familiar with peak and low seasons knows how much demand can fluctuate. It's impossible to handle a double or triple demand with the same workforce.
If we look at shipping specifically, these are the two most common scenarios.
If you outsource shipping, there will be delays because of a larger number of orders.
If you handle deliveries in-house, you're bound to experience truck driver shortage.
Meanwhile,
According to Shopify, consumers expect their shipping to be free and fast—ideally a combination of the two.
Fast and free shipping is incompatible with delays and labor shortages. Therefore, retailers have to find ways to deliver a good customer experience amid the inflated demand.
Holiday shipping strategy
If you think that online buyers will favor discounts over shipping options, you might want to reconsider.
Free shipping is the #1 factor influencing buyers' decisions during Black Friday - Source.
What can retailers do to get maximum sales with minimum damage during BFCM? Build a local distribution strategy and use in-house resources to their full potential.
Local distribution
Local distribution is a growing trend that emerged during the "permanent peak season" caused by the covid-19 pandemic and all the subsequent disruptions to the global supply lines.
Manufacturers are looking for ways to source locally precisely to minimize supply disruptions and fulfill orders on time. Local deliveries are easy to track and faster to execute as you can quickly fulfill even last-minute orders.
Another way for retailers to speed up shipping is by utilizing micro fulfillment and micro warehousing. Micro fulfillment happens out of small storage facilities in densely populated areas. By strategically placing micro warehouses close to the customer, shipping becomes much easier to organize.
In-house resources
There's nothing wrong with hiring seasonal workers to meet a bigger demand. As far as last-mile delivery is concerned, engaging contract drivers can be done with minimum risks for the business.
However, before you engage additional labor or deem your business unable to do so and meet customer expectations, take a look at your in-house resources and how you can optimize them.
In terms of order fulfillment and home delivery, the resources we're looking at are your dispatchers, drivers, and fleet. Even if the fleet in question is a grey fleet, i.e. privately owned vehicles, you can still make the most of it with the right tools.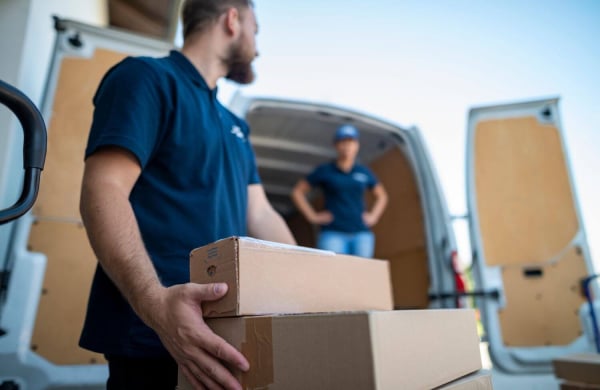 5 tips to ace BFCM logistics
Let's see how you can leverage the best tools and practices to nail Black Friday and Cyber Monday logistics in 2022 and beyond.
1. Use multi-stop routing
Multi-stop route planning is a way to build delivery routes with many drop locations in them. It's not as simple as squeezing all your daily orders into one delivery route; you have to arrange them in the right order.
Give the driver the shortest route.
Consider customers' preferred time slots.
Calculate estimated time of arrival (ETA).
All of this can be done with route planning software with unlimited stops. Unlike free tools like Google Maps, an advanced route planner will process as many orders as needed and give you fully optimized routes in seconds.
2. Leverage load optimization
When you need to handle a large number of BFCM orders and packages, loading and unloading can be an issue. In addition to packages being loaded in inefficient order, they can also be damaged during transportation if items are loaded incorrectly.
A load planner can be a part of your route optimization stack. With load optimization, you get the best arrangement in terms of how many packages can be loaded and in what order.
This is how you avoid damage to the packages, partial delivery, and returns. All of these costly mistakes can be avoided with a single solution - an automated route planner with optimization capacity.
3. Print shipping labels
Another solution for handling a large number of BFCM orders and avoiding delivery mistakes is to print shipping labels. Shipping labels are used by all major logistics providers and carriers. Luckily, small delivery operations can use them too - without inflating costs or investing in additional hardware.
A route planner like Track-POD generates shipping labels for orders and items at the routing stage. Then you can print them and scan QR/barcodes to make sure all items are loaded correctly and belong to the route.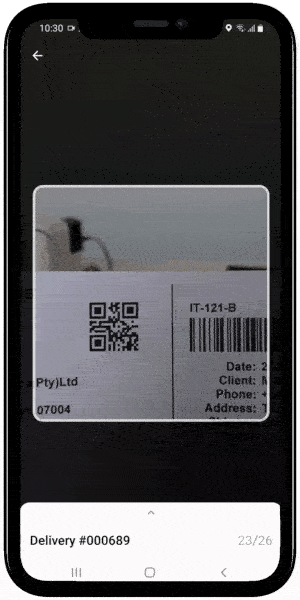 Scanning doesn't require any additional hardware as drivers can use their regular smartphones with a barcode scanner app that doubles as a delivery driver app. Packages can be scanned before departure and at customers' locations for delivery confirmation.
4. Offer order tracking & ETA
The #1 most time-consuming part of last-mile delivery is handling customer calls and requests related to the status of their orders. This eats up a big chunk of both your dispatchers' and your drivers' time if customers can contact them directly.
Calls on the status of delivery can be fully eliminated with live tracking notifications.
When customers receive SMS or email delivery notifications with a live tracking link and a dynamic ETA, they can follow the delivery in real time. There's no need to contact the driver or back office and the rate of delivery success is high because the customer knows exactly when their package arrives.
5. Collect Proof of Delivery
With a large volume of BFCM orders, documenting successful delivery is crucial to avoid disputes. Especially if you provide contactless delivery and want to make sure customers can locate their packages, you need photo confirmation.
Even if you don't, an electronic signature is required to confirm a successful delivery. E-signature, photo, timestamps, and any additional info will populate a Proof of Delivery (POD) document shared with the customer right away.
Once you've shared a POD document, you can also collect feedback on the delivery service - all fully automated.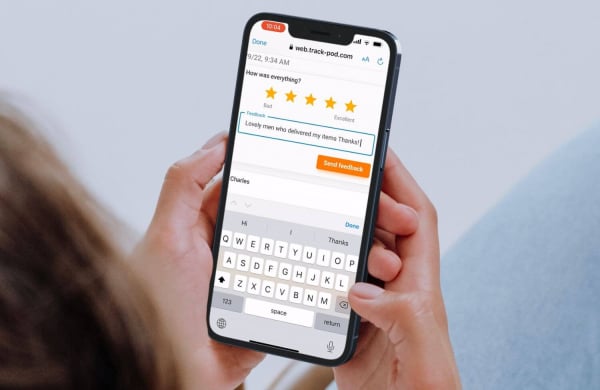 Wrapping up
Navigating a peak season can be overwhelming. With Black Friday and Cyber Monday on the horizon, the timing is right to take a fresh look at your shipping strategy and adjust it to the holiday dynamic.
I hope this guide helps you make the most of the holiday season without sacrificing customer experience. If you're curious about any of the solutions described above, book a free demo and we'll give you a guided tour of Track-POD.