Best Furniture Delivery Software for 2024
Updated on November 13, 2023 by Yulia Miashkova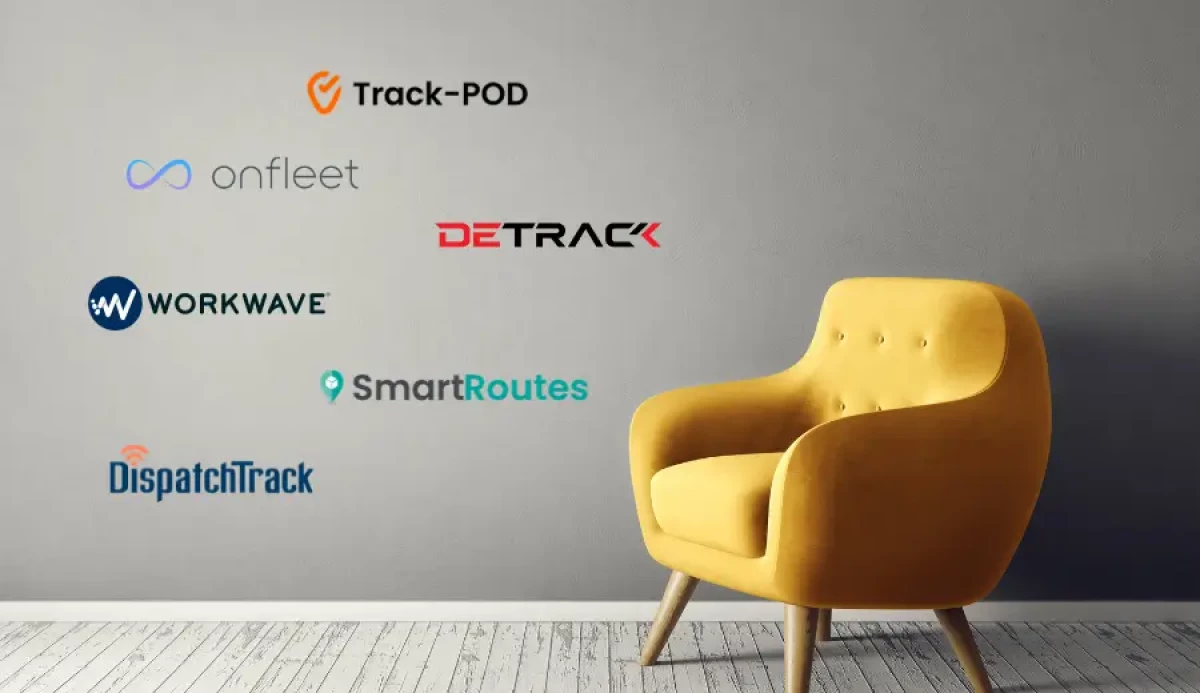 If you're in the business of making or selling furniture, you know how essential it is to deliver furniture on time, in full, at the correct address, and undamaged.
Because furniture transportation falls under the category of shipping heavy items, it requires careful preparation and handling.
As a furniture manufacturer or distributor, you need to know how to arrange transportation to ensure safe and timely delivery. On a mass scale, this is impossible without delivery management software.
This article is all about furniture delivery scheduling software. What it is, how it's different from regular delivery scheduling software, and how to choose the best software vendor for your customers' needs.
The ABCs of furniture delivery scheduling software
Furniture delivery software is any logistics software that offers solutions for B2B and B2C delivery of heavy items.
As opposed to small parcel delivery, furniture delivery requires ready-to-use tools for transportation of bulky, high-value goods.
Let's look at some of these solutions.
1. Shipping labels
Shipping heavy items, especially when they're high-value goods, leaves little room for human error. Simply because the cost of shipping is high enough even without the extra costs of correcting a delivery mistake.
The single best solution to costly delivery mistakes is shipping labels. They contain all the essential information like customer, shipper, and route details.
On top of that, shipping labels contain unique QR or barcodes assigned to each item in the order. By scanning each item before departure, you can make sure all furniture parts are on board and nothing is left behind.
Shipping labels are easy to build, print, and scan with the right furniture delivery software. You don't need to invest in extra tools or devices.
2. Barcode scanning
Speaking of devices, shipping labels require scanning if you want to make the most use of them. There are two paths you can take here.
One is to buy third-party scanning devices like Zebra or Newland. The other is to turn any smartphone into an industrial-grade scanner using furniture delivery scheduling software.
You read it right: fast and precise scanning of shipping labels is possible with a regular smartphone. You only need to install a free driver app that comes with delivery scheduling software.
3. Fleet optimization
Vehicle space is a precious resource in any delivery operation, but especially in furniture delivery. You want to avoid both overloading the vehicle and wasting space, as either leads to wasting money.
A ready-to-use solution that comes with furniture delivery software is load planning and optimization. It means that the software will come up with the most efficient way to use vehicle space considering the size and weight of your packages.
Furniture delivery scheduling software can also recommend the sequence in which you need to load items into the truck. This sequence is based on the number of stops in your route and where in the queue each furniture item is.
Over the long term, it also helps to look at vehicle capacity utilization statistics and see patterns in space utilization. This is possible with furniture delivery software that offers fleet analytics and historical data.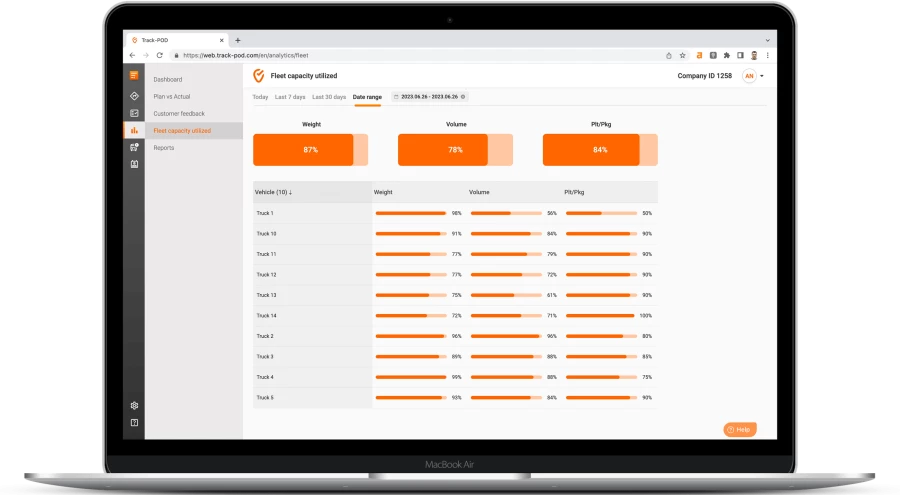 4. Time slots
Furniture is rarely something you can leave at the door. In most cases, a recipient is required to sign for a delivery and confirm that all items were well received.
In B2C furniture delivery, observing time slots selected by customers is crucial. If a customer is not there to receive their package, the driver will have to make a costly return trip.
In B2B furniture delivery, as is the case with manufacturers and distributors, minding dock schedules is just as important. The costs associated with queuing and dock congestion are high on all sides.
By using furniture delivery scheduling software, you can nail time slot management and only deliver within the preferred time windows.
5. Shipping notifications
Shipping notifications is another solution that works wonders both in B2C and B2B delivery. Below are the key points at which customers benefit from getting delivery notifications.
Order confirmation – sent to confirm that an order has been placed.

Route start – sent to share ETA and/or number in line.

On the way – includes a live tracking link with driver details.

Post-delivery – includes a PDF document with proof of delivery / rejection.
Because notifications can be sent both via SMS and email, you can cover all business cases.
B2C customers might appreciate quick SMS updates while B2B customers will prefer email notifications with multiple recipients.
6. Partial delivery/overdelivery
More often than not, furniture delivery involves splitting one order into multiple packages or pallets. Even with unique barcodes, scanning, and load confirmation, force majeure happens and not all items make it to the final destination intact.
This is where partial delivery comes into play. As the name suggests, partial delivery is delivery of fewer items than planned due to damage, mistakes, or any other reasons.
When 4/5 items are delivered, the order is neither completed nor failed. It's delivered partially. When 6/5 items are delivered (which can be the case in B2B logistics), the order is overdelivered.
You need to be able to document both scenarios and furniture delivery software can help you do that effectively.
By entering the quantity of items actually delivered, you can document partial or overdelivery.

7. Customer portal
Customer Portal is a place for shippers to log in and manage their orders independently. Say, you work with multiple distributors of furniture and handle last-mile delivery to end buyers.
You can automate taking orders by giving your regular shippers access to a customer portal. This is a great way to cut manual work and reduce order processing times to a minimum.
A customer portal will be useful both for courier companies and furniture manufacturers delivering to regular distributor locations.
In both cases, customers can place orders without involving dispatchers or sales reps.
Best furniture delivery software for 2024
Now that you know what sets furniture delivery software apart from the wider category of logistics software, it's time to look at the best furniture delivery scheduling software options for 2024.
1. Track-POD
Track-POD is a developer of ready-to-use solutions for many logistics scenarios, including shipping of bulky items. It's used both by manufacturers and distributors of furniture, as well as courier companies delivering furniture on behalf of their clients.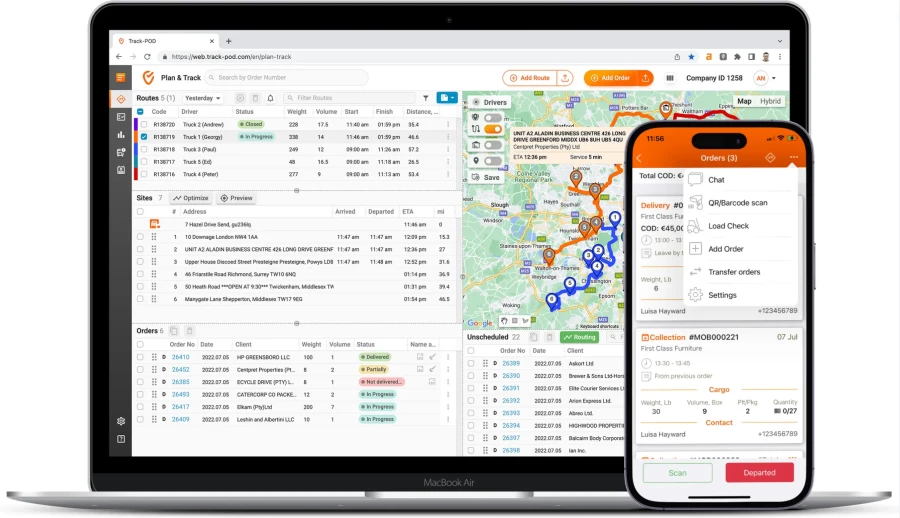 Why is Track-POD the best for furniture delivery scheduling?
Track-POD is one of the most versatile apps for last-mile delivery. Below are some of the solutions that make it a good fit for furniture delivery scheduling.
Custom shipping labels.

Per-item barcode scanning.

Load optimization.

Time slots and priorities.

Customer Portal.

Partial & overdelivery.

Custom Proof of Delivery.

Cash on delivery (COD).

12+ months of analytics.
As you can see, Track-POD offers all the key features for furniture delivery scheduling out of the box. The system has native integrations with eCommerce platforms, accounting software, and any of the 5,000 more apps using Zapier.
You can also connect Track-POD to any customer-facing solution, CRM, or ERP using API for instant order import and dispatch.
Track-POD pricing
Pay per vehicle (starting at $29/mo) or task/order (starting from $0.12). A 7-day free trial is also available.
2. Onfleet
Onfleet is a delivery scheduling solution used in many industries, from grocery delivery to construction logistics. Furniture delivery is one of the business segments covered by Onfleet solutions.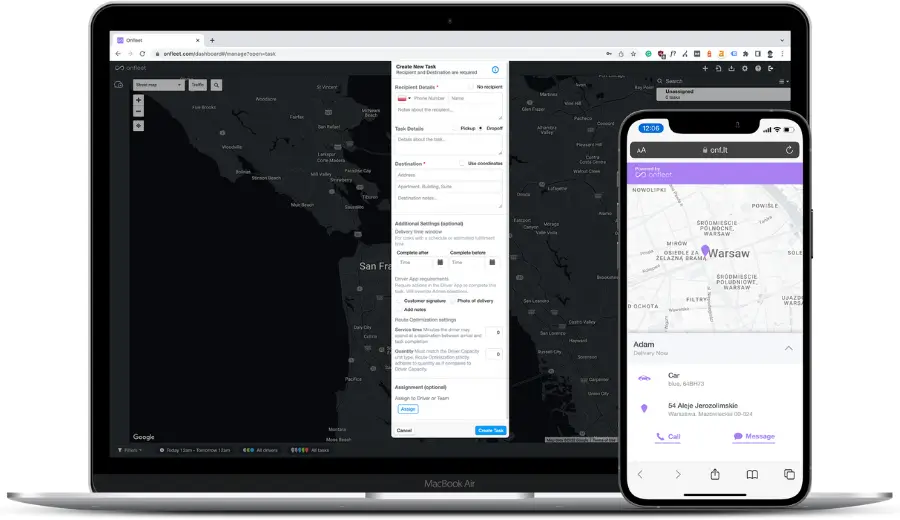 Let's take a look at some of them.
Onfleet solutions for furniture delivery scheduling
Similar to other last-mile software vendors, Onfleet focuses on creating a seamless customer experience.
Fleet optimization.

Time slots &

traffic data

.

Auto-assign engine.

SMS shipping notifications.

Contactless e-signatures.

Barcode import & scanning.

Live tracking with ETAs.

90+ days of historical data.
Please keep in mind that Onfleet charges per number of tasks a month with unlimited users. There's no option to pay per driver and some of the key features for efficient furniture delivery scheduling are only available with more expensive subscriptions.
Onfleet pricing
As mentioned above, Onfleet pricing is tied to the number of tasks a month, starting from $0.25/task. A 14-day free trial is available.
3. WorkWave Route Manager
WorkWave Route Manager (WRM) is a tried and tested system for managing deliveries, including bulky items. It powers furniture delivery operations from both B2C and B2B segments with reliable solutions for scheduling and dispatch.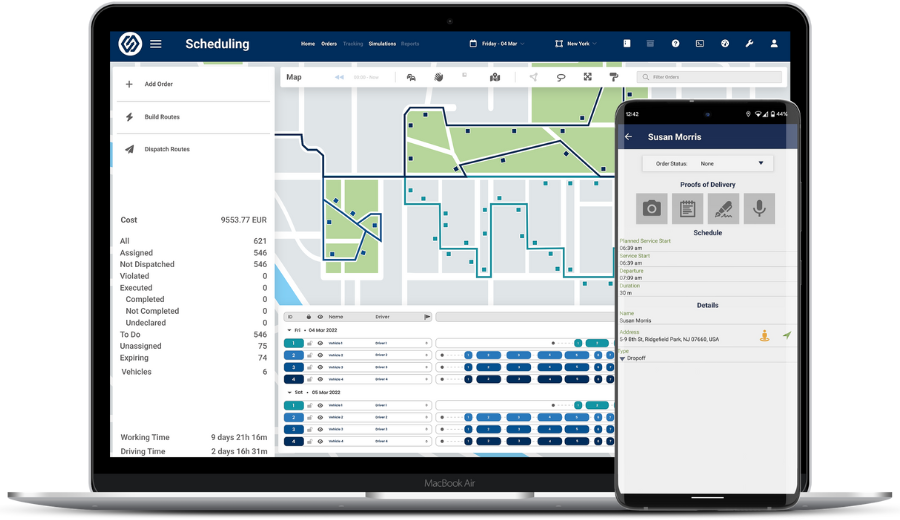 WRM solutions for furniture delivery scheduling
Let's see what kind of features you can expect to see in WorkWave Route Manager.
Dynamic loads.

Territory and map simulations.

Barcode scanning.

Email and SMS notifications.

GPS tracking.

Proof of job completion.

Interstate reporting.

In-vehicle devices.

Zapier integration.
WRM pricing
WorkWave Route Manager charges per vehicle/driver on a monthly, quarterly, or annual basis. The starting price per vehicle is $54/mo.
4. DispatchTrack
DispatchTrack is a delivery management software vendor that caters to the furniture and appliances industry among others. It offers all of the key features for efficient last-mile logistics management.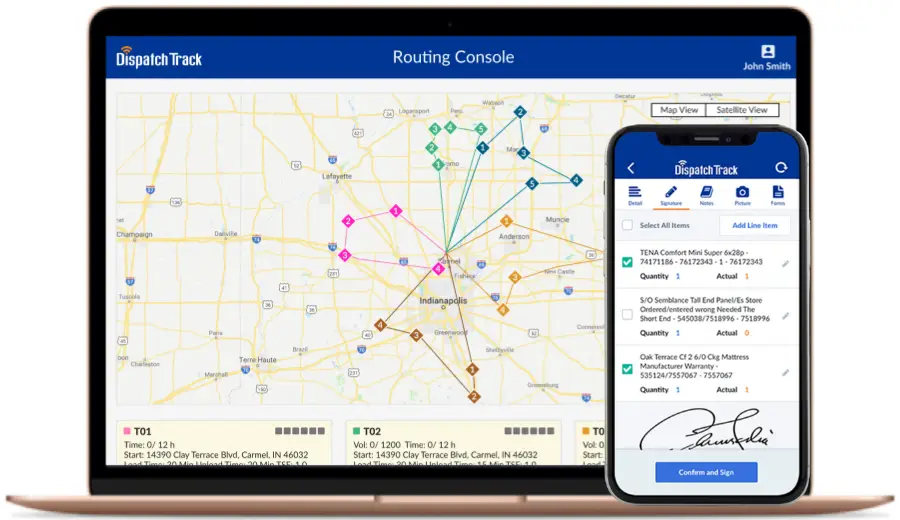 DispatchTrack solutions for furniture delivery scheduling
Below is an overview of the key solutions for furniture delivery available in DispatchTrack.
Capacity optimization.

Strategic planning & hybrid routing.

Real-time ETAs.

Scheduling portal.

Email alerts.

Proof of delivery with photo and video.

Automated invoices and settlements.

Custom reports and KPIs.
DispatchTrack pricing
DispatchTrack charges based on the number of vehicles in your fleet. The pricing is available upon request. There's no free trial but you can book a demo.
5. Detrack
Detrack is an affordable delivery scheduling software solution used by many businesses, including in the furniture and appliance industry. It caters to the needs of small to mid-sized delivery operations.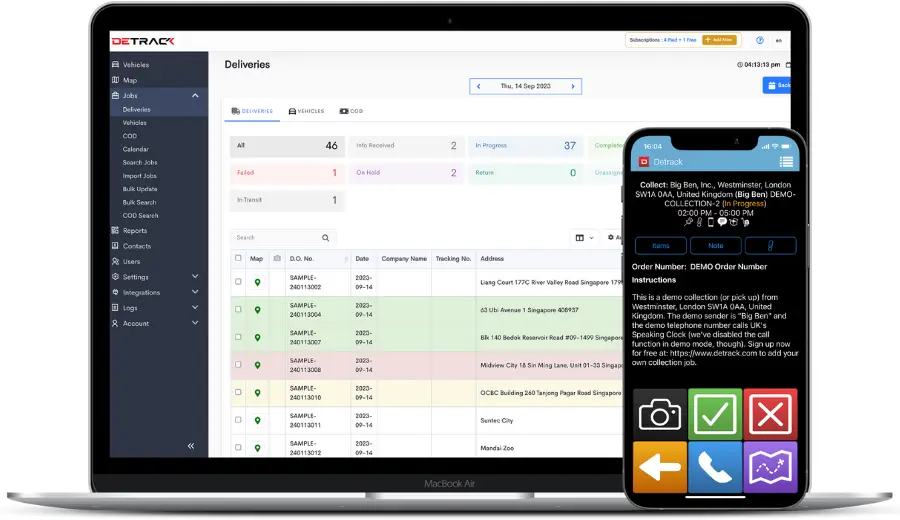 Detrack solutions for furniture delivery scheduling
Let's look at some of the ready-to-use solutions for furniture delivery available in Detrack.
Route optimization (add-on paid solution).

Fleet capacity optimization.

Delivery time windows.

Live tracking with ETAs.

SMS and email notifications.

Custom branding.

Shipping labels.

Proof of delivery.

Partial delivery.
Please keep in mind that route optimization features aren't part of Detrack's out-of-the-box solutions. You'll need to integrate it with a standalone tool – ElasticRoute – available as a paid add-on.
Detrack pricing
Detrack charges per vehicle, starting from $26/mo (a free plan is available with limited features). Route optimization via ElasticRoute will cost you an additional $29/mo or $44 in total (Detrack + ElasticRoute bundle pricing).
6. SmartRoutes
SmartRoutes is a route scheduling software vendor that offers solutions for furniture delivery management. Let's look at what it has to offer to furniture manufacturers and distributors who want to take last-mile logistics into their own hands.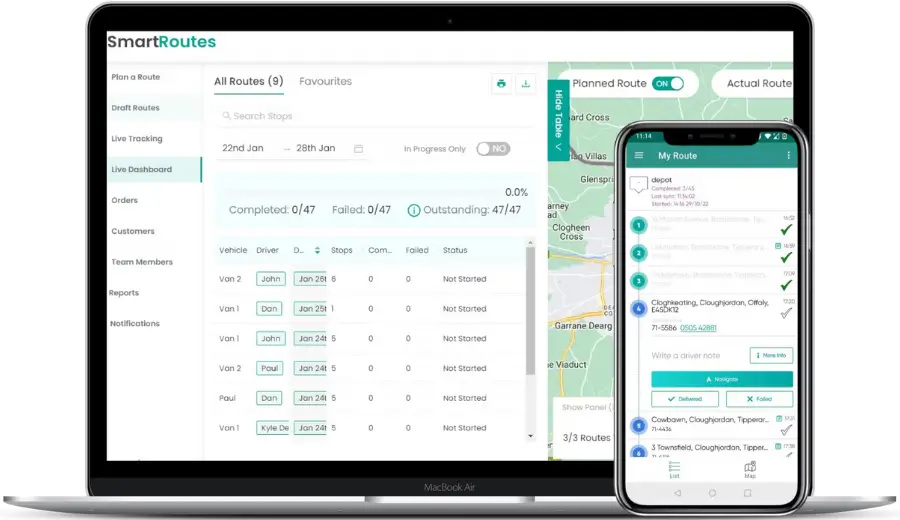 SmartRoutes solutions for furniture delivery scheduling
Below is an overview of SmartRoutes features for furniture delivery management.
Vehicle capacity tracking.

Delivery windows.

Label printing.

Sequence routes.

Email and SMS notifications.

White label tracking.

Proof of delivery.

KPIs and reports.
SmartRoutes pricing
SmartRoutes charges per vehicle per month, starting at £23. A 7-day free trial is also available.
Wrapping up
Furniture delivery is a costly enterprise, impossible without the right tools. As much as you need skilled movers and adequately sized vehicles, you need furniture delivery software to get the job done.
As a furniture manufacturer or distributor, looking into delivery scheduling software is the kind of due diligence that will help you cut costs and boost customer satisfaction in the long run.
I hope this article helps you make the right choice for your furniture logistics operation. If you're curious to see how Track-POD could improve your delivery workflow, book a free demo, and we'll answer your questions in real-time.