What Is the Best Free Barcode Generator Software for Logistics? [Top-5 in 2023]
Updated on October 05, 2023 by Yulia Miashkova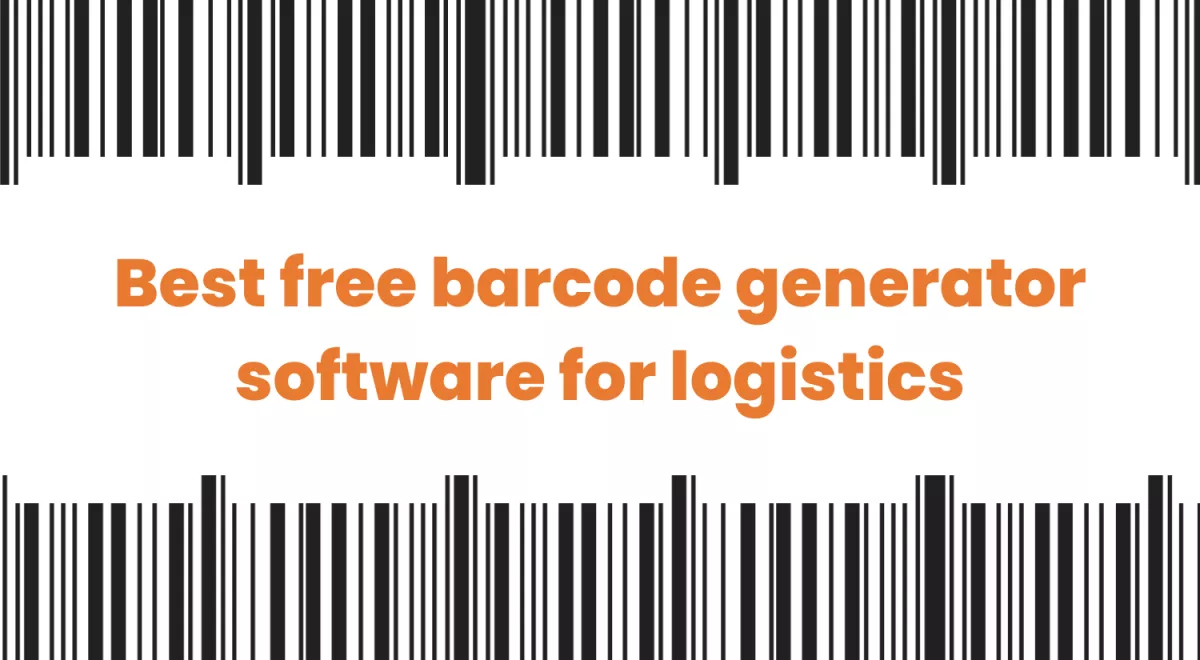 Shipping labels and barcode scanning are key parts of an efficient logistics workflow.
Both are meant to support drivers in getting the correct packages to the correct addresses, ensuring no package is missed or lost.
The good news is that modern-day logistics software comes fully equipped with solutions like shipping label templates and barcode scanners. No need to integrate third-party software or invest in additional hardware.
In this post, we're looking at the 5 best barcode generator software solutions that come with a barcode scanner app for smartphones.
Read on to find your best match for last-mile logistics success.
1. Track-POD
Track-POD is a leading developer of out-of-the-box solutions for logistics operations of all sizes.
From unlimited stop route optimization to custom Proof of Delivery – Track-POD covers the entire last-mile workflow and supports small businesses with industry-grade solutions.
Barcode scanning in Track-POD is as advanced as it gets. The app comes with a custom shipping label template with an easy drag and drop interface. All elements are customizable, you can include any information outside of the default set by using Track-POD's unlimited custom fields.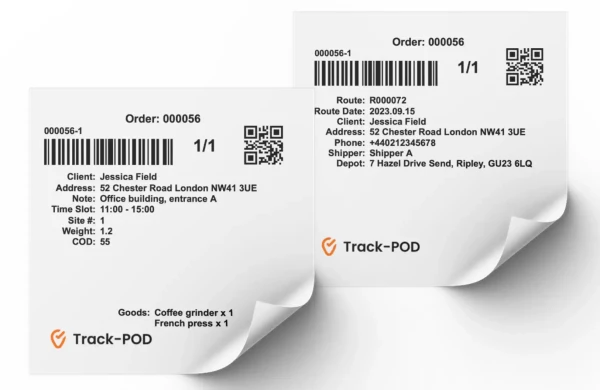 Barcode and QR code generation is instant and unique for every item in the order.
You can generate as many unique barcodes as there are goods. Using Track-POD's barcode scanner app, you can scan all items one by one, making sure all cargo is on board before departure and at the customer's address.
If you prefer to scan one barcode per order, you can also do that. Shipping labels with barcodes are printed directly from the routing dashboard with all of your orders. Track-POD generates barcodes even for unscheduled orders, i.e. as soon as an order is added or imported into the system.
You can also import your own barcodes by adding them to the goods directory via API, CSV import, or manually.
Track-POD barcode generator features
Below is a recap of the features you get with Track-POD's free barcode generator software for logistics.
Unique item barcodes.
Order barcodes.
Barcodes for unscheduled orders.
Import your own barcodes.
Track-POD barcode generator pricing
In Track-POD, barcode generator is included in all subscription plans. You can get started for free and upgrade to the cheapest subscription plan ($29/mo if paid annually) to incorporate unique barcodes and industrial-grade scanning into your delivery workflow.
2. Tookan
Tookan is a delivery management platform with extensive functionality and solutions for many business cases. Barcode generation and scanning are among the tools offered by Tookan for smooth logistics management.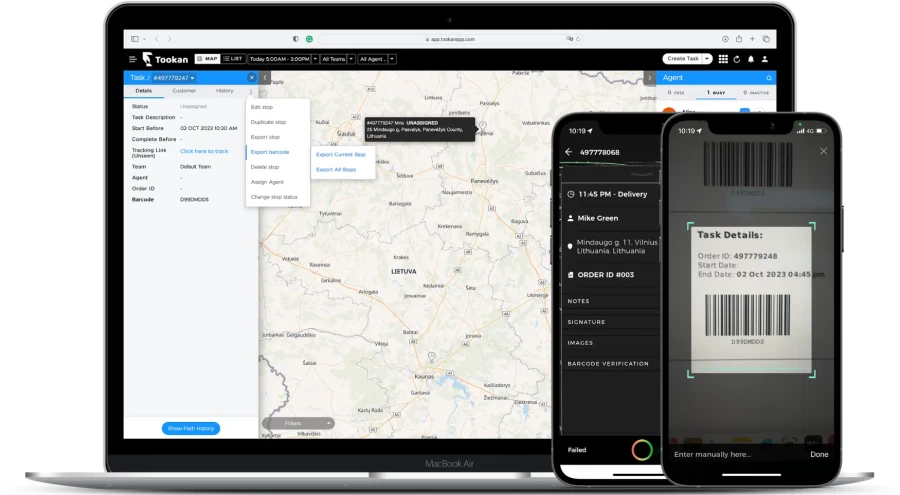 Tookan's setup and pricing model is more complex than Track-POD's, in a way that not all core features come out of the box.
For example, crucial features like route optimization, ETA, and barcode scanning must be set up and entail extra fees.
While route optimization requires integration with a separate system (Mappr), barcode generation and scanning are built into the main interface of Tookan's web and mobile apps. Once you've enabled these features, you can use both without going into a separate interface.
Tookan barcode generator features
Like Track-POD, Tookan allows you to use its auto-generated barcodes or import your own. The barcodes are then printed on shipping labels that can be scanned by delivery drivers or managers using Tookan's manager app.
You can choose if you wish to use the same barcode for connected tasks or generate different barcodes instead.
Tookan barcode generator pricing
Tookan charges per number of tasks a month with unlimited drivers. 200 tasks will cost you $39/mo with an annual subscription. Barcode scanning comes with an additional fee of $11.99/mo, along with route optimization ($0.12/task), ETA ($49+/mo), and more.
3. Detrack
Detrack is a last-mile delivery software vendor popular with small delivery operations and single-contractor drivers. It's an affordable and feature-rich solution for many logistics scenarios despite lacking a native route optimization solution.
You must use two separate interfaces (Detrack and ElasticRoute) with export and import to plan delivery routes.
Integrating a different system also entails additional fees, but the most significant challenge remains in getting order information in and out of two separate interfaces.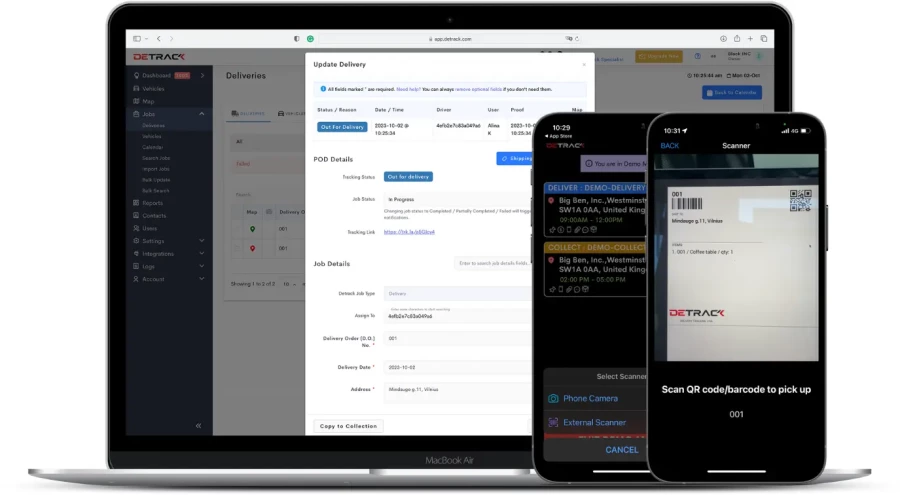 Barcode generation and scanning are part of Detrack's delivery management workflow. Let's see what features you get if you opt for Detrack's solutions.
Detrack barcode generator features
You can scan individual item barcodes using Detrack's barcode generator software, including with external scanner devices. Barcode scanning is also part of the Mass POD workflow.
Detrack barcode generator pricing
Detrack charges per vehicle per month and offers a free plan (up to 10 stops a day). The PRO plan will cost you $26/mo per driver with an annual subscription. Route optimization with ElasticRoute will cost you an additional $29/mo per vehicle. You can also opt for bundle pricing ($44/mo per vehicle).
4. Shipday
Shipday is a delivery platform for local food delivery businesses. It's an affordable yet versatile option for restaurants, grocery delivery services, and other businesses determined to take last-mile delivery into their own hands.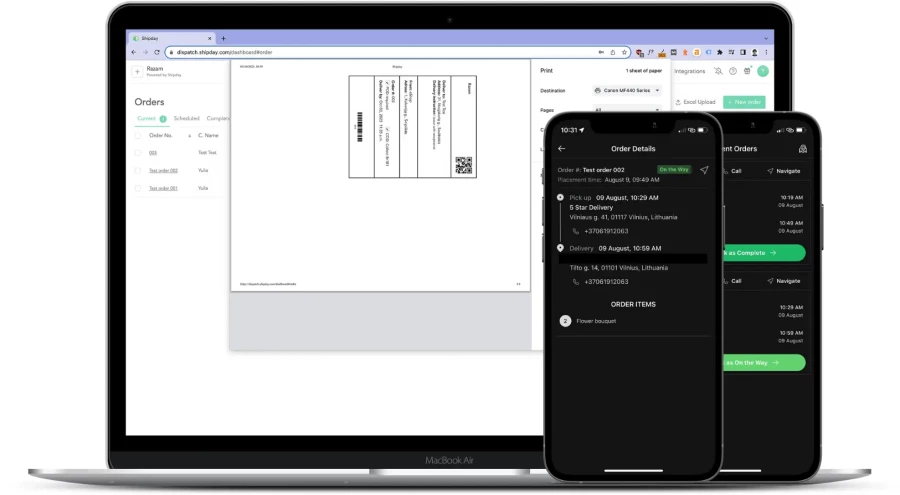 Shipday's solutions include real-time driver tracking, customer shipping notifications, and Proof of Delivery with photo confirmation and electronic signature capture. Route planning and optimization are also part of the package, but come with a pricier subscription plan.
Shipday barcode generator features
As part of its order fulfillment workflow, Shipday generates shipping labels that can be printed directly from the dashboard. Barcodes are instantly generated even for unassigned orders, making it easy to print shipping labels in bulk as soon as the orders have been imported.
Keep in mind that barcode scanning in Shipday is part of a more expensive subscription.
Shipday barcode generator pricing
Even though Shipday offers a free Starter plan with some basic features, barcode scanning is not one of them. To generate barcodes that populate scannable shipping labels, you'll need to upgrade to Shipday's Branded Premium plan ($79/mo) that covers 300 orders.
5. Onfleet
Onfleet is a last-mile logistics software solution for teams. It powers businesses in the food delivery sector, as well as pharmacy, beverage, cannabis, furniture, and construction industries.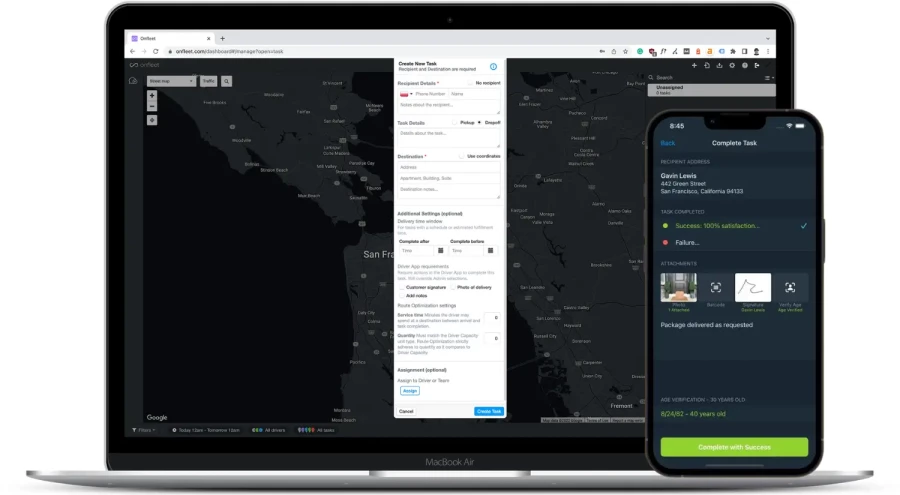 Among Onfleet's solutions to last-mile logistics management are route optimization, barcode scanning, and age verification. While Onfleet doesn't generate barcodes per se, it allows you to add your own barcodes to the system for Proof of Delivery.
Note that barcode scanning in Onfleet comes as an add-on available with the Scale and Enterprise subscriptions.
Onfleet barcode scanner features
Below are the features offered by Onfleet within its barcode scanning workflow via API.
Import multiple barcodes per task.
Require scanning for task completion.
24 barcode types supported.
ID document scanning.
Onfleet barcode scanner pricing
As mentioned, barcode scanning and age verification are only available with Onfleet's pricier subscriptions - Scale ($1,265/mo) and Enterprise (custom).
Wrapping up
Barcode generator & scanner software is essential to a well-rounded logistics workflow. Using shipping labels with unique barcodes, you can minimize delivery mistakes and ensure every customer gets the correct package on time.
This list of the best free barcode generator software for logistics helps you find your perfect match. If you're curious to see Track-POD's custom shipping label and barcode scanning workflow in action, do not hesitate to book a free demo.