Contactless Delivery Beyond the Pandemic [Infographic]
Updated on May 19, 2022 by Yulia Miashkova

Once upon a time, deliveries required at least 2 people: a driver with a package and a customer confirming the delivery. The customer would sign a paper document stipulating that the package was delivered, and the driver would then take the document back to the office/warehouse.
You might remember this type of arrangement and even participate in it from time to time, but not all consumers do. As early into the COVID-19 pandemic as May 2020, 37% of U.S. survey respondents had used contactless delivery more than usual.
When the pandemic started, contactless delivery was primarily motivated by safety concerns. Meanwhile, consumers today perceive it simply as a more convenient delivery option.
According to Deloitte, contactless delivery formats have become table stakes.
Let's take a look at no-contact deliveries from business' point of view. What's in there for you? Do you absolutely have to do it? How to implement it with minimum damage with the right last mile logistics software?
Let's start with the basics.
What is no-contact delivery?
No-contact delivery, as the name suggests, is a form of delivery where the customer has no physical contact with the driver. Contactless delivery can take different forms – delivery robots and drones are some of the most advanced of them – but we'll take it one step at a time and focus on no-contact deliveries that still require a human driver but allow everyone to stay safe.
Speaking of delivery robots and drones, contactless delivery is not a prerogative of corporations and enterprises with huge budgets.
No-contact is so much the new normal that even small businesses are expected to hop on board with it.
Let's look at a few more contactless delivery trends and statistics.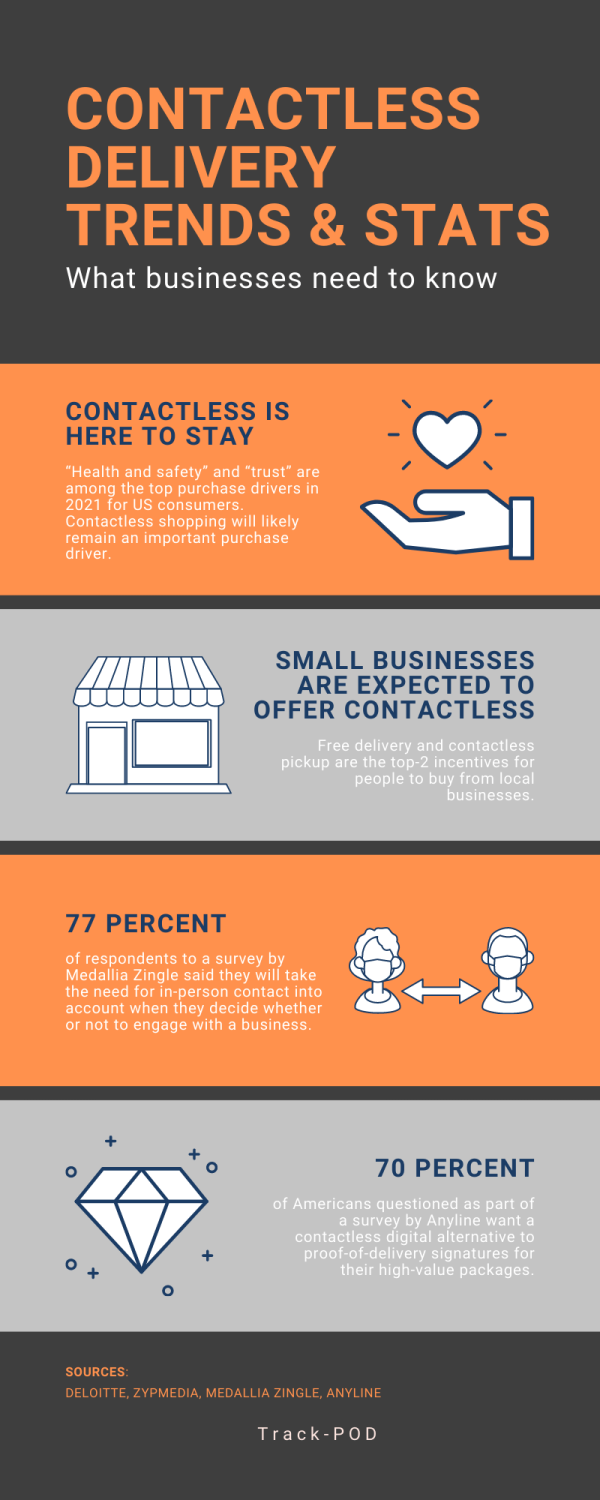 As you can see, contact-free delivery is not just a thing of the pandemic. Many executives remain certain that the demand for safe, on-time deliveries will not cease even after the world goes back to some kind of normal.
Put simply, if you want to retain your customers in 2023 and beyond, contactless delivery has to be on your list of priorities. The best part is that you don't have to restructure your entire business to set up a no-contact delivery process. It's fairly simple to put in place with the right tools, and the benefits for your business are many. Let's dive in.
Benefits of contactless delivery
As a delivery operation, there are many things to gain from going contactless. Let's look at the perks you can expect from introducing the option of no-contact delivery.
Keeps everyone safe
Before you roll your eyes at me, I ask you to think about safety once again. We all know how important it is to keep social distance for public safety. However, beyond the obvious precautions you take for the health and safety of your customers, you need to also prioritize the wellbeing of your staff.
Even with mandatory face masks and vaccination, we'll still be dealing with certain health risks way past 2023. If your business can go one step further and provide the option to exclude physical contact altogether, you win points in the eyes of your customers and your staff.
Saves time & money
How often were you in a situation where the customer didn't show up for their delivery? Was running late? Forgot about it? However advanced your delivery notifications are, you can never guarantee the customer's availability at their delivery address when the driver is there to meet them.
No-contact delivery requires no contact – simple as that.
As long as you've shared with your customers an accurate estimated arrival time or specified a time window for when your driver will be there, it doesn't matter if the customer is physically at home.
This gives more space and flexibility to both your drivers and your buyers. It also benefits your larger business: since you can fit more delivery routes into one day, you save time on each delivery and your costs go down.
Lets you go paperless
Contactless and paperless go hand in hand. Once you've cut out the need for physical contact, you've cut out the paper document – aka Proof of Delivery note – that needs to be signed by the customer. By only sharing the photo of the order successfully delivered to the customer's doorstep, you accomplish what used to take hours or even days.
The fact that your customer has no paper document to sign doesn't mean you don't share with them a legitimate Proof of Delivery document. It still gets emailed to them as a PDF upon completion of delivery and contains their address with coordinates, description of the goods delivered, and a photo to prove the delivery.
Pro tip: Track-POD allows you to customize PODs with your logo and any custom fields you choose to add.

Digitalizes your business
Speaking of electronic Proof of Delivery... Did I mention you can't lose a POD that was never printed?
Contactless delivery is a step forward in the inevitable digital transformation every business needs to go through.
Leaving paper PODs behind means not only that you or your drivers never lose them but also that you have more of your reporting digitized. Instant access to all order details upon delivery helps you stay ahead of the game and be confident in your bookkeeping.
Impressive, isn't it? With these benefits in mind, let's move on to the execution.
No-contact delivery FAQ
As a smaller business owner, you might be asking yourself: is contactless delivery even feasible? To put your mind at ease, let's do a little FAQ/myth-busting before getting into no-contact delivery implementation.
How big of a delivery operation do I need to have?
Like in many things in life, size doesn't matter when it comes to setting up contactless deliveries. You need the exact number of people and resources you already employ, not one person more.
What about staff training?
Since your transition to contactless will be enabled by technology only, you don't need to provide any training for the staff except for what is needed to get a hold of the new tech. Track-POD is very simple to use. The proof of delivery app, for example, is completely intuitive and won't take longer than a week for your driver staff to get used to.
Can I implement no-contact delivery on a minimum budget?
Absolutely. Track-POD offers flexible pricing, with the option to pay per driver/vehicle or per number of tasks handled in a month. If you have a small delivery operation and choose to pay per driver, your monthly total for fully contactless delivery can be as low as $29.
How to run contactless deliveries with Track-POD?
Now that we've dealt with the theory, let's get down to practice. This is how you set up and run no-contact deliveries with Track-POD – an all-in-one route planner and last-mile delivery tracker.
In case you decide to take advantage of Track-POD's route planning and optimization features (which you absolutely should if you want to save even more time and money), let's start at the beginning.
1. Add orders to the system
Track-POD comes in two parts: dispatcher dashboard and driver app. To get your deliveries planned out and optimized, you need to add orders to the dispatcher dashboard. This can be done manually, in bulk via CSV, or automatically by integrating Track-POD with your CRM, Shopify, or any other system you generate orders in.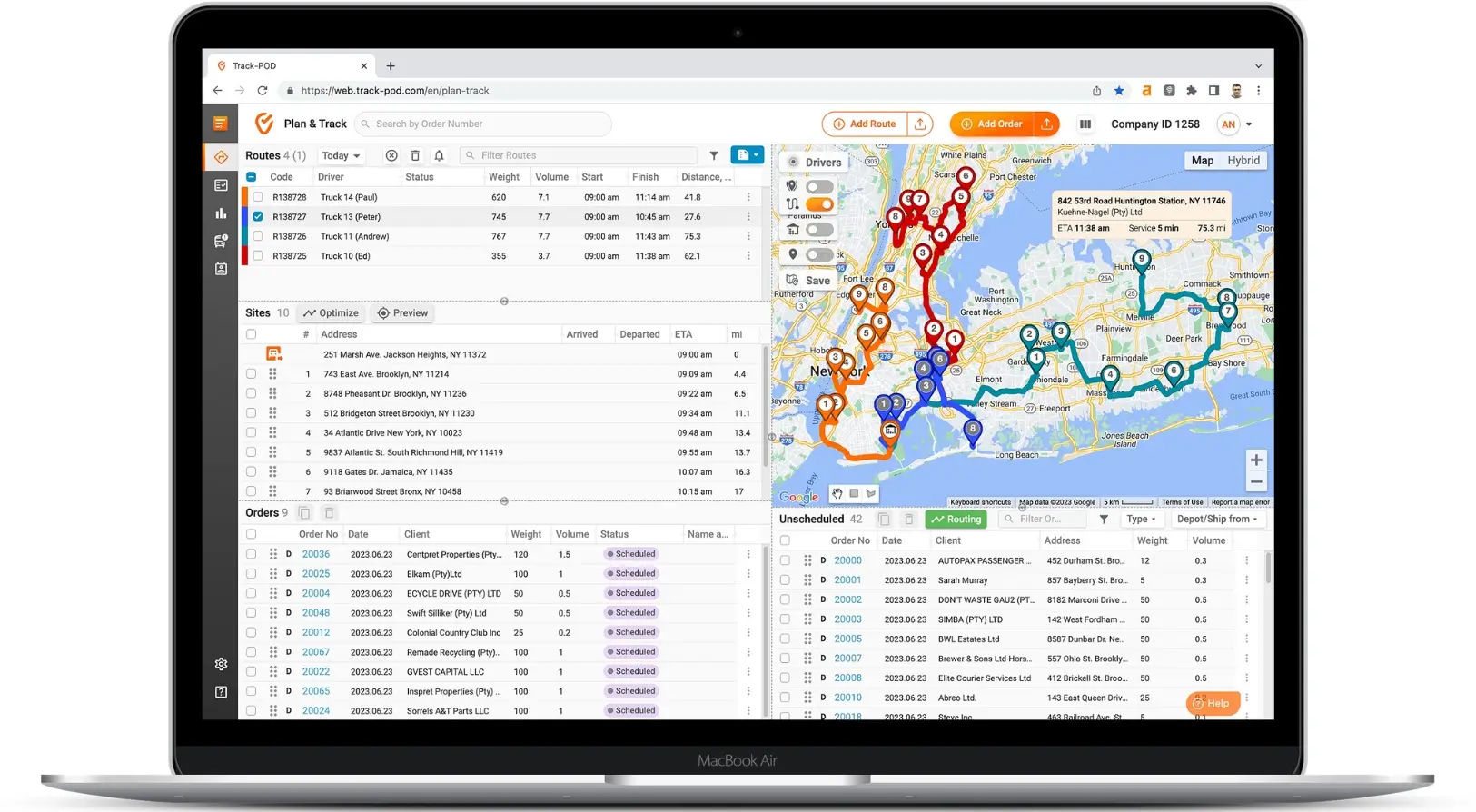 Pro tip: control user rights by assigning any of the 10 roles to each person you'll be adding to Track-POD.
2. Get optimized routes
Once the orders are in the software, it can plan and optimize routes according to your optimization strategy, fleet specifications, drivers' working hours, and much more. The more preferences you have indicated, the better Track-POD gets at saving you money on fuel, vehicle maintenance, and drivers' hours.
As soon as the routes have been planned and assigned to the drivers, they can open the mobile app and see daily deliveries lined up. Track-POD even gives you the option to print barcodes so that drivers can scan them to make sure their vehicles are loaded correctly.
Pro tip: to ensure maximum safety and minimize fleet repair costs, enable mandatory vehicle checks, and have all issues appear in your dashboard right away.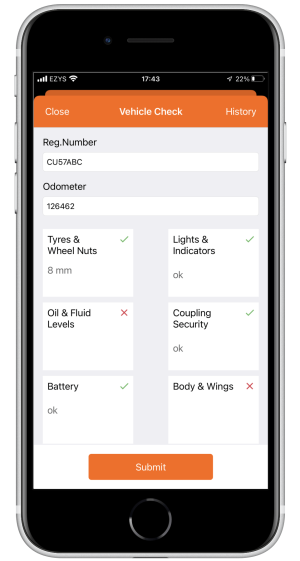 3. Track driver in real-time
As soon as the driver has started their route, you can track their whereabouts in real-time. Customers can do the same, as Track-POD sends notifications with live ETA and tracking link. Both significantly up your rate of successful deliveries.
Pro tip: add your most frequent shippers to Track-POD's Customer Portal and let them add, track, and manage their orders independently.
4. Collect photo proof & send POD
After the driver has completed the delivery and taken photos to prove it, the customer will receive an email containing a Proof of Delivery document in PDF. This data is immediately reflected in the dispatcher's dashboard.
Pro tip: even if the driver loses their Internet connection, the Track-POD app will keep working offline and all data will be synced with the dispatcher as soon as the connection is restored.
5. Force majeure
Not all deliveries go as planned. Sometimes, there is damage to the goods or mistakes in loading. You need your software to account for that and let your drivers report on the issues while keeping it contact-free.
Track-POD lets drivers choose between three order statuses: Delivered, Not Delivered, and Partially Delivered. When marking the order as Not Delivered or Partially Delivered, instruct your drivers to take photos of any damage to goods or other issues.
Pro tip: because Track-POD offers the Rearrive feature, your drivers can change the order status from Not Delivered to Delivered after they've returned to the delivery address to complete an unsuccessful delivery. They can also pass the task on to another driver in case they can't complete a job.
No-contact delivery: final thoughts
Just like any new tech or process you adopt, implementing contactless delivery will not happen overnight. You need to compare software alternatives, onboard your staff, and then tell your customers about your new delivery option.
While this does sound like a lot, no-contact delivery is the new normal. Buyers expect it and public safety demands it. Even after the pandemic is over, contactless delivery will be a huge factor in buyer decision-making. If you want to retain customers, there's no way around it.
Given all pros and cons, the answer to whether you should introduce no-contact delivery is a solid YES. The question is, how to make it happen with minimum costs and friction.
I hope this article gives you some clarity as to what contactless delivery implementation can look like. If you have more questions about Track-POD or would like to see it in action, don't hesitate to book a free demo with us or start your free trial today.