10 Best Field Service Routing Software Solutions for 2024
Updated on November 20, 2023 by Alina Kostukova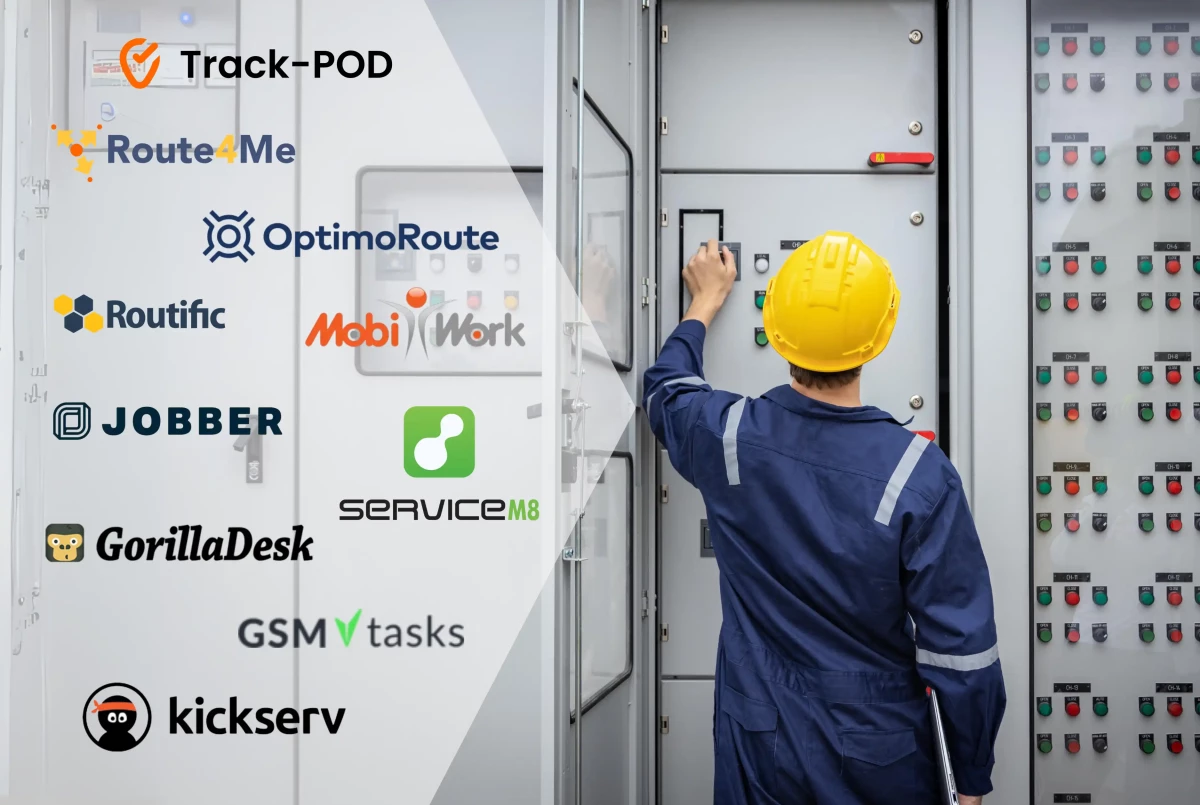 The field service management industry is expected to be valued at a whopping $25.4 billion by 2030. With this growth comes increased competition in the field.
Whether you're running a fleet of technicians or managing sales reps on the move, optimizing your routes and efficiently managing field activities can make all the difference.
One exciting innovation for businesses handling service operations is field management software (FSM) that comes with route optimization.
Field service routing software can do more than make job scheduling and dispatching easier; it can also plan routes, track your team in real-time, and simplify order management.
In this article, we'll review the top ten field management software options that have the power of route optimization at their core.
Jump to comparison:
What is field service routing software
First and foremost, the definition.
Field service management software is a type of technology that assists businesses in organizing and optimizing their field service operations. Field service routing software is a type of FSM that comes with route planning and optimization functionality.
Any service conducted outside the organization's facilities, such as installing, maintaining, repairing, or monitoring equipment or assets at the customer's location, is considered field service.
Use cases for field service routing software
Many kinds of field service providers, including the following, can use field service management software:
Public utilities:

Field service routing software helps utility companies take care of their infrastructure, like power lines, gas pipes, and water meters. It makes the services quicker and more efficient in responding to outages, emergencies, and customer requests.

Home services

: Businesses offering various home repair and maintenance services can benefit from this software for scheduling, dispatching, and tracking work orders.


Telecommunications:

Telecom companies use FSM software to set up, maintain, and fix their network equipment like towers, antennas, and cables.


Manufacturing:

Manufacturing companies use such tools to service machines, equipment, and products at the customer's place. FSM also helps manufacturers meet quality and safety transportation standards, and assist after the sale.


Healthcare:

Healthcare providers use field service routing software to provide medical services at a patient's location, manage medical equipment deliveries, and ensure patient safety and satisfaction.

Agriculture and farming:

Farms and agricultural operations use the software to manage equipment maintenance orders, crop monitoring, and fieldwork scheduling.
These are just a few examples of companies and industries that might profit from field service management software with route optimization.
Key features of field service
route optimization software
Let's discuss the crucial features to look at when choosing field service routing software.
Job scheduling and dispatching
This feature allows dispatchers to assign and schedule jobs to the most suitable field workers based on their availability, vehicle, location, and priority. It also enables field workers to receive and update their job status, access relevant information, and communicate with managers through the software.
Route planning and optimization
Route planning and optimization features help dispatchers and technicians plan the best routes between several service locations, considering customer preferences, time slots, traffic, and distance.
Live tracking
This feature enables managers and customers to track the location and progress of field workers in real-time using GPS and other technologies.
It can also provide historical data and analytics on field workers' performance, such as travel time, service time, customer feedback, and revenue.
Order management
Order management functionality helps field service companies register and manage their orders, client and delivery documentation, and payments.
Mobile app
Field workers are always on the go, so the mobile version of service management software is a must-have.
Mobile workforce management app allows field workers to access and use the software on their mobile devices, such as smartphones or tablets. It can also provide offline functionality, barcode scanning, digital signatures, and other features to enhance productivity.
Integrations
Depending on industry-specific requirements, specific field service management systems can be integrated with accounting, inventory management, CRM, or ERP software to guarantee accuracy and expedite workflow.
This type of software should support various APIs and standards, such as REST, SOAP, or OData, to enable custom integrations and extensions.
Top 10 field service route optimization tools
Without further ado, let's talk about the finest field service routing software currently available on the market.
To give a thorough rundown of all software providers, we will consider factors such as cost, ease of use, and essential features that we've discussed above.
Let's go!
1. Track-POD
Track-POD is an all-in-one field service management solution featuring powerful built-in route planning and optimization tools.
Track-POD offers out-of-the-box functionality available from the start, depending on the chosen pricing plan.
Let's take a deeper look at the features that come equipped with Track-POD field service routing software: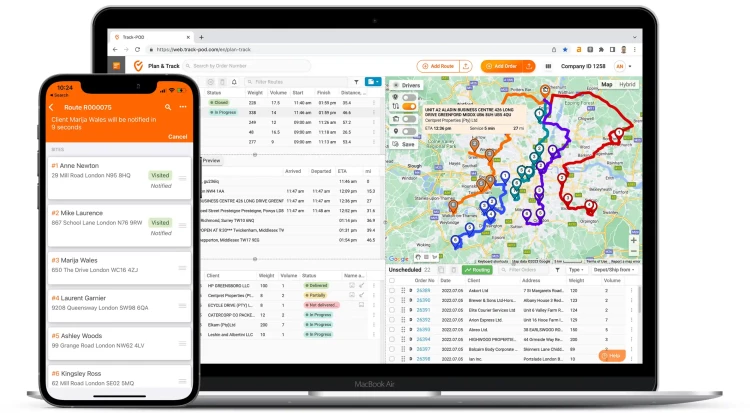 Pricing: Track-POD's most affordable plan is $29/mo per driver (technician) if paid annually (includes 3,000 orders and 3 web dashboard users). The next plan costs $49 per month per driver, including 6000 tasks and 7 web users. The most feature-rich plan (unlimited orders, 50 web users) is $69/mo per driver (technician).
You also have the flexibility to start by paying per driver/service worker and transition to paying per order (with unlimited drivers) at any given moment.

2. GSMtasks
GSMtasks is a platform that helps businesses manage their mobile workforce and optimize their delivery and field service operations. GSMtasks is suitable for various industries, such as logistics, maintenance, repair, and home delivery.
Let's talk about the essential features that GSMtasks software can offer:
Automated routing:

You can enter your tasks to create the most efficient route between destinations.

Route optimization: The software takes into account how much time is required to complete a task, where the next task is located, and where the technician will be when all tasks are completed. This feature is not available for the cheapest plan but is included in more expensive ones.

Unlimited number of tasks:

You can add as many tasks per route as necessary.

Mobile app for drivers: The app allows drivers to follow the optimized routes, complete tasks, and add proof of delivery.

Proof of delivery:

With GSMtasks, you can include electronic signatures, photos, and timestamps in the electronic Proof of Delivery (ePOD) document.

Integrations: GSMtasks allows both native (Shopify, Magento, etc.) and custom API integrations.

Pricing: The pricing plans are $17 per user/month (no route optimization, offline mobile app) and $22 per user/month, respectively. Payment is only available per driver, not per order.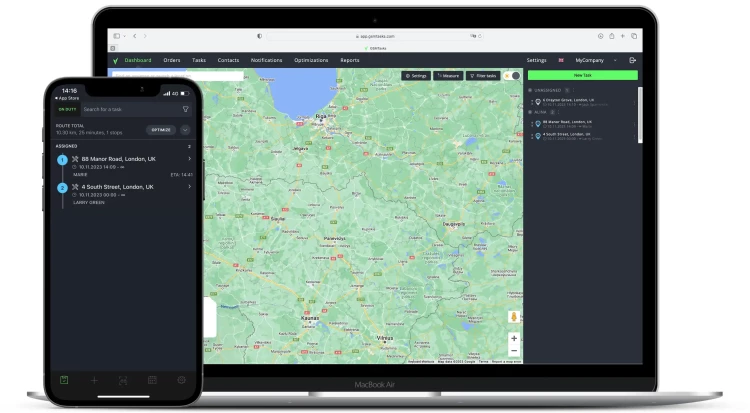 3. Jobber
Jobber is a cloud-based field service routing software solution that helps small and midsize service businesses manage their field staff and provide customer support.
Jobber is designed for field service workers and includes essential functions needed for such operations:
Pricing: Jobber offers three pricing plans: $49/mo for a basic package with limited features and no route planning or GPS tracking, $129/mo for an intermediate package with advanced features and up to 5 web dashboard users, and $249/mo for a premium package with even more advanced features and up to 15 web dashboard users.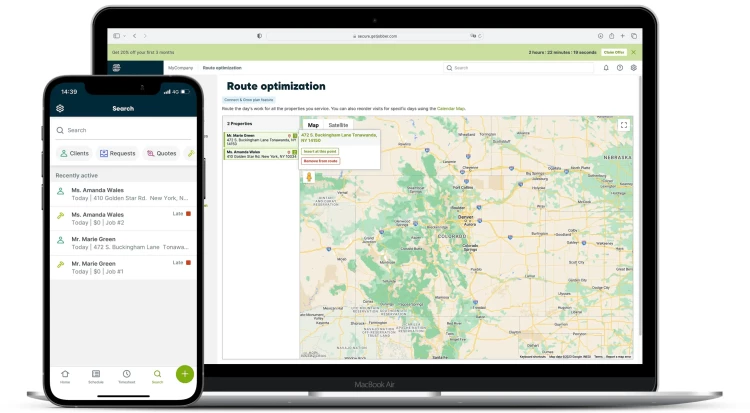 4. GorillaDesk
GorillaDesk is a cloud-based field service management software that helps businesses in various industries, such as pest control, lawn care, and pool service, to streamline their operations and grow their customer base.
GorillaDesk offers a range of features, such as:
Scheduling and dispatching

: Users can easily create, assign, and update jobs on a drag-and-drop calendar (24 jobs for the cheapest plan, unlimited jobs for a more expensive one).
Route optimization: Users can plan and optimize their routes for efficiency and convenience (only available for an extra fee).

Invoicing and billing

: Users can generate and send invoices to customers, accept online payments, and manage subscriptions.

Mobile app: Users can access GorillaDesk from any device and use the app to view and update job details and capture electronic signatures.

Digital documents:

This feature allows users to create and sign digital order documentation (

not available in the basic plan

).

Integrations: GorillaDesk offers a range of built-in integrations, with the more expensive plan providing access to Zapier integration.

Pricing: The Basic plan costs $49/month per technician or schedule, including 24 stops per route but no digital documentation or route optimization. The Pro plan is $99/month per technician or schedule and includes unlimited stops and route optimization for an additional $10/month per schedule.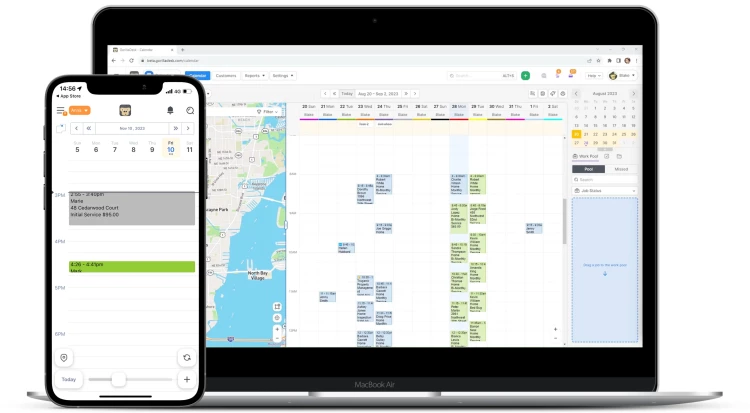 5. ServiceM8
ServiceM8 is a smart software solution for contractors and field service businesses. It helps businesses to cut paperwork, get more jobs done, and provide outstanding service to their clients.
Some of the main field service routing features of ServiceM8 software are:
Job tracking and CRM

: ServiceM8 allows users to manage their jobs (up to 15 for the cheapest plan) and clients from the first call to the final payment.
Scheduling and dispatching: ServiceM8 enables users to schedule work with staff, see their locations and status, and assign jobs based on availability, skills, and proximity.

Quoting and invoicing

: The app allows users to create quotes and invoices on-site and accept credit card payments using their mobile devices.

Mobile app: The Service M8 mobile app allows field service staff to manage and credit jobs as well as email customers. The mobile app is iOS only.

Digital documentation:

Users can add job records via the mobile app (

supports photos, videos, electronic reports, notes

).
Pricing: ServiceM8 charges $9/month for the cheapest plan with 15 new jobs/month, $29 per month for a plan that includes 50 jobs and features like online booking and email marketing, $79 per month for 150 jobs, and features like electronic forms, asset management, and checklists; $149 per month for 300 jobs, 300 SMSs, and features like staff scheduling, route optimization, and advanced reporting.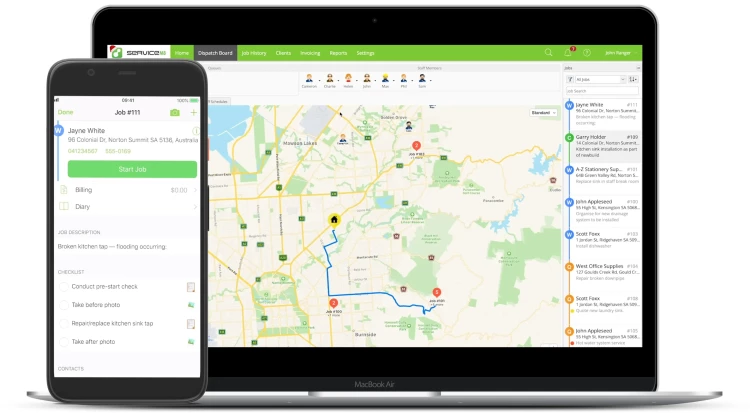 6. Kickserv
Kickserv is a cloud-based field service routing software that helps small and medium-sized businesses manage their field service operations, from scheduling and invoicing to customer management and reporting.
Kickserv offers a range of essential features such as:
Contact management (CRM):

This feature allows to track the company's complete communication history with each customer.

Dispatch mapping & GPS check-ins: Users can check where their technicians are in the field and schedule work more efficiently based on who's close by (not available in the standard plans).

Live GPS tracking:

Live mapping shows the techs' locations minute by minute and turn by turn; this feature also allows us to provide ETAs to customers (

this particular feature is only available in the premium plan

).

Mobile app: The Kickserv mobile app has all the service workers need to manage jobs and collect payments.

Mobile documentation

: The software allows adding various order documentation, like before-and-after photos, contracts, and other reports.

Accounting integrations:

The app can be integrated with QuickBooks to streamline accounting procedures. It can also integrate with Mailchimp, Xero, and other popular apps.
Pricing: Kickserv offers a free plan for up to 2 users, with online payments and some of the basic features, except dispatch mapping or GPS tracking. The next pricing plan costs $47 per month, allows up to 5 users, and offers the same features as a free plan + QuickBooks integration. More advanced plans cost $95/mo (10 users), $159/mo (20 users), and $239/mo (unlimited users) and include all the basic features + dispatch mapping, GPS check-ins, and other functionality.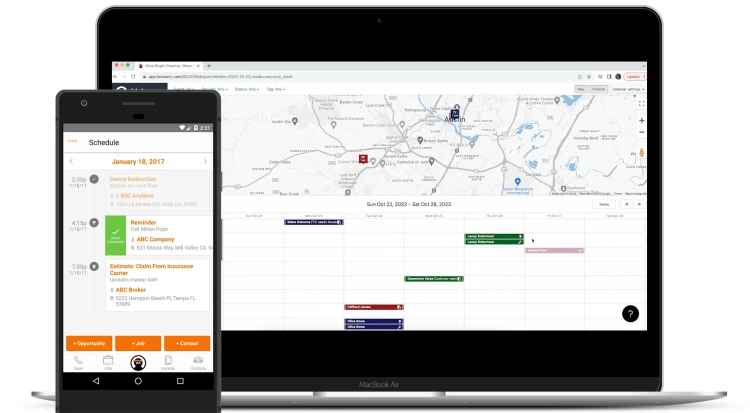 7. MobiWork
MobiWork is a cloud-based field services software solution that assists field services professionals in planning, managing, and optimizing their daily operations both in the office and out in the field.
Some of the outstanding field service management features that MobiWork offers include:
Route planning and optimization:

MobiWork allows users to optimize routes of different complexities, considering users' starting and ending locations, business hours, job duration, driving distances, and other factors.

Easy order management: The app's order management feature is designed to help users manage their work orders, service contracts, and recurring routes.

Job dispatch & GPS routing:

The software provides a set of easy-to-use features for scheduling and dispatching jobs, including recurrent routes, delivery items, maps, and turn-by-turn navigation.

Mobile access: MobiWork is fully optimized for use on mobile devices.

25+ integrations:

The app can be integrated with the most popular accounting and CRM software, like Xero, QuickBooks, Stripe, and other apps.
Pricing: MobiWork's cheapest plan goes for $39 per user per month and includes a maximum of 50 users. Their more advanced license allows up to 100 users and costs $1,950 for the first 50 users and $20 per additional user. All plans include a free consultation with a solutions expert, free support, a free 14-day trial, and a one-time activation fee of $250.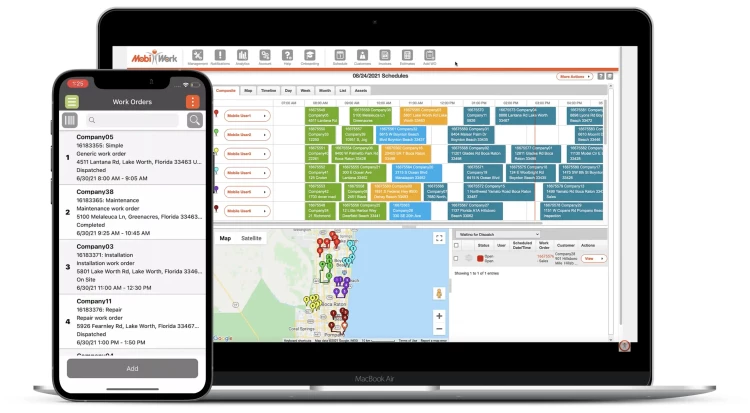 8. Route4Me
Route4Me is an advanced route planning software that helps businesses simplify and streamline field service management operations.
Some of the most beneficial features of Route4Me include:
Order management:

The platform offers essential order management features and allows different user roles and permissions.

Route planning and optimization: Route4Me's platform offers reliable route planning that helps businesses optimize their routes and minimize travel time and costs (some features, like pickup and dropoff, recurring routes, and driver breaks, can only be enabled as paid add-ons).

Dispatch and tracking

: The platform allows businesses to dispatch and track their drivers/technicians in real-time, ensuring they are always on schedule.

Driver app: Route4Me offers native and easy-to-use Android and iOS applications for drivers/field service workers.

Software integrations

: Route4Me integrates with a wide range of other platforms, including Salesforce, QuickBooks, Zapier, and more.
Pricing: Route4Me charges $199 for the cheapest plan. The next pricing options are the plans for $249/mo and $349/mo; they include some extra route optimization features. On top of the subscription fee, there are free and paid add-ons. Some add-ons apply to the whole company account, while others only apply to individual team members. Each pricing plan includes 10 team members; bigger teams must pay an extra fee of $69/month per additional user.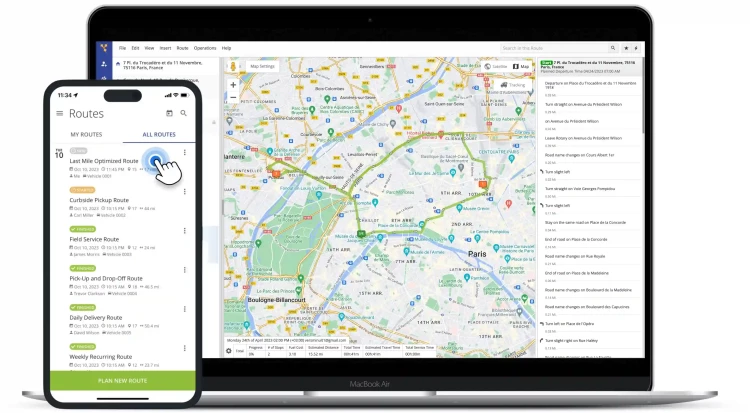 9. Routific
Routific is a route optimization software that helps delivery businesses plan their field service routes more efficiently.
Let's review some of the main field service features that come packed with Routific software:
Order management:

Routific allows

one web dispatcher user

per driver plan. This role allows to set up and manage orders efficiently.

Route planning and optimization: The app offers powerful route optimization tools that allow to build the best routes between destinations (some route optimization features, like Live tracking and GPS, are not included in the most affordable plan).

Mobile app:

Routific offers both a driver app and an optimized mobile browser version. It allows drivers/technicians to manage routes, add proof of delivery documents, and collect digital signatures (

some features are limited in a browser version

).

Integrations: Routific allows custom API and built-in integrations, including Zapier, Shopify, and other essential apps.

Pricing: If paid annually, Routific costs $39 per vehicle per month. Users must purchase a more costly plan that costs $49 per driver/month in order to get live GPS and tracking capabilities. The most feature-rich subscription is $65 per driver/month and includes live tracking, customer notifications, and configurable templates.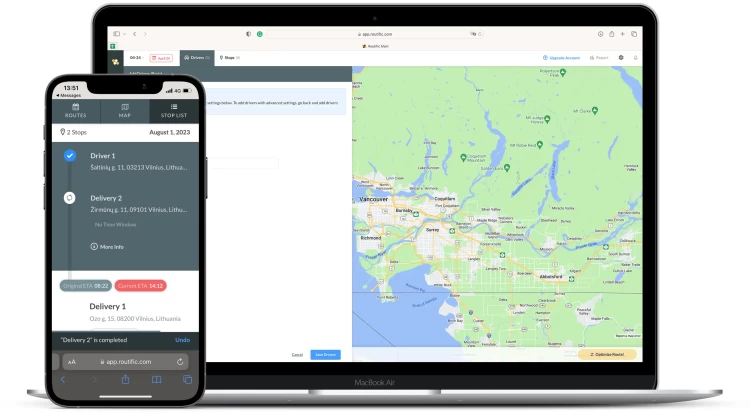 10. OptimoRoute
OptimoRoute is an easy-to-use advanced route planning software suitable for field service management operations.
Automated planning

: OptimoRoute can import from 700 to thousands of orders, depending on the licensing plan, and instantly generate the most efficient routes and schedules for drivers.

Order and task optimization: The app can plan the optimal routes and schedules while respecting all order and task criteria, such as priority, time windows, and day of the week (weekly planning is exclusively offered in the more costly plan).

Mobile app for drivers

: OptimoRoute has a native app for iOS and Android that manages complete routes, order information, and navigation on the driver's phone.

Integrations: OptimoRoute offers a web service API that allows businesses to integrate their software with OptimoRoute and automate tasks such as importing orders, starting the optimization, and getting information about planned routes.

Pricing: The cheapest OptimoRoute subscription includes 700 orders per month and costs $35.10 per driver when invoiced annually. A more costly package with up to 1000 orders costs $44.10 per driver and includes several essential features such as proof of delivery, analytics, and real-time order tracking.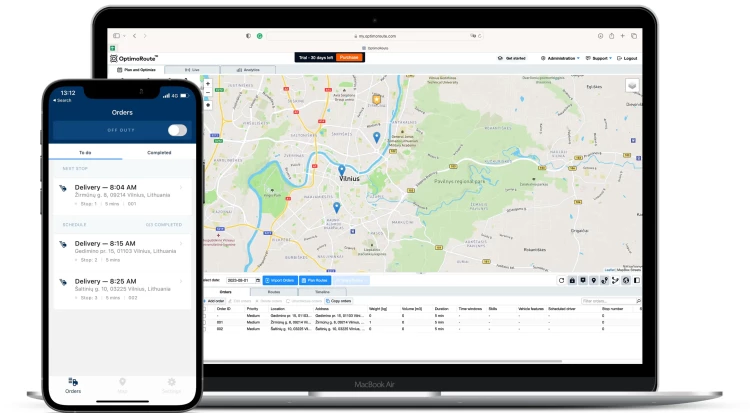 Before you go
In a nutshell, navigating the field service management (FSM) landscape can be a game-changer for your business, and this article has been your trusty roadmap.
However, not all field service management solutions are created equal.
Some prioritize route optimization, while others focus on order or invoicing management. Some come with more out-of-the-box tools, while others offer fewer features at a lower cost.
The best choice for your business depends on its size, complexity, and specific needs.
Take the time to research, compare different options, and test the software before making a decision.
For any inquiries about field service management solutions tailored to your business, feel free to schedule a live custom demo, and we'll be happy to address your questions in real-time.